YAYOMG! Holly Jolly Giveaways 2023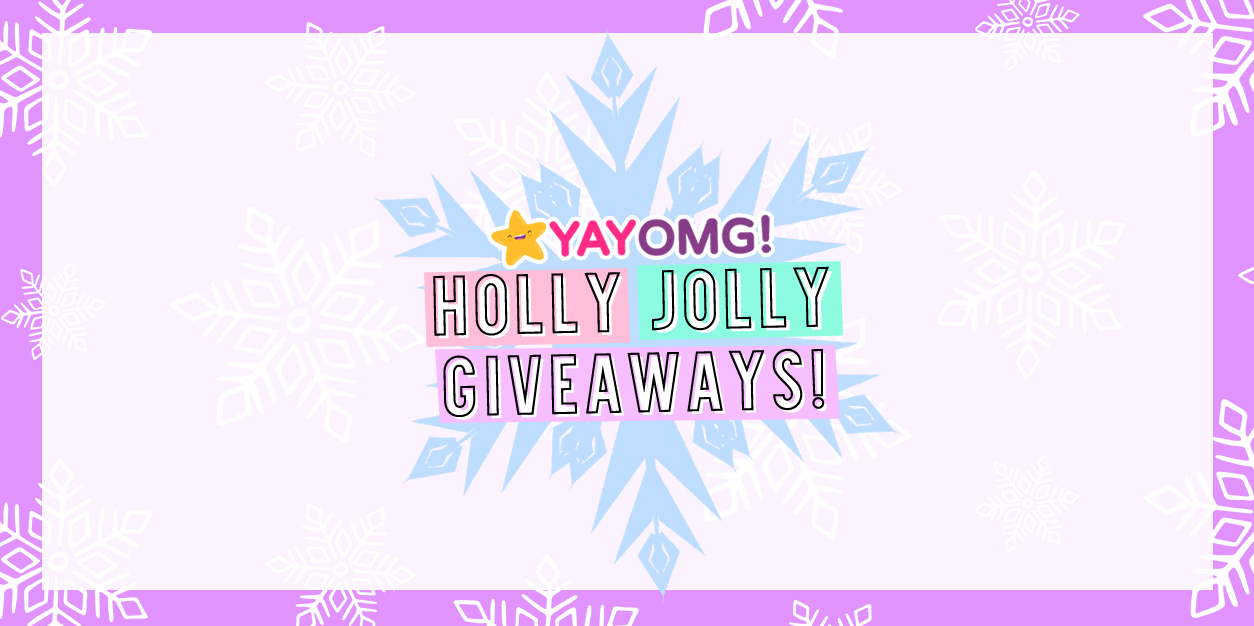 Welcome to YAYOMG!'s 6th Annual Holly Jolly Giveaways Extravaganza! With the holidays on the horizon, it's time to break out your fuzziest boots, grab a peppermint hot chocolate, and wrap yourself up in your cutest scarf for a season filled with festive vibes, tasty treats, and PRIZES!
Each year, we team up with some of our favorite brands to celebrate the season of giving by giving back to YOU, our loyal YAYOMG! readers through SNOW-tally awesome giveaways. This year is our BIGGEST one yet, with new giveaways releasing EVERY. SINGLE. DAY. of November. We have 37 amazing prize packs for you and your family to enter and win, so grab your favorite adult and check back each day for an opportunity to snag amazing stuff! (And TWICE on Monday, Wednesday, & Friday!)
Twinkling Tinsel & Snickerdoodles, Team YAYOMG!
Holly Jolly Giveaways 2023:
GIVEAWAY DEETS: There are 37 giveaways in total, and they will be added once per day 11/1-11/3, 11/06-11/10, 11/13-11/17, 11/20-11/24, and 11/27-30. (TWO giveaways will be added on Mondays, Wednesdays, and Fridays and there will be two giveaways per day 11/27-11/30!) You can enter each giveaway ONCE. You must be 18 or older to enter and win, so be sure to have a parent enter on your behalf if you're under 18. Giveaways are open to US residents only.
Fully Detailed Rules: Style Bae Fashion Dolls, Exploding Kittens Game Night Haul, Misfittens Wild Cats Stash, Random House Children's Books Graphic Novel Collection, Random House Children's Books Fantastical Adventures, My Fuzzy Friends Magic Whispers Kitty Duo, Magic Mixies Pixlings Collection, Magic Scrunch Pillow Kits, Pokémon Squishmallows, Care Bears Denim Collection, Dog-E Interactive Robot Dog, National Geographic Kids Book Haul, Rebel Girls Growing Up Powerful Collection, Fingerlings Bundle, Bumpas Weighted Plush & Infinity Flippers, Klutz Creative Dreams Haul, Cerealsly Cute Kellogg's Bracelet Kits, FAO Schwarz Ultimate Makeup Kit, GooToobz Sensory Stash, Macmillan Action-Packed Graphic Novels Collection, Macmillan Magical Reads Book Haul, Squadz Place: Tokyo Trends Collection, PLAYMOBIL Rainbow Castle in the Clouds Collection, TBH Kids Skincare Starter Kit, Petite 'n Pretty Dream Land Gift Set, Play-Doh Air Clay Super Creation Studio, Ninja Kidz TV Giant Mystery Ninja Ball, Holiday House Middle Grade Mystery Trio, Simon & Schuster Book Boxed Set Haul, Flipeez Collectible Plush, Mad Beauty Stitch at Christmas Gift Set, iHeartArt I Heart Drawing Art Supply Bundle, TeeTurtle Reversible Plush Haul, 3C4G Stationery Stash, Unstable Games Card Game Haul, PLAYMOBIL Naruto Shippuden Collection Giveaway, Tamagotchi Uni. rules will be shared here as giveaways go live.
YAYOMG!'s Bestie Squad: A very special thank you to our BFFs at Just Play, Exploding Kittens, Basic Fun, Random House Children's Books, Skyrocket, Moose Toys, Bright Stripes, Make it Real, WowWee, National Geographic Kids, Rebel Girls, Good Soul Company, Scholastic, Jazwares, Bandai, FAO Schwarz, Sky Castle Toys, Macmillan, Far Out Toys, PLAYMOBIL, TBH Kids, Creative Kids, Petite 'n Pretty, Blip Toys, Holiday House, Simon & Schuster, Flipeez, Unstable Games, Mad Beauty, Klutz, 3C4G, and Tee Turtle for generously contributing all of the prizes for these incredible prize packs. The Holly Jolly Giveaways wouldn't be possible without you!