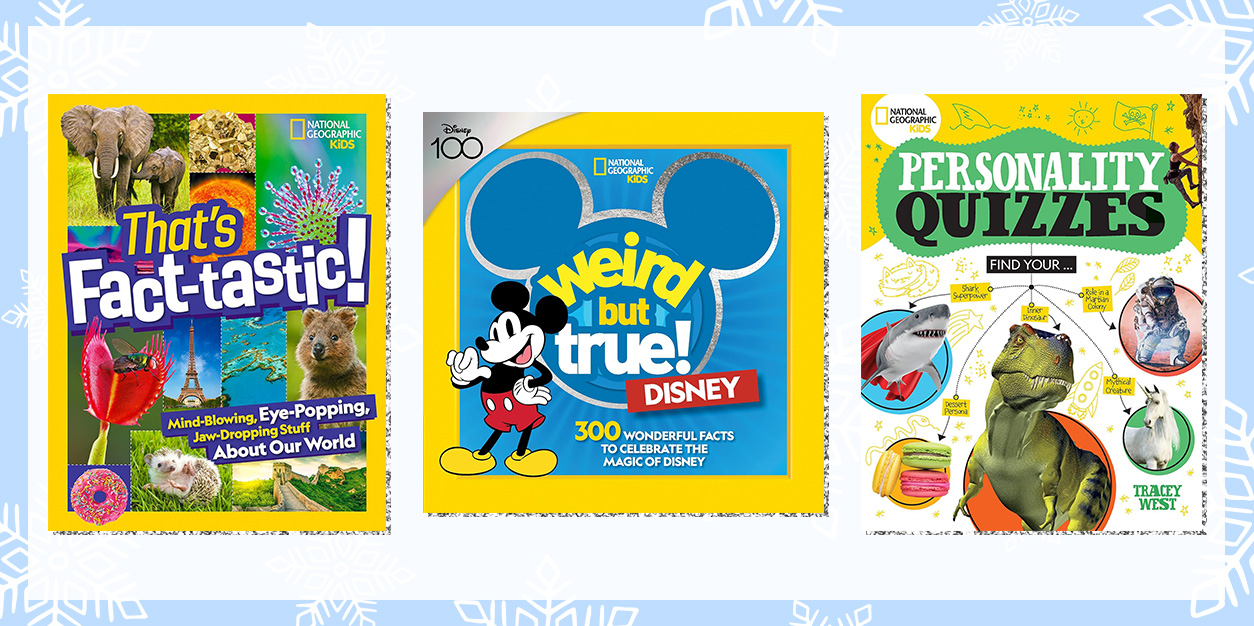 Holly Jolly Giveaways: National Geographic Kids Book Haul
NOTE: The items in our National Geographic Kids Book Haul Giveaway were provided by the brand for the purposes of our Holly Jolly Giveaways. No money was exchanged, and all opinions are our own. We reached out to these brands for this giveaway because they create products we love.
Are you on an endless quest for knowledge? Do you love surprising everyone in your life with your seemingly infinite supply of fun facts? If so, today's Holly Jolly Giveaway is the one you've been waiting for!
Curated with kids in mind, these reads will satisfy all of your curious cravings! Whether you want to know every little detail about the world we live in, are always wondering what your shark superpower might be, or are a horse lover or Disney fanatic who desperately wants to know every bit of info about your interests, these informative books will inspire your imagination all winter long!
Our friends at National Geographic Kids are giving THREE lucky winners a chance to win a book bundle featuring SIX of their newest reads to keep your curiosity flowing! Ready to enter? Grab your favorite adult and have them enter below for your chance to WIN!
National Geographic Kids Book Haul:
That's Fact-tastic! Mind-blowing, Eye-popping, Jaw-dropping Stuff About Our World
AUTHOR: National Geographic
SYNOPSIS: National Geographic Kids serves up tons of incredible facts and mind-boggling tidbits to wow your friends and family!
Did you know that a giraffe's eye is as big as a Ping-Pong ball? Or that about 19 million hot dogs are sold at major league baseball games every year? Or that there is only one bone in your body that's not connected to another one?
There's a lot to know, and National Geographic Kids is here to help. Based on favorites from the National Geographic Kids magazine, this book is chock-full of fascinating facts, silly stats, and catchy little knowledge nuggets in all kinds of awesome categories, from amphibians to black holes to the gold rush.
Special features include Extreme Weirdness, Strange Places, What's the Difference, and more. Bold, colorful photographs in a supersized format and spectacular information create a winning combination for curious kids who can't wait to learn more about the world.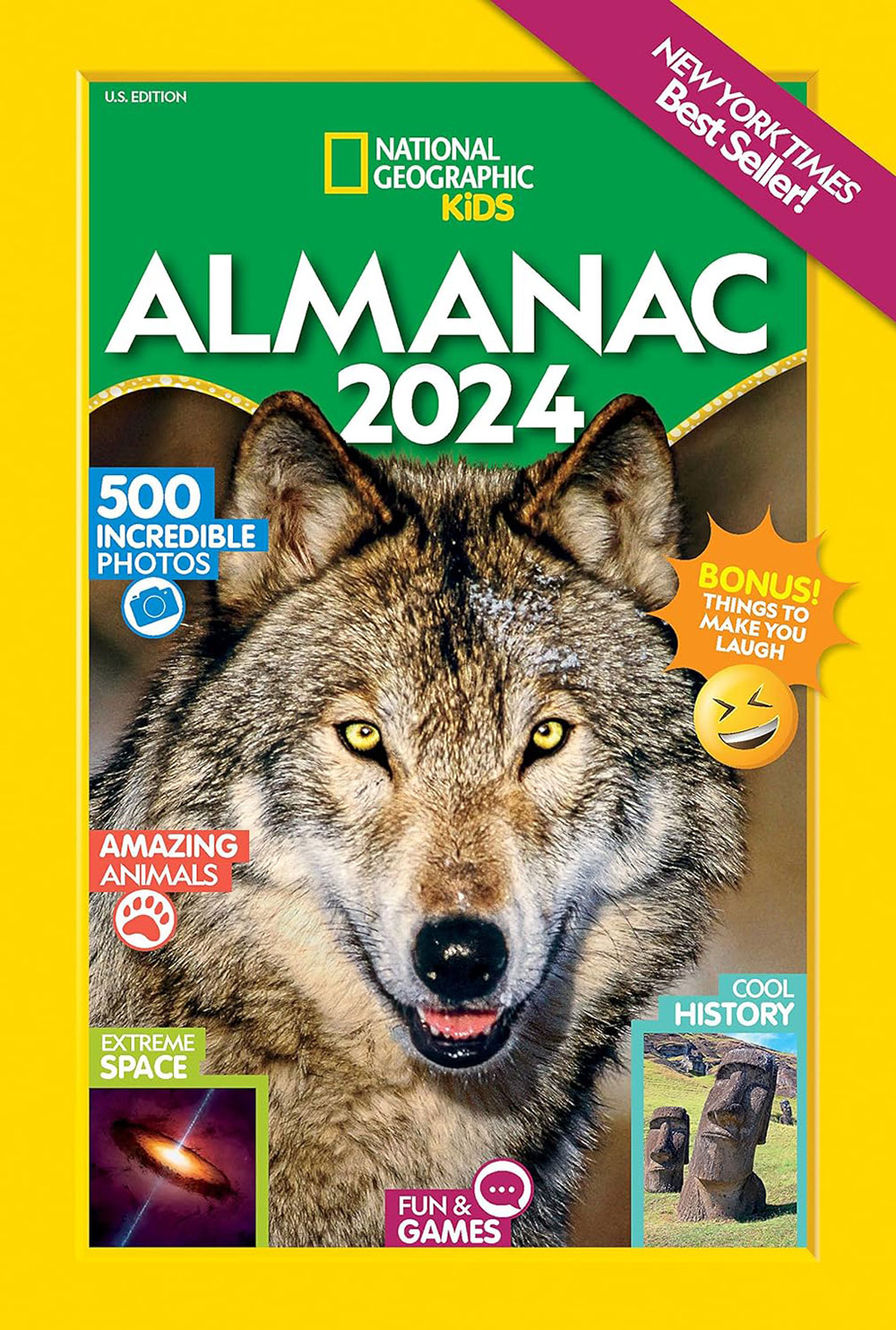 National Geographic Kids Almanac 2024
AUTHOR: National Geographic Kids
SYNOPSIS: Our New York Times best-selling Almanac is packed with incredible photos, tons of fun facts, National Geographic exclusives, games, activities, and fascinating features about animals, science, nature, technology, and more.
This new edition features:
EXCLUSIVE National Geographic Explorer interviews and features
EXCLUSIVE Interactive Almanac Challenge 2024, plus the results of the Almanac Challenge 2023
BONUS SECTION of sidesplitting jokes and riddles
NEW fun-tastic things to see and do in 2024
NEW cutest animal superlatives and animal rescue stories
NEW science and dinosaur discoveries
NEW fun games, quizzes, and activities
NEW weird and wacky places around the world
NEW experiments to do, places to explore, and ways to change the world
UPDATED reference material, including fast facts and maps of every country
Whether you're looking for homework help, want to learn more about another country, or just need a cute animal fix, the National Geographic Kids Almanac 2024 has you covered!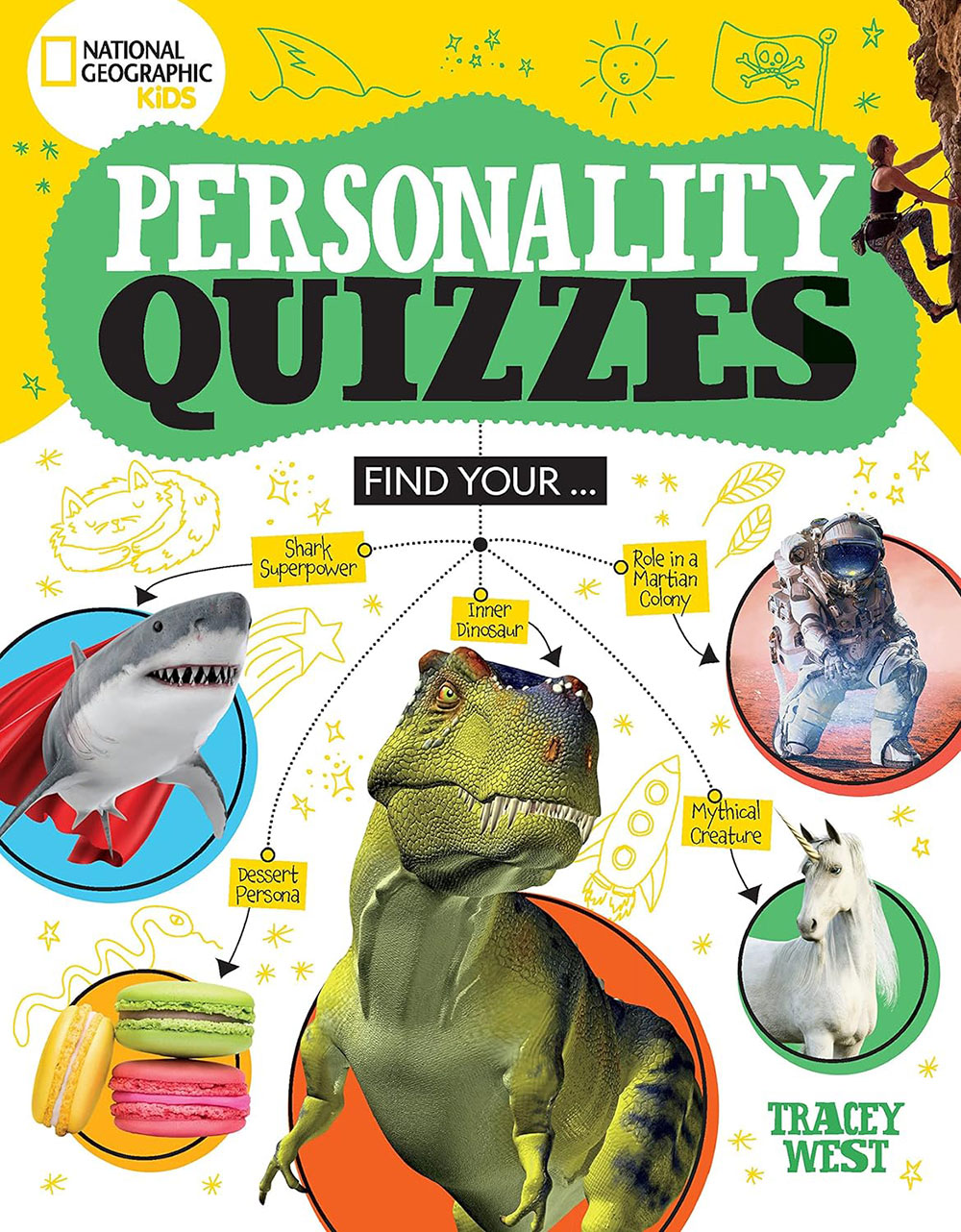 Personality Quizzes
AUTHOR: Tracey West
SYNOPSIS: What's your shark superpower? What kind of friend are you? Find out with smart, super fun, whimsical, and informative personality quizzes all about YOU!
From weird and wacky (What stinky animal are you?) to thought-provoking and informative (What kind of explorer should you be? Which mountain should you climb?), there's a personality profile for everyone in this totally unique book.
While you're at it, get to know about amazing animals, places, cultures, and even careers around the world, in the eye-popping, fun-fact style of Nat Geo Kids.
Inside you'll find all kinds of quizzes: flow charts, multiple choice, this or that, and more! With vibrant color photos and illustrations on every page, this book is an un-put-downable ton of fun.
The perfect entertainment for long car rides, for throwing in a backpack and taking to a sleepover, or anytime!
Entertain your brain with more boredom-busting books from National Geographic Kids like Quiz Whiz, This or That?, Funny Fill-Ins, and more!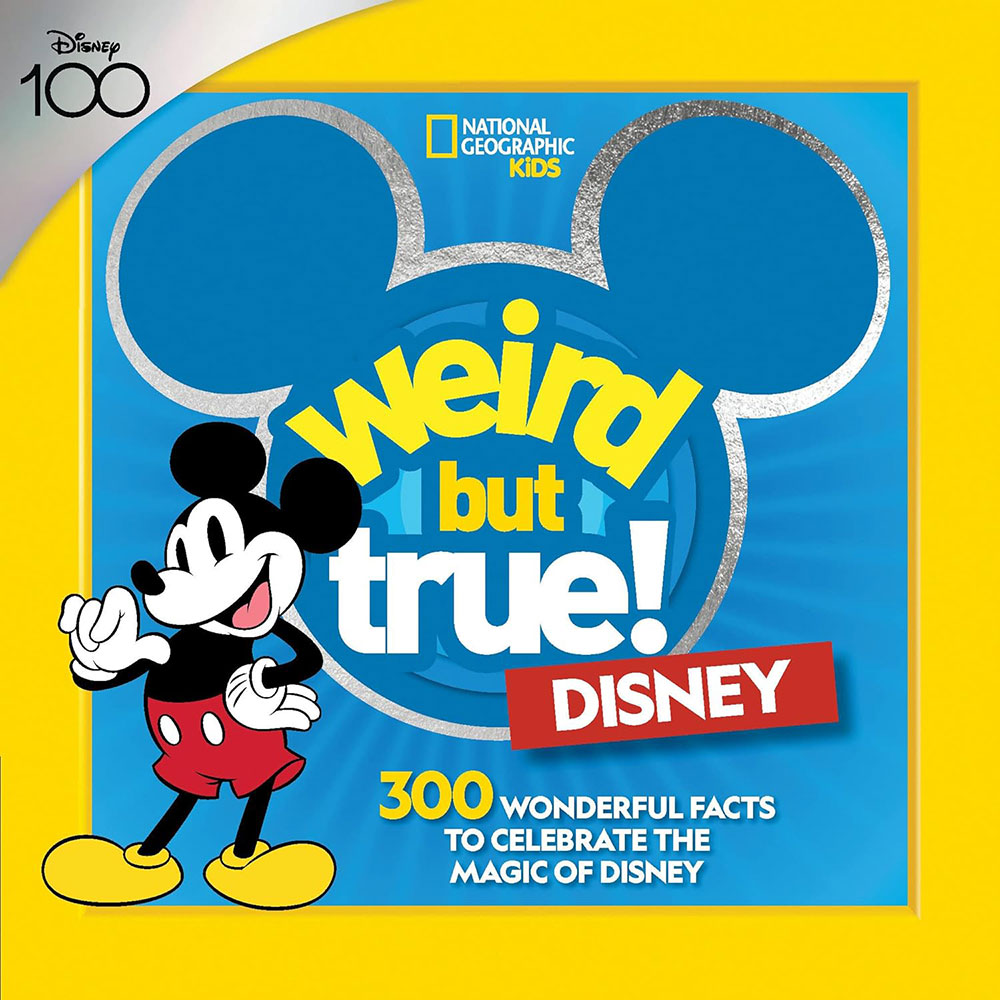 Weird But True! Disney: 300 Wonderful Facts to Celebrate the Magical World of Disney
AUTHOR: National Geographic Kids
SYNOPSIS: Combine the beloved, super-powered Disney brand with Nat Geo Kids' most popular book series Weird But True! and you have a magical, whimsical fan-favorite book.
This delightful addition to National Geographic Kids' best-selling Weird But True! series uncovers surprising secrets and mind-boggling facts behind your favorite Disney movies, TV shows, park attractions, and more!
Did you know it took 70,000 pencils to draw the artwork for The Hunchback of Notre Dame (1996)? Or that Donald Duck has an asteroid named after him?
Discover the mystery at the top of Disneyland's Matterhorn, what Goofy's original name was, how much food employees prepare each day for the animals at Disney's Animal Kingdom, how many balloons it would really take to lift Carl's house from the movie Up (2009), and more.
Packed with 300 awesome facts and loads of cool pictures, this fun-filled book is perfect for fans of Disney, National Geographic, Weird But True!, and all things wacky, weird, and wonderful!
Complete your collection with other Weird But True! fan favorites: Weird But True! Animals, Weird But True! USA, Weird But True! Dinosaurs, Weird But True! Sports, and more!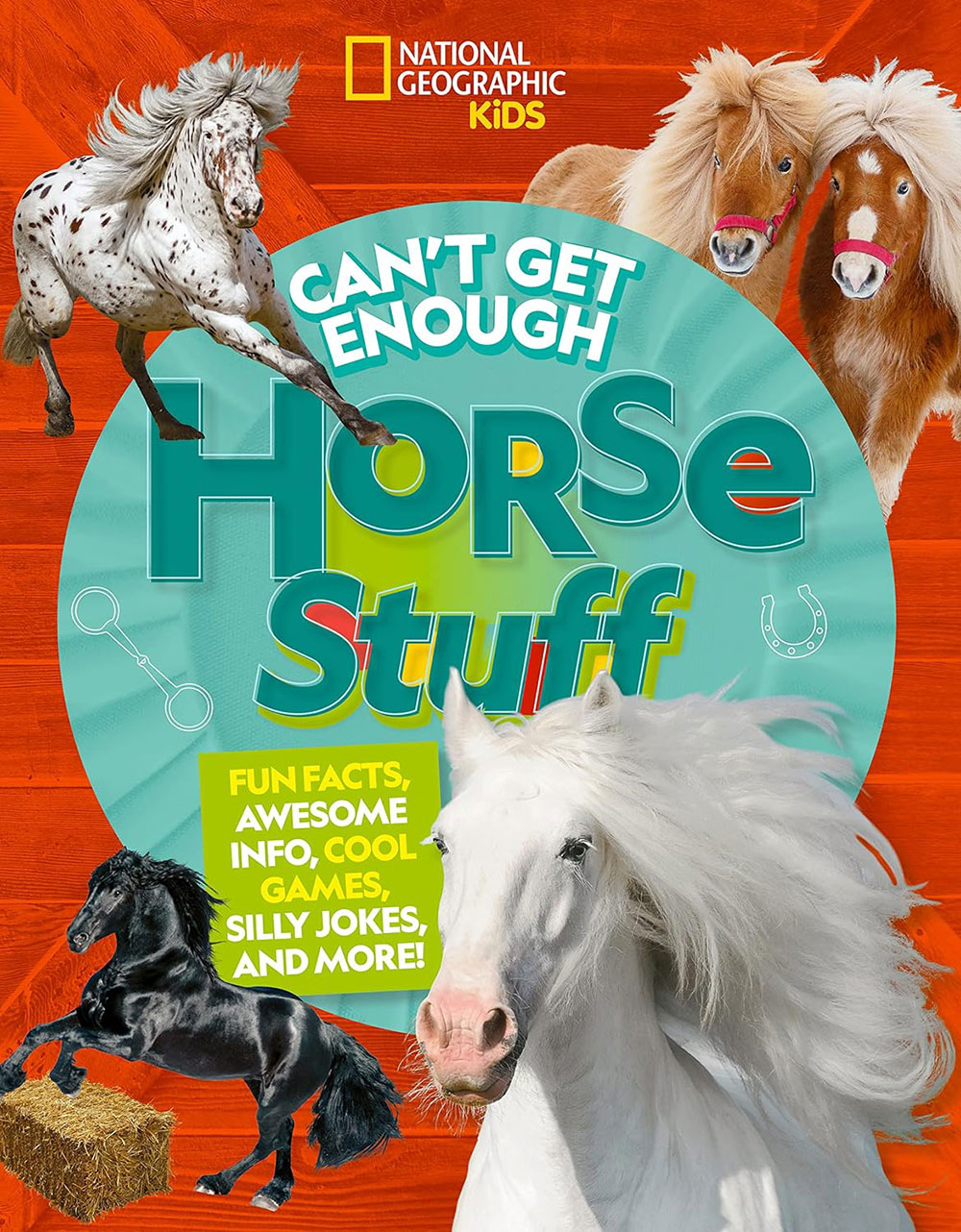 Can't Get Enough Horse Stuff: Fun Facts, Awesome Info, Cool Games, Silly Jokes, and More
AUTHOR: Neil C. Cavanaugh
SYNOPSIS: Hooray for horses! Jump into the perfect combination of facts, true stories, vibrant photos, and fun stuff all about one of the world's favorite animals.
Horses are popular all over the world, as pets, participants in competitions, farm animals, and more. In fact, they're one of humankind's oldest animal companions. This fascinating, fun-filled book introduces you to different horse breeds; how horses became our stalwart companions; life in the herd; adorable foals; horse coloration, markings, and manes; and so much more.
For kids who are absolutely obsessed with everything horses, this book has it all: tons of mind-blowing facts, all the breeds, superfun games, hands-on activities, hilarious jokes, and fascinating research. You'll whinny with delight as you run with the last breed of wild horses, discover new ways horses are helping humans, and meet some of the most incredible and record-setting horses in history. Fancy a ride around the ring? Giddyap!
Inside you'll find:
Fascinating facts about horses, plus more than 250 vibrant photographs
Roundups of the heaviest, lightest, tiniest, and most massive horse breeds
Features on surprising horse research and behavior
Personal accounts from experts studying and working with horses
Detailed diagrams and infographics
Hands-on activities you can try at home
Quizzes and games to test your knowledge
Hilarious horse jokes
From telling jokes to impressing family and friends with awesome facts, kids will love sharing what they've learned and will want to horse around with this book again and again.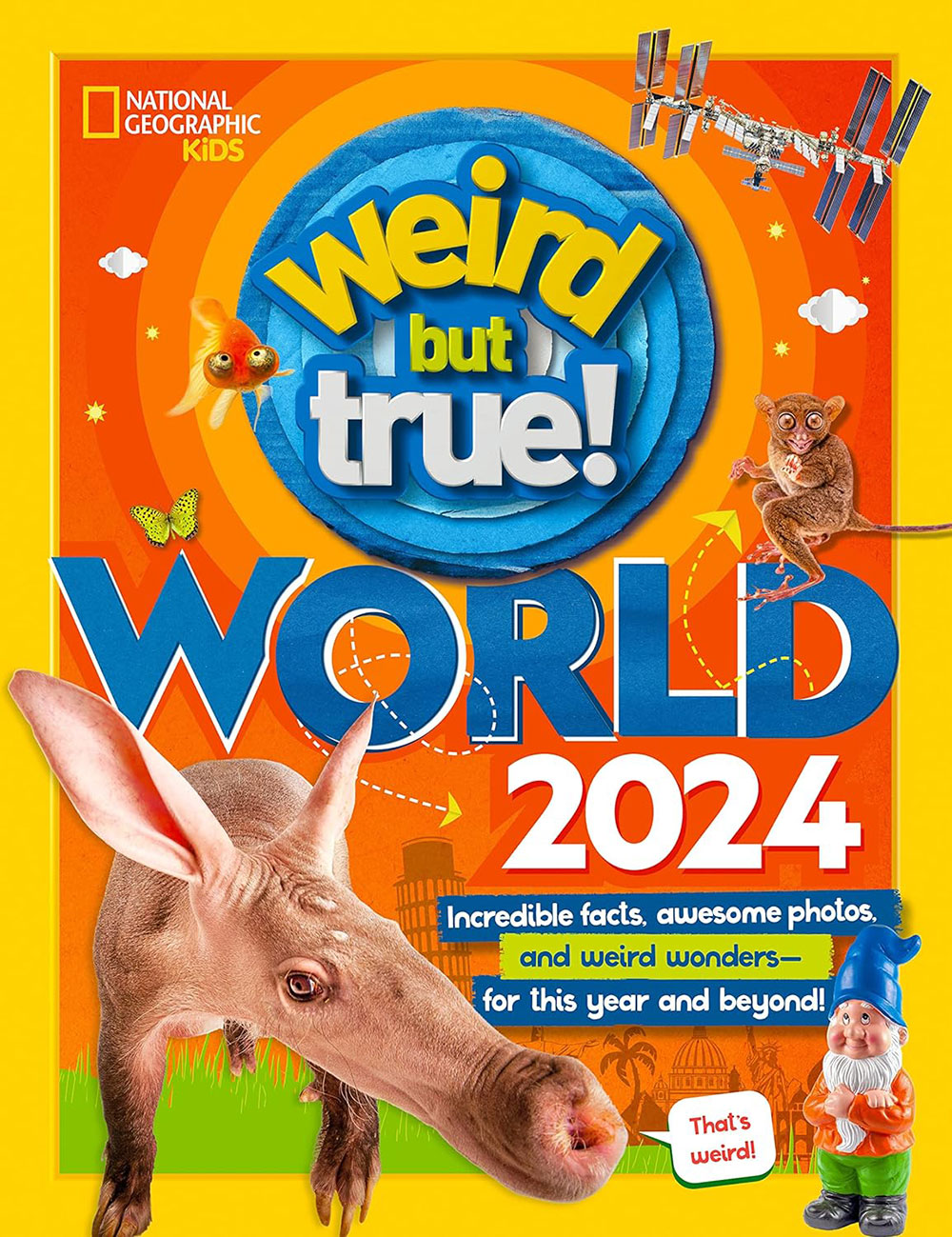 Weird But True World 2024: Incredible Facts, Awesome Photos, and Weird Wonders – for This Year and Beyond!
AUTHOR: National Geographic Kids
SYNOPSIS: The blockbuster kid-favorite series Weird But True! is back with another annual volume of new, true, mind-blowing oddities for 2024 … and beyond!
Discover Earth's strangest natural wonders, animals, festivals, ancient architecture, news, and more in this annual compendium of everything Weird But True! fans love … and then some. Readers will journey across the seven continents, dive into the ocean, and even blast off into space to discover a whole wide world of weird. From volcano-surfing in Nicaragua to a beach in Japan where the "sand" is shaped like stars to extreme ironing competitions in the United Kingdom, Weird But True! World offers an unparalleled adventure-filled exploration of our world's amazing uniqueness.
This BIG, BOLD annual extravaganza is updated each year with NEW "world's weirdest" winners from around the globe, weird news, fresh facts, and strange sites, animals, and events for every continent.
Inside, you'll find:
Stunning photographs
Wild, wow-worthy facts
Wacky news
Shocking stats and infographics
Colorful maps
Personality quizzes
Adorable odd animals
And more!
This book is perfect for any curious kid—or kid at heart—willing to embrace the quirky side of life
National Geographic Kids Book Haul Giveaway: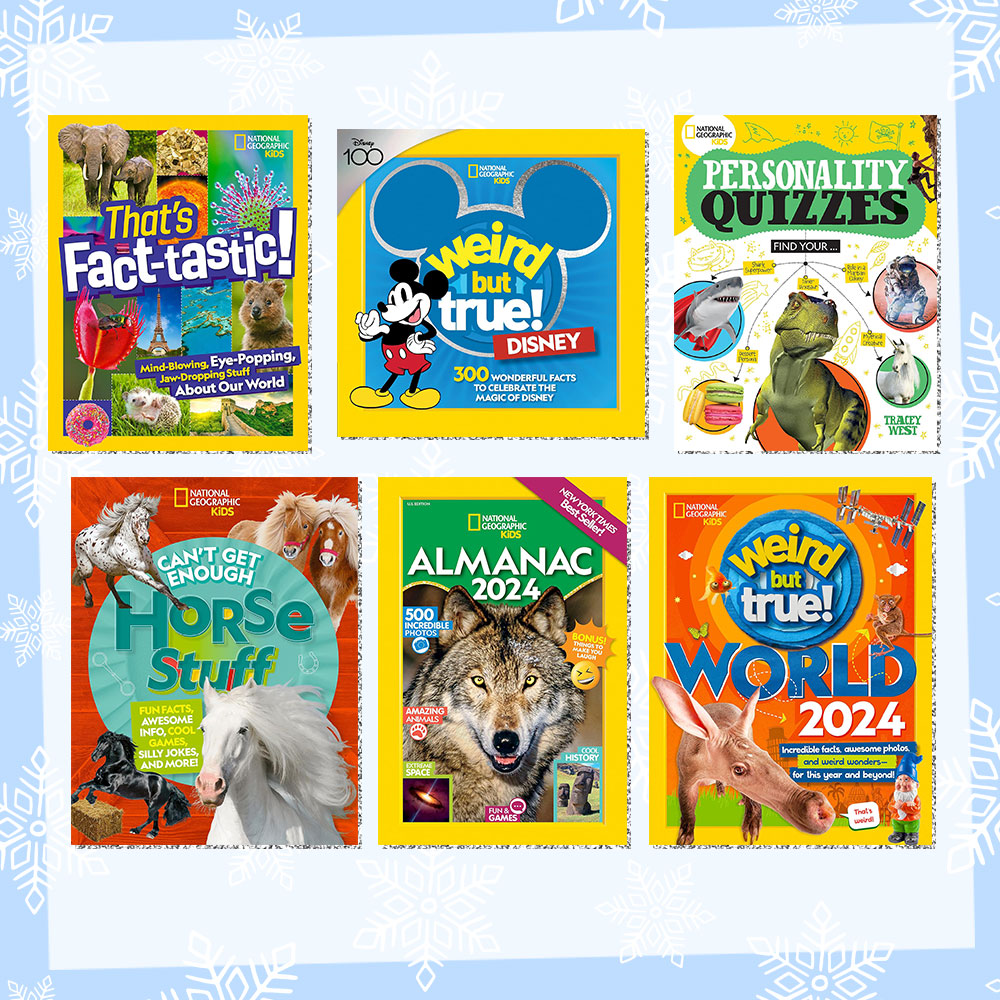 WHAT DO I WIN?:
THREE (3) lucky winners will receive a National Geographic Kids Book Haul Prize Pack that includes:
– ONE (1) copy of That's Fact-tastic!
– ONE (1) copy of National Geographic Almanac 2024
– ONE (1) copy of Personality Quizzes
– ONE (1) copy of Weird But True Disney
– ONE (1) copy of Can't Get Enough Horse Stuff
– ONE (1) copy of Weird But True World 2024
*Prizes generously provided by National Geographic Kids
HOW DO I ENTER?:
Grab a parent or guardian and have them fill out the form below by November 24, 2023 at 11:59pm ET.
Giveaway runs from 11/10/23 at 12:00 pm ET through 11/24/23 at 11:59 pm. Open to US residents ONLY. Be sure to read the fully detailed rules HERE before entering.
THIS GIVEAWAY HAS ENDED AND THE WINNERS HAVE BEEN CONTACTED.
You must be 18 or older to enter. Please, only ONE entry per person. If selected as a winner, we will provide your parent/guardian with an affidavit to confirm that you are a valid winner who has permission to win. They will be REQUIRED to sign and return the affidavit to YAYOMG! to claim your prize. Prizes will not be mailed out without signed parental consent.
MORE HOLLY JOLLY FUN:
❄️INTERACTIVE BESTIE: Tech-savvy? Dog-E is the one-in-a-million robot dog you need by your side!
✨CATCH 'EM ALL: Pokémon trainers, you don't want to miss this! Enter to WIN Pikachu & Gengar Squishmallows!
❄️DENIM VIBES: Share your care & with the Care Bears Denim Collection! Enter HERE!