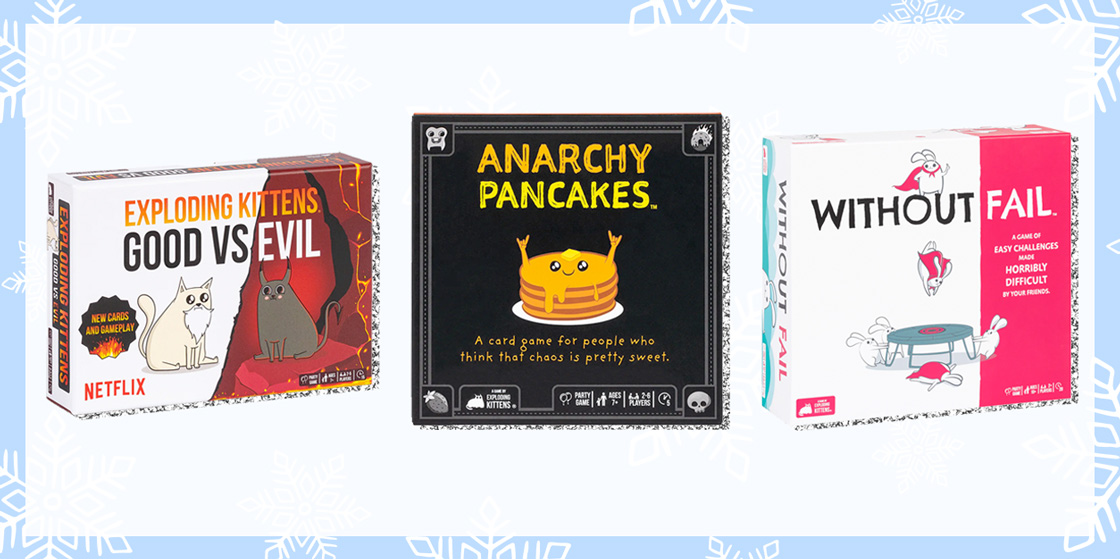 Holly Jolly Giveaways: Exploding Kittens Game Night Haul
NOTE: The items in our Exploding Kittens Game Night Haul Giveaway were provided by the brand for the purposes of our Holly Jolly Giveaways. No money was exchanged, and all opinions are our own. We reached out to these brands for this giveaway because they create products we love.
If you like your game nights to be a little rowdy and chaotic, you'll love our next Holly Jolly Giveaway!
Exploding Kittens has been redefining game night ever since their very first release. From throwing burritos at your besties to encouraging shouty wordplay, their games are some of the most clever and inventive we've ever seen. Their games help you embrace your creativity, get revenge with clever strategies, and encourage friendly competition while still being simple enough that anyone can jump in and start playing, ensuring that everyone around the table has a great time. Nothing is worse than sitting down to play a game and getting bogged down by overly complicated rules, which is why all their games have video instructions that break things down in an easy-to-understand way.
Sounds awesome, right? Things are about to get even more awesome because we teamed up with Exploding Kittens to give FIVE lucky winners a chance to snag their three newest games, Anarchy Pancakes, Without Fail, and Exploding Kittens: Good vs. Evil!
Keep scrolling for the deets on these diabolical games, and then have a parent fill out the form below for your chance to WIN!
3 Must-Play Exploding Kittens Games: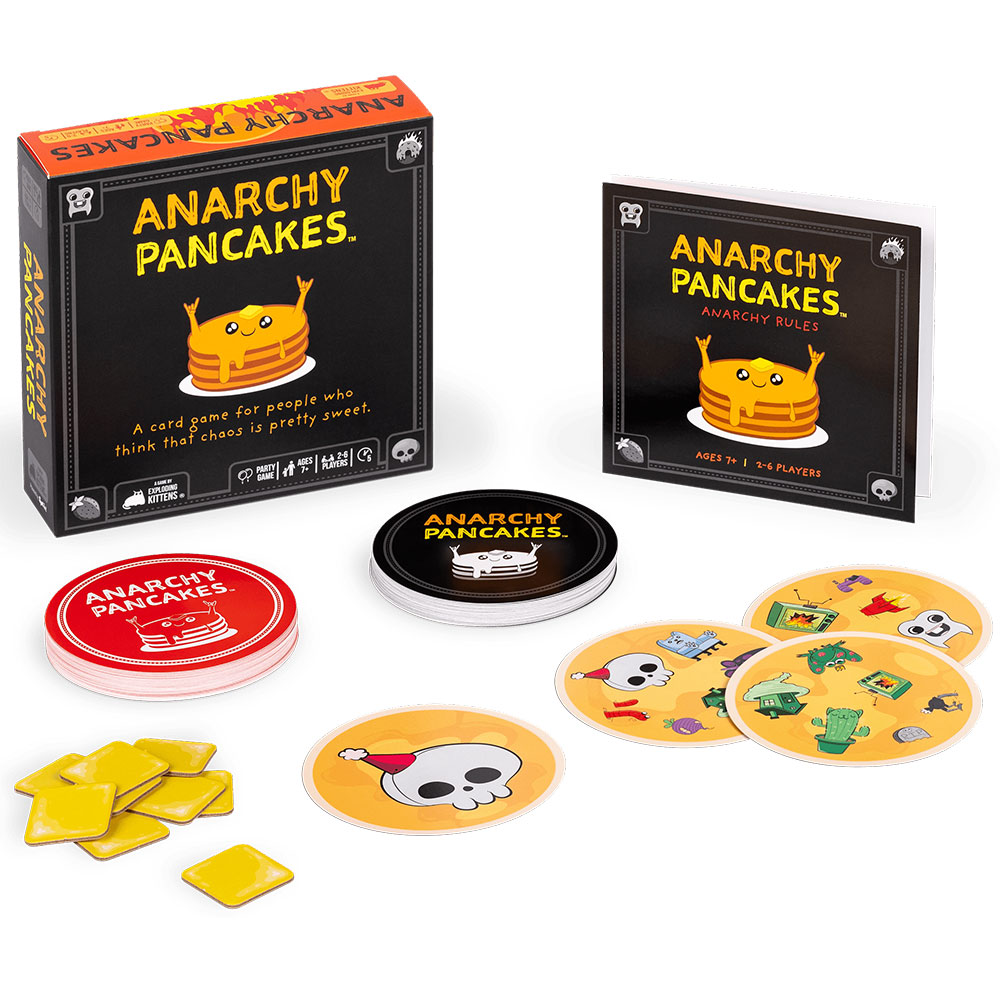 Anarchy Pancakes:
WHO'LL ENJOY IT?: Fans of chaos (and pancakes.)
GAME DEETS: Flip pancakes, make matches, and enjoy sweet victory!
Easy to learn and fast to play, Anarchy Pancakes may seem simple, but you'll need to be speedy and strategic in order to win. Once the pancake cards are dealt out, chaos ensues as everyone races to make matches all at once. Be the first to get rid of all your pancakes and shout "Anarchy Pancakes!" to earn a Slab' o Butter. The first person to claim two butter slabs is the winner!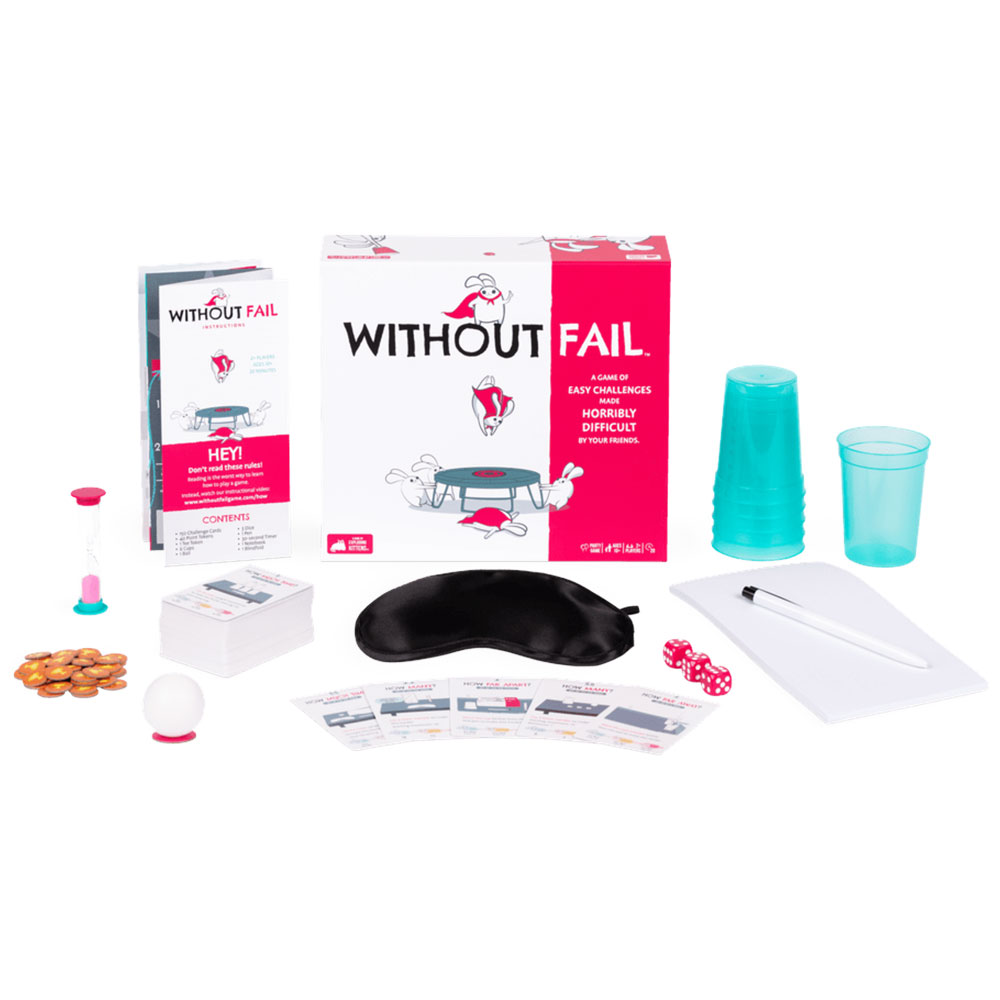 Without Fail:
WHO'LL ENJOYT IT?: Anyone who's ever watched a weird YouTube challenge.
GAME DEETS: If you love to do wild challenges (or live to sabotage your friends), this game is for you.
Game night will never be the same! Best played with your most diabolical friends, Without Fail is a perfect party game filled with fun challenges. Running back and forth between cups or throwing a ball in the air and doing a spin before you catch it is easy – but your teammates have the ability to make the challenge harder by giving you less time, more actions, or making you do things blindfolded. If you succeed, you and the person who believed you could handle the impossible get a point token. If you fail, everyone who rooted against you earns the point. It's chaos at its finest!
Exploding Kittens Good vs. Evil:
WHO'LL ENJOY IT?: Mayhem enthusiasts.
GAME DEETS: Like the original, with more mayhem and higher stakes, this version of Exploding Kittens levels up the experience for both new and seasoned players.
Try not to explode – that's the goal of the game. Seemingly simple, this game requires a mind for mayhem. Players will take turns playing and drawing cards until someone explodes. If you explode, you're out of the game – unless you have a diffuse card to play to avoid exploding. Outsmart your friends using strategic moves like Reveal the Future, stage epic battles of Good vs. Evil when you play the Armageddon Card to see if you can win the all-powerful God Cat card, and, of course, try to be the only player who doesn't explode!
Exploding Kittens Game Night Haul Giveaway: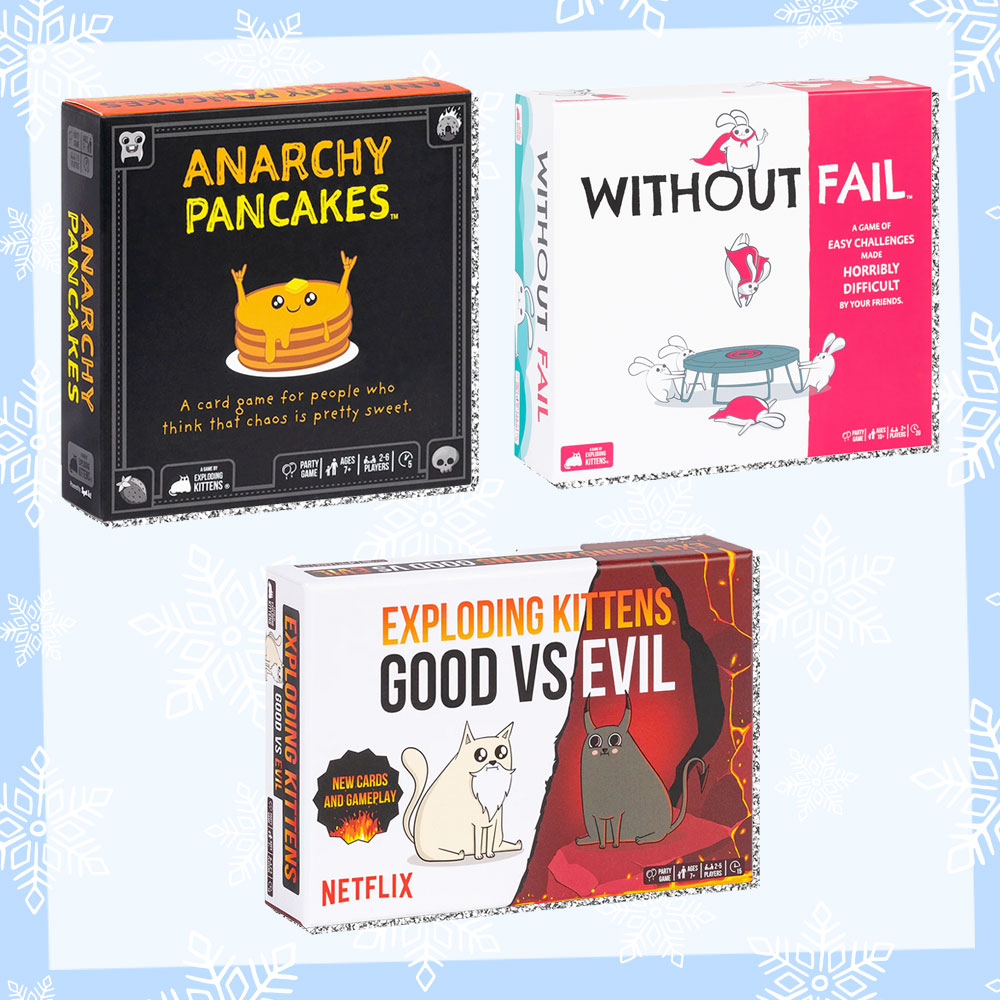 WHAT DO I WIN?:
FIVE (5) lucky winners will receive an Exploding Kittens Game Night Haul Prize Pack that includes:
– ONE (1) copy of Anarchy Pancakes
– ONE (1) copy of Without Fail
– ONE (1) copy of Exploding Kittens Good vs. Evil
*Prizes generously provided by Exploding Kittens.
HOW DO I ENTER?:
Grab a parent or guardian and have them fill out the form below by November 15, 2023 at 11:59pm ET.
Giveaway runs from 11/01/23 at 12:00 pm ET through 11/15/23 at 11:59 pm. Open to US residents ONLY. Be sure to read the fully detailed rules HERE before entering.
THIS GIVEAWAY HAS ENDED AND THE WINNERS HAVE BEEN CONTACTED.
You must be 18 or older to enter. Please, only ONE entry per person. If selected as a winner, we will provide your parent/guardian with an affidavit to confirm that you are a valid winner who has permission to win. They will be REQUIRED to sign and return the affidavit to YAYOMG! to claim your prize. Prizes will not be mailed out without signed parental consent.
MORE HOLLY JOLLY FUN:
❄️STYLE BAE: Peel, stick, and style! Enter to WIN a set of Style Bae Fashion Dolls!
✨KEEP UP WITH HOLLY JOLLY: Check this page every day so you don't miss a single giveaway!