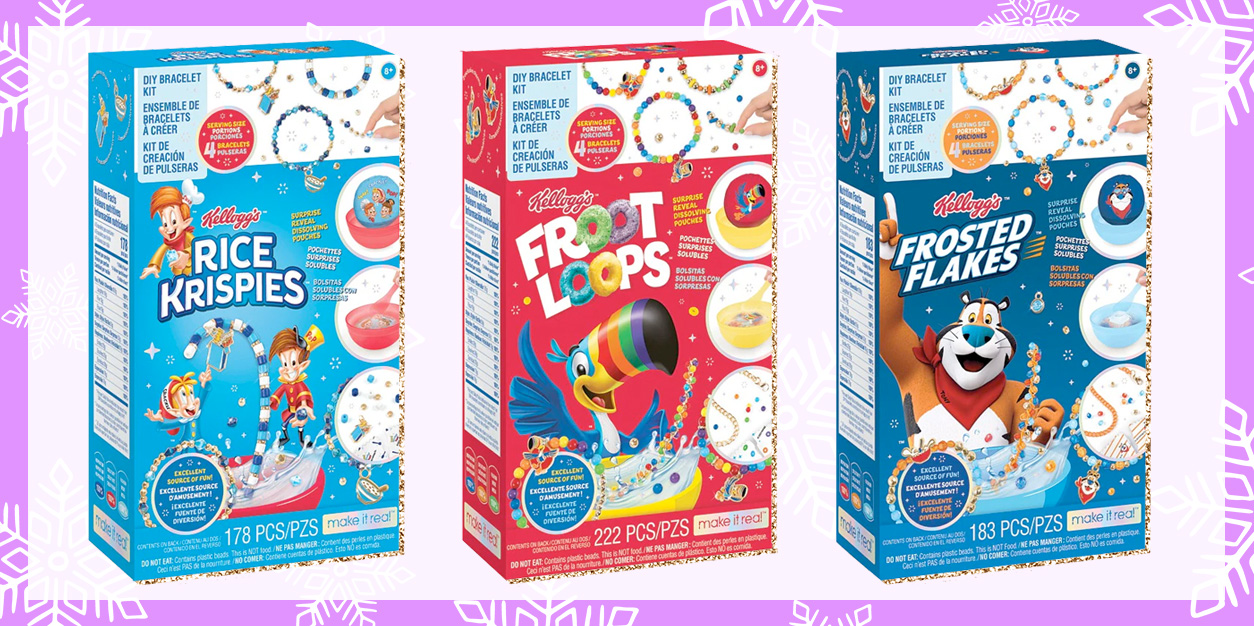 Holly Jolly Giveaways: Cerealsly Cute Kellogg's Bracelet Kits
NOTE: The items in our Make It Real Cerealsly Cute Kellogg's Bracelet Kits Giveaway were provided by the brand for the purposes of our Holly Jolly Giveaways. No money was exchanged, and all opinions are our own. We reached out to these brands for this giveaway because they create products we love.
Our Holly Jolly Giveaways continue today with a cereal-sly fun twist on friendship bracelets!
If breakfast is the most important meal of the day, then we're calling it now – craft time is the most important activity of the day. And thanks to our friends at Make It Real, we've found the ultimate way to combine your love of breakfast with your love of making and creating!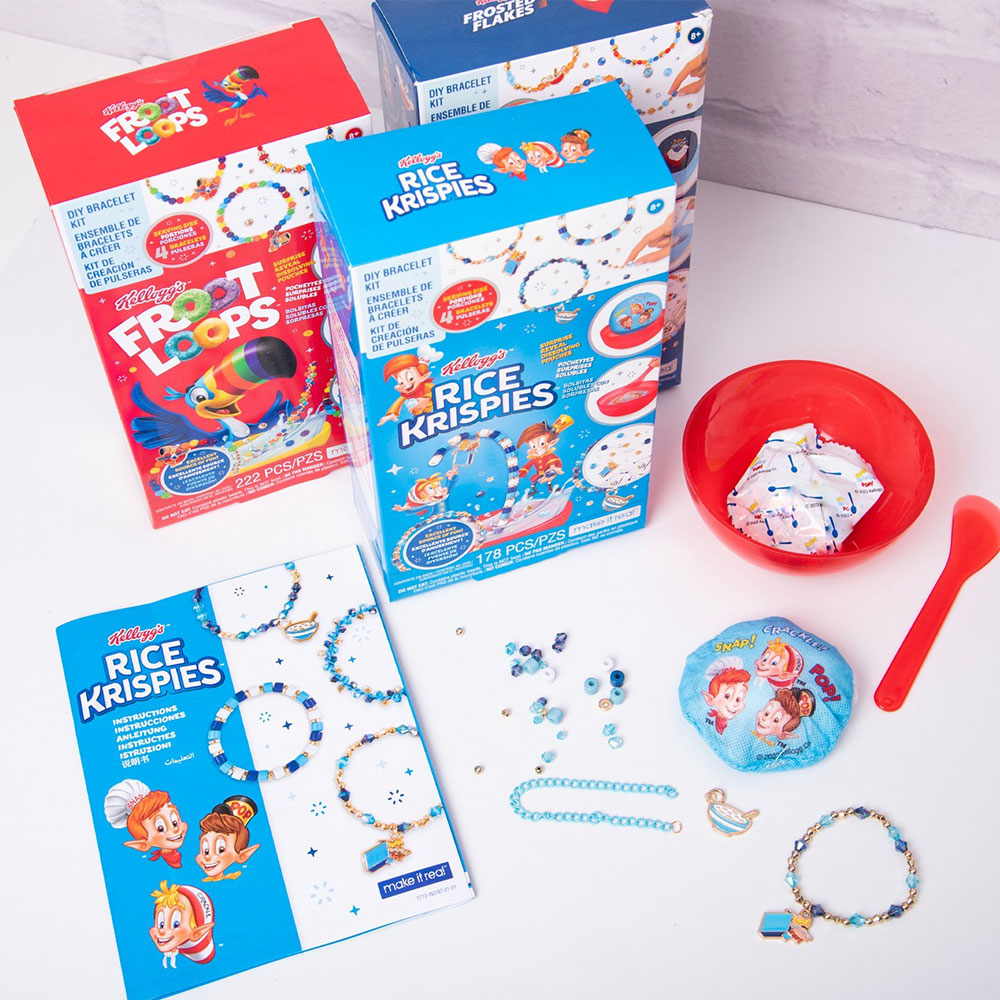 Shaped like tiny cereal boxes, these new breakfast-inspired bracelet kits are cereal-sly cute! First, you'll break out the tiny bowl and spoon and swirl your magical packets of Kellogg's Froot Loops, Rice Krispies, or Frosted Flakes in water to reveal your charms. Then, you can get started on your bracelet. String together seed beads, metallic accents, and charms featuring cereal mascots like Toucan Sam, Tony the Tiger, and Snap, Crackle, and Pop to make bracelets inspired by your favorite breakfast cereal. Each kit comes with enough materials to make four deliciously cute bracelets.
Want to get crafting? Our friends at Make It Real are giving ONE lucky winner embrace their breakfast era with a chance to snag these super charming bracelet kits! Grab your favorite adult and have them enter below for your chance to WIN!
Make it Real Cerealsly Cute Kellogg's Bracelet Kits Giveaway: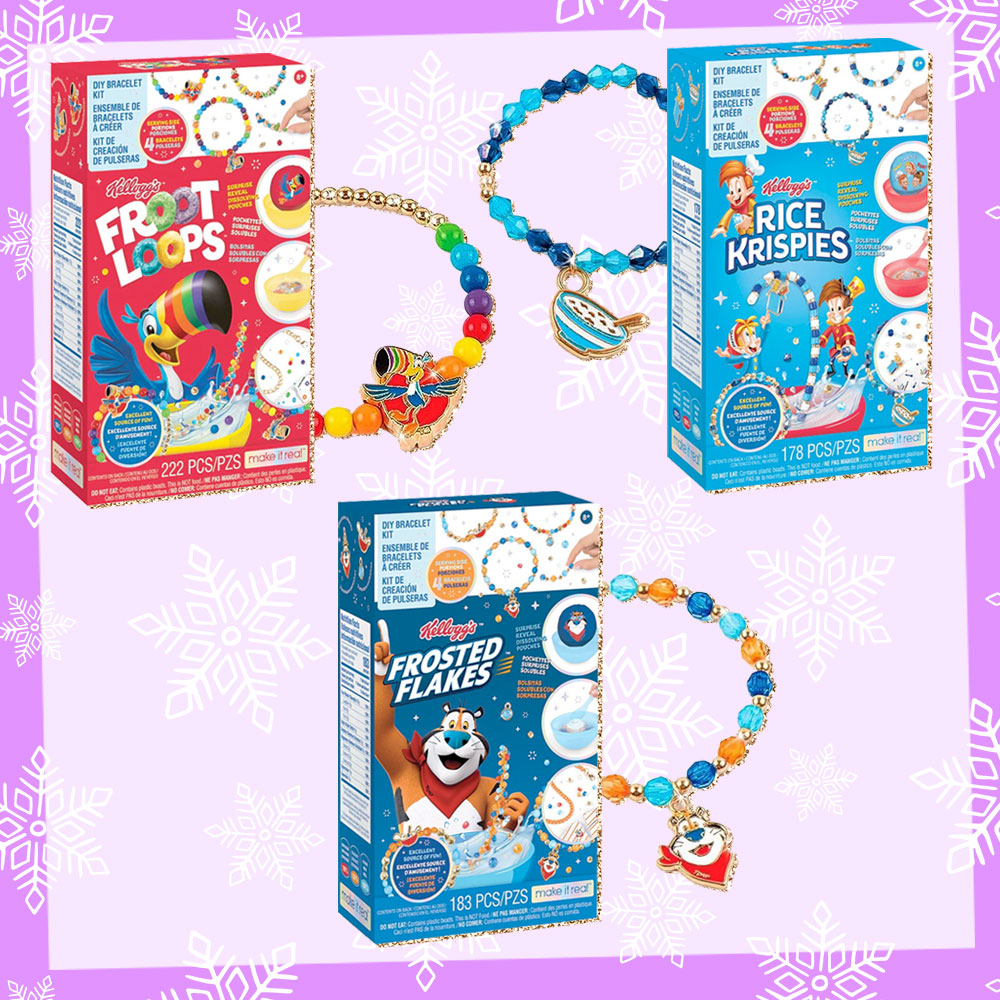 WHAT DO I WIN?:
ONE (1) lucky winner will receive a Make it Real Cerealsly Cute Kellogg's Bracelet Kits Prize Pack that includes:
– ONE (1) Kellogg's Rice Krispies Bracelet Kit
– ONE (1) Kellogg's Froot Loops Bracelet Kit
– ONE (1) Kellogg's Frosted Flakes Bracelet Kit
*Prizes generously provided by Make it Real
HOW DO I ENTER?:
Grab a parent or guardian and have them fill out the form below by November 29, 2023 at 11:59pm ET.
Giveaway runs from 11/15/23 at 12:00 pm ET through 11/29/23 at 11:59 pm. Open to US residents ONLY. Be sure to read the fully detailed rules HERE before entering.
THIS GIVEAWAY HAS ENDED AND THE WINNER HAS BEEN CONTACTED.
You must be 18 or older to enter. Please, only ONE entry per person. If selected as a winner, we will provide your parent/guardian with an affidavit to confirm that you are a valid winner who has permission to win. They will be REQUIRED to sign and return the affidavit to YAYOMG! to claim your prize. Prizes will not be mailed out without signed parental consent.
MORE HOLLY JOLLY FUN:
❄️CREATIVE DREAMS: Craft your way to the winter break of your dreams! Enter to WIN 6 Klutz kits!
✨WORRY-FREE: Soft, snuggly, & filled with unconditional love, Bumpas weighted plush are designed to make you feel better. Enter HERE!
❄️REBEL READS: Grow up powerful & find your confidence with these Rebel Girls reads! Enter HERE!