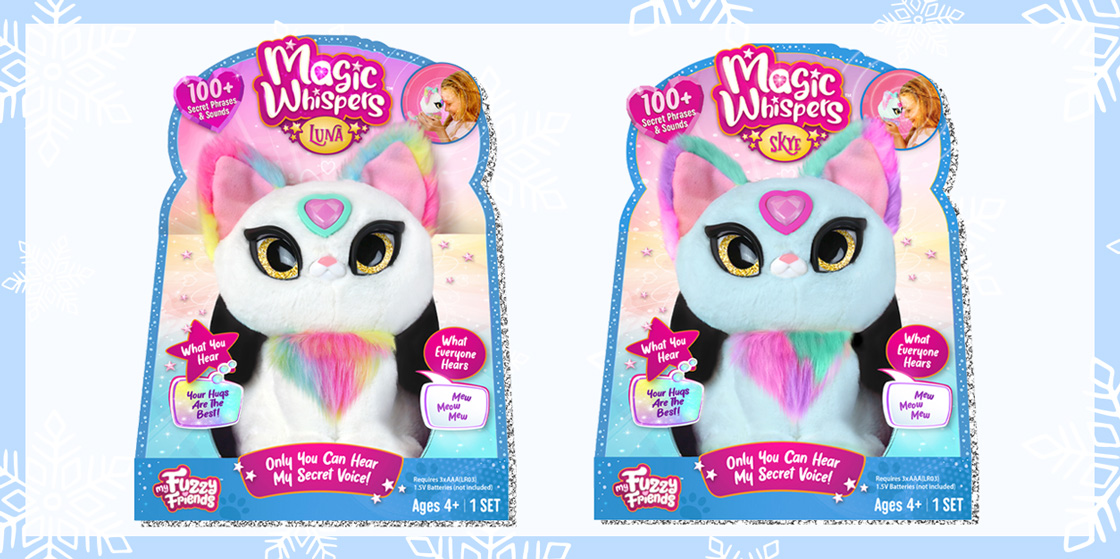 Holly Jolly Giveaways: My Fuzzy Friends Magic Whispers Kitty Duo
NOTE: The items in our My Fuzzy Friends Magic Whispers Kitty Duo Giveaway were provided by the brand for the purposes of our Holly Jolly Giveaways. No money was exchanged, and all opinions are our own. We reached out to these brands for this giveaway because they create products we love.
Secrets and friendship are the highlight of our next Holly Jolly Giveaway, and we think you'll find this one particularly a-meow-zing!
What if your favorite plush toy was also a purring, joke-cracking fortune teller that only YOU can understand? The My Fuzzy Friends: Magic Whispers Kitty is the purr-fect companion for sharing your deepest secrets and getting answers to your most burning questions. Everyone can hear these soft, adorable kitties purr, but only YOU can understand what they're really saying. Pick it up and press your forehead against the glowing crystal heart to telepathically hear her secret inner voice!
There are three ways to tap into the magic, just squeeze their ear to flip through the different modes. Secret Cat Chat will reveal a secret message, in Witty Kitty mode, your kitty will share silly jokes, and Fortune Teller transforms your kitty into an all-knowing cat that can answer yes or no questions. With over 100 messages and sounds to discover, you'll love spending time together!
Ready to make magic and share secrets with this adorable kitty? Our friends at Skyrocket are giving one lucky winner a chance to win a My Fuzzy Friends: Magic Whispers Kitty prize pack featuring both Skye and Luna so you can build out your collection or share one with your bestie. Grab your favorite adult and have them enter below for your chance to WIN!
My Fuzzy Friends Magic Whispers Kitty Duo Giveaway: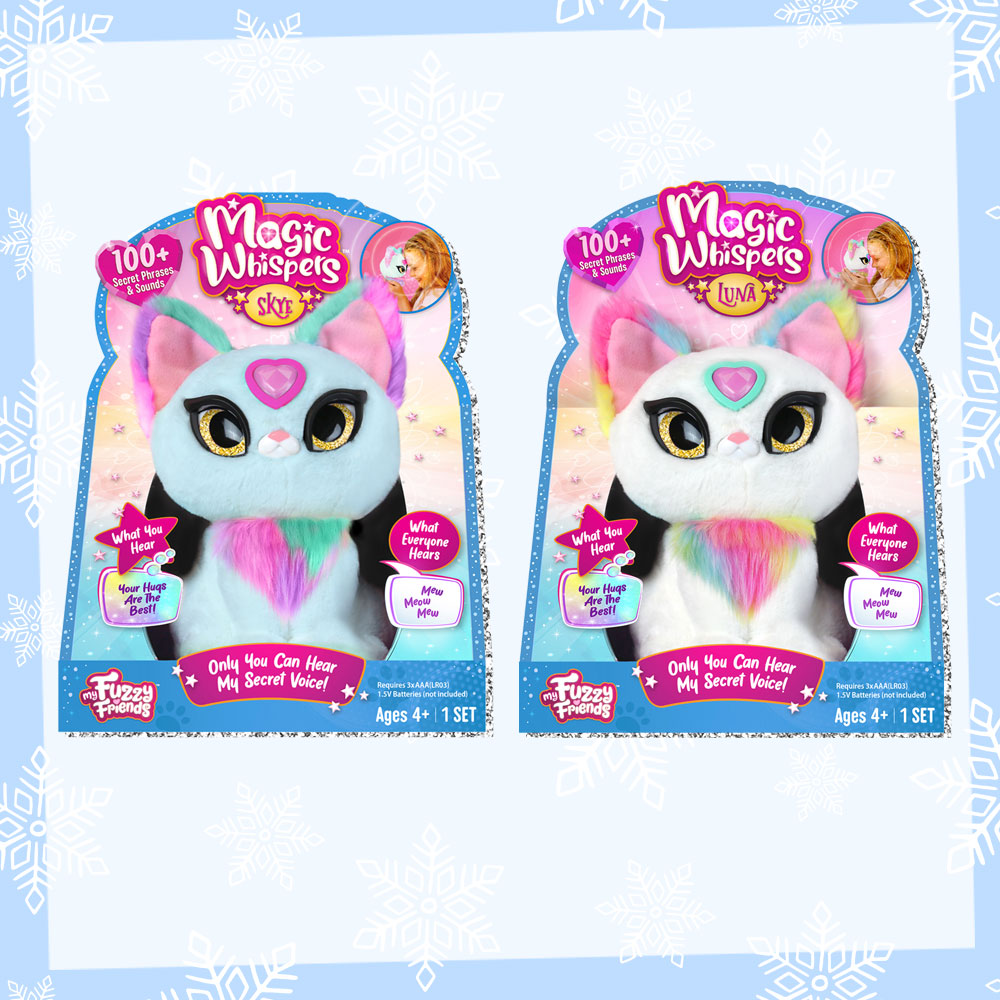 WHAT DO I WIN?:
ONE (1) lucky winner will receive TWO (2) My Fuzzy Friends Magic Whispers Kitty Plush (Skye and Luna), generously provided by Skyrocket.
HOW DO I ENTER?:
Grab a parent or guardian and have them fill out the form below by November 20, 2023 at 11:59pm ET.
Giveaway runs from 11/06/23 at 12:00 pm ET through 11/20/23 at 11:59 pm. Open to US residents ONLY. Be sure to read the fully detailed rules HERE before entering.
THIS GIVEAWAY HAS ENDED AND THE WINNER HAS BEEN CONTACTED.
You must be 18 or older to enter. Please, only ONE entry per person. If selected as a winner, we will provide your parent/guardian with an affidavit to confirm that you are a valid winner who has permission to win. They will be REQUIRED to sign and return the affidavit to YAYOMG! to claim your prize. Prizes will not be mailed out without signed parental consent.
MORE HOLLY JOLLY FUN:
❄️FASHIONS THAT STICK: Embrace your inner stylist! Enter to WIN a Style Bae fashion dolls prize pack!
✨ALL BOOKED UP: Stay booked this winter & go on fantastical adventures with this stash of new reads – enter HERE!
❄️GAME NIGHT GOALS: Throw the ultimate game night! Enter to WIN an Exploding Kittens prize pack!