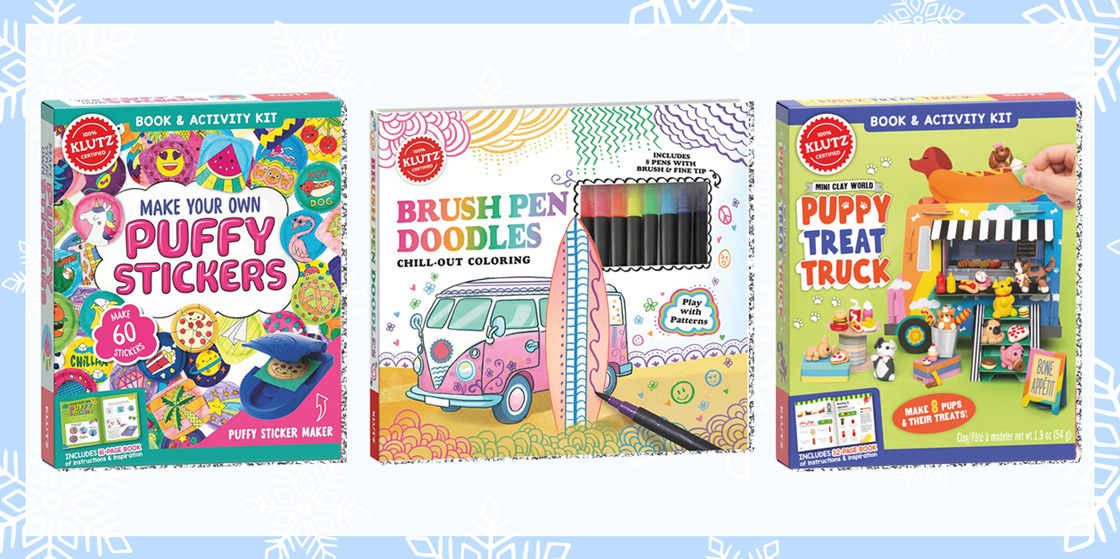 Holly Jolly Giveaways: Klutz Creative Dreams Haul
NOTE: The items in our Klutz Creative Dreams Haul Giveaway were provided by the brand for the purposes of our Holly Jolly Giveaways. No money was exchanged, and all opinions are our own. We reached out to these brands for this giveaway because they create products we love.
Calling all creative girlies! Our next Holly Jolly Giveaway will keep you crafting, inspired, and creating all winter long!
Have you been counting down the days until winter break so you can have more time for all the DIY projects you've been dreaming of? We totally get it. That's why we teamed up with our besties at Klutz to help you manifest the craft-filled school vacay you deserve! They're giving ONE lucky winner a chance to channel their artistic energy into everything from breathtaking brush pen doodles, adorable clay sushi rolls, and even some super gross science experiments with a Creative Dreams Prize Pack filled with some of their best craft kits!
Keep reading to find out more about these awesome kits, and when you're ready to enter, grab your favorite adult and have them fill out the form below for your chance to WIN!
Make Your Creative Dreams Come True With These Klutz Kits: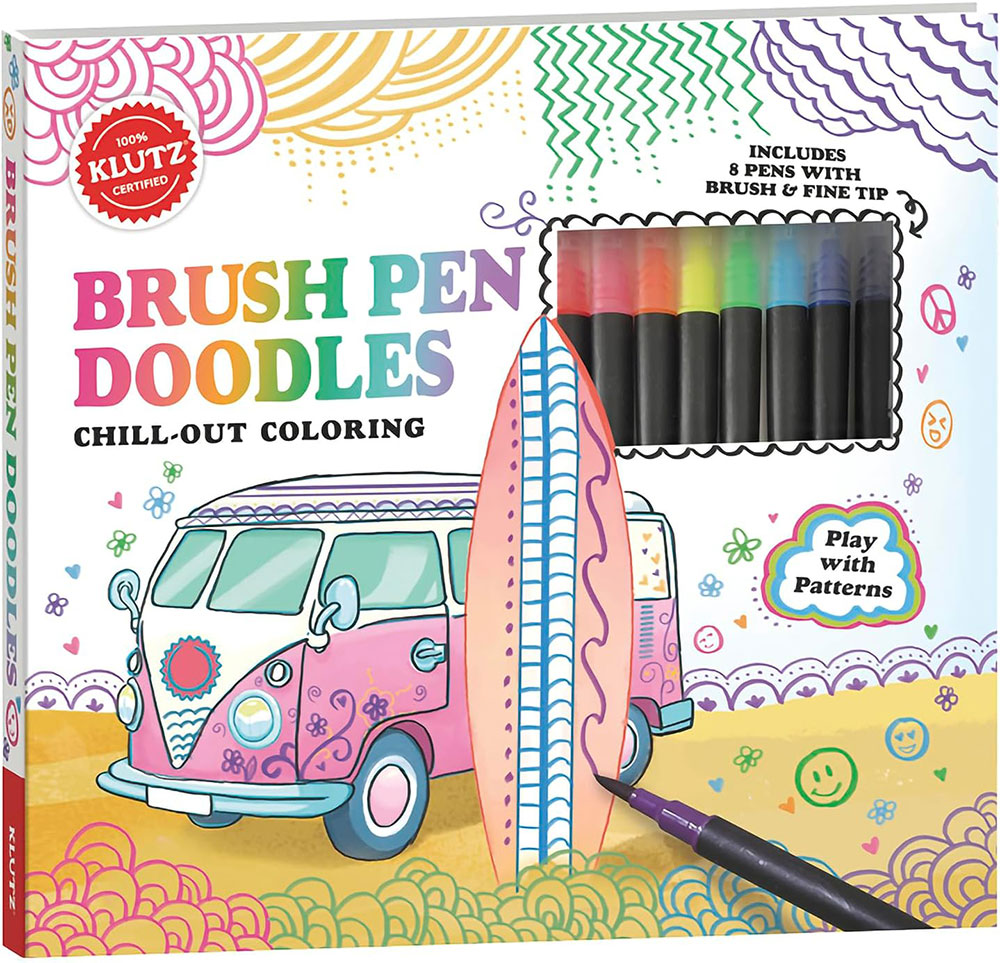 Brush Pen Doodles Kit:
WHO'LL ENJOY IT?: Doodle lovers who love finding their zen.
KIT DEETS: Creating art is a great way to help yourself feel calm. There are no rules in art, so feel free to color outside the lines. Includes eight double-sided pens that feature a brush tip on one end and a fine tip on each end. Inspired by mindful meditation, this reverse-style coloring book brings a less restrictive and mindful approach to line work, color, and creativity. Doodle and decorate through 19 pages of soft, painterly art with prompts for patterns and linework, and tons of practice activities to get you started.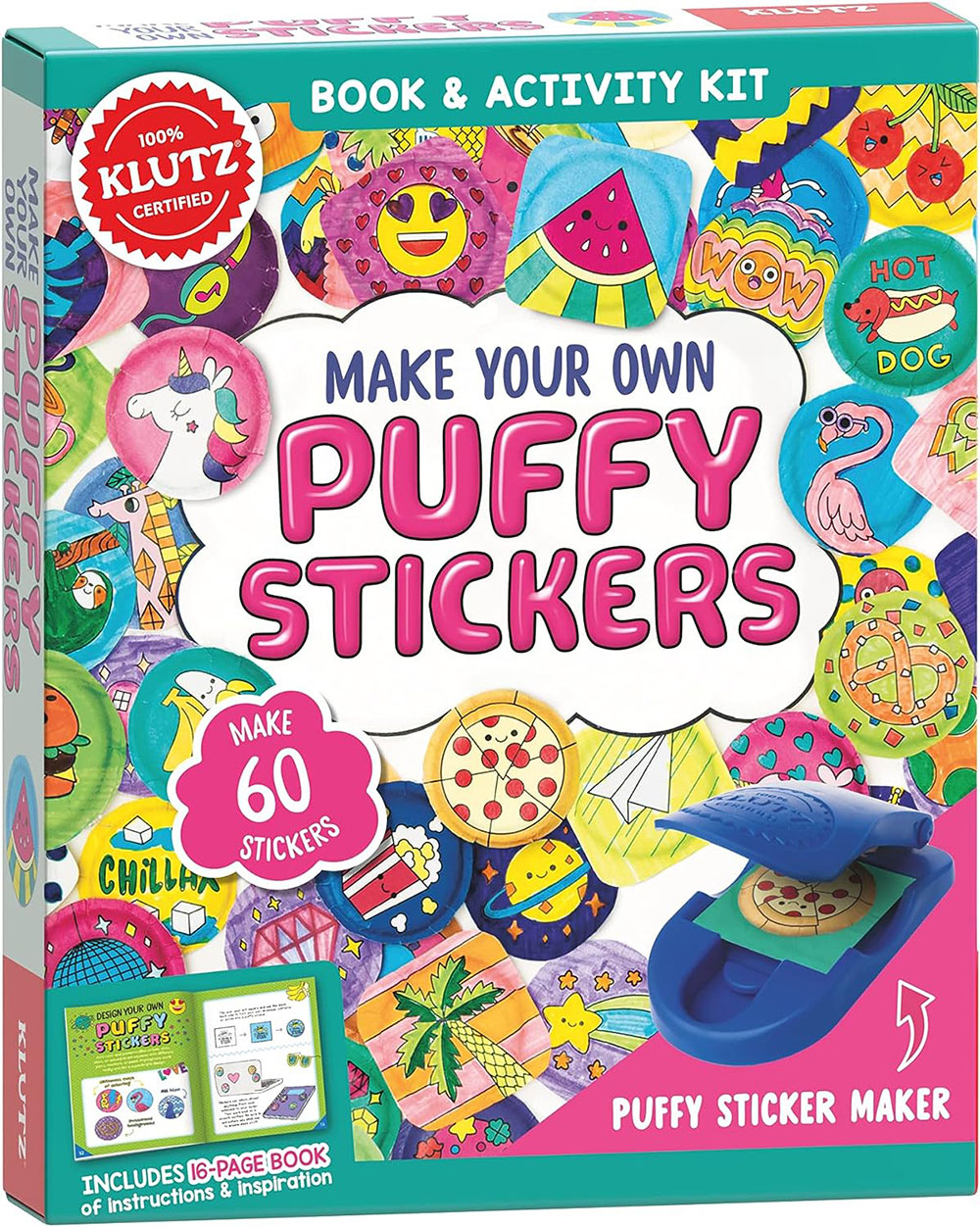 Make Your Own Puffy Stickers Book & Activity Kit:
WHO'LL ENJOY IT?: Anyone who loves decorating their stuff with endless amounts of stickers.
KIT DEETS: Stickers are even better when they're squishy! Make 60 one-of-a-kind puffy stickers to spruce up your stuff. Comes with a Puffy Sticker Maker as well as full-color and color-in illustrations to make your own. Sticker fanatics everywhere will love adding these custom designs to their collection.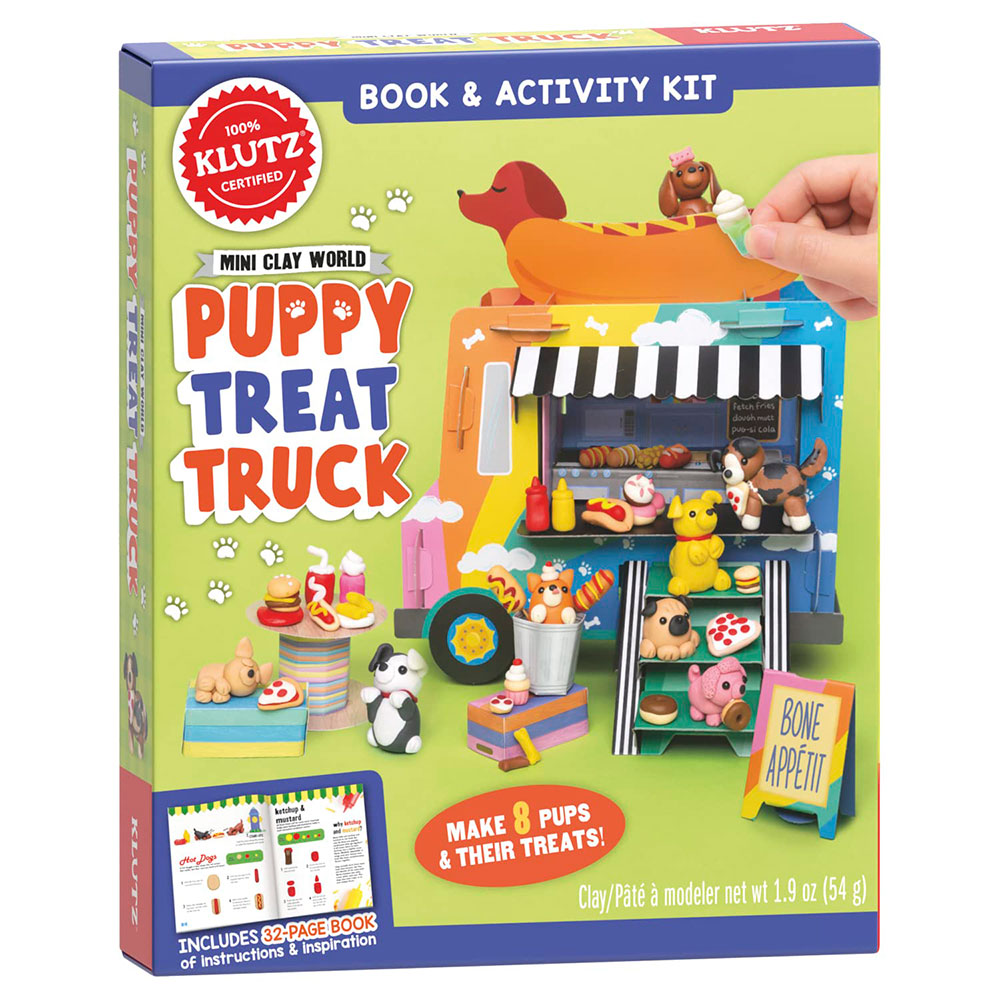 Mini Clay Word: Puppy Treat Truck Book & Activity Kit:
WHO'LL ENJOY IT?: Animal lovers & crafters with a passion for puns.
KIT DEETS: The next in Klutz's beloved line of tiny, adorable shops. Sculpt a variety of clay dogs plus artisanal clay doggie treats! Includes five colors of clay for such pun-tastic, puppy-fied treats as pupperoni pizza, pupcakes, and more! Use mixed-media supplies to create easy yet realistic details that bring your doggie dining franchise to life!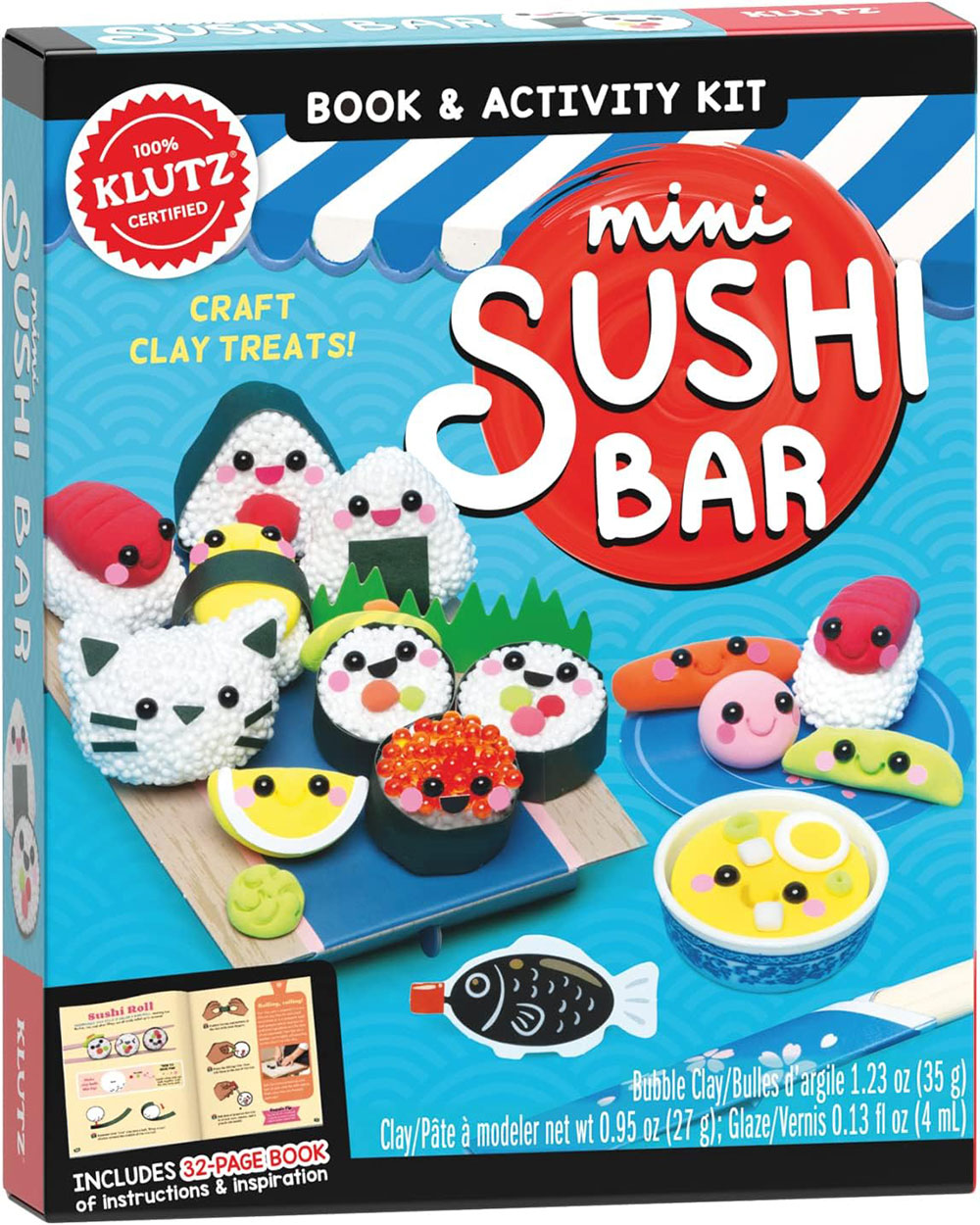 Mini Sushi Bar Book & Activity Kit:
WHO'LL ENJOY IT?: Sushi lovers with a flair for the adorable.
KIT DEETS: Make 16 cute sushi characters using clay and mixed media. Learn about the art of making sushi as you roll and sculpt adorable food with faces. Clay chefs will learn the difference between sushi rolls, onigiri (rice balls), sashimi, mochi, and other treats from Japan. Then, build out your sushi spread by packing a papercraft bento box, or a fancy dinner display. Complete the scene with mealtime extras, including an origami holder for your miniature chopsticks. Itadakimasu!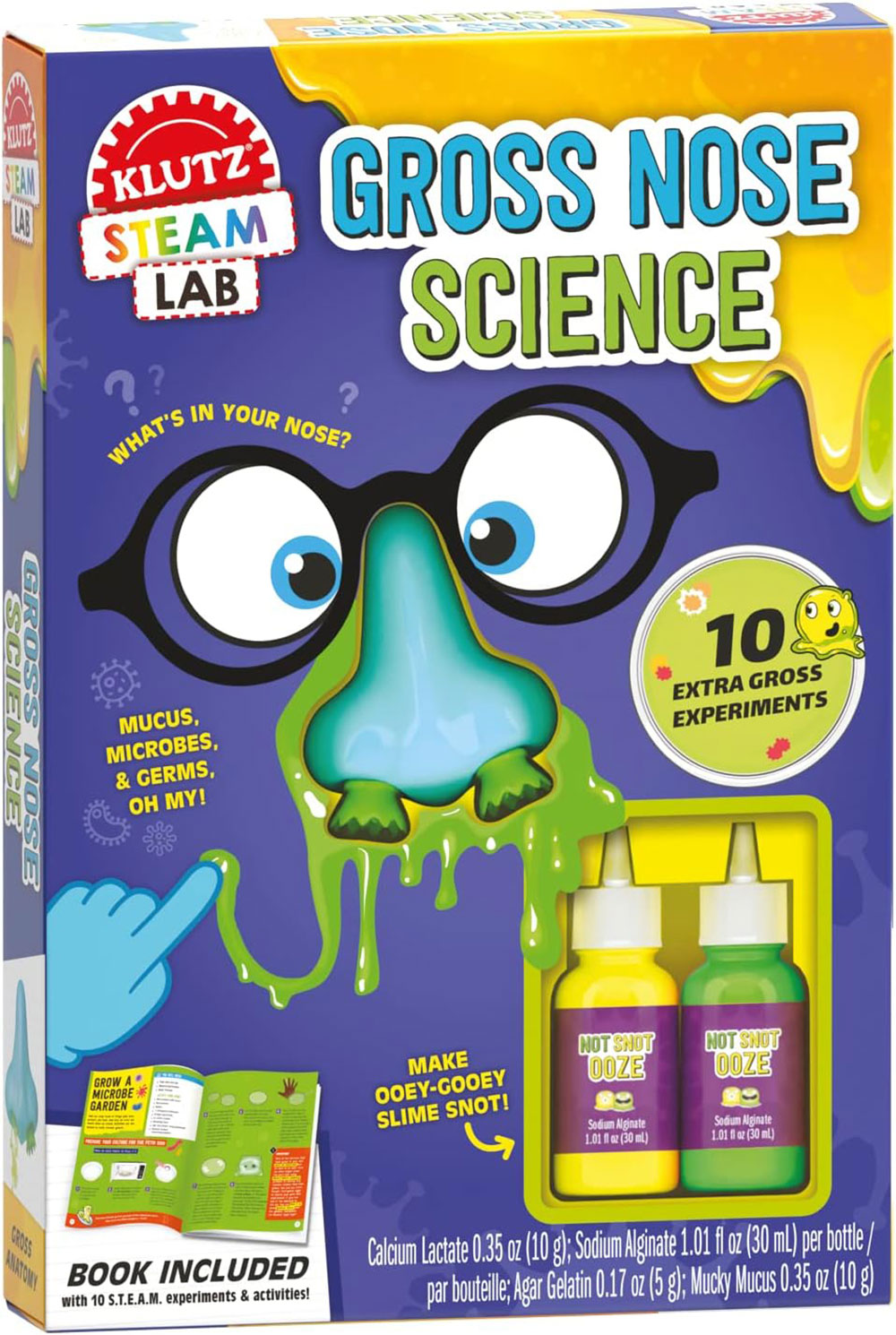 Gross Nose Science Kit:
WHO'LL ENJOY IT?: Curious kids who think gross is AWESOME!
KIT DEETS: Squeeze slimy snots through a soft and squishy nose! Explore ten different experiments on sinus-based anatomy, make sense of scents with the power of smell, and even whip up a batch of boogers! Learn how snot, mucus, and nose hairs protect your body. Use the fake sneezer to find the best ways to stop a sneeze or cough, and grow germs in a safe petri dish culture. Finally, try out soapy science activities to observe how germs can be eradicated.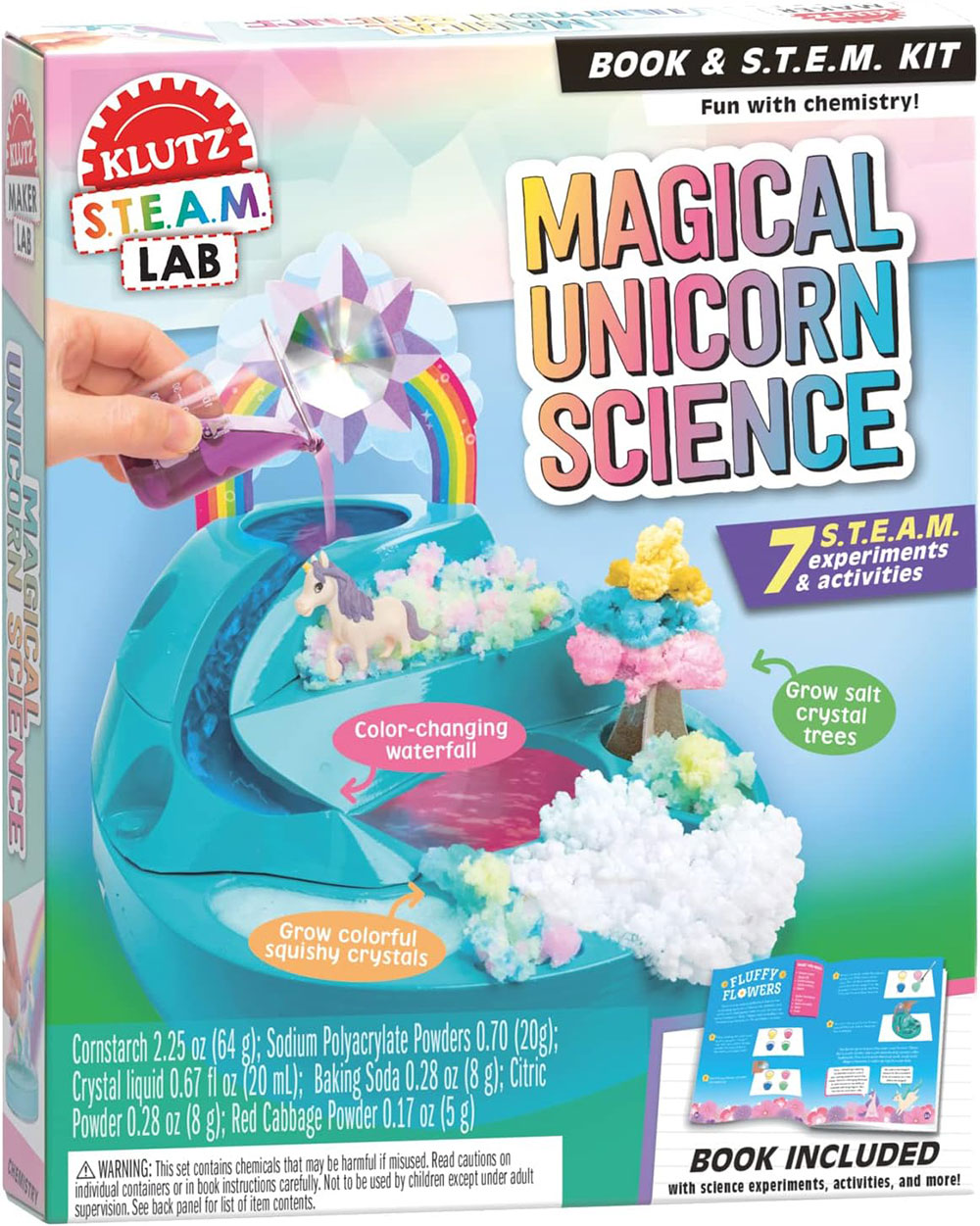 Magical Unicorn Science Book & S.T.E.M. Kit:
WHO'LL ENJOY IT?: Anyone who believes science is magical!
KIT DEETS: Bring the unicorn sanctuary back to life! Build the island base, then conduct lots of experiments to create everything your unicorns need to thrive. Grow crystal rainbow trees and instant jelly flowers for their "food." Make a color-changing waterfall to explore the chemistry of acids and bases. Get hands-on with magic mud to learn about non-Newtonian fluids (Oobleck) and use the crystal prism to create rainbows.
Klutz Creative Dreams Haul Giveaway: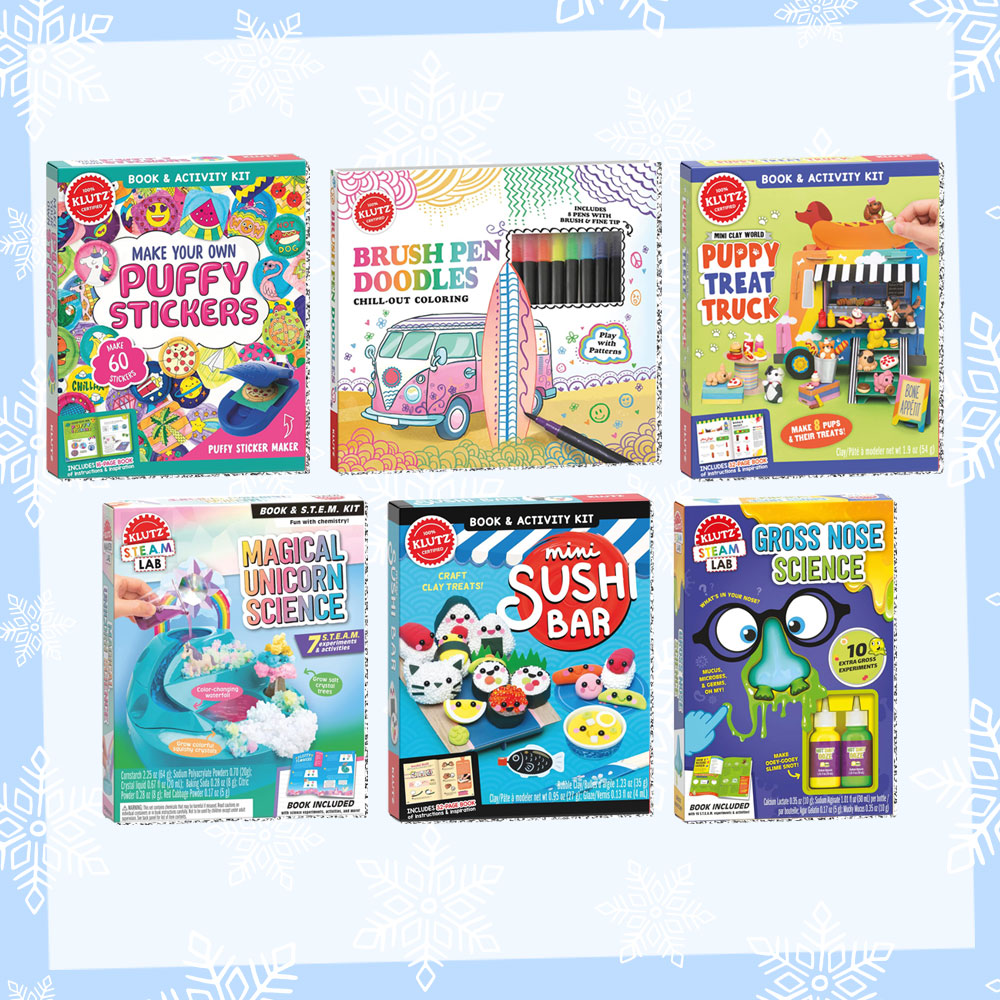 WHAT DO I WIN?:
ONE (1) lucky winner will receive a Klutz Creative Dreams Prize Pack that includes:
– ONE (1) Brush Pen Doodles Kit
– ONE (1) Make Your Own Puffy Stickers Kit
– ONE (1) Mini Clay World: Puppy Treat Truck Kit
– ONE (1) Mini Sushi Bar Kit
– ONE (1) Klutz STEAM Lab: Gross Nose Science Kit
– ONE (1) Klutz STEAM Lab: Magical Unicorn Science Kit
*Prizes generously provided by Scholastic.
HOW DO I ENTER?:
Grab a parent or guardian and have them fill out the form below by November 28, 2023 at 11:59pm ET.
Giveaway runs from 11/14/23 at 12:00 pm ET through 11/28/23 at 11:59 pm. Open to US residents ONLY. Be sure to read the fully detailed rules HERE before entering.
THIS GIVEAWAY HAS ENDED AND THE WINNER HAS BEEN CONTACTED.
You must be 18 or older to enter. Please, only ONE entry per person. If selected as a winner, we will provide your parent/guardian with an affidavit to confirm that you are a valid winner who has permission to win. They will be REQUIRED to sign and return the affidavit to YAYOMG! to claim your prize. Prizes will not be mailed out without signed parental consent.
MORE HOLLY JOLLY FUN:
❄️MAGIC SCRUNCH: Can't get enough DIYs? Create adorable unicorn & axolotl pillows with Magic Scrunch – enter to WIN!
✨CURIOUS READS: Fuel your ever-curious mind with this National Geographic Kids book haul – enter HERE!
❄️FESTIVE AT YOUR FINGERTIPS: Enter to WIN a Fingerlings prize pack, including Snowbelle, the holiday-exclusive baby monkey!