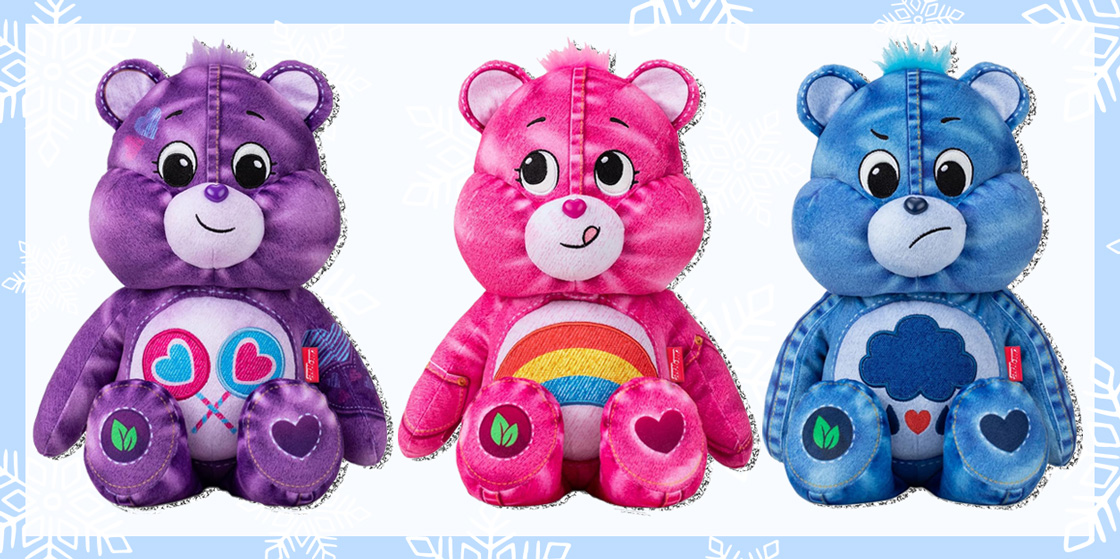 Holly Jolly Giveaways: Care Bears Denim Collection
NOTE: The items in our Care Bears Denim Collection Giveaway were provided by the brand for the purposes of our Holly Jolly Giveaways. No money was exchanged, and all opinions are our own. We reached out to these brands for this giveaway because they create products we love.
Snuggly and sustainable? Our Holly Jolly Giveaways continue today with a prize pack you can feel good about!
Dare to share your care in dazzling denim! The Care Bears are a group of lovable, huggable BFFS who are all about spreading good, caring vibes across the world, and this time, Cheer Bear, Grumpy Bear, and Share Bear are on trend in their bold, denim-inspired style.
In addition to being adorable, they're also eco-friendly! Designed with the Earth in mind, the Care Bears Denim Collection is made of recycled materials. Whether you take them along on all your Earth-friendly adventures or snuggle them while you sleep, they're sure to help empower you to share your care about the planet!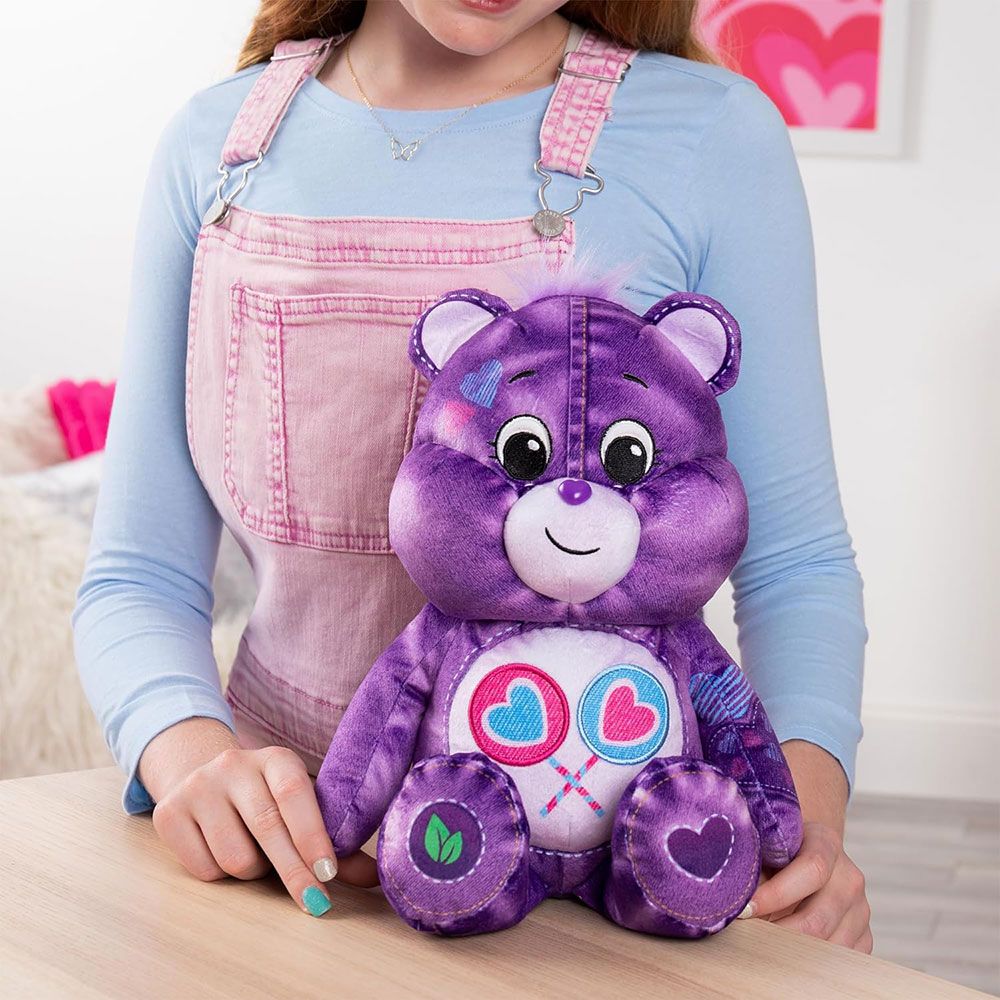 Our friends at Basic Fun are giving one lucky winner a chance to snag all THREE of these delightfully denim Care Bears! Ready to enter? Grab your favorite adult and have them enter below for your chance to WIN!
Care Bears Denim Collection Giveaway: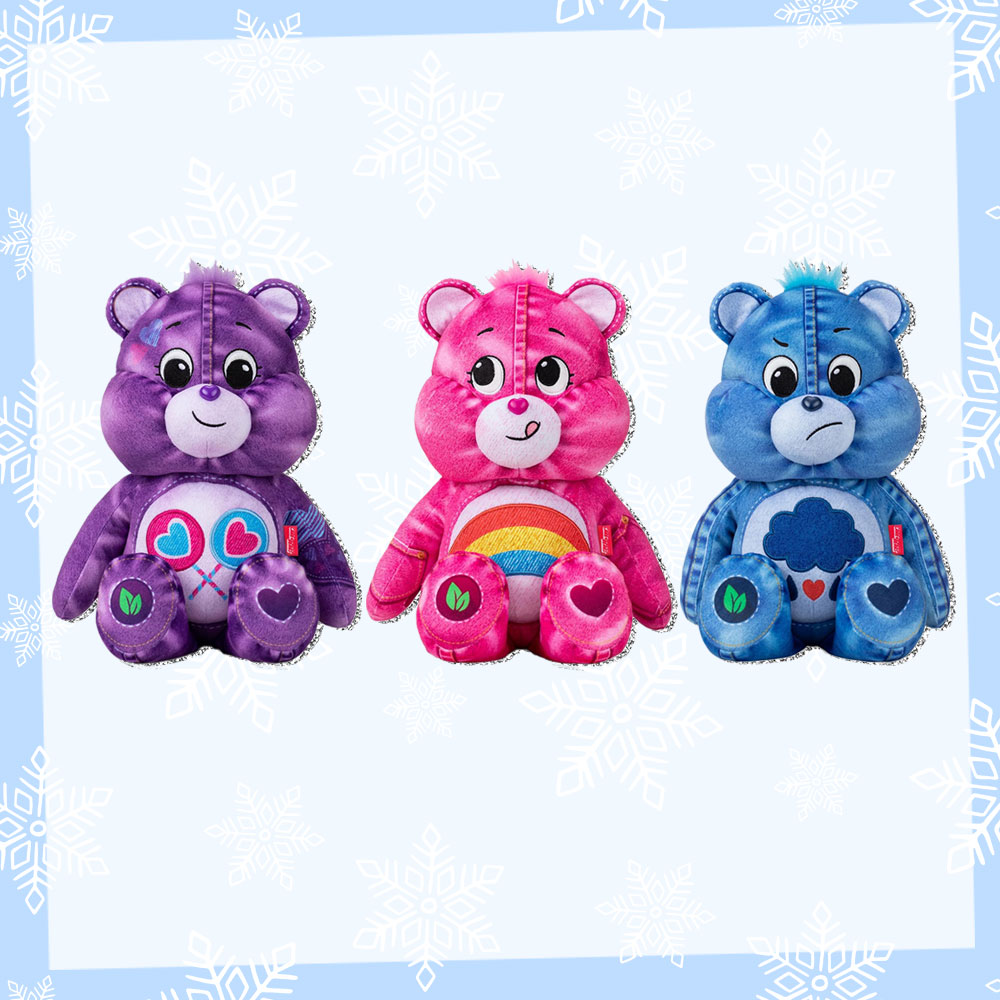 WHAT DO I WIN?:
ONE (1) lucky winner will receive a Care Bears Denim Collection Prize Pack that includes:
– ONE (1) Cheer Bear Denim Collection Plush
– ONE (1) Grumpy Bear Denim Collection Plush
– ONE (1) Share Bear Denim Collection Plush
*Prizes generously provided by Basic Fun
HOW DO I ENTER?:
Grab a parent or guardian and have them fill out the form below by November 22, 2023 at 11:59pm ET.
Giveaway runs from 11/08/23 at 12:00 pm ET through 11/22/23 at 11:59 pm. Open to US residents ONLY. Be sure to read the fully detailed rules HERE before entering.
THIS GIVEAWAY HAS ENDED AND THE WINNER HAS BEEN CONTACTED.
You must be 18 or older to enter. Please, only ONE entry per person. If selected as a winner, we will provide your parent/guardian with an affidavit to confirm that you are a valid winner who has permission to win. They will be REQUIRED to sign and return the affidavit to YAYOMG! to claim your prize. Prizes will not be mailed out without signed parental consent.
MORE HOLLY JOLLY FUN:
❄️POKÉMON SQUISHMALLOWS: Gotta catch (& squeeze) 'em all! Enter to WIN Pikachu & Gengar Squishmallows!
✨BOOK HAUL: Our Fantastical Adventures prize pack will whisk you away to fabulous fantasy worlds!
❄️STYLE BAE: Peel, stick, & style! Enter to WIN a set of Style Bae Fashion Dolls!