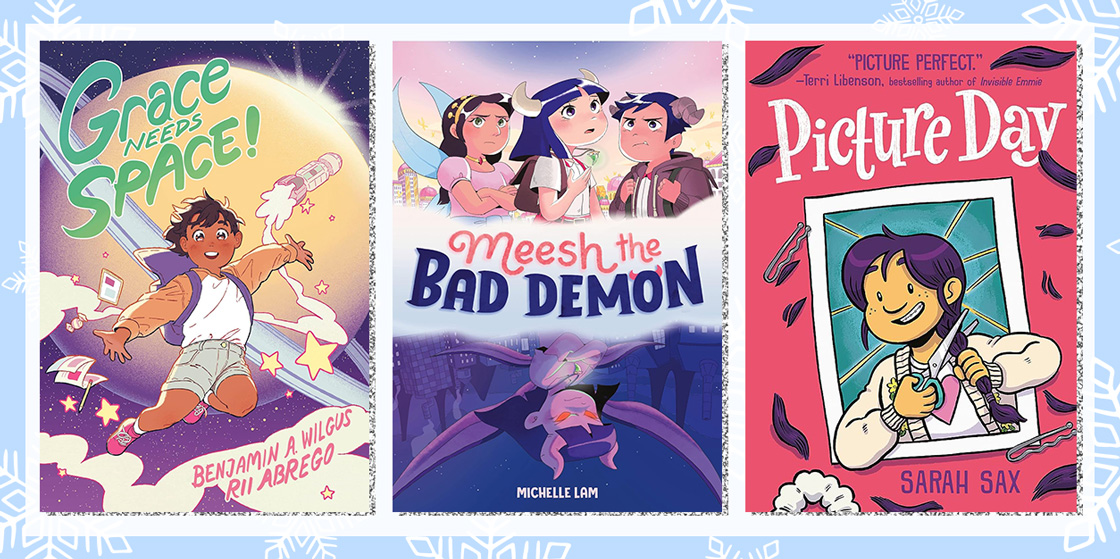 Holly Jolly Giveaways: Random House Children's Books Graphic Novel Collection
NOTE: The items in our Random House Children's Books Graphic Novel Collection Giveaway were provided by the brand for the purposes of our Holly Jolly Giveaways. No money was exchanged, and all opinions are our own. We reached out to these brands for this giveaway because they create products we love.
Our next Holly Jolly Giveaway will help you celebrate the season of reading!
Drawing you into the story with expressive characters, moody color choices, and amazing illustrations, graphic novels show you everything you need to know about the fictional world you're reading about, down to the tiniest detail. It's like unlocking all the secrets of a story! If you love getting lost in these illustrated worlds, we have a prize pack you won't want to miss!
Our friends at Random House Children's Books have assembled a prize pack overflowing with NINE of their best graphic novels, and we're giving you a chance to win! From fairytale towns and picture day troubles to optimistic demons and killer toilets from outer space, these stories will send you on imaginative adventures from the comfort of your couch.
Ready to start reading? Grab your favorite adult and have them enter below for your chance to WIN!
9 Must-Read Graphic Novels: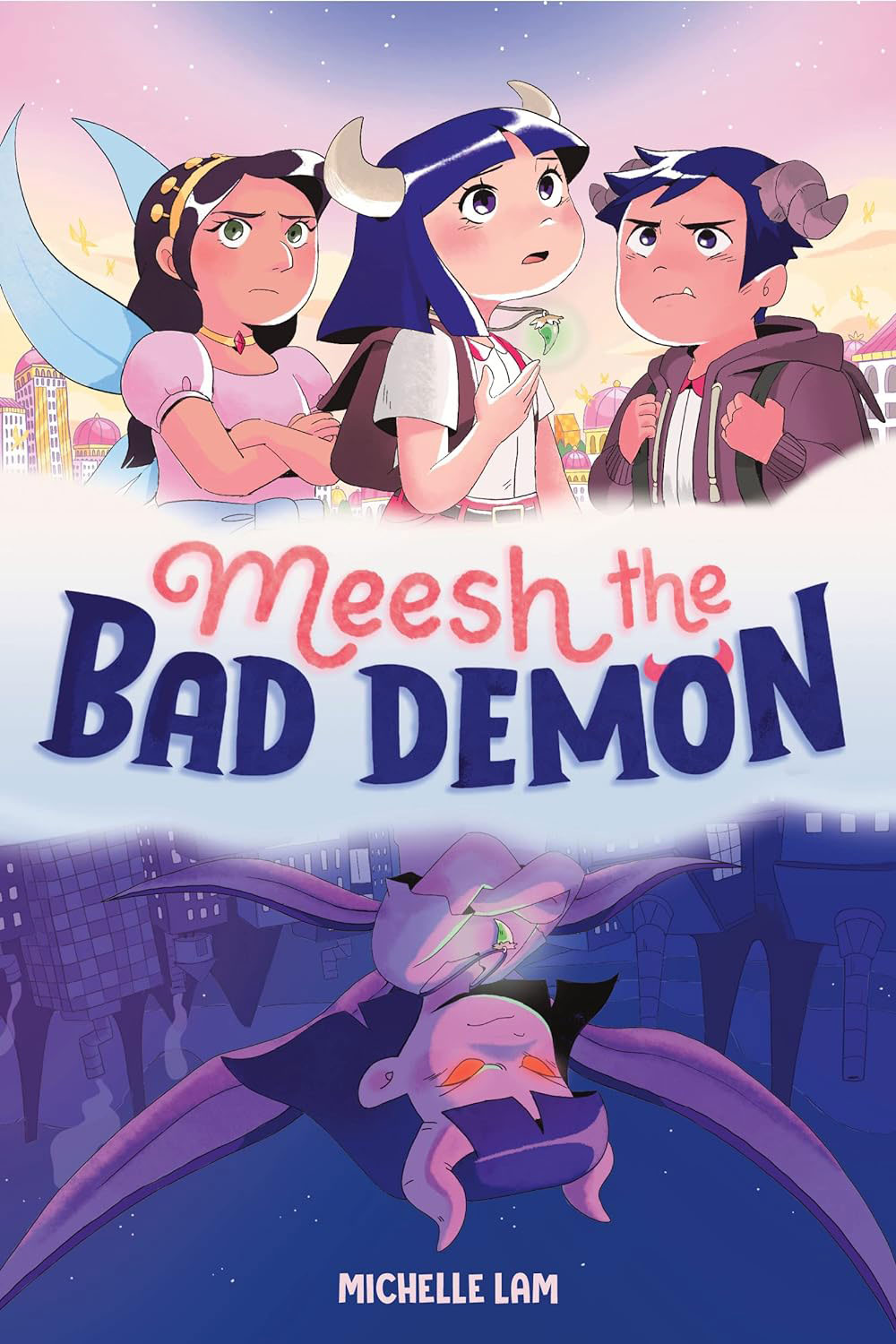 Meesh the Bad Demon
AUTHOR: Michelle Lam
SYNOPSIS: A tale of unlikely heroes and myths is made real in this debut graphic novel series about a "bad" demon trying to find her place in the underworld. But she'll have to save it first!
Meesh is a bad demon. "Bad" in that she always sees the good in those around her—which isn't how a demon is meant to feel or act.
Bullied by the other demons, twelve-year-old Meesh is more likely to be found reading magazines from Plumeria City—the fairy realm—and fangirling about the fairy princesses.
But when disaster strikes and all of demon-kind is threatened, Meesh must journey to other worlds in search of help.
As luck would have it, she meets a fairy princess right away. Things in the fairy realm aren't so perfect either, though. As Meesh makes surprising new friends and unites a band of outcasts, she learns there's much more to being a demon than she ever realized. And learning to love herself might just uncover the secret to saving her home.
BONUS: Author Michelle Lam shared all the reasons she thinks Meesh is totally fierce in our FIERCELY FICTIONAL spotlight – CLICK HERE!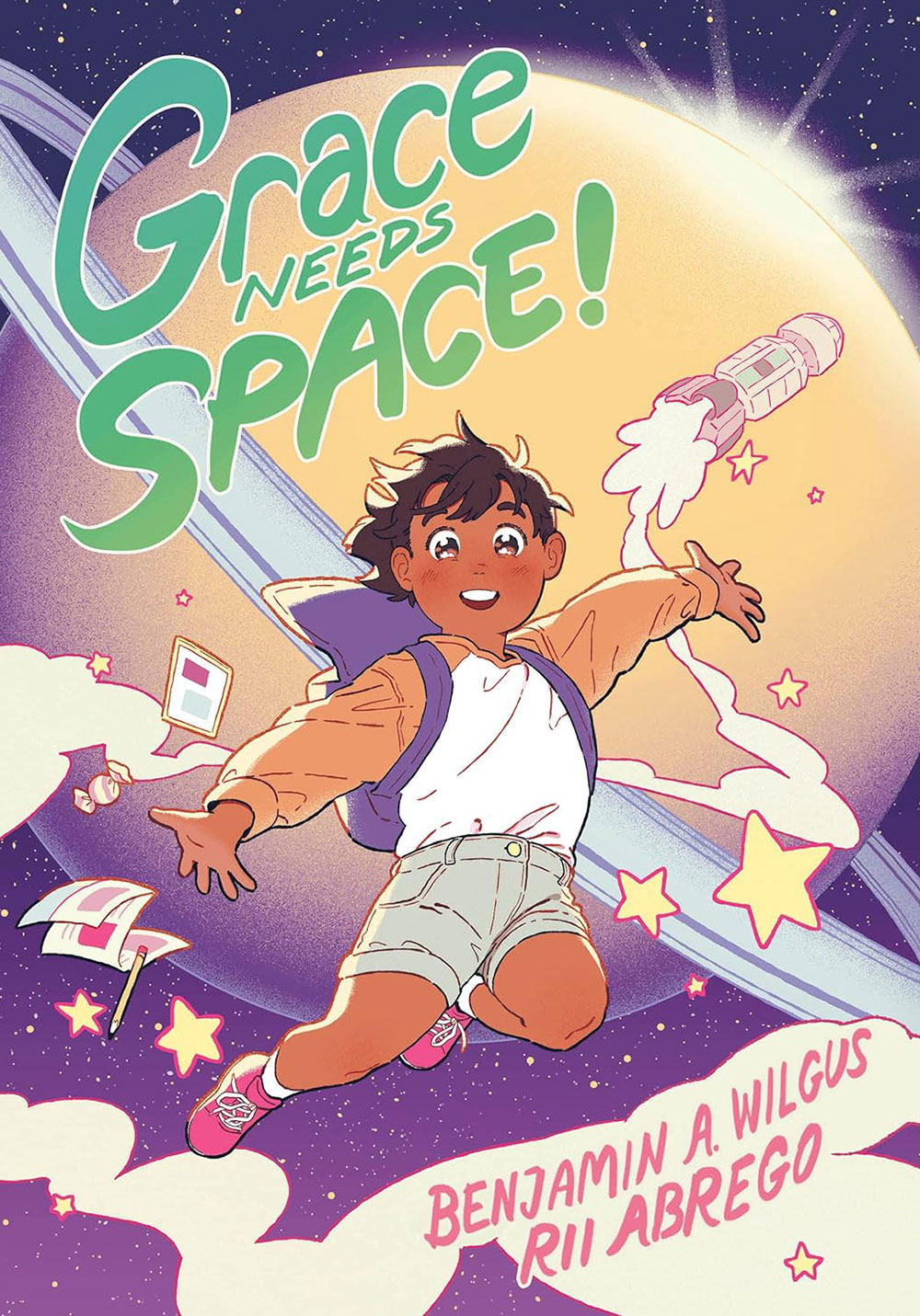 Grace Needs Space!
AUTHOR: Benjamin A. Wilgus
SYNOPSIS: To the moon and back! A sci-fi middle-grade graphic novel about a young girl's long-awaited summer trip across space with one of her moms. But when her relationship with her mom goes sideways, so does her trip. Will Grace be able to save her summer vacation before it ends?
Grace is SO EXCITED to fly a freighter from her home space station (and away from her BORING mother Evelyn) to a faraway moon! Plus, she'll get some quality time with her FUN mom Kendra—something Grace definitely needs. Finally, a real adventure that Grace can get excited about while the rest of her space station friends go away for their summer vacations.
But when Kendra is too focused on work, Grace's first big trip suddenly becomes kind of lonely. Grace had so many plans for fun. But all it takes is one quick decision to explore the moon by herself before Grace's adventure suddenly becomes not so out of this world at all. With her mom mad at her, Grace wants nothing more than to return home. Then their ship breaks down. Will Grace be able to get through to her mom and save their trip in the end?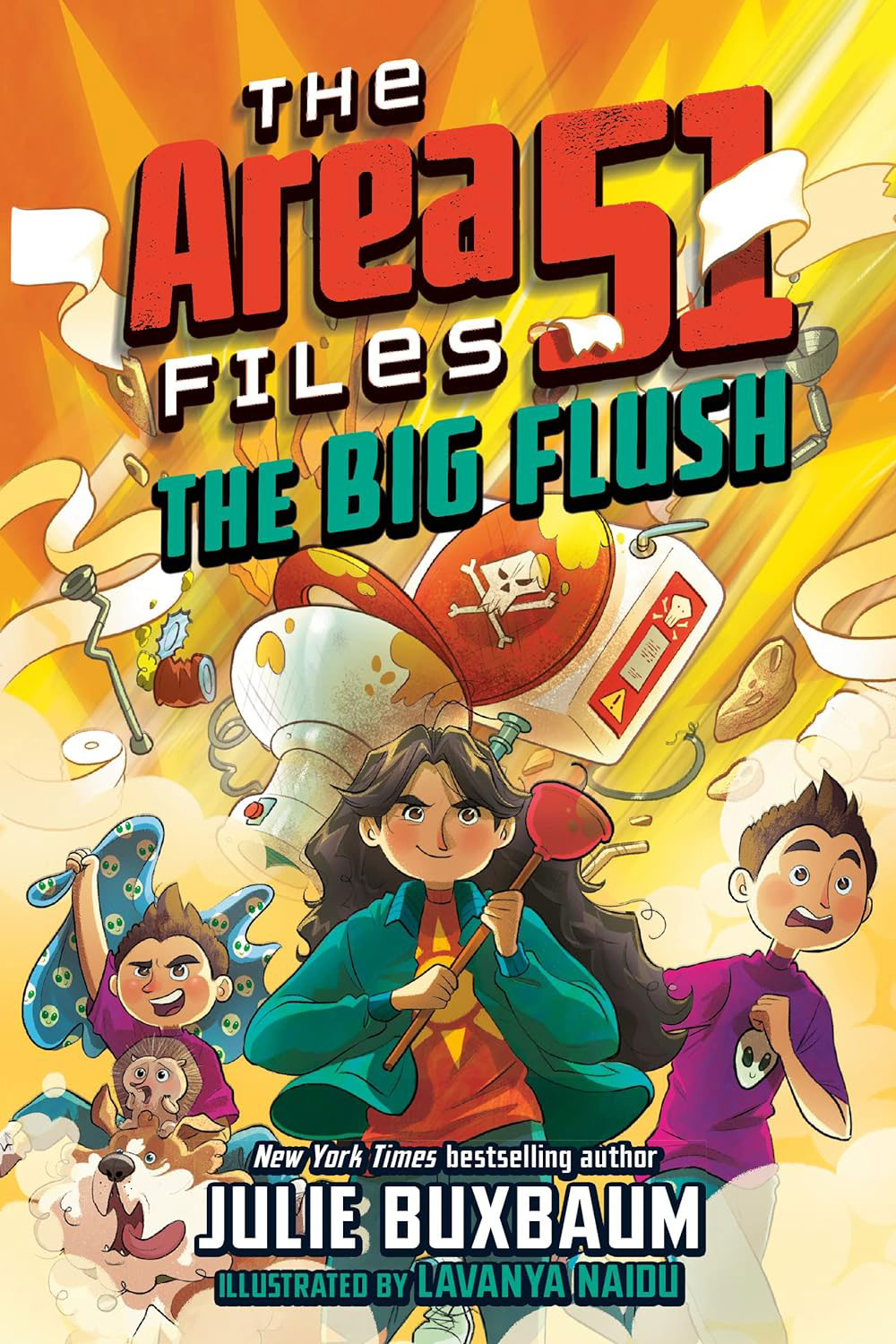 The Area 51 Files: The Big Flush
AUTHOR: Julie Buxbaum
SYNOPSIS: A killer space toilet is hurtling toward Area 51, courtesy of a mystery traitor on base, and things are about to get messy if Sky and her friends can't solve the case. Don't miss book two in the Edgar Award nominated Area 51 Files series!
"Epically fun!"—Max Brallier, #1 New York Times bestselling author of The Last Kids on Earth
Sky Patel-Baum, Area 51's latest arrival, thought she had finally figured out her strange new home. Sure, there are aliens everywhere, and her new BFF Elvis is from the planet Galzoria. But it turns out things can still get weirder. Because some special visitors just arrived with a warning: Area 51 is in danger!
A hunk of space junk is headed right for the base! And it's not just any hunk of junk! It's a giant toilet! Even worse? A traitor on base is working with angry aliens to coordinate the attack.
With one case already under their belts, Sky and her friends are on a mission to save Area 51. But what happens if their investigation goes down the toilet? That would stink!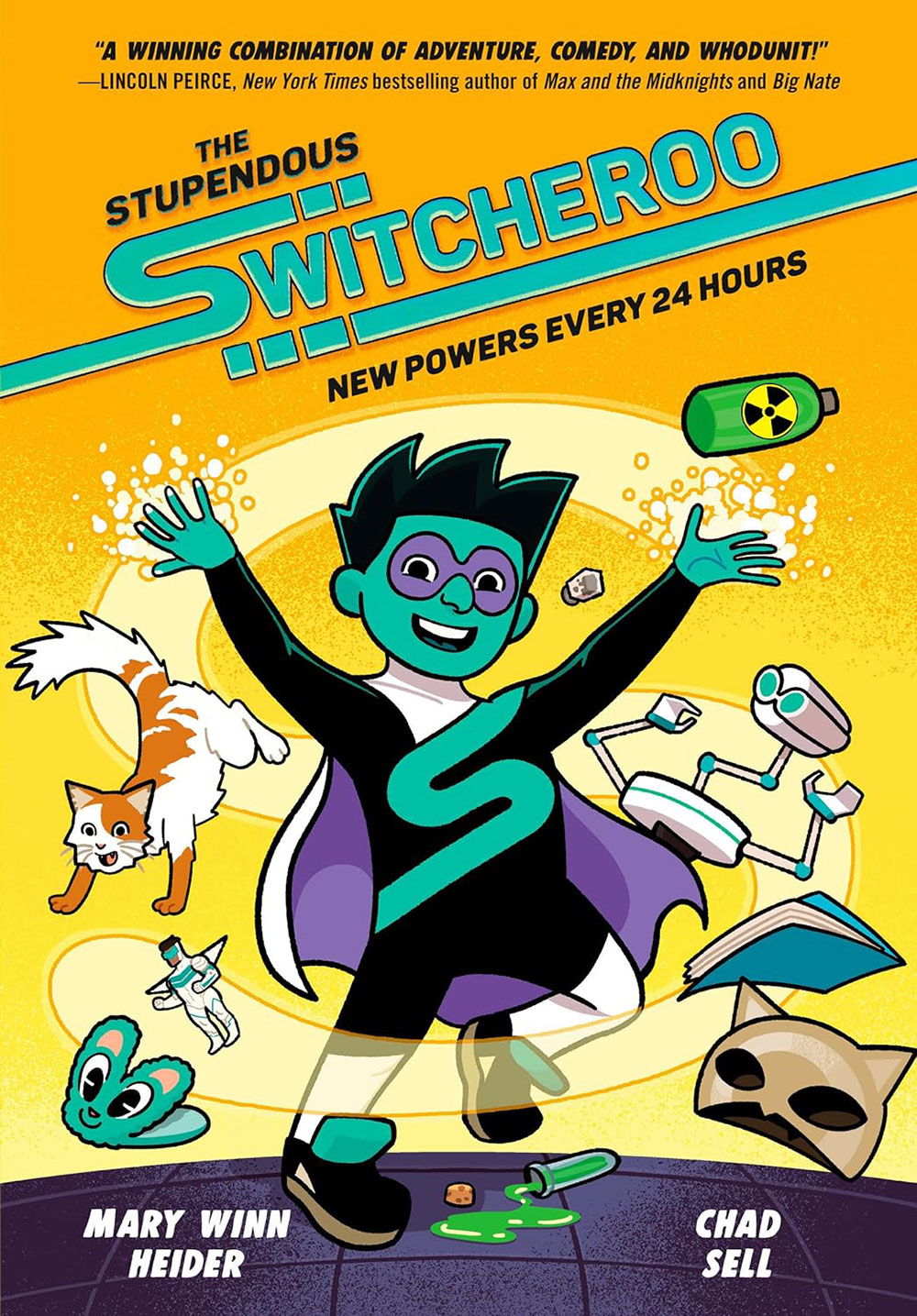 The Stupendous Switcheroo
AUTHOR: Mary Winn Heider & Chad Sell
SYNOPSIS: What would happen if you woke up every single day with a different, surprise SUPERPOWER?! Find out in this zany, hilarious illustrated novel from Mary Winn Heider and Chad Sell.
The morning of his mom's business trip, Switcheroo wakes up to discover he has telekinesis. Which is super convenient when he has to give his babysitter-robot the slip to fight crime all day. But it's less convenient when he's recruited to fight crime again the next day, only to realize he can no longer move objects with his mind. Instead, he can talk to cats! Fun, but not nearly as useful. A new superpower every day should be exciting, right? What could possibly go wrong?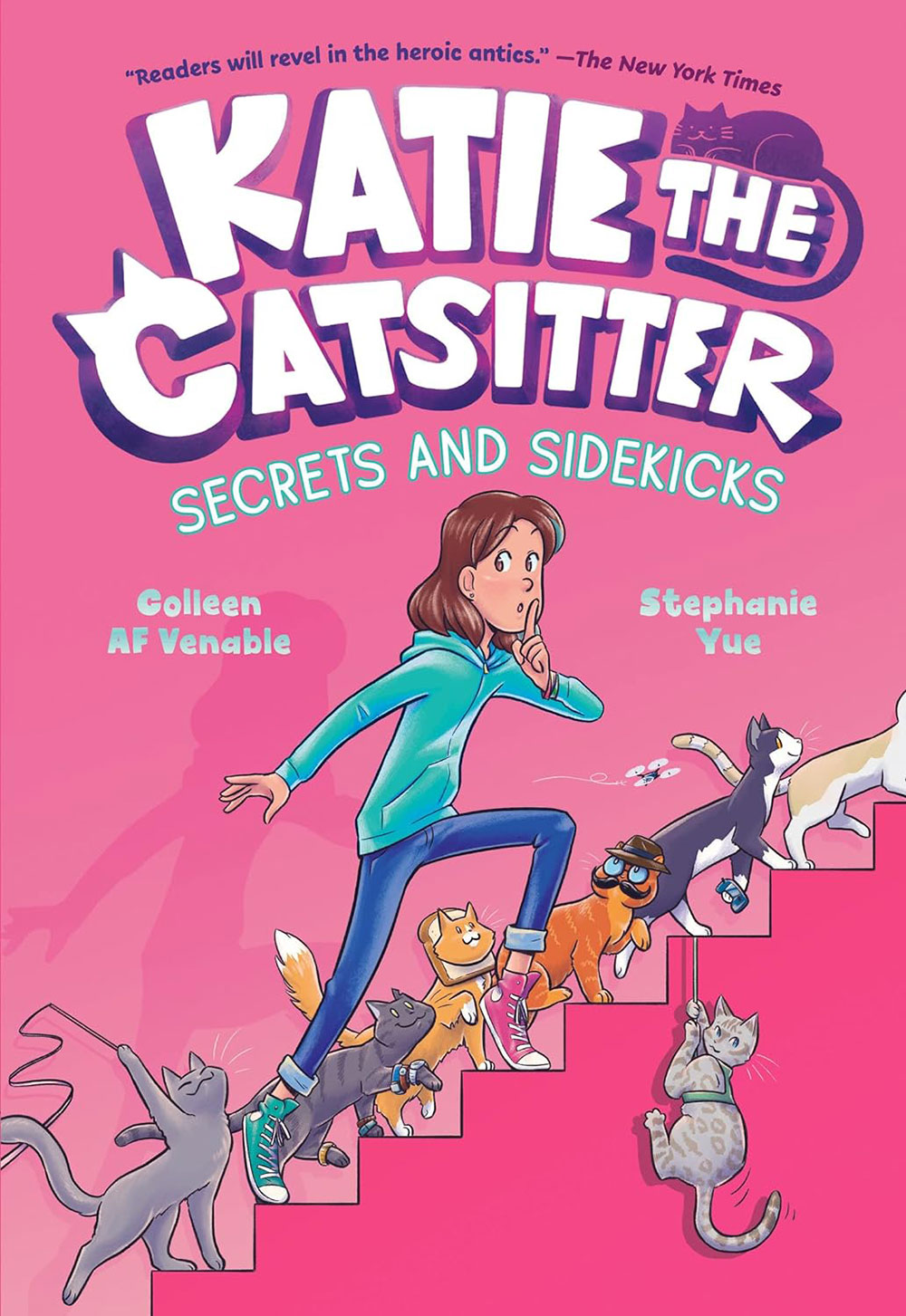 Katie the Catsitter: Secrets and Sidekicks
AUTHOR: Colleen AF Venable
SYNOPSIS: Calling all graphic novel fans! Get ready for sidekick training (and friendship drama!) with Katie the Catsitter in book 3 of the purr-fectly irresistible, bestselling middle-grade graphic novel series about growing up, friendship, heroes, and cats (lots of cats)!
"Readers will revel in the heroic antics." —The New York Times
What's better than BFFs? Super sidekick BFFs! Katie can't wait to have Beth join her for sidekick training! Until . . . it turns out Beth might be a way better sidekick than Katie! And now Beth and Marie are hanging out all the time, Jess is acting super weird, and Katie still needs to tell her mom about being a sidekick. Oh yeah, and giant robots are attacking the city. So. That's not great.
Can Katie and 217 super-unusual cats work together to save the city (and seventh grade)? Or is Katie about to be in super trouble? Bonus: includes instructions to make your own friendship bracelet!
Looking for more cats and more fun?! Don't miss Katie the Catsitter and Katie the Catsitter: Best Friends for Never!
BONUS: Can't get enough of Katie and her super-skilled cat squad? Author Colleen AF Venable shared 5 Fun Facts about the series with our readers – CLICK HERE!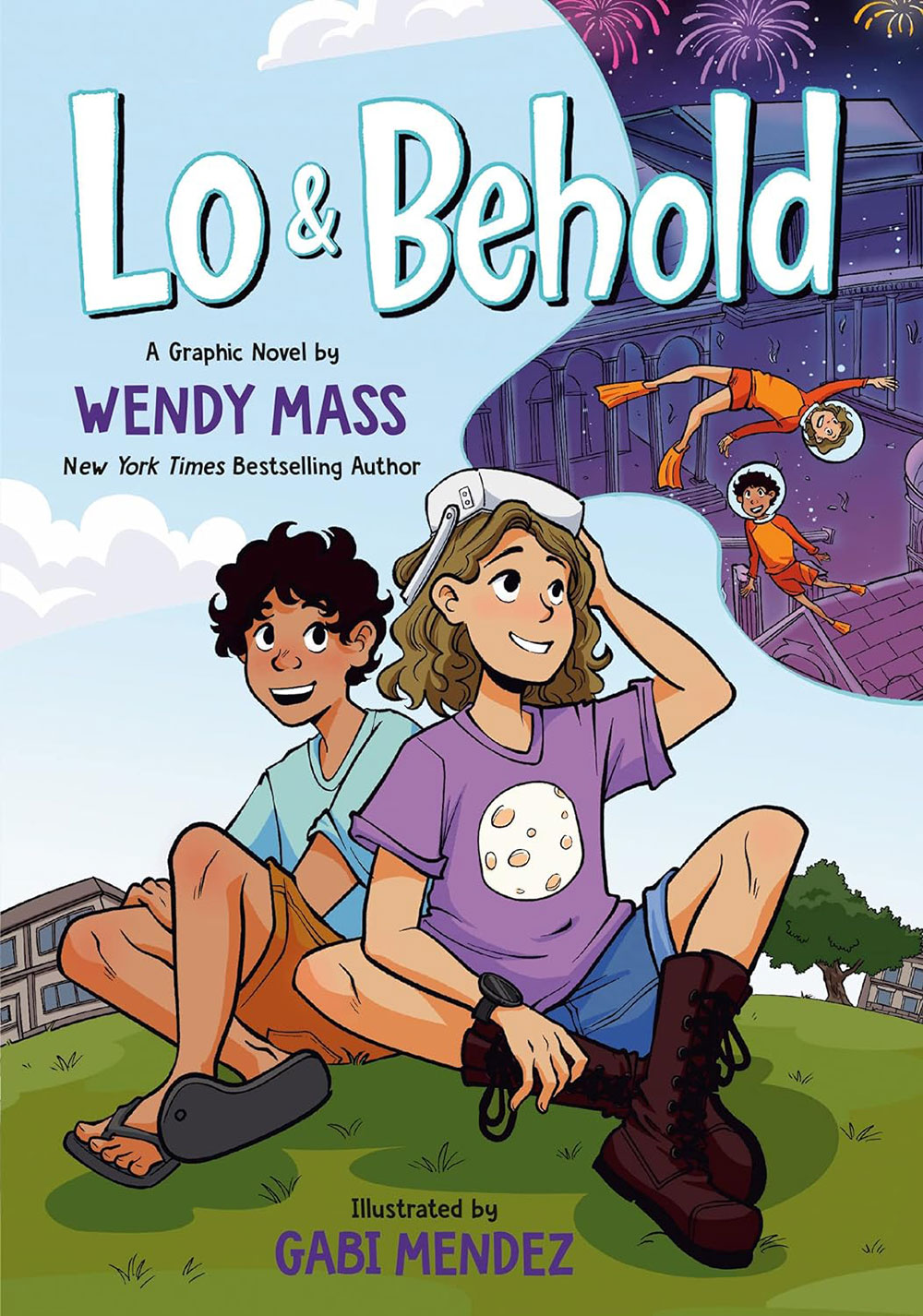 Lo & Behold
AUTHOR: Wendy Mass
SYNOPSIS: Can a virtual reality headset help change the way twelve-year-old Addie looks at things?
Introducing an unforgettable graphic novel about connection, friendship, and the wonder all around us from New York Times bestselling author Wendy Mass and debut illustrator Gabi Mendez.
When you're named after a 250-year-old tortoise, you grow up believing life is full of possibilities and wonder. But ever since Addie's family got turned upside down, those things have been harder for her to see.
The last thing Addie wants to do is make a new friend, but when her dad's summer job takes them across the country, she meets Mateo and finds herself caught up in an exciting project. With the help of a virtual reality headset, she's suddenly scaling castle walls, dodging angry kittens, and seeing the world in whole new ways. Plus, she has an idea that could be bigger than anything she's imagined before, but can she right some wrongs first . . . or is it too late?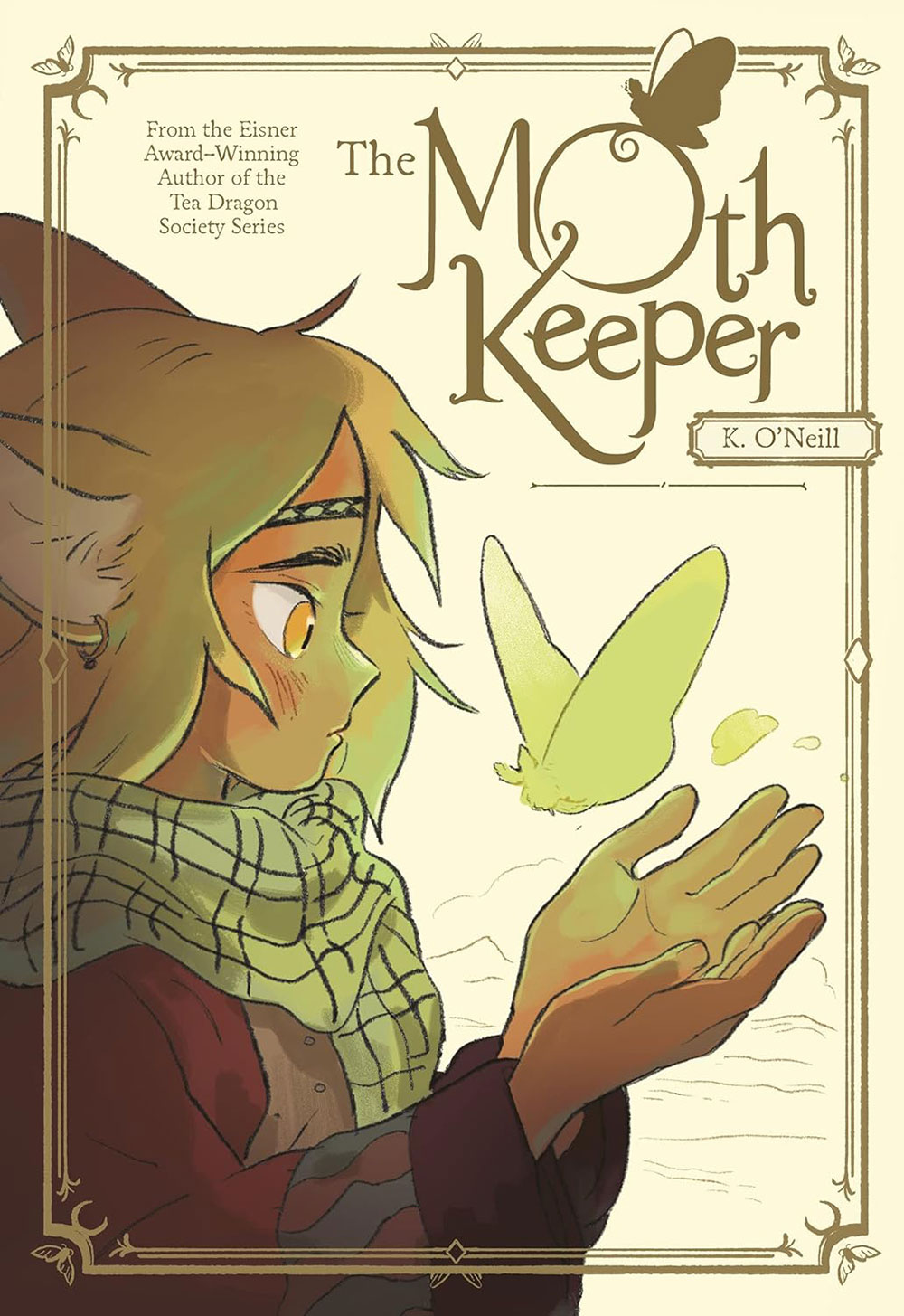 The Moth Keeper
AUTHOR: K O'Neill
SYNOPSIS: Being a Moth Keeper is a huge responsibility and a great honor, but what happens when the new Moth Keeper decides to take a break from the moon and see the sun for the first time? From the author of the beloved Tea Dragon Society comes a must-read for fans of the rich fantasies of Hayao Miyazaki and the magical adventures of Witch Hat Atelier.
Anya is finally a Moth Keeper, the protector of the lunar moths that allow the Night-Lily flower to bloom once a year. Her village needs the flower to continue thriving and Anya is excited to prove her worth and show her thanks to her friends with her actions, but what happens when being a Moth Keeper isn't exactly what Anya thought it would be?
Night after night, it is lonely in the desert, with only one lantern for light. Still, Anya is eager to prove her worth, to show her thanks to her friends and her village. But is it worth the cost? And yet something isn't right. When Anya glimpses the one thing that could destroy what she's meant to protect, her village and the lunar moths are left to deal with the consequences.
K. O'Neill brings to life a beautifully illustrated fantasy with lush, gorgeous art and intricate world-building. A story about coming of age and community, The Moth Keeper is filled with magic, hope, and friendship.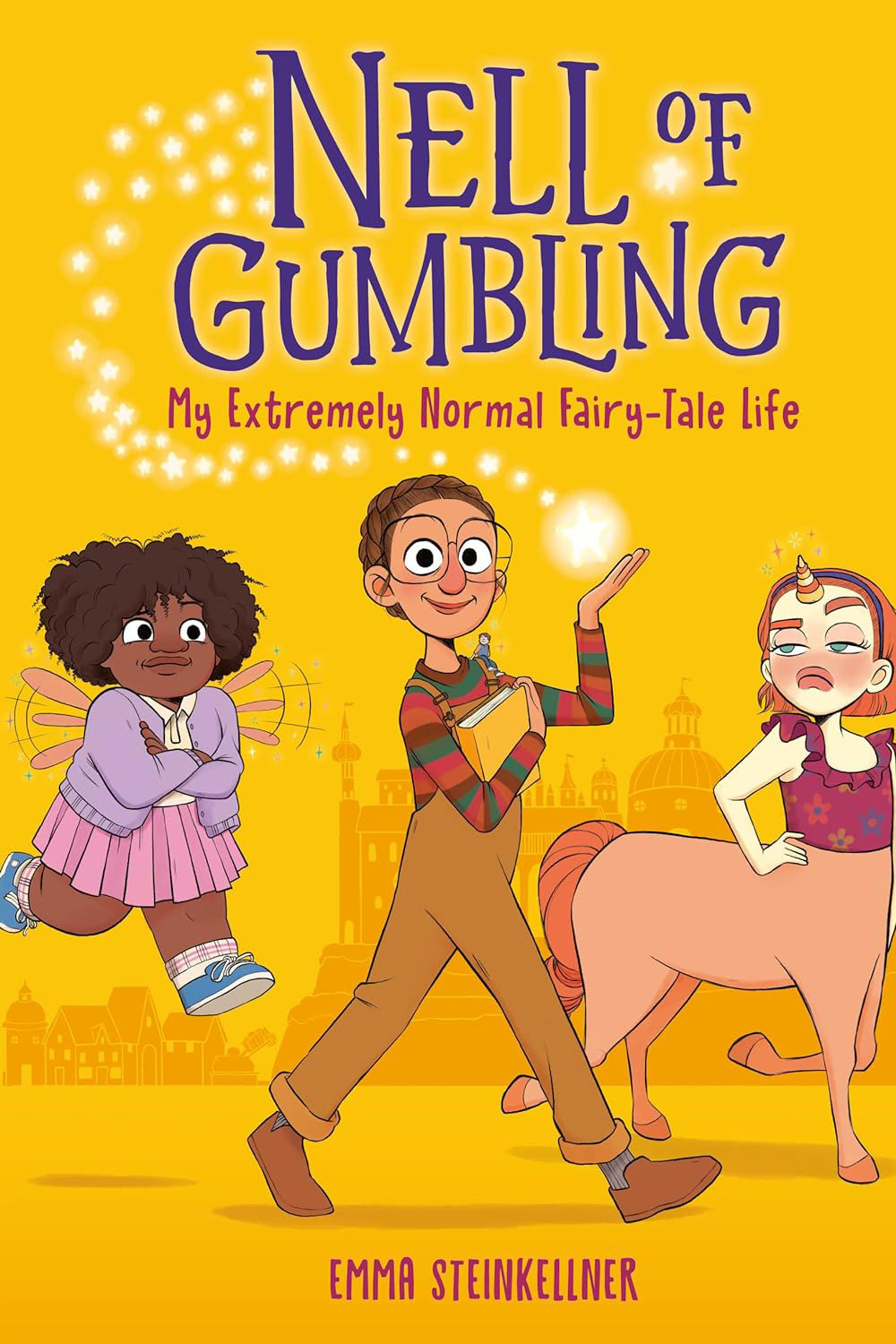 Nell of Gumbling: My Extremely Normal Fairy-Tale Life
AUTHOR: Emma Steinkellner
SYNOPSIS: Seventh grade is no fairy tale. From the bestselling author of Okay Witch comes an utterly enchanting graphic novel-diary hybrid about a twelve-year-old girl living an ordinary life in a magical land…disappointment, friend drama, adventure, mystery, and all!
To everyone else, the Magical Land of Gumbling is something out of fairy tales. But to Nell Starkeeper, it's just home. Sure, the town community center might be a castle, her dads run a star farm, and her best friend Myra is a fairy, but Nell is much more interested in finding out if she'll get the seventh grade apprenticeship of her dreams with world-famous artist Wiz Bravo.
She's pretty sure her entire life has been RUINED when she's instead matched with boring old Mrs. Birdneck in the town archives. And of course her perfect rival Leabelle gets to work with Wiz, and mean girl Viola won't let Nell forget it. Meanwhile, suddenly Myra seems more into hanging out with Leabelle and saving the town from some weird strangers who keep talking about turning Gumbling into a fancy resort than being friends with Nell anymore. Can Nell find a way to save everything that makes her world magical, while figuring out where she belongs in it?
BONUS: Find out all the things that make Nell totally fierce straight from the author herself in our FIERCELY FICTIONAL spotlight – CLICK HERE!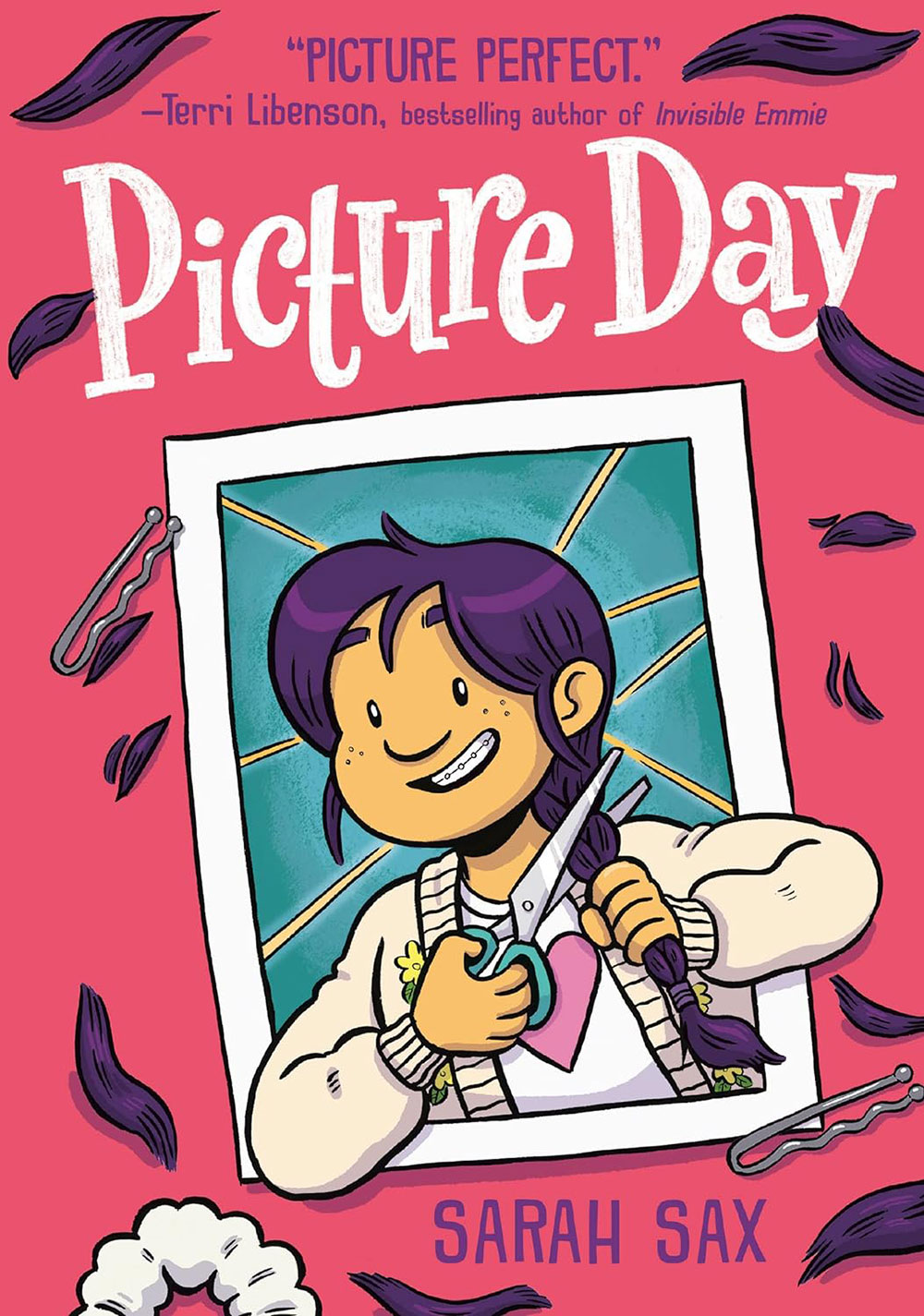 Picture Day
AUTHOR: Sarah Sax
SYNOPSIS: Everyone knows the most stressful day of middle school is picture day! And that's exactly where this yearbook-worthy graphic novel series opener begins: with reinventing yourself, drama, popularity, and the friends who see you through.
Seventh-grader Viv never looks forward to picture day. It's just another day where she wears a boring braid and no one notices her. (Her two best friends, Milo and Al, don't count, of course.)
But enough is enough. This year, she's taking matters into her own hands. Literally. Viv grabs a pair of scissors, her phone for live-streaming, and, well, bye-bye braid.
Suddenly Viv is an over-night influencer at Brinkley Middle School. Everyone wants her help planning their next big moment—from haircuts, to dance proposals, activist rallies and mathlete championships. She hardly even has time for her friends anymore. It's exactly how she dreamed of reinventing herself…right?
In the tradition of modern classics like Vera Brosgol's Be Prepared, Svetlana Chmakova's Awkward, and Kayla Miller's Click, Picture Day brings answers to perennial questions of what it means to be true to yourself—and a true friend.
Random House Children's Books Graphic Novel Collection Giveaway: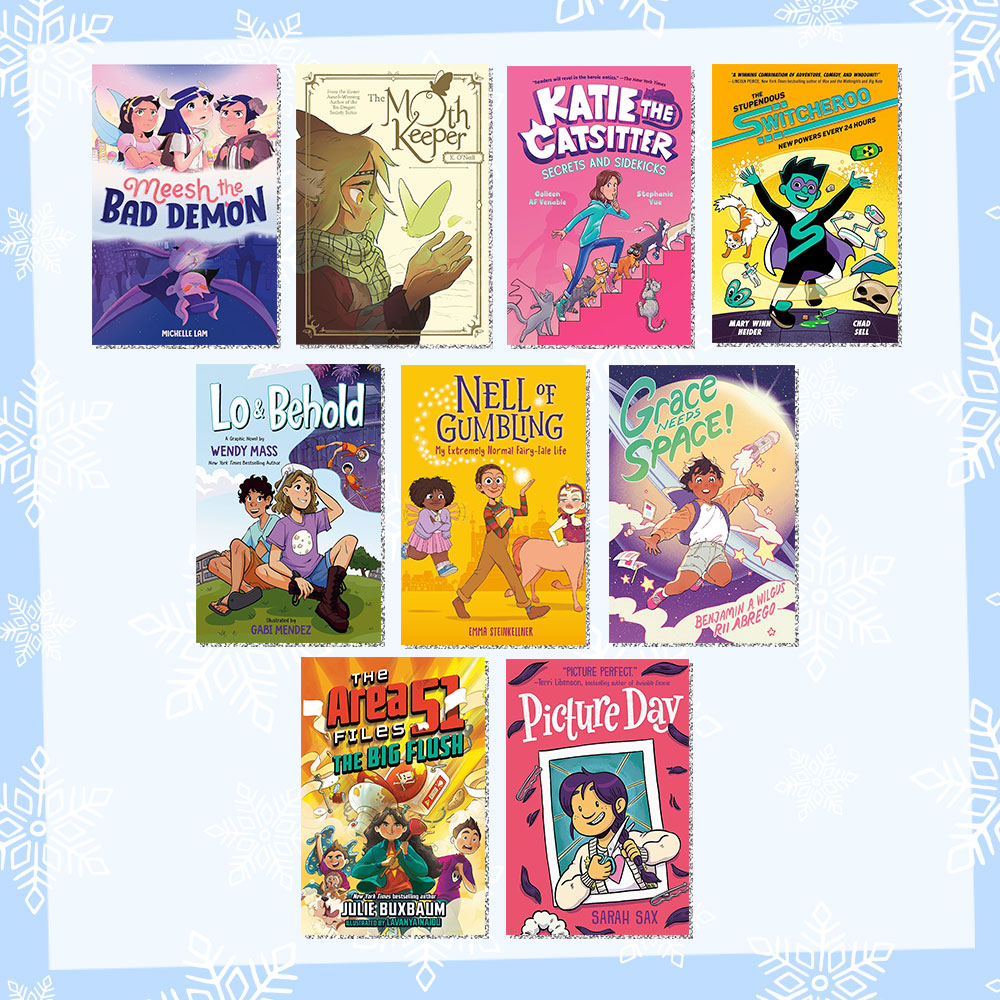 WHAT DO I WIN?:
ONE (1) lucky winners will receive a Random House Children's Books Graphic Novel Collection Prize Pack that includes:
– ONE (1) copy of Meesh the Bad Demon by Michelle Lam
– ONE (1) copy of Nell of Gumbling by Emma Steinkellner
– ONE (1) copy of The Area 51 Files and the Big Flush by Julie Buxbaum & Lavanya Naidu
– ONE (1) copy of The Stupendous Switcheroo by Mary Winn Heider & Chad Sell
– ONE (1) copy of Lo & Behold by Wendy Mass & Gabi Mendez
– ONE (1) copy of Picture Day by Sarah Sax
– ONE (1) copy of The Moth Keeper by K. O'Neill
– ONE (1) copy of Grace Needs Spruce! by Benjamin A. Wilgus & Rii Abrego
*Prizes generously provided by Random House Children's Books.
HOW DO I ENTER?:
Grab a parent or guardian and have them fill out the form below by November 17, 2023 at 11:59pm ET.
Giveaway runs from 11/03/23 at 12:00 pm ET through 11/17/23 at 11:59 pm. Open to US residents ONLY. Be sure to read the fully detailed rules HERE before entering.
THIS GIVEAWAY HAS ENDED AND THE WINNER HAS BEEN CONTACTED.
You must be 18 or older to enter. Please, only ONE entry per person. If selected as a winner, we will provide your parent/guardian with an affidavit to confirm that you are a valid winner who has permission to win. They will be REQUIRED to sign and return the affidavit to YAYOMG! to claim your prize. Prizes will not be mailed out without signed parental consent.
MORE HOLLY JOLLY FUN:
❄️NEED MORE READS?: Our Fantastical Adventures prize pack will whisk you away to fabulous fantasy worlds!
✨MISFITTENS HAUL: Snuggly cats with WILD vibes. Enter to WIN a haul of Misfittens collectible plush!
❄️GAME NIGHT VIBES: Bring the LOLs to game night with this stash of Exploding Kittens games – Enter HERE!