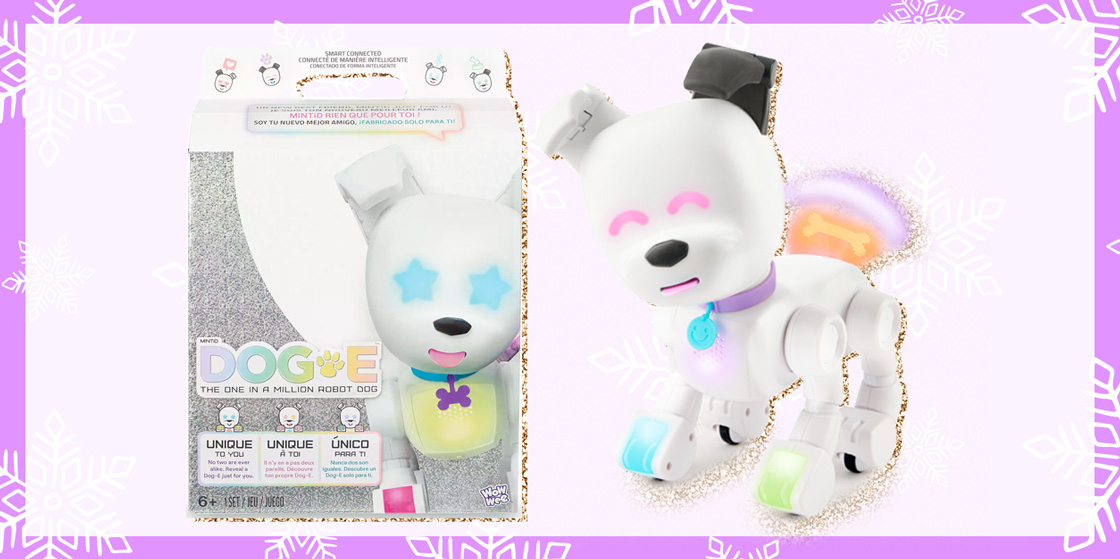 Holly Jolly Giveaways: Dog-E Interactive Robot Dog
NOTE: The items in our Dog-E Interactive Robot Dog Giveaway were provided by the brand for the purposes of our Holly Jolly Giveaways. No money was exchanged, and all opinions are our own. We reached out to these brands for this giveaway because they create products we love.
Our Holly Jolly Giveaways continue today with the perfect toy for innovative, tech-savvy kids!
Your one-in-a-million robot dog has arrived! From the moment you take Dog-E out of its crate, the minting experience begins, forming a one-of-a-kind bond between you and your new pup. What starts as a white blank slate transforms into an excited puppy with colorful lights, sounds, and personality traits that are all unique to you. Everything from their eye and ear shape, tongue color (including a very rare gold!), and accessories like the collar, charm, and dog bone are all a surprise until you start to play together. No Dog-E is ever exactly the same, making your experience super special.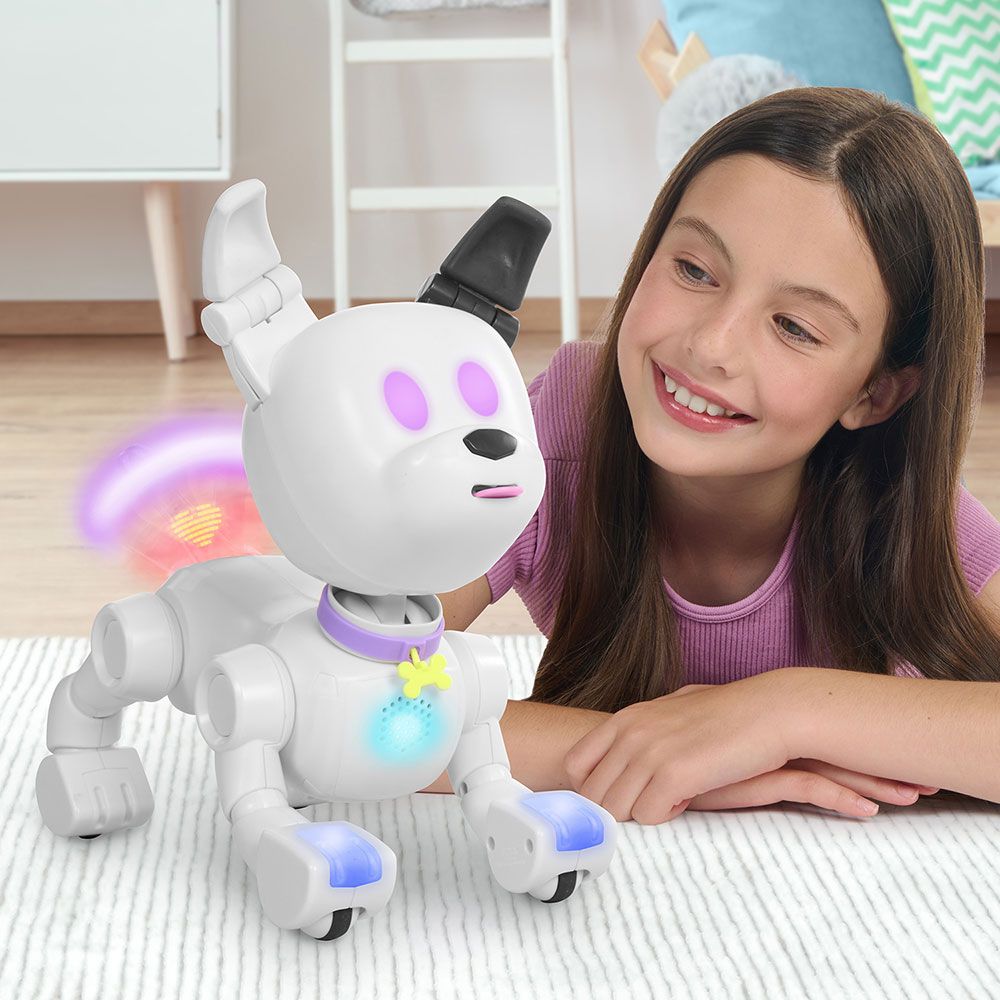 This ultra-expressive robot dog loves to run, bark, and play – just like a real dog! It responds to your touch as you pet it and gets excited when it senses its bone toy near its nose. You can even attach a leash to take it for a walk! Dog-E shows you how it's feeling through its expressive eyes and displays emotes and icons on its wagging tail. With over 200 sounds and reactions and six play modes like Ultimate Nose Boop and Fortune Teller, you'll love spending hours and hours caring for your paw-some new pal.
There's so much you can do together out of the box, but you can level up the experience by connecting to the Dog-E app, which allows you to teach them tricks, feed them treats, and each member of your family can create their own profile. You can even use the app to create your own messages to display on Dog-E's tail!
Our besties at WowWee are giving ONE lucky winner a chance to WIN a Dog-E! Ready to enter? Grab your favorite adult and have them enter below for your chance to WIN!
Dog-E Interactive Robot Dog Giveaway: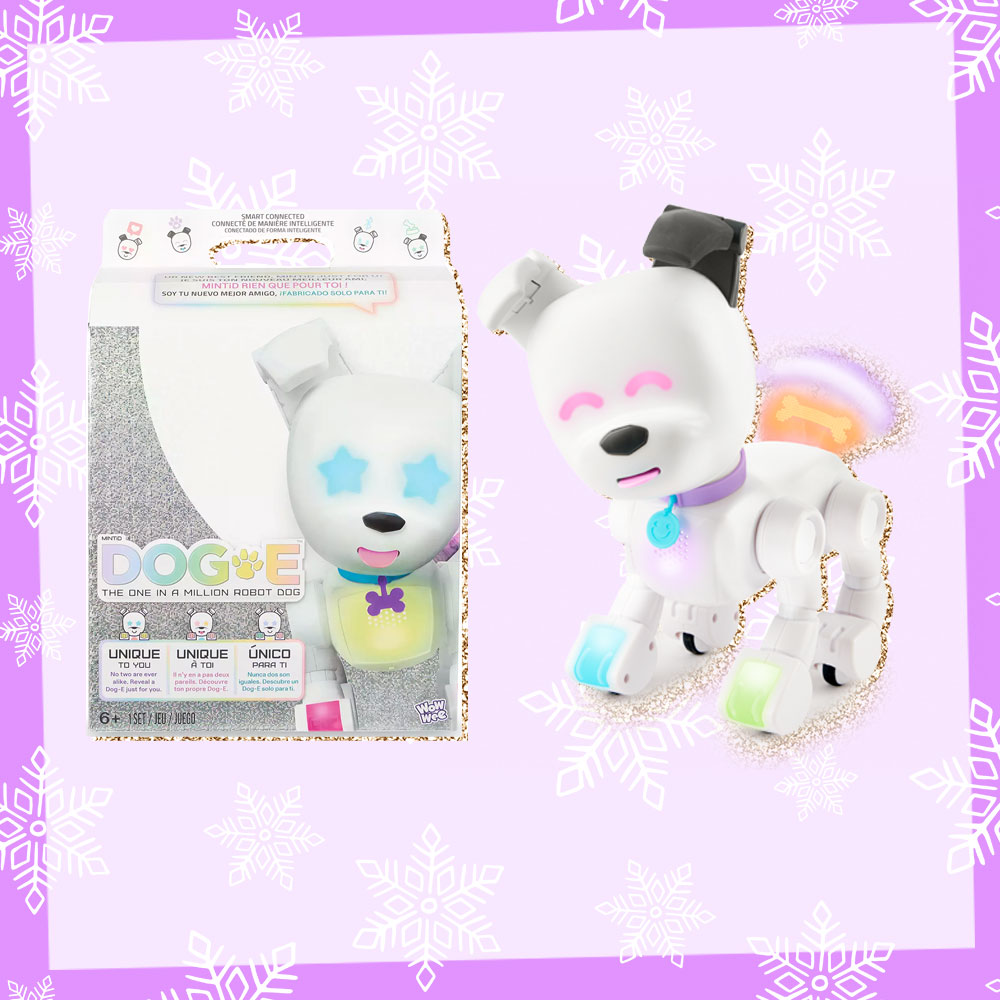 WHAT DO I WIN?:
ONE (1) lucky winner will receive a Dog-E Interactive Robot Dog, generously provided by WowWee.
HOW DO I ENTER?:
Grab a parent or guardian and have them fill out the form below by November 09, 2023 at 11:59pm ET.
Giveaway runs from 11/09/23 at 12:00 pm ET through 11/23/23 at 11:59 pm. Open to US residents ONLY. Be sure to read the fully detailed rules HERE before entering.
THIS GIVEAWAY HAS ENDED AND THE WINNER HAS BEEN CONTACTED.
You must be 18 or older to enter. Please, only ONE entry per person. If selected as a winner, we will provide your parent/guardian with an affidavit to confirm that you are a valid winner who has permission to win. They will be REQUIRED to sign and return the affidavit to YAYOMG! to claim your prize. Prizes will not be mailed out without signed parental consent.
MORE HOLLY JOLLY FUN:
❄️POKÉMON SQUISHMALLOWS: Gotta catch (& squeeze) 'em all! Enter to WIN Pikachu & Gengar Squishmallows!
✨SNUGGLY & SUSTAINABLE: Share your care in dazzling denim with the eco-friendly Care Bears Denim Collection! Enter HERE!
❄️GRAPHIC NOVEL HAUL: Get lost in imaginative adventures from the comfort of your couch! Enter to WIN this graphic novel collection!