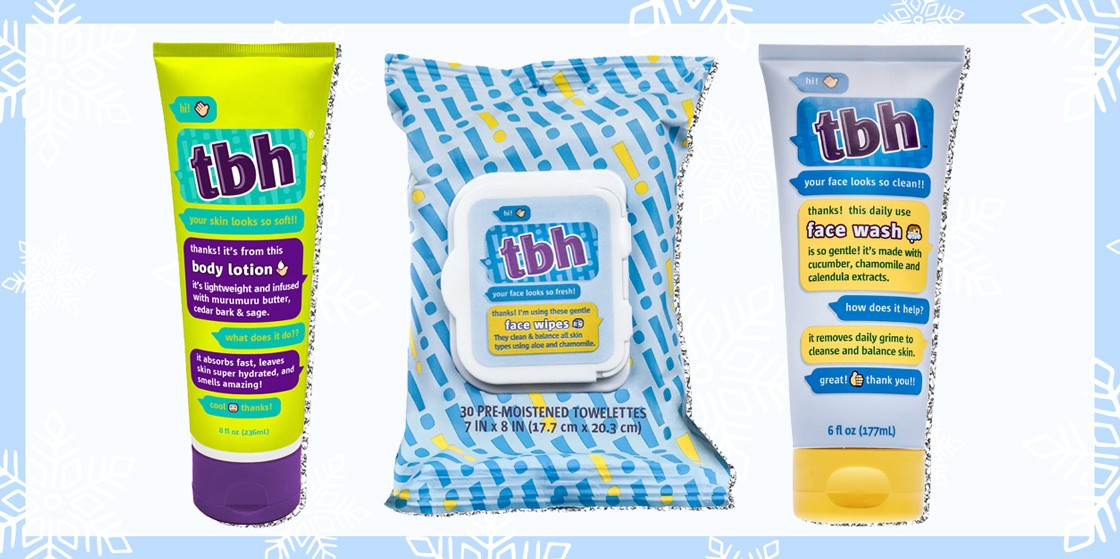 Holly Jolly Giveaways: TBH Kids Skincare Starter Kit
NOTE: The items in our TBH Kids Skincare Starter Kit Giveaway were provided by the brand for the purposes of our Holly Jolly Giveaways. No money was exchanged, and all opinions are our own. We reached out to these brands for this giveaway because they create products we love.
Winter blues and dry skin struggles? You won't remember either of them after winning our next Holly Jolly Giveaway!
The TBH Kids Skincare Starter Kit is stocked with everything you need to wash away the winter blues and refresh your skincare routine. Loaded up with skincare staples like a gentle face wash and cleansing wipes to keep your skin soft and clear, as well as everyday essentials like nourishing shampoo and conditioner, and yes – even deodorant!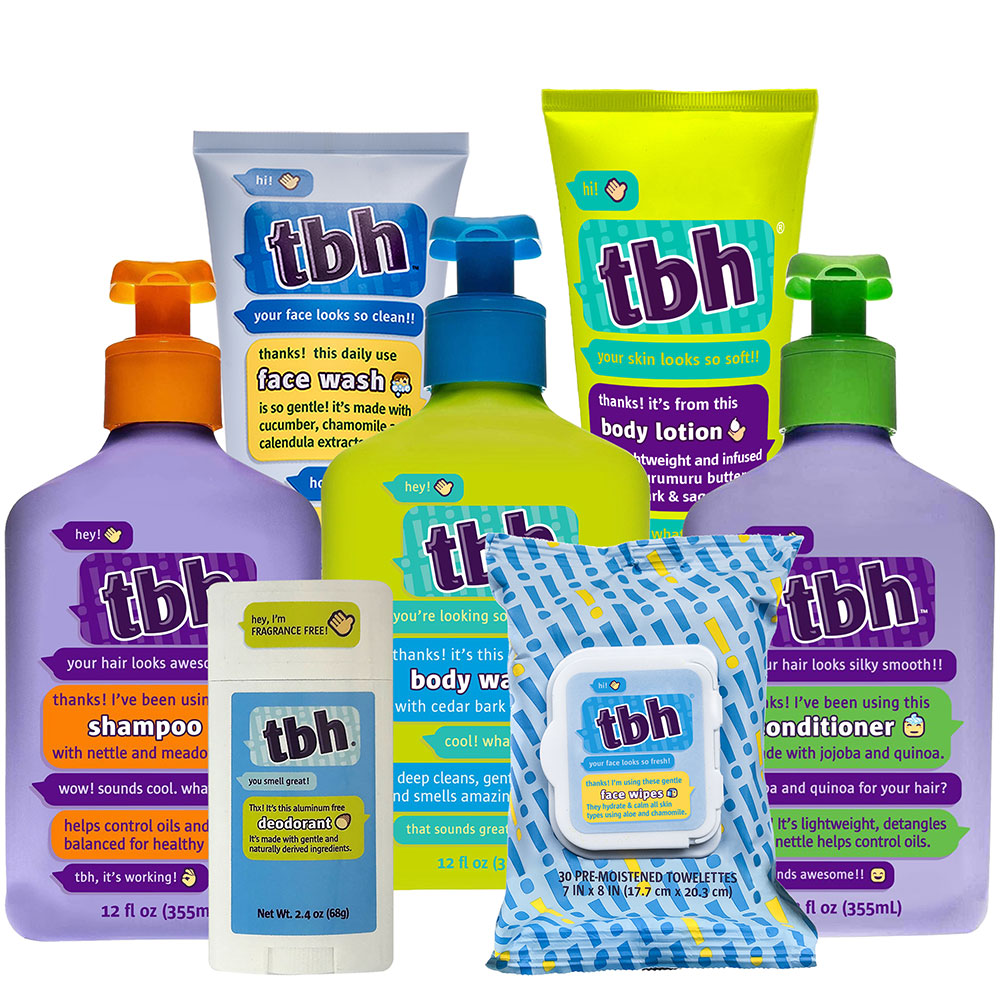 You'll also feel good knowing that TBH Kids prioritizes natural, good-for-you ingredients like soothing camomile and odor-neutralizing charcoal – aka, no harsh chemicals! With hygiene worries out of the way, you'll be left feeling fresh, confident, and ready to tackle anything that comes your way, like holiday shopping and manifesting (and crushing!) your 2024 goals!
Our friends at TBH Kids are giving TWO lucky winners a chance to take home their spectacular 7-piece Skincare Starter Kit! Ready to enter? Grab your favorite adult and have them enter below for your chance to WIN!
TBH Kids Skincare Starter Kit Giveaway: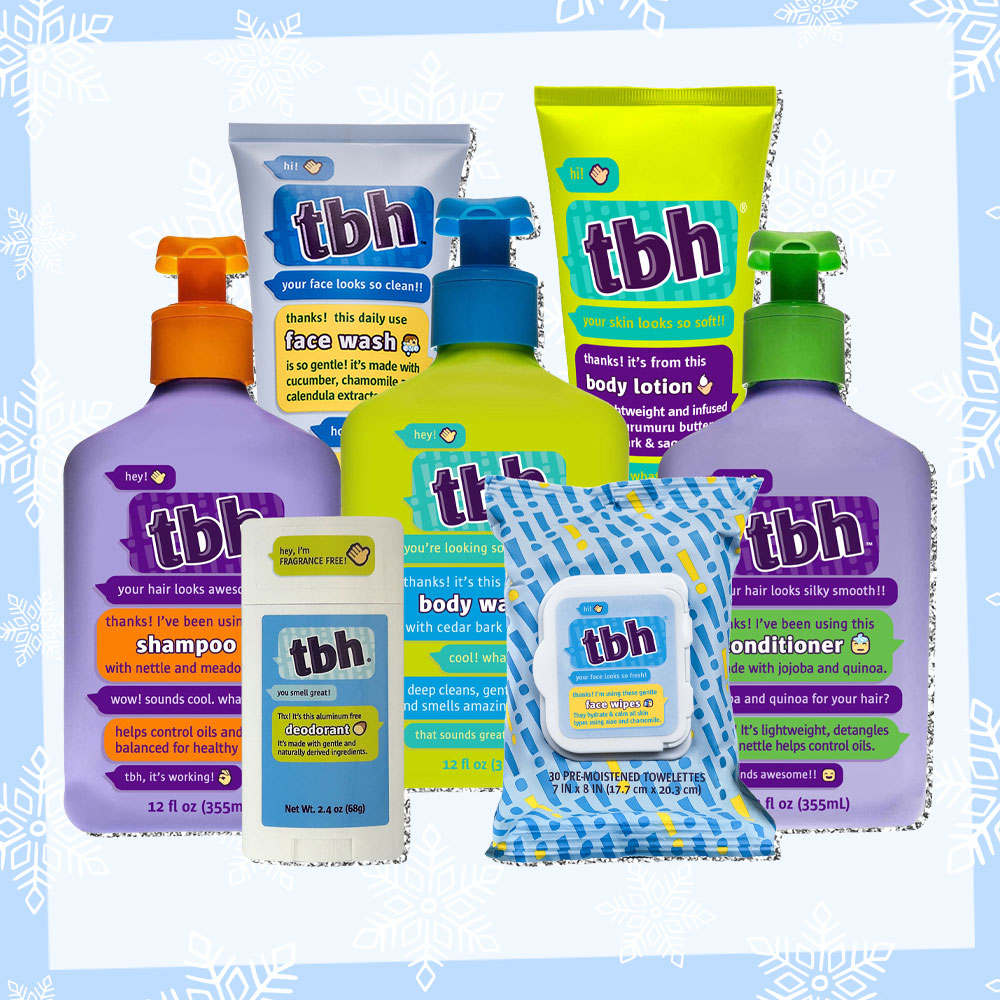 WHAT DO I WIN?:
TWO (2) lucky winners will receive a TBH Kids Skincare Starter Kit that includes:
– ONE (1) TBH Kids Shampoo
– ONE (1) TBH Kids Conditioner
– ONE (1) TBH Kids Body Wash
– ONE (1) TBH Kids Gentle Face Cleanser
– ONE (1) TBH Kids Gentle Face Wipes
– ONE (1) TBH Kids Body Wash
– ONE (1) TBH Kids Body Lotion
– ONE (1) TBH Kids Deodorant
*Prizes generously provided by TBH Kids.
HOW DO I ENTER?:
Grab a parent or guardian and have them fill out the form below by December 05, 2023 at 11:59pm ET.
Giveaway runs from 11/21/23 at 12:00 pm ET through 12/05/23 at 11:59 pm. Open to US residents ONLY. Be sure to read the fully detailed rules HERE before entering.
You must be 18 or older to enter. Please, only ONE entry per person. If selected as a winner, we will provide your parent/guardian with an affidavit to confirm that you are a valid winner who has permission to win. They will be REQUIRED to sign and return the affidavit to YAYOMG! to claim your prize. Prizes will not be mailed out without signed parental consent.
MORE HOLLY JOLLY FUN:
❄️REBEL READS: These Rebel Girl reads will inspire your biggest dreams and spark your confidence! Enter HERE!
✨MANIFEST MAGIC: Make life feel magical! Enter to WIN a haul of enchanting books from Macmillan!
❄️CREATIVE DREAMS: Craft your way to the winter break of your dreams! Enter to WIN 6 Klutz kits!