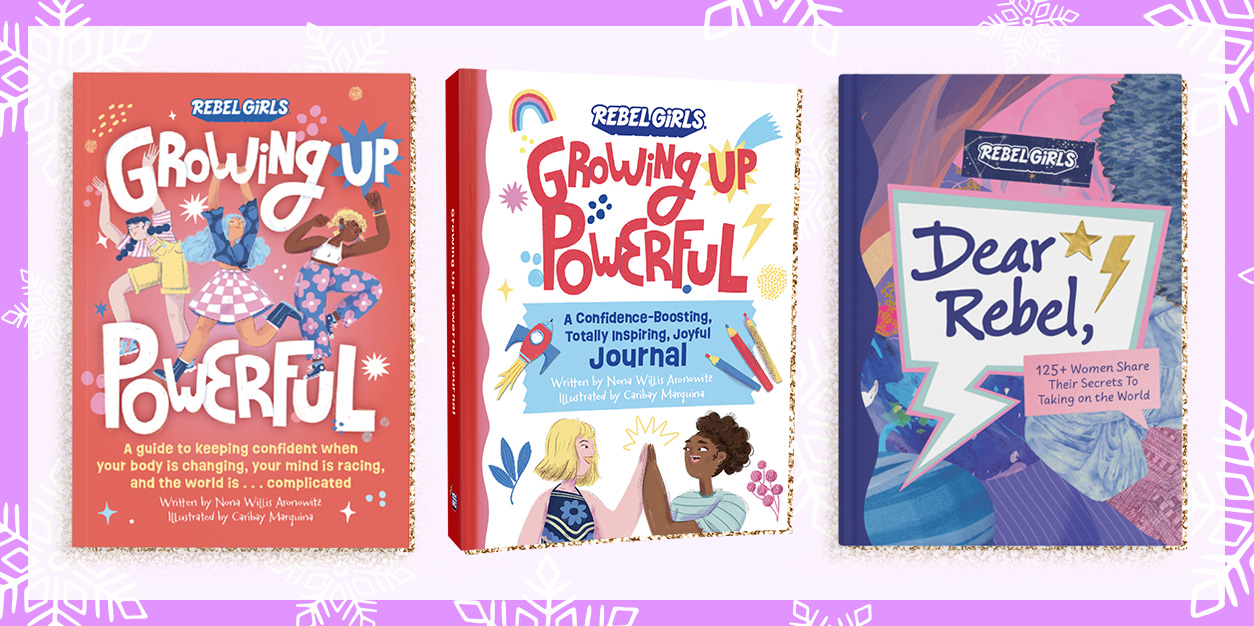 Holly Jolly Giveaways: Rebel Girls Growing Up Powerful Collection Bundle
NOTE: The items in our Rebel Girls Growing Up Powerful Bundle Giveaway were provided by the brand for the purposes of our Holly Jolly Giveaways. No money was exchanged, and all opinions are our own. We reached out to these brands for this giveaway because they create products we love.
Our Holly Jolly Giveaways continue today with a prize pack that will empower you to unleash your inner rebel!
Growing up is amazing. You get to have so many exciting experiences, SO much fun with your friends, and start dreaming of the person you want to be when you get older. But all of that can sometimes feel uncertain and kind of stressful. If the awkwardness of girlhood feels overwhelming or the big wide world feels like too much, we get it – we were there once, too – and we've got just the thing to help you figure it all out!
Our friends at Rebel Girls are all about inspiring girls to find their confidence, use their voices, and become the next generation of leaders, thinkers, dreamers, and change-makers. They put together this awesome prize pack featuring their newest books filled with everything you need to grow up powerful. Featuring advice from powerful women who've paved the way and answers to all your questions about girlhood that will lift you up and encourage you to shine. There are also interactive elements to spark your confidence, like mindfulness exercises for clearing your mind of clutter and prompts to help you journal your way to goal-crushing!
Ready to enter? Grab your favorite adult and have them enter below for your chance to WIN!
3 Rebel Girls Reads to Help You Grow Up Powerful: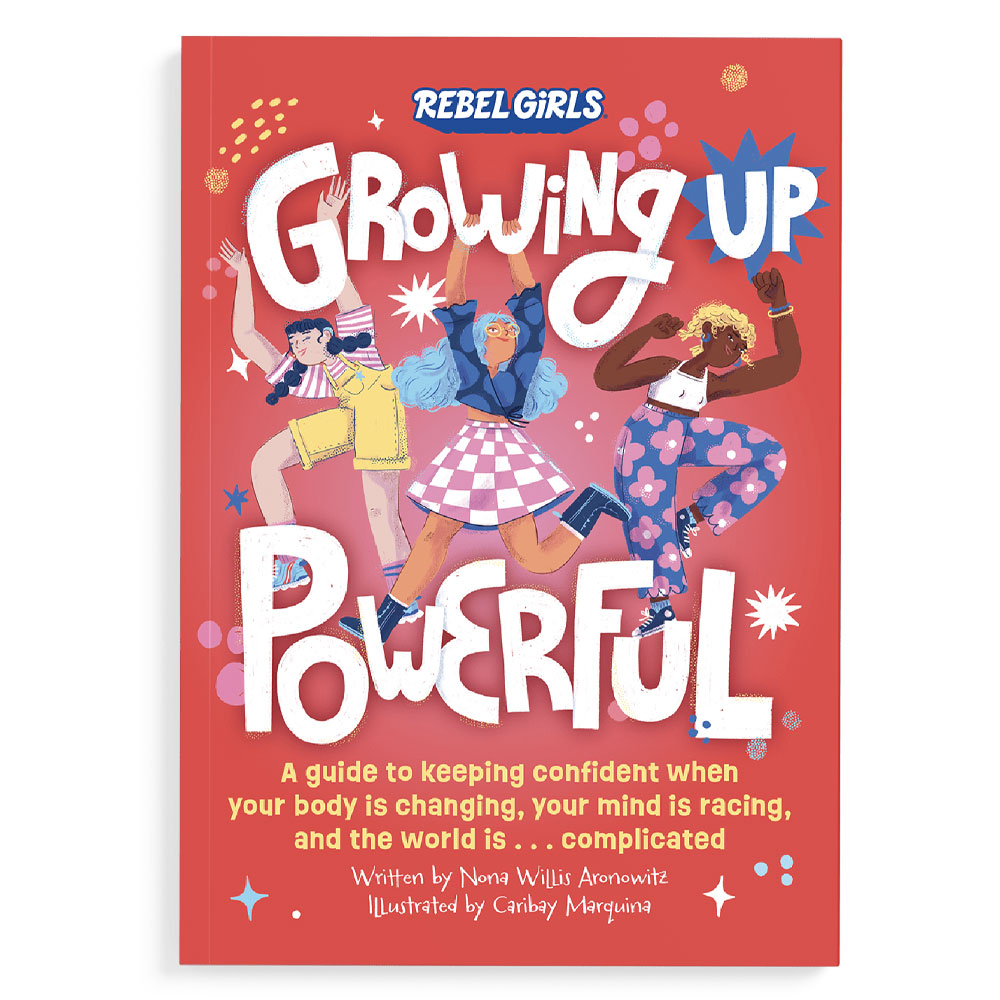 Growing Up Powerful: A Guide to Keeping Confident When Your Body Is Changing, Your Mind is Racing, and the World is…Complicated:
AUTHOR: Rebel Girls
SYNOPSIS: The Confidence Code for Girls meets The Care & Keeping of You in this bold, bighearted book about growing up with unshakable confidence.
Puberty comes with a lot of changes for girls today. There's the thrilling stuff: making friends, discovering their superpowers, and finding their voices. Then there are the not-so-fun parts: body changes, school stress, and totally understandable social anxiety. It's enough to make a Rebel Girl's head spin! That's where we come in.
Filled with helpful advice, Q&As between experts and girls around the world, and fun quizzes, Growing Up Powerful has the inside scoop on all things girlhood, and gives tweens and teens the tools they need to become their most confident selves.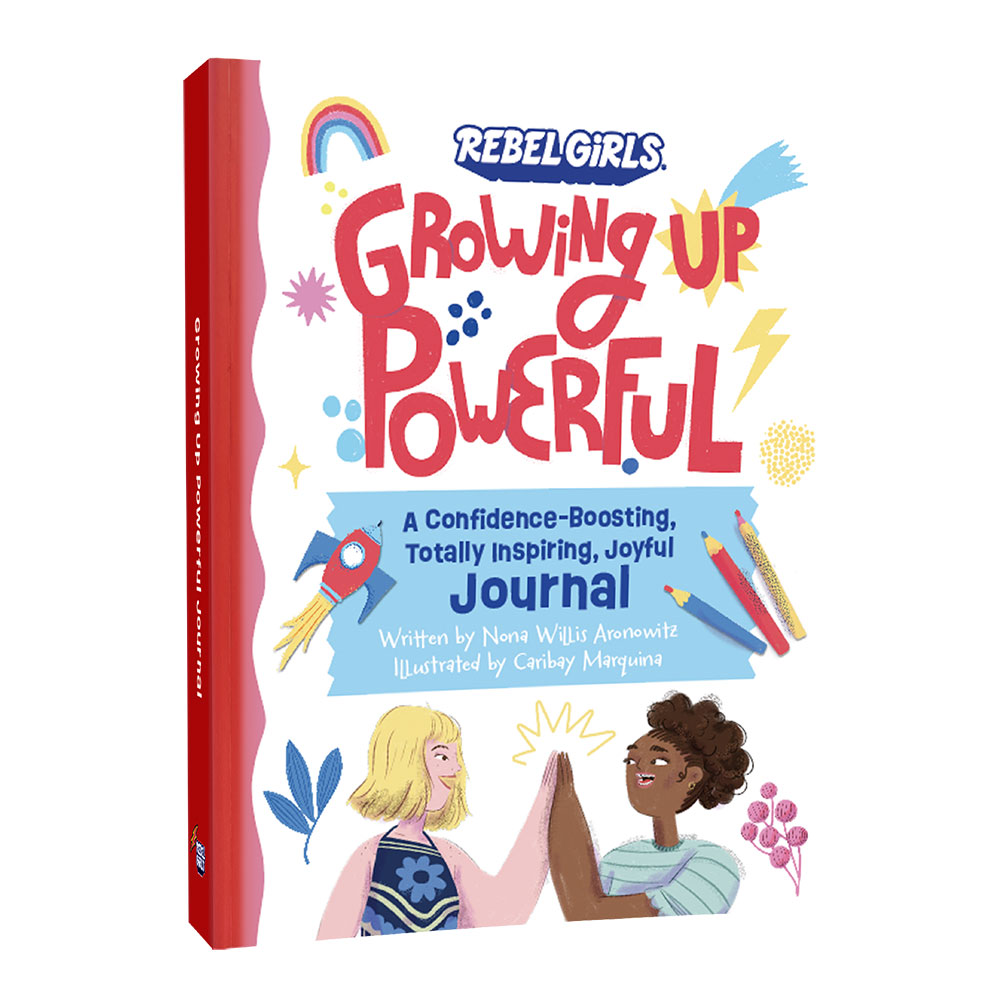 Growing Up Powerful: A Confidence-Boosting, Totally Inspiring, Joyful Journal:
AUTHOR: Rebel Girls
SYNOPSIS: Give yourself a fun and empowering confidence workout with this inspiring interactive journal.
Maybe you'd like to try out for a part in the school play, score a spot on a sports team, or make friends at a new school. This journal was created to give you a safe and encouraging place to explore your personality and your thoughts, goals, and dreams.
Through tried and true advice, questions, activities, and writing prompts, you'll:
– Explore moments you are proud of, great ideas you've had, and plans for your future
– Celebrate your true superpowers
– Practice starting a conversation with anyone
– Try out tactics for being a more positive thinker
– Explore when you're ready to step outside of your comfort zone and try something new!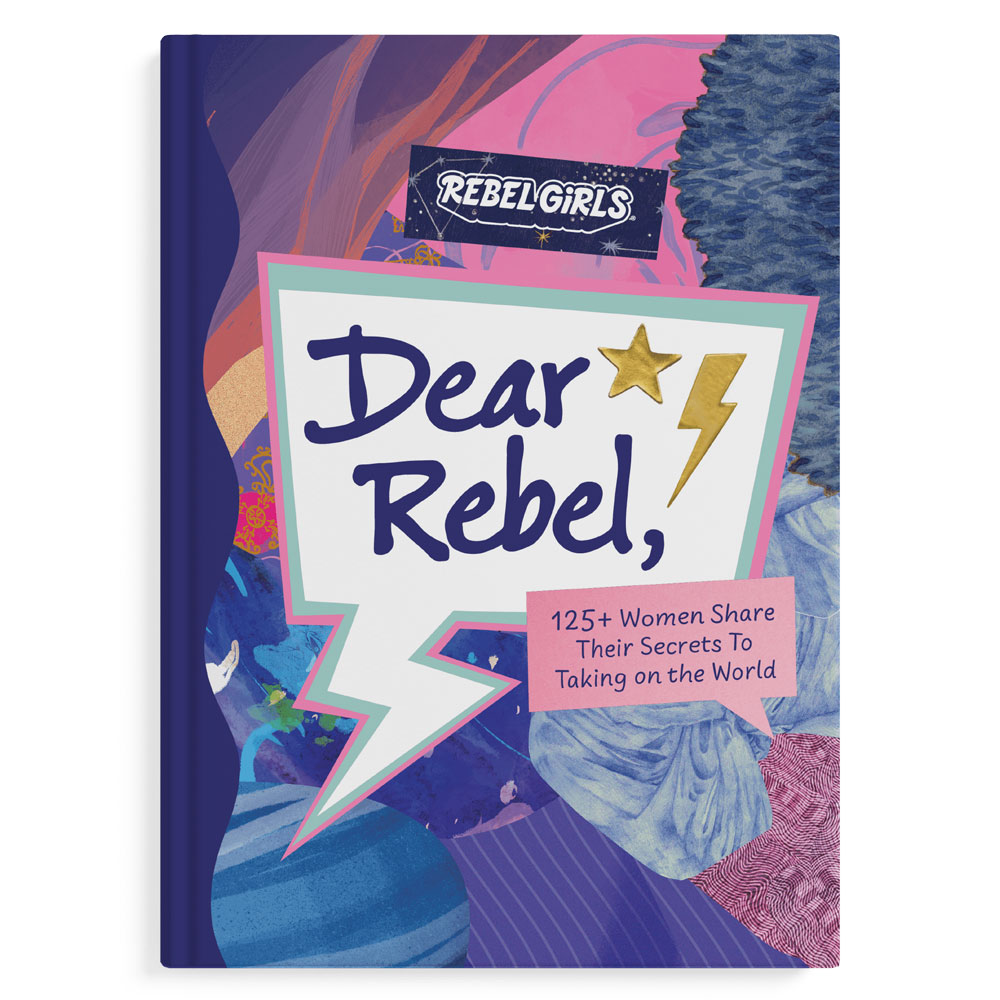 Dear Rebel: 125+ Women Share Their Secrets to Taking on the World:
AUTHOR: Rebel Girls
SYNOPSIS: More than 125 extraordinary teens and women share their advice, experiences, and the secrets of their success—in their own words. Through letters, poems, essays, self-portraits, and more, the authors tackle topics like overcoming obstacles, discovering your passion, and dreaming big.
Learn how Ms. Marvel actor Iman Vellani connected with her roots through her character. Read about how March for our Lives co-founder Jaclyn Corin found her voice as an activist. Follow mountaineer Carla Pérez on the final 100 meters to the top of Mount Everest. This rich collection of first-person stories has something for everyone, inspiring young readers to try new things, face their fears, and be themselves.
Dear Rebel includes contributions from:
Samantha Barry
Jill Culton
Melinda French Gates
Laurene Powell Jobs
Maria Teresa Kumar
Philomena Kwao
Geetha Murali
Catt Sadler
Randi Zuckerberg
. . . and many more! Plus, scannable codes let you listen to bonus audio stories in the Rebel Girls app.
Rebel Girls Growing Up Powerful Collection Bundle Giveaway: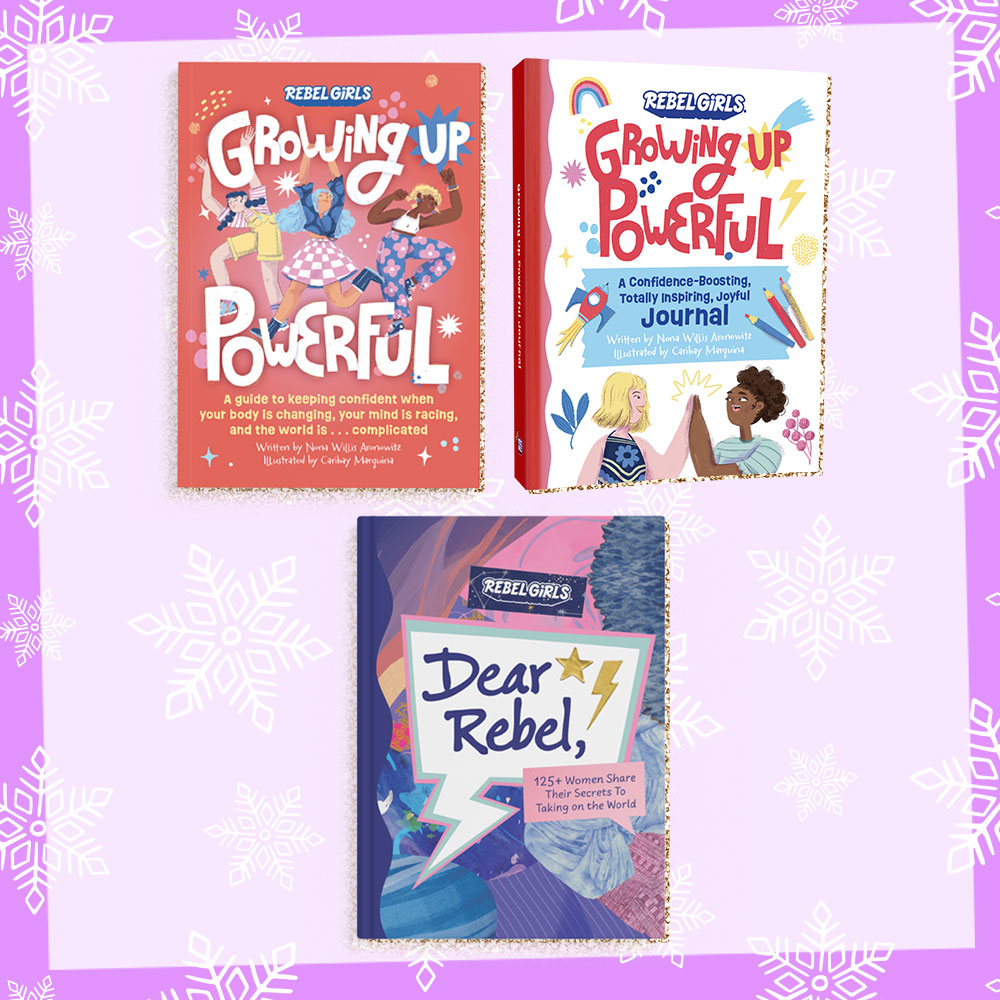 WHAT DO I WIN?:
FIVE (5) lucky winners will receive a Rebel Girls Growing Up Powerful Prize Pack that includes:
– ONE (1) copy of Growing Up Powerful
– ONE (1) copy of Growing Up Powerful Journal
– ONE (1) copy of Dear Rebel
*Prizes generously provided by Rebel Girls
HOW DO I ENTER?:
Grab a parent or guardian and have them fill out the form below by November 20, 2023 at 11:59pm ET.
Giveaway runs from 11/06/23 at 12:00 pm ET through 11/20/23 at 11:59 pm. Open to US residents ONLY. Be sure to read the fully detailed rules HERE before entering.
THIS GIVEAWAY HAS ENDED AND THE WINNERS HAVE BEEN CONTACTED.
You must be 18 or older to enter. Please, only ONE entry per person. If selected as a winner, we will provide your parent/guardian with an affidavit to confirm that you are a valid winner who has permission to win. They will be REQUIRED to sign and return the affidavit to YAYOMG! to claim your prize. Prizes will not be mailed out without signed parental consent.
MORE HOLLY JOLLY FUN:
❄️QUENCH YOUR CURIOSITY: Curious about the world? Enter to WIN a stash of SIX National Geographic Kids books & fill your mind with facts!
✨DOG-E: A one-in-million robot dog to inspire your innovative imagination? Enter to WIN a Dog-E interactive robot dog!
❄️CREATIVE CRAFTER: Craft your way to creative bliss with these Magic Scrunch Pillow Kits! Enter HERE!