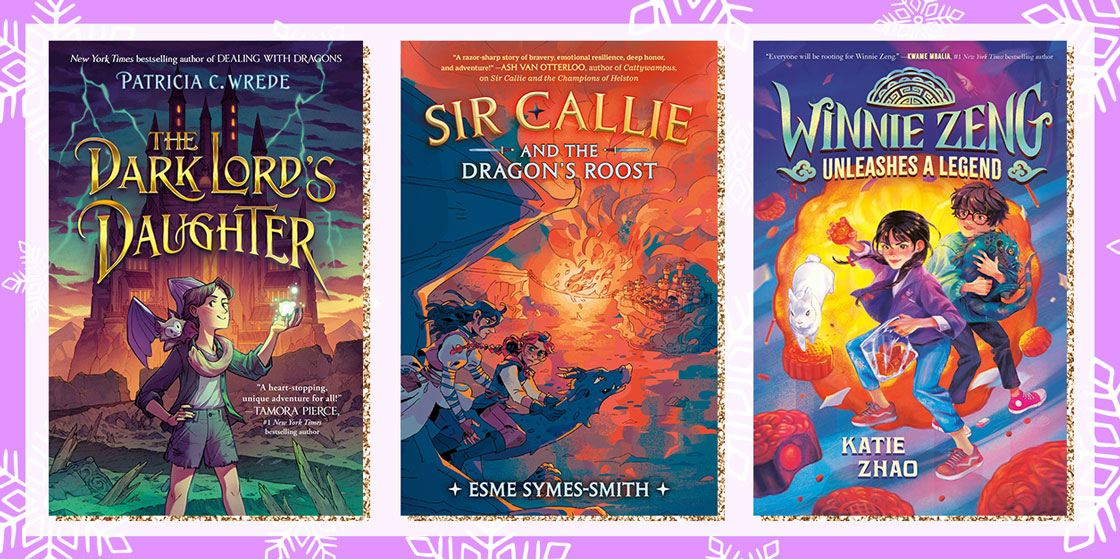 Holly Jolly Giveaways: Random House Children's Books Fantastical Adventures
NOTE: The items in our Random House Children's Books Fantastical Adventures Giveaway were provided by the brand for the purposes of our Holly Jolly Giveaways. No money was exchanged, and all opinions are our own. We reached out to these brands for this giveaway because they create products we love.
Bookworms, our Holly Jolly Giveaways are about to take you on a fantastical adventure!
If your idea of an ideal winter break includes a stack of fresh reads, your coziest pair of holiday pajamas, and getting lost in whimsical worlds while you sip on hot cocoa piled high with marshmallows, you're in luck! Our friends at Random House Children's Books put together a prize pack featuring NINE reads that will whisk you away to fabulous fantasy worlds filled with enchanted inns, dangerous demons, magical cookbooks, and more.
Embark on a thrilling fantasy quest with a fearless knight and their friends as they question everything they once believed to be true, unravel mysteries and search for pirate treasure alongside an observant dog and a sister duo, and save your town from chaos while simultaneously struggling to survive middle school. No matter which world you choose to get lost in, these reads are sure to have you embracing your inner hero.
Ready to start reading? Grab your favorite adult and have them enter below for your chance to WIN!
9 Fantastical Adventures You'll Love: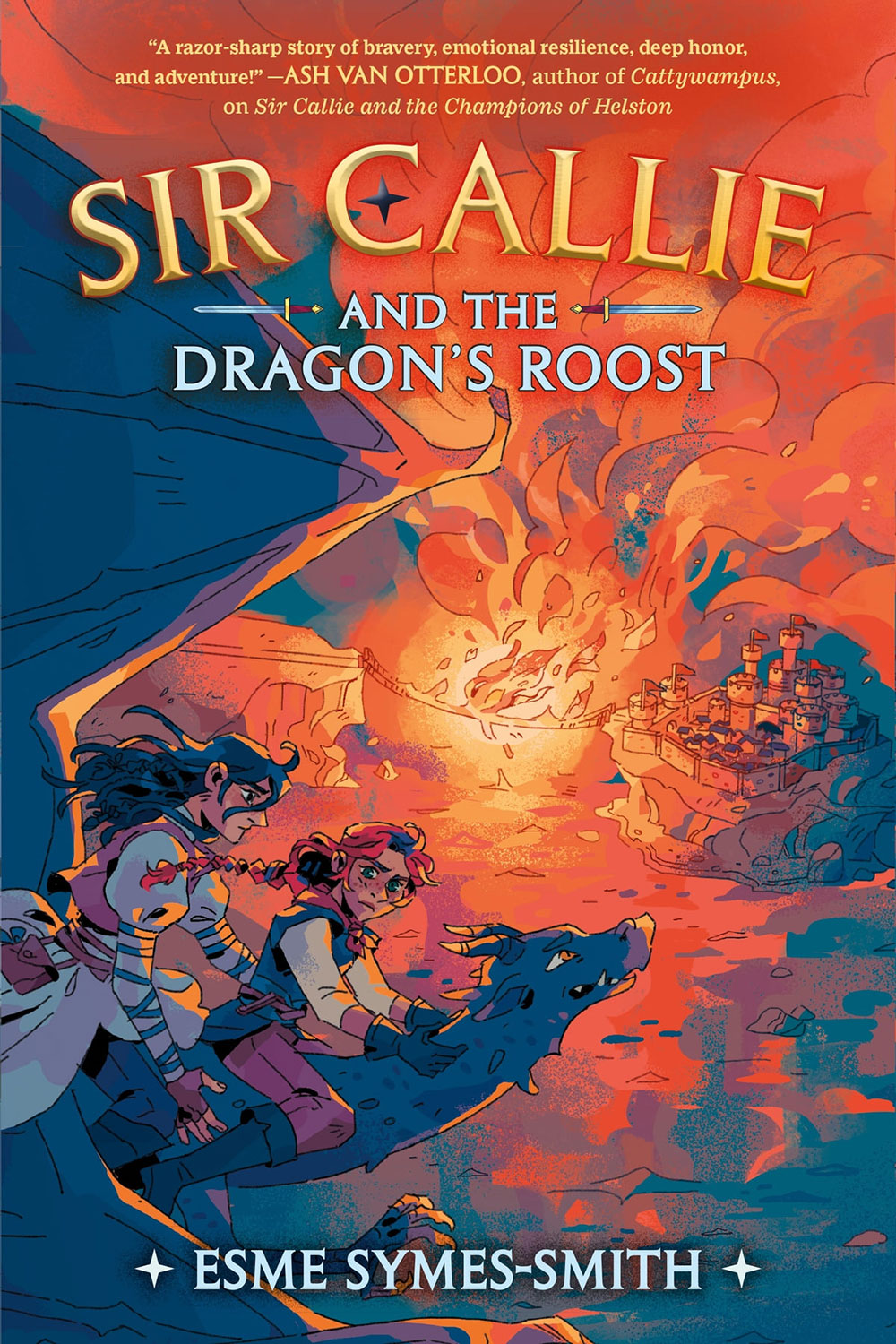 Sir Callie and the Dragon's Roost
AUTHOR: Esme Symes-Smith
SYNOPSIS: The battle is won, but the war is far from over. In this thrilling sequel, a twelve-year-old nonbinary hopeful knight fights for the heart of their kingdom in a magical medieval world filled with dragons, shape-shifters, and witches.
Thanks to Callie and their friends, Helston seems to be changing for the better: Boys are allowed to explore their magic, and girls are permitted to train as warriors. Callie is an official Helston page, Willow in on track to become king, and Elowen and Edwyn are finally safe and free of their father. Everything is…perfect.
Except it isn't.
Not in Helston, where every step forward is accompanied by a storm of opposition. Even Queen Ewella and Sir Nick are struggling against the wave of fear and anti-magical sentiment growing daily, while the encroaching threat from across the bridge looms.
Callie isn't foolish; they notice the suspicious glances thrown Neal's way and hear the doubtful murmurs following Willow. They know what people think about them, too. Tolerance is not the same as acceptance, and when the fragile peace finally shatters, Callie and their friends have no choice but to leave their home and run.
On the other side of the bridge, old secrets are revealed and new allegiances are formed that will throw into question everything Callie thought they knew about their world. Including what it means to be a hero.
BONUS: Want to know more about Callie's quest to change Helston for the better? Author Esme Symes-Smith shared Callie's 5 Rules of Knighthood with our readers – CLICK HERE!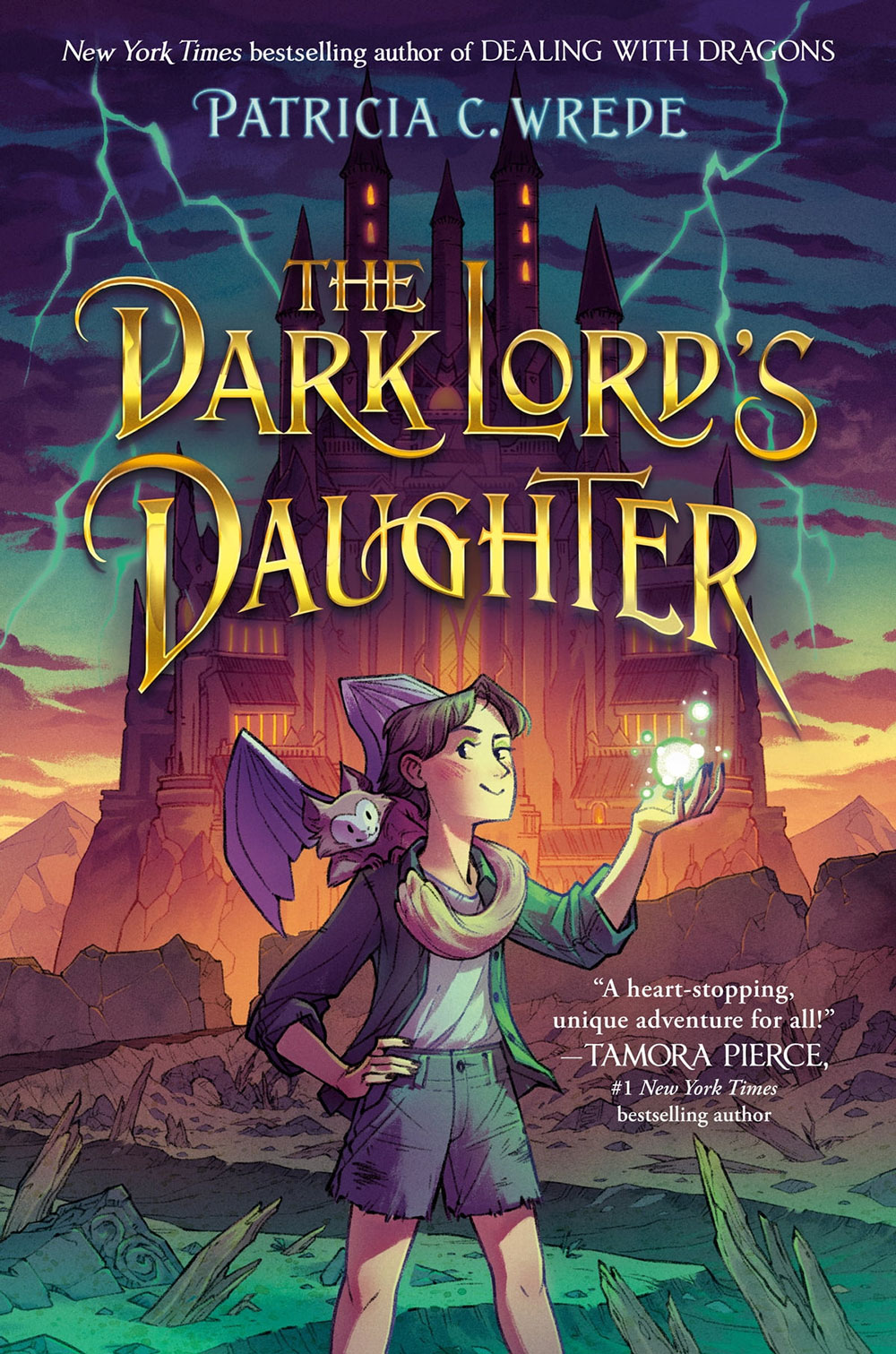 The Dark Lord's Daughter
AUTHOR: Patricia C. Wrede
SYNOPSIS: From the New York Times bestselling author of Dealing with Dragons comes this timeless fantasy, about an ordinary girl who discovers she's the heir to a dark throne, and must find her place between her life on Earth and her magical inheritance.
"A heart-stopping, unique adventure for all!" —Tamora Pierce, #1 New York Times bestselling author
Kayla is just an ordinary girl . . . or so she thinks. When a day at the state fair is interrupted by the news that she's the daughter of a "Dark Lord," she and her family are quickly whisked to another world—one that's chock-full of magic but lacking in technology!
As her family encounters fantastical creatures in place of their Earthly gadgets, Kayla must prepare for the unpreparable: meeting her father, the Dark Lord himself, for the very first time. All Kayla wants is to go home, but she must learn magic to do so. The catch? For the Dark Lord's daughter, the road to mastering magic is filled with evil traditions.
As she ventures closer to her father, Kayla must decide whether to accept her birthright. Is she destined for darkness? Or can she become a new kind of Dark Lady?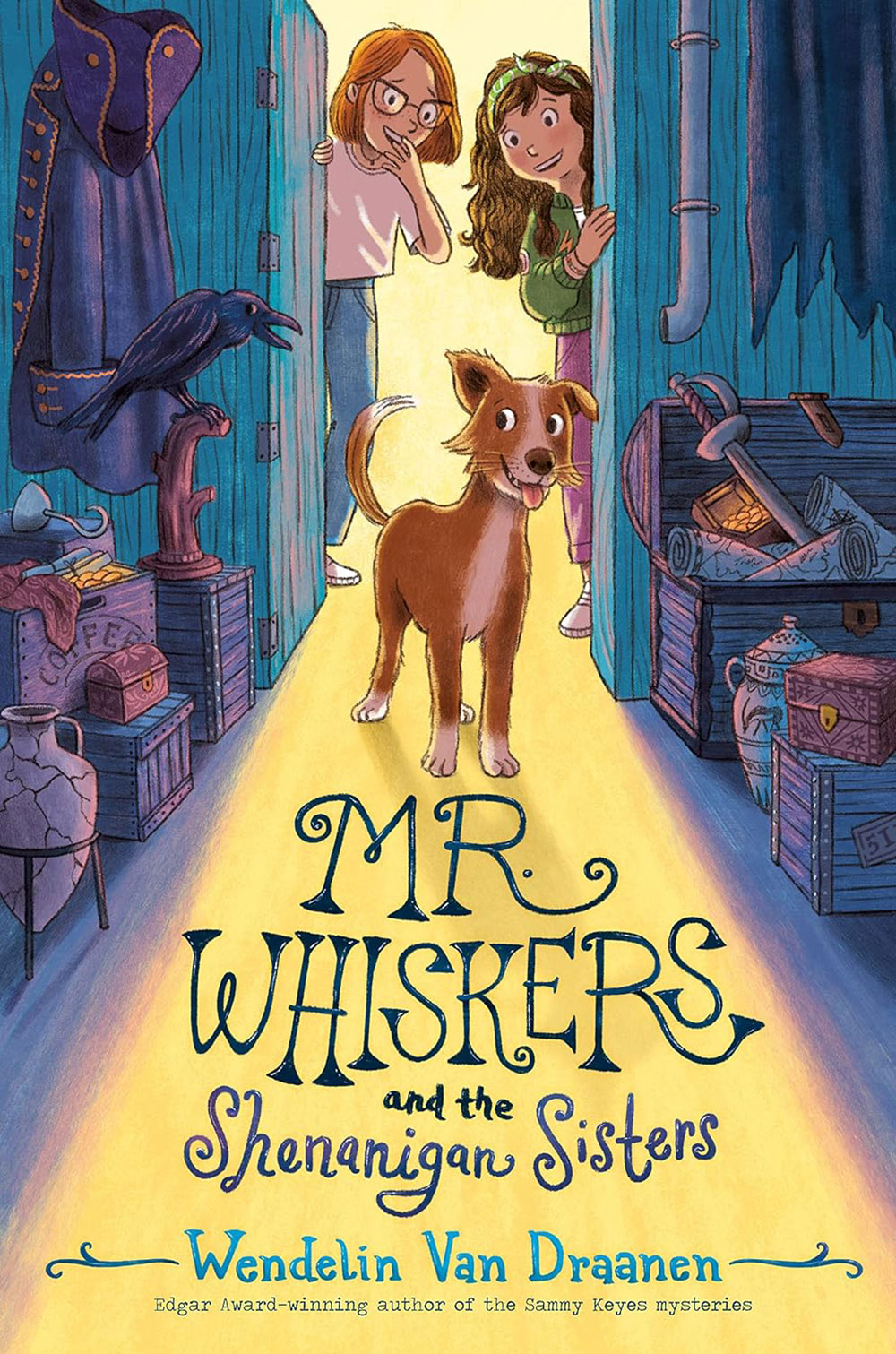 Mr. Whiskers and the Shenanigan Sisters
AUTHOR: Wendlin Van Draanen
SYNOPSIS: Mr. Whiskers is a paw-some new dog detective from an Edgar Award winning author. He's on the trail of a kidnapped dad, pirate treasure, and a place to call home…
Mr. Whiskers is a street-wise stray dog with a nose for trouble and a fondness for two girls he calls the Shenanigan Sisters. So when Misty and Zelda's professor father is kidnapped, Mr. Whiskers follows that car, picking up vital clues.
Then the two intrepid girls and one great dog follow the trail through the streets of San Francisco, discovering hidden passageways, buried secrets, and even pirate treasure.
But will they be able to rescue Dad? You bet your best biscuit, they will!
Wendelin Van Draanen's new mystery is the ulti-mutt kid-pleasing caper.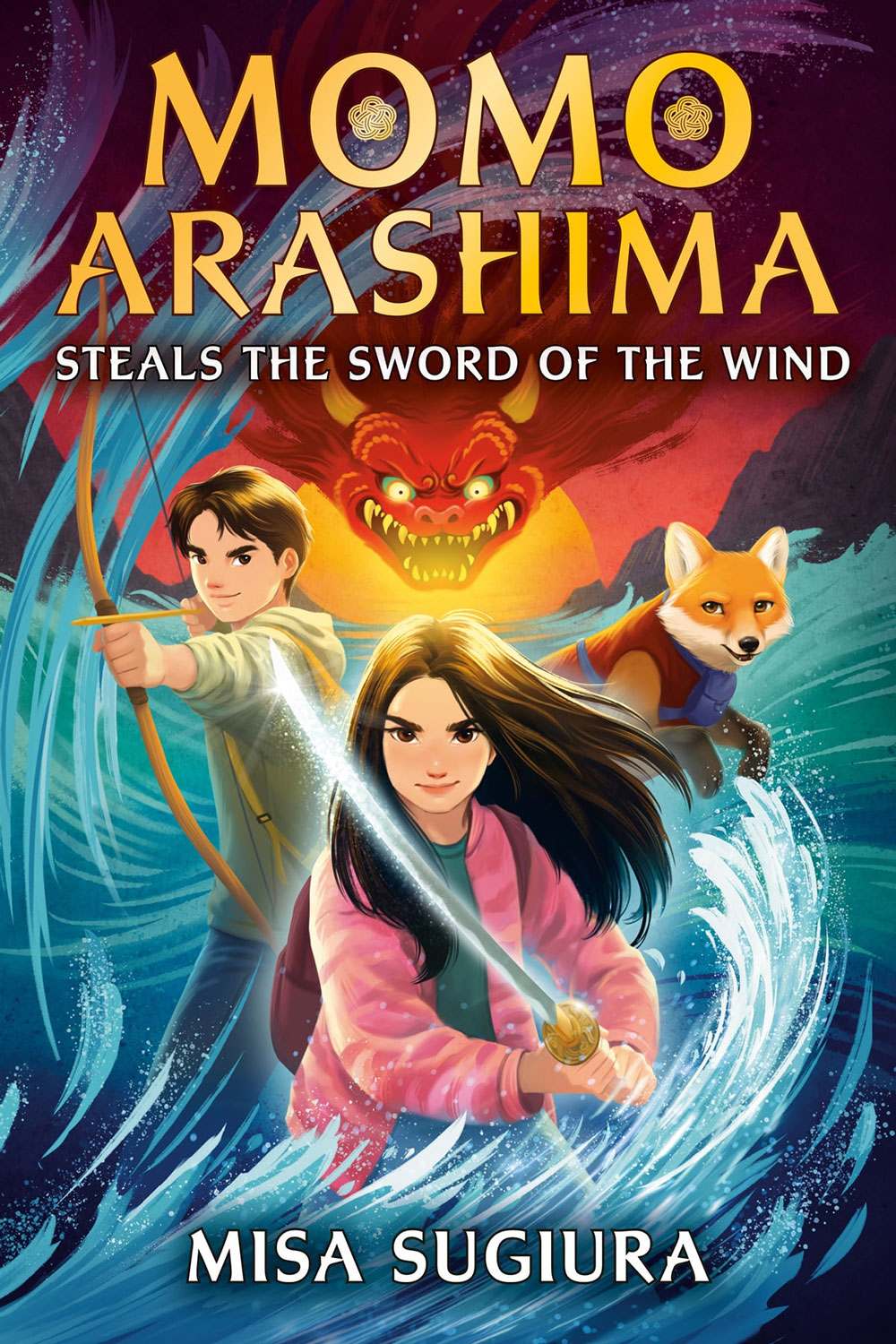 Momo Arashima Steals the Sword of the Wind
AUTHOR: Misa Sugiura
SYNOPSIS: A thrilling fantasy series about a twelve year old girl who sets out to save her Shinto goddess mother—and the world—by facing down demons intent on bringing chaos.
"A grand adventure." —Brandon Mull, #1 New York Times bestselling author of Fablehaven
"A wild ride of a novel…hilarious." —Sayantani DasGupta, New York Times bestselling author of The Kingdom Beyond
All Momo wants for her twelfth birthday is an ordinary life—like everyone else's. At home, she has to take care of her absentminded widowed mother. At school, kids ridicule her for mixing up reality with the magical stories her mother used to tell her.
But then Momo's mother falls gravely ill, and a death hag straight out of those childhood stories attacks Momo at the mall, where she's rescued by a talking fox . . . and "ordinary" goes out the window. It turns out that Momo's mother is a banished Shinto goddess who used to protect a long-forgotten passageway to Yomi—a.k.a. the land of the dead. That passageway is now under attack, and countless evil spirits threaten to escape and wreak havoc across the earth.
Joined by Niko the fox and Danny—her former best friend turned popular jerk, whom she never planned to speak to again, much less save the world with—Momo must embrace her (definitely not "ordinary") identity as half human, half goddess to unlock her divine powers, save her mother's life, and force the demons back to Yomi.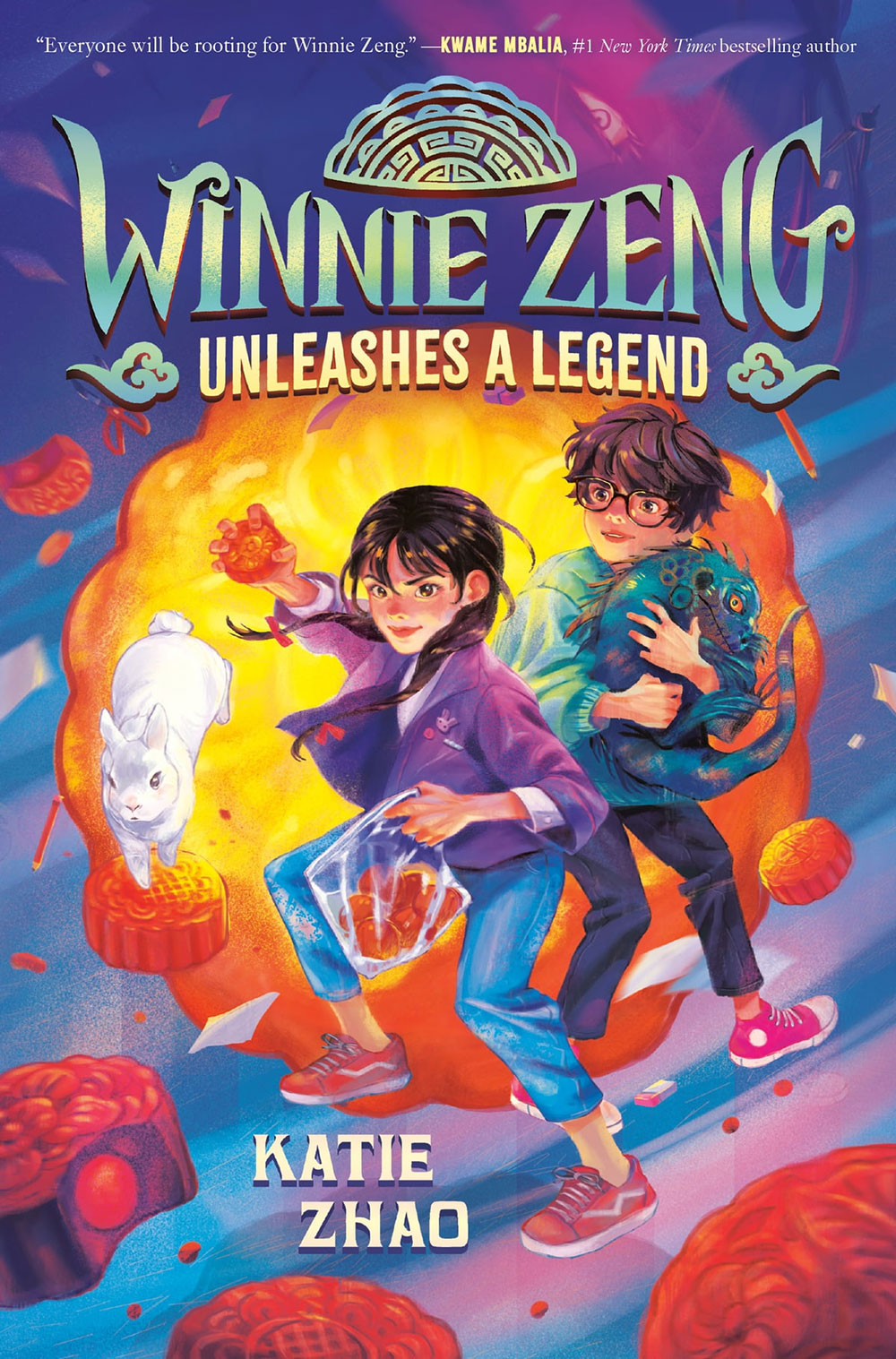 Winnie Zeng Unleashes a Legend
AUTHOR: Katie Zhao
SYNOPSIS: An epic new fantasy series inspired by Chinese mythology that #1 New York Times bestselling author Kwame Mbalia calls "a hilarious tussle between homework, family, and heroism." When a girl awakens the stuff of legends from an old family recipe, she must embrace her extraordinary heritage to save the world.
Winnie Zeng has two goals: survive her first year of middle school and outdo her stuck-up archnemesis, David Zuo. It won't be easy, since, according to her older sister, middle school is the pits. Luckily, Winnie studied middle school survival tactics in comic books and anime, and nothing will stop her from being the very best student.
But none of Winnie's research has prepared her to face the mother of all hurdles: evil spirits. When she makes mooncakes for a class bake sale, she awakens the stuff of legends from her grandmother's old cookbook, spilling otherworldly chaos into her sleepy town.
Suddenly Winnie finds herself in a race against time, vanquishing demons instead of group projects. Armed with a magic cookbook and a talking white rabbit, she must embrace her new powers and legacy of her ancestors. Because if she doesn't, her town—and rest of the world—may fall to chaos forever.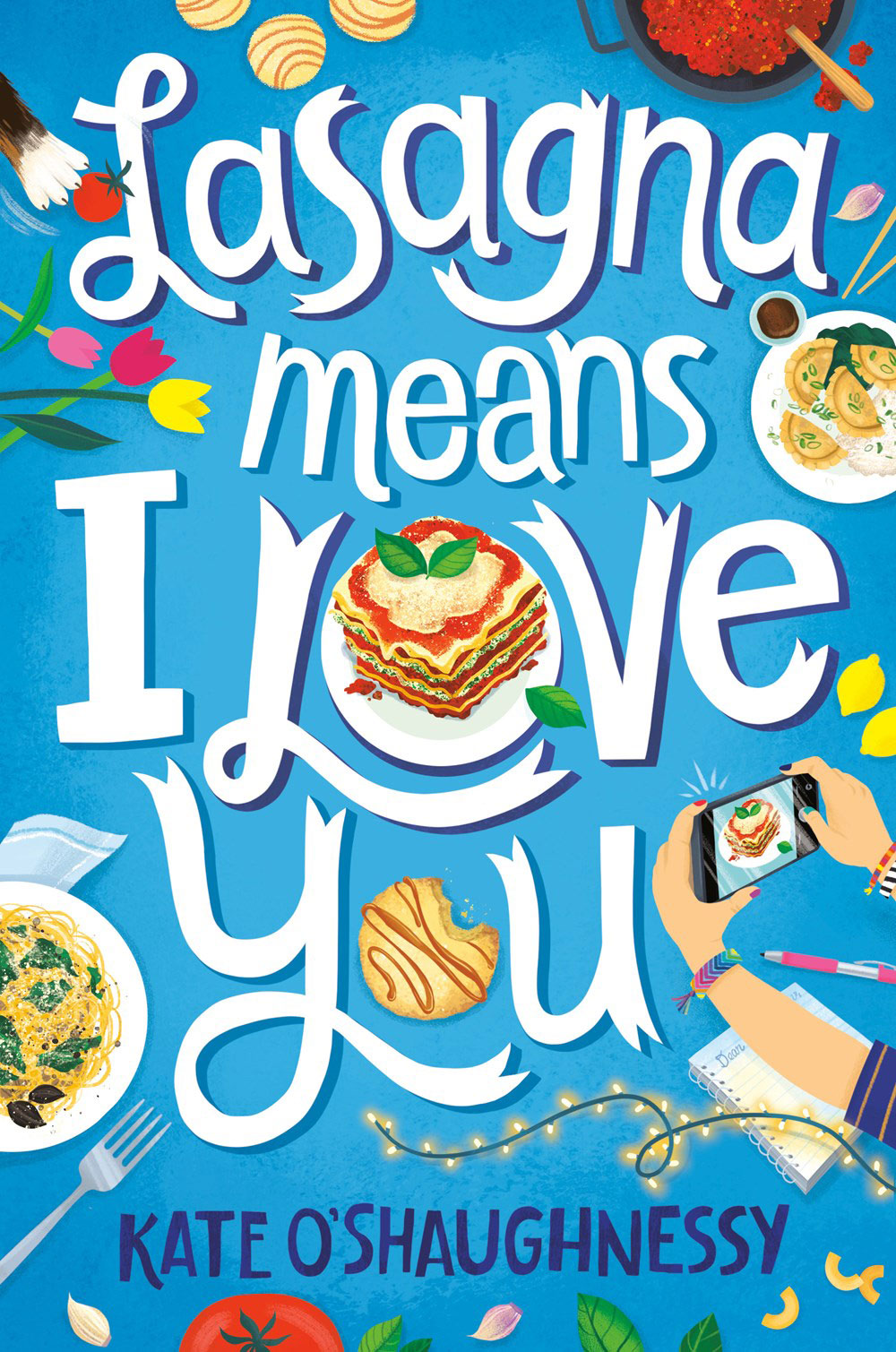 Lasagna Means I Love You
AUTHOR: Kate O'Shaughnessy
SYNOPSIS: What are the essential ingredients that make a family? Eleven-year-old Mo is making up her own recipe in this unforgettable story that's a little sweet, a little sour, and totally delicious.
Nan was all the family Mo ever needed. But suddenly she's gone, and Mo finds herself in foster care after her uncle decides she's not worth sticking around for.
Nan left her a notebook and advised her to get a hobby, like ferret racing or palm reading.
But how could a hobby fix anything in her newly topsy-turvy life?
Then Mo finds a handmade cookbook filled with someone else's family recipes. Even though Nan never cooked, Mo can't tear her eyes away. Not so much from the recipes, but the stories attached to them. Though, when she makes herself a pot of soup, it is every bit as comforting as the recipe notes said.
Soon Mo finds herself asking everyone she meets for their family recipes. Teaching herself to make them. Collecting the stories behind them. Building a website to share them. And, okay, secretly hoping that a long-lost relative will find her and give her a family recipe all her own.
But when everything starts to unravel again, Mo realizes that if she wants a family recipe—or a real family—she's going to have to make it up herself.
BONUS: Mo redefines her idea of family, finds her passion, and discovers her strengths in this fantastic read. That's why we featured her in our FIERCELY FICTIONAL spotlight HERE!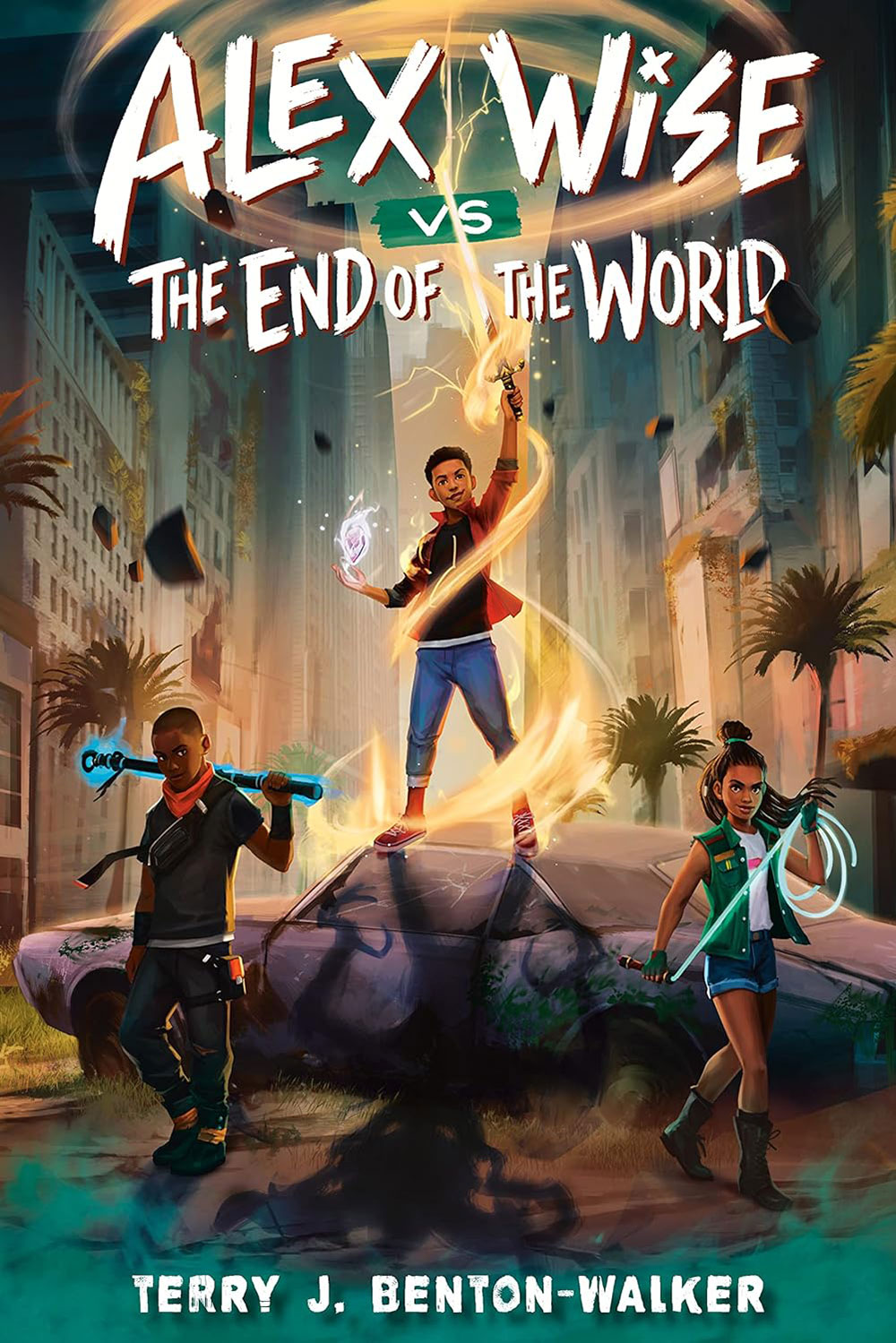 Alex Wise vs. the End of the World
AUTHOR: Terry J. Benton-Walker
SYNOPSIS: Welcome to the summer of the apocalypse. One 12-year-old boy leads the charge against the forces of evil as he tries to stop the Four Horsemen from taking over the world in the start to a wildly funny and addictive fantasy series about accepting yourself and finding your inner hero.
Alex Wise feels like his world is ending. His best friend, Loren, is leaving town for the summer, his former friend and maybe sort of crush Sky hasn't spoken to him since he ditched Alex on first day of sixth grade, and now his mom is sending him and his annoying younger sister, Mags, on a cruise with the dad who abandoned them. And, as if things couldn't get worse, a creepy shadow monster may or may not be stalking him.
But none of this could prepare Alex for the actual end of the world. Too bad that is exactly what's coming, after the definitely-real Shadow Man kidnaps Mags and she is possessed by the ancient spirit of Death—one of the Four Horsemen of the Apocalypse. Luckily (depending on who you ask), Alex is possessed as well by a powerful god who imbues Alex with their powers in an effort to stop the Horsemen…if he can figure out how to use them. So begins an epic battle between good and evil: Alex, Loren, a grumpy demi-god, and Alex's fourth grade teacher vs. Death, Pestilence, Famine, War, and the waves of chaos and destruction they bring to LA and soon the rest of the globe. Just your average summer vacation.
Alex is more used to being left behind than leading the way, but now he's the only one who can save his sister—and the world. That is, if he can unlock his new powers and see himself as the hero he is.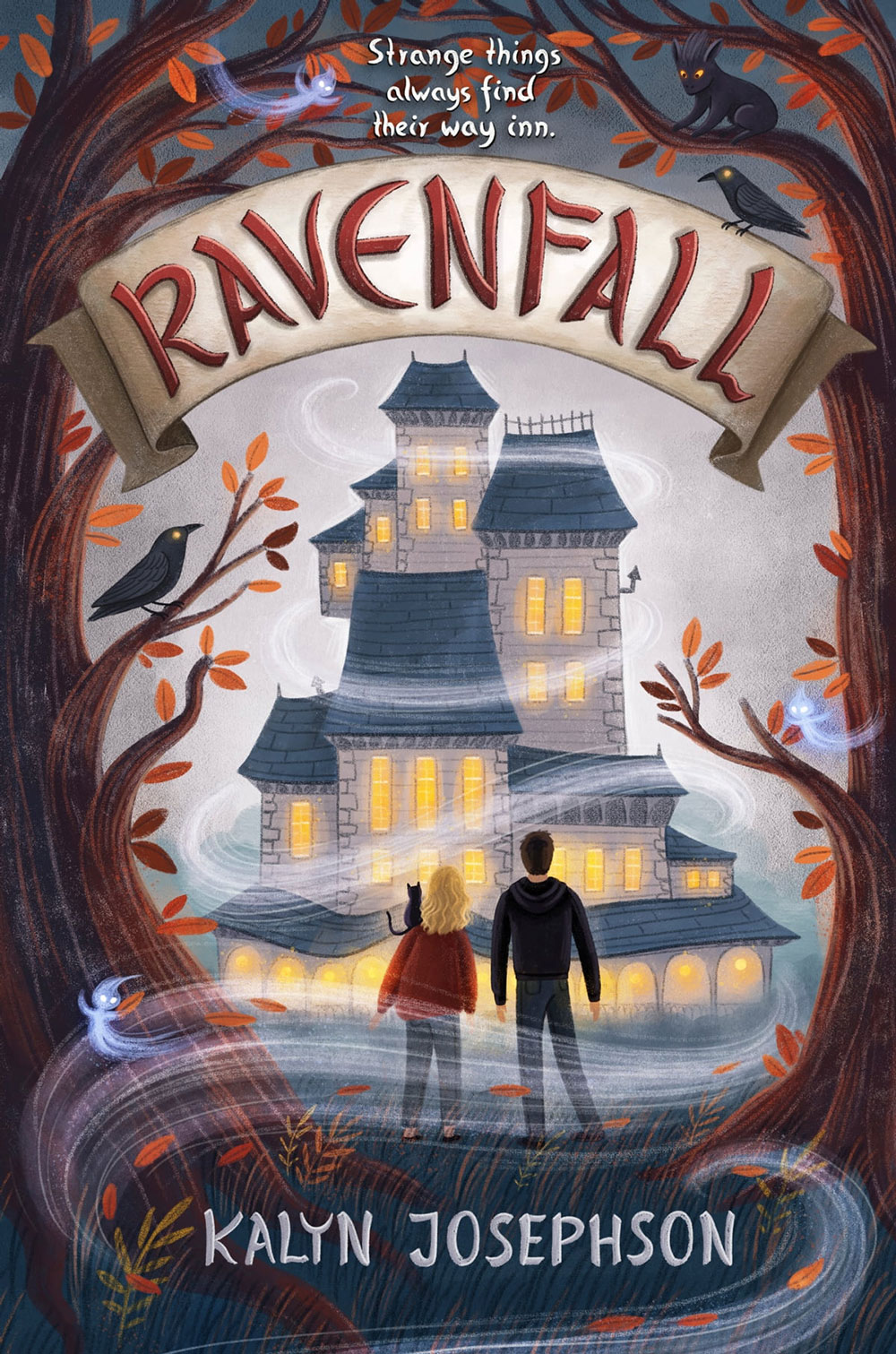 Ravenfall
AUTHOR: Kalyn Josephson
SYNOPSIS: One magical inn, two kids with supernatural powers, and an ancient Celtic creature trying to destroy their world by Halloween night…
Halloweentown meets Supernatural in this spooky middle-grade series from the acclaimed author of the Storm Crow duology!
Thirteen-year-old Anna Ballinkay has never been normal. Her family uses their psychic abilities to help run the Ravenfall Inn, a magical B&B between the human world and the Otherworld. But it's hard to contribute when your only power is foreseeing death.
So when fourteen-year-old Colin Pierce arrives at Ravenfall searching for his missing older brother, Anna jumps at the chance to help. But the mysteries tied to Colin go much deeper than either of them expects…
Now the supernatural creature straight out of Celtic mythology, one with eerie connections to Colin's family, is coming after them. If Anna and Colin can't stop the creature by Halloween night, it would spell destruction for Ravenfall and the world as they know it.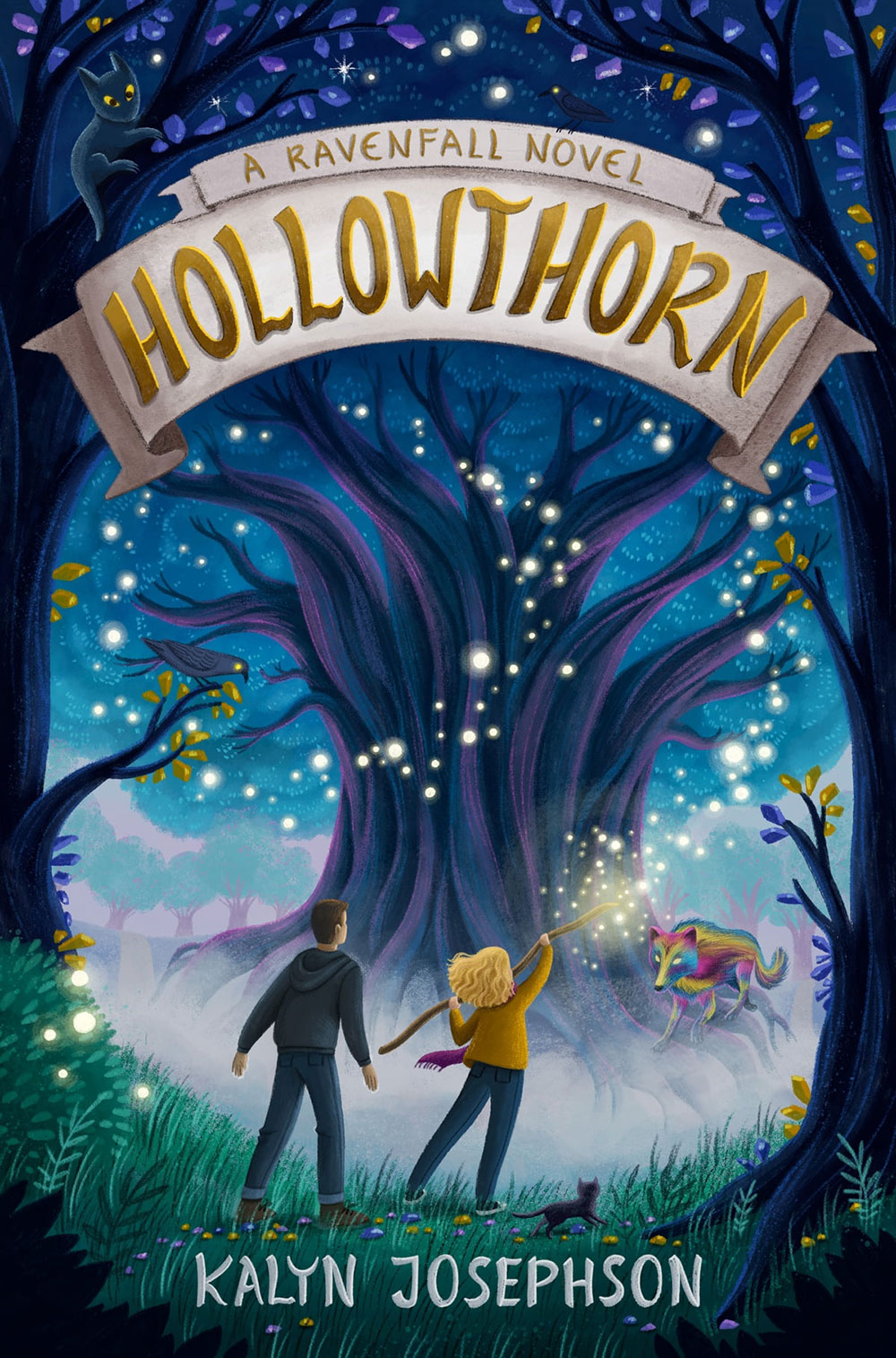 Hollowthorn
AUTHOR: Kalyn Josephson
SYNOPSIS: In this spellbinding sequel to Ravenfall, two kids with supernatural powers must venture into the Otherworld to protect the Tree of Life from a terrifying foe—or risk losing the magic of Ravenfall forever.
Best friends Anna and Colin defeated the King of the Dead on Halloween night, saving the magical Ravenfall Inn they call home. Now, with Hannukah approaching, the kids are looking forward to exploring their new powers—and maybe enjoying a little challah and peppermint cocoa, too.
But then a Raven—a guardian of the supernatural world—shows up at their doorstep with a warning. A demon from Jewish lore is hunting the Tree of Life, a source of untold power and immortality. If they can't stop him, they risk losing the magic of Ravenfall forever.
As they venture into the Otherworld, Anna and Colin discover a wondrous, menacing realm full of mythological creatures… but is the true danger closer than they think?
Random House Children's Books Fantastical Adventures Giveaway: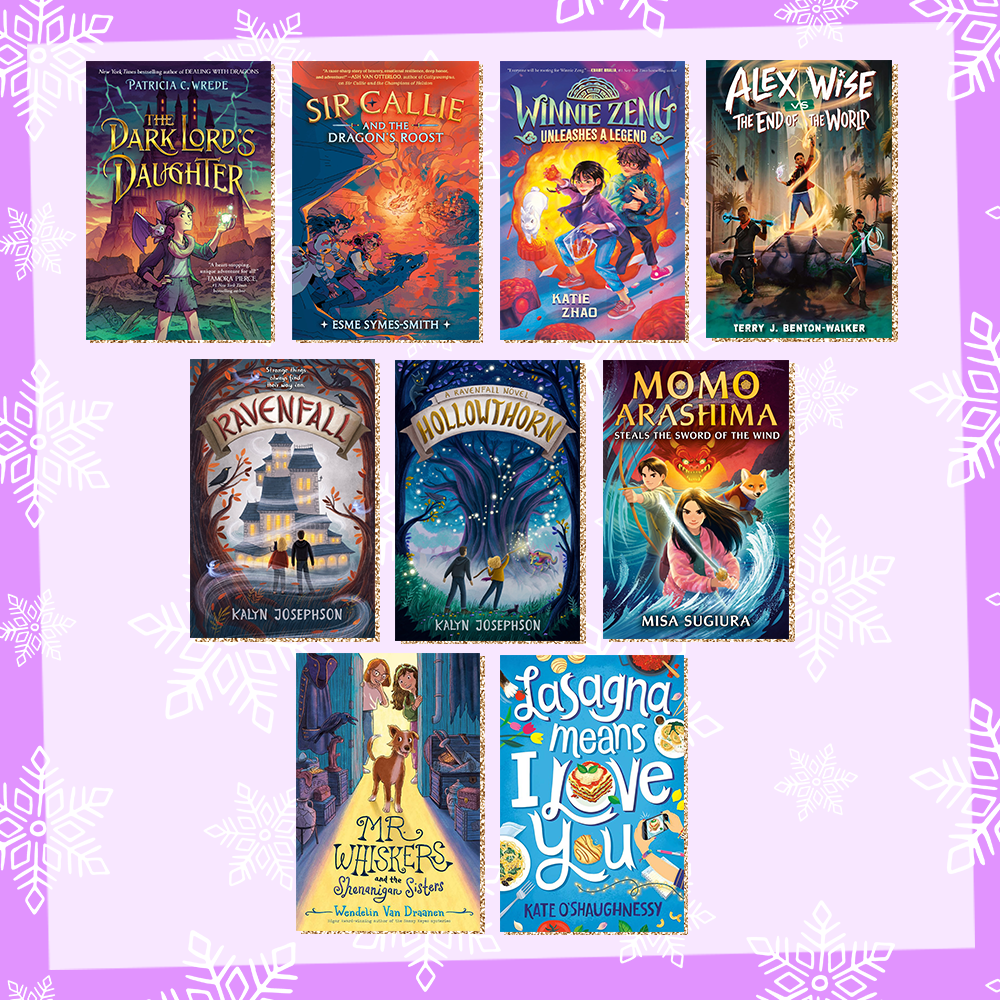 WHAT DO I WIN?:
ONE (1) lucky winner will receive a Random House Children's Books Fantastical Adventures Prize Pack that includes:
– ONE (1) copy of Sir Callie and the Dragon's Roost by Esme Symes-Smith
– ONE (1) copy of The Dark Lord's Daughter by Patricia C. Wrede
– ONE (1) copy of Mr. Whiskers and the Shenanigan Sisters by Wendelin Van Draanen
– ONE (1) copy of Momo Arashima Steals the Sword of the Wind by Misa Sugiura
– ONE (1) copy of Winnie Zeng Unleashes a Legend by Katie Zhao
– ONE (1) copy of Lasagna Means I Love You by Kate O'Shaughnessy
– ONE (1) copy of Ravenfall & Hollowthorn by Kalyn Josephson
– ONE (1) copy of Alex Wise vs. the End of the World by Terry J. Benton-Walker
*Prizes generously provided by Random House Children's Books
HOW DO I ENTER?:
Grab a parent or guardian and have them fill out the form below by November 17, 2023 at 11:59pm ET.
Giveaway runs from 11/03/23 at 12:00 pm ET through 11/17/23 at 11:59 pm. Open to US residents ONLY. Be sure to read the fully detailed rules HERE before entering.
THIS GIVEAWAY HAS ENDED AND THE WINNER HAS BEEN CONTACTED.
You must be 18 or older to enter. Please, only ONE entry per person. If selected as a winner, we will provide your parent/guardian with an affidavit to confirm that you are a valid winner who has permission to win. They will be REQUIRED to sign and return the affidavit to YAYOMG! to claim your prize. Prizes will not be mailed out without signed parental consent.
MORE HOLLY JOLLY FUN:
❄️EVEN MORE READS: Get lost in imaginative adventures from the comfort of your couch! Enter to WIN this graphic novel collection!
✨EXPLODING KITTENS: Make game night delightfully chaotic! Enter to WIN an Exploding Kittens game haul!
❄️GO WILD: The newest line of Misfittens are totally WILD! WIN a set of these collectible kitties HERE!