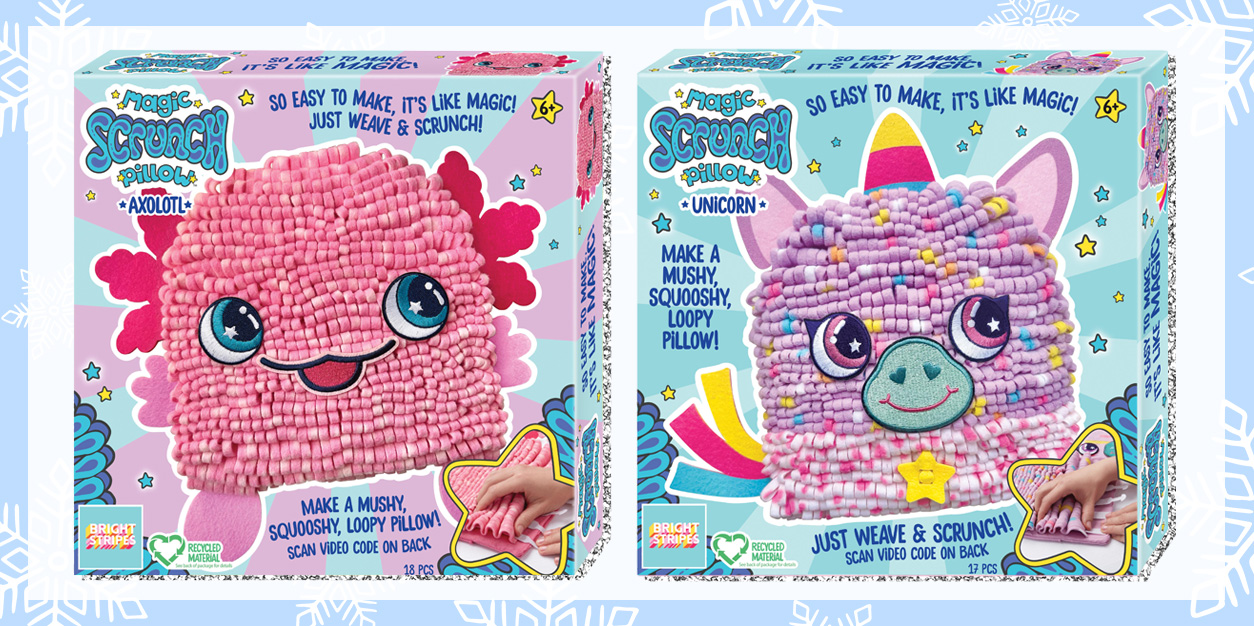 Holly Jolly Giveaways: Magic Scrunch Pillow Kits
NOTE: The items in our Magic Scrunch Pillow Kits Giveaway were provided by the brand for the purposes of our Holly Jolly Giveaways. No money was exchanged, and all opinions are our own. We reached out to these brands for this giveaway because they create products we love.
Whether you're already sweatered up or winter weather hasn't arrived yet where you are, our Holly Jolly Giveaways are here to rescue you from gray skies and snow day boredom.
If there's a better way to spend a gloomy winter day than an afternoon channeling your creativity into a new DIY, we haven't found it yet. But what we have found is a project that even the most novice crafter can complete with confidence – Magic Scrunch Pillows!
Now, you might be thinking, "Making an entire pillow sounds hard. I have no idea how to do that!" but these pillows are so easy to make it's practically magic – no sewing required! Each kit has everything you need to weave, scrunch, and stuff an adorably loopy, irresistibly snuggly pillow. Weave the included fabric onto the base, scrunch it all up, add the decorations like the unicorn's starry eyes or the cupcake's cherry on top, and stuff it with fluff. Voila! Your pillow is ready to snuggle and show off!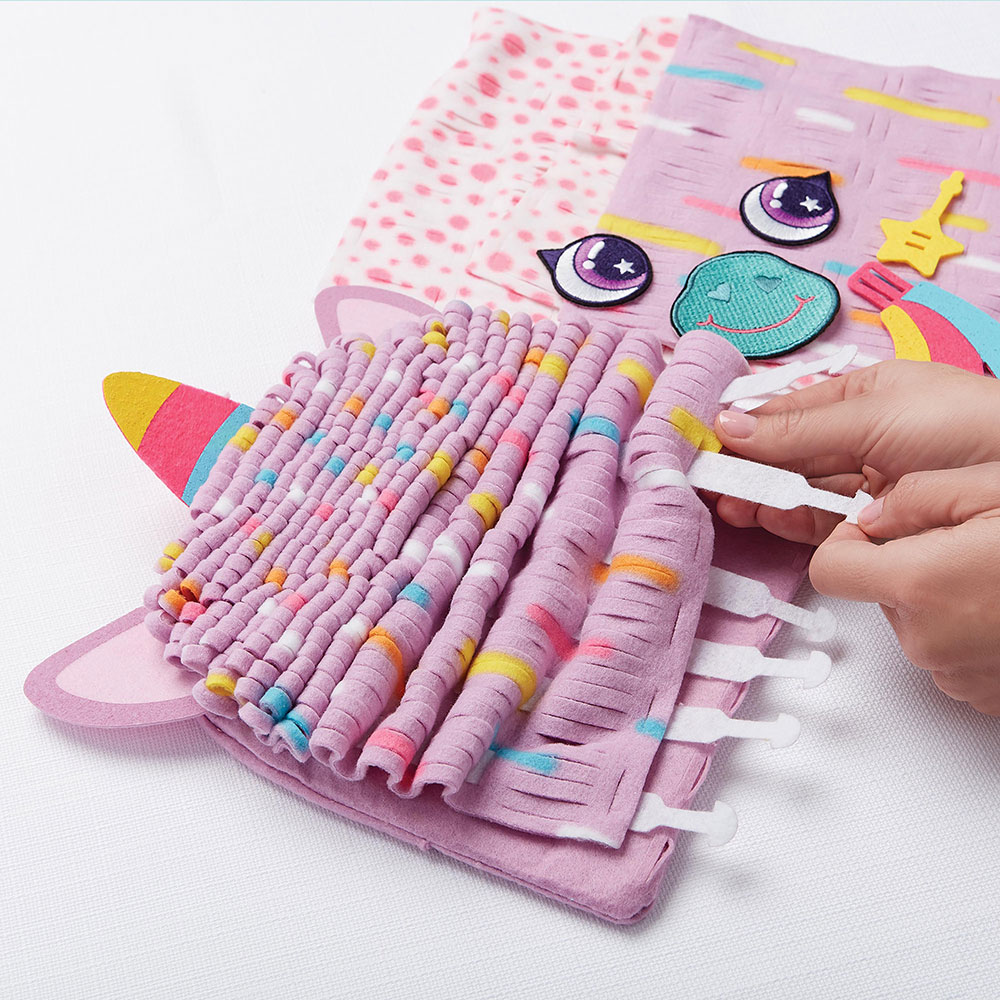 There are five designs to choose from – a unicorn, a cupcake, a kitty, a puppy, and an axolotl and the best part? All the materials are made of 90-100% post-consumer plastic bottles, making them an eco-friendly slay as well as your cutest new piece of bedroom decor.
Ready to get your scrunch on? Our friends at Bright Stripes are giving FIVE lucky winners a chance to win TWO Magic Scrunch Kits. Grab your favorite adult and have them enter below for your chance to WIN!
Magic Scrunch Pillow Kits Giveaway: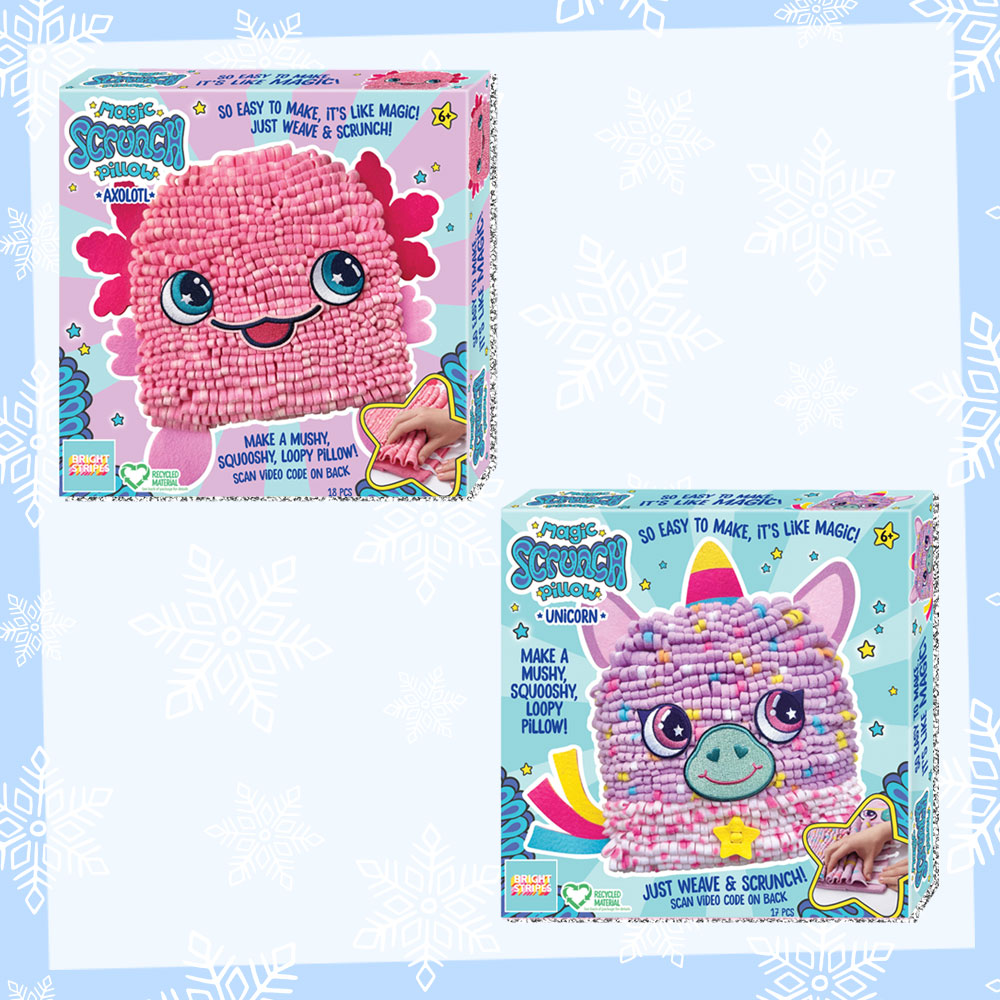 WHAT DO I WIN?:
FOUR (4) lucky winners will receive a Magic Scrunch Prize Pack that includes:
– ONE (1) Unicorn Magic Scrunch Pillow Kit
– ONE (1) Axolotl Magic Scrunch Pillow Kit
*Prizes generously provided by Bright Stripes
HOW DO I ENTER?:
Grab a parent or guardian and have them fill out the form below by November 21, 2023 at 11:59pm ET.
Giveaway runs from 11/07/23 at 12:00 pm ET through 11/21/23 at 11:59 pm. Open to US residents ONLY. Be sure to read the fully detailed rules HERE before entering.
THIS GIVEAWAY HAS ENDED AND THE WINNERS HAVE BEEN CONTACTED.
You must be 18 or older to enter. Please, only ONE entry per person. If selected as a winner, we will provide your parent/guardian with an affidavit to confirm that you are a valid winner who has permission to win. They will be REQUIRED to sign and return the affidavit to YAYOMG! to claim your prize. Prizes will not be mailed out without signed parental consent.
MORE HOLLY JOLLY FUN:
❄️MAGIC MIXIES PIXLINGS: Mix magical ingredients to create a potion that brings an enchanting doll to life! Enter HERE!
✨KITTY MAGIC: Everyone can hear the Magic Whispers Kitty purr, but only YOU can hear what they're really saying!
❄️KEEP UP WITH HOLLY JOLLY: Check this page every day in November for even more giveaways!