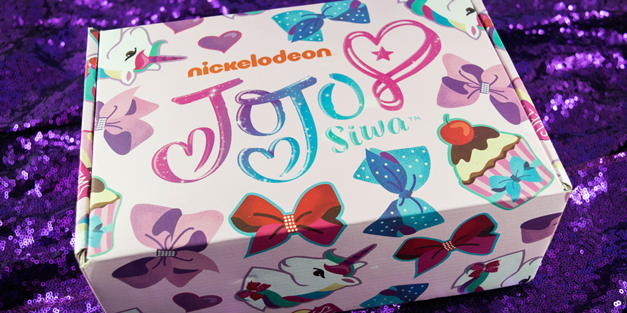 Discover the Bow-tastic Surprises in the First JoJo Siwa Box
YAYOMGers know that we are all about our girl JoJo Siwa. Not one, but TWO JoJo subscription boxes recently launched – it's a great time to be a Siwanator. There's JoJo's Bow Club from H.E.R. Accessories, which sends an exclusive JoJo Bow and collectors pin to your door each month and then there's the JoJo Siwa Box from CultureFly. That's the one we'll be unboxing today, and it's kinda magical.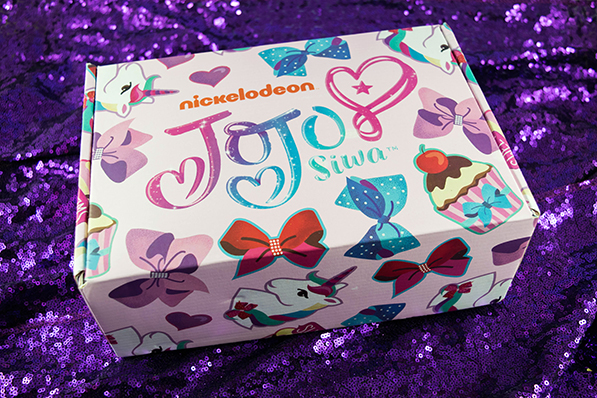 As you can see, the experience begins before you even open up the box. The adorable pastel pink box is plastered with unicorns, bows, and cupcakes, giving it perfect JoJo style and makes a great place to stash your bow collection after you're done unboxing it. Ready to see what came inside the very first JoJo Siwa Box? Keep on reading!
Unboxing the First JoJo Siwa Box:



Exclusive Hairbow:
If you're a true Siwanator, you might recognize this bow. It's based on the very first bow that JoJo's mom Jessalynn ever made for her! Now you can have one of your very own to make Siwanator history with. This special pink bow is exclusive to this first box, which is now sold out.



BowBow Plush Pillow:
If you love BowBow just as much as JoJo does, you'll love snuggling up with this super soft pillow. BowBow will look adorable on your bed, on the couch, or kicking back with you as you watch JoJo's latest YouTube vid.



Charm Bracelet:
Similar to the ones you'll find in the Animal Jam Box and the Shopkins Box, CultureFly has created another fantastic charm bracelet to add to your collection. This one comes complete with three cute charms – a unicorn, a hair bow, and a JoJo's Juice charm. Show off your JoJo pride by rocking this bracelet everywhere you go. You'll receive a new charm in each box to add to your bracelet.
If you missed out on this box, CultureFly often puts the charm bracelets up for sale after the fact, so be sure to check the website for updates.



Glitter Unicorn T-Shirt:
You've probably seen JoJo rocking this shirt lately, and now you know where it came from! This sparkly unicorn tee was designed exclusively for the JoJo Box and is even wearing her own JoJo bow! You'll look as cute as a kid in a candy store when you pair this shirt with all your other new goodies.



JoJo Sunglasses:
These sunglasses won't just help you block out the haters; they'll also help you complete your super cute new look. When your shirt, bow, charm bracelet, and sunglasses combine, you'll feel as cute and confident as JoJo herself. Want some advice straight from JoJo Siwa on how to stay confident and brush off a bad day? Check out our interview!



Lucky Hair Ties:
You'll keep slayin', slayin', slayin' in these neon JoJo hair ties. This is the first item that JoJo shared on her Insta when teasing the box and she's sported them off a few times since. Siwanators know that JoJo loves to rock all the merch she's worked so hard to create, so when you rock these hair ties, you'll be twinning with your idol.



JoJo's Juice Tumbler:
Whether you fill it with juice, water, or coffee, there's one thing for sure. You'll look fabulous and glittery while sipping out of this adorable tumbler.
All in all, we thought the first JoJo Siwa Box was filled with some great items for a really good value. If you think about it, the shirt and the bow alone would probably cost around $30 if you were able to buy them in stores.
One reason we love CultureFly boxes is that they always include items that aren't just exclusive or collectible, but useful. Everything you receive has a purpose, and we know that JoJo fans will absolutely be accessorizing with these cute items over and over again. We can't wait to see what in the second box when it's delivered to our doorstep!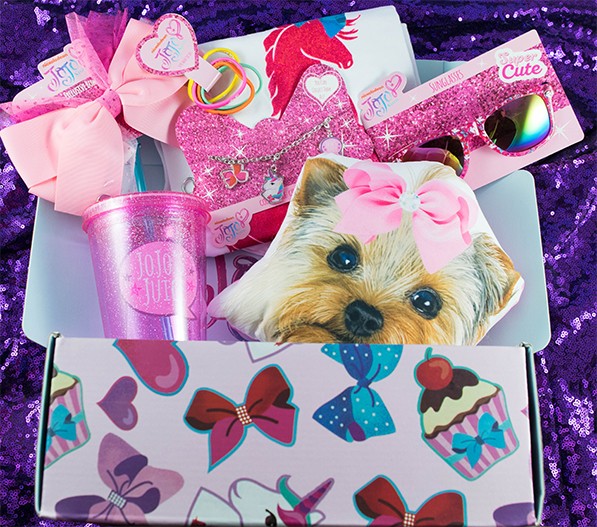 Grab a parent and head to thejojobox.com to subscribe! The boxes cost $30 + S/H for a quarterly subscription or $27 + S/H if you pay up front for the entire year (four boxes total). Watch JoJo excitedly unbox her box here.
If you're subscription box obsessed like we are, we think you'll love OwlCrate Jr!