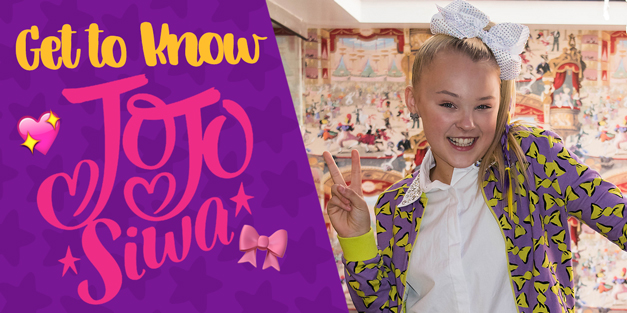 JoJo Siwa Dishes on Working Hard, Living Her Dreams, & What's Up Next
We recently went to the Sugar Factory on the Upper West Side in NYC for an extra special, super sweet, bow-tastic reason. Any guesses? To chat with the amazing JoJo Siwa! The moment you step into the room with JoJo you can feel her high energy and sugary sweet spirit bouncing off the walls. She's beyond excited to be where she is and she doesn't take a single moment for granted.
JoJo knows she's living the dream and isn't living the same life as an ordinary 14 year old girl. However, that's actually what's most important to her. Having fun, being a kid, and making the most of her incredibly cool life.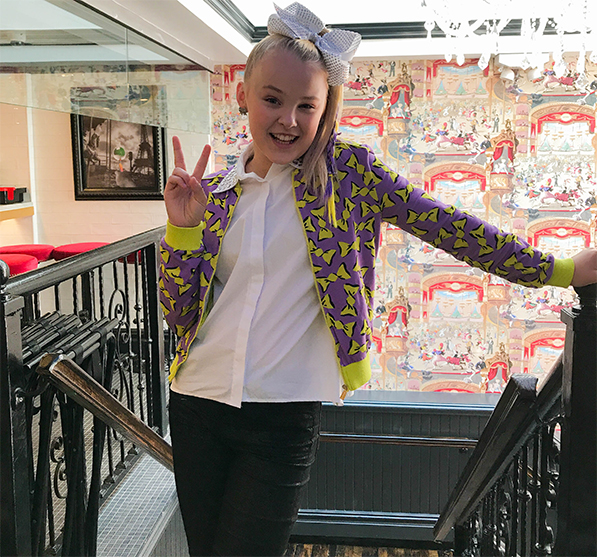 The last time we chatted with JoJo she dished on her recently announced talent deal with Nickelodeon, but as she did, we learned all about the hard work, the countless meetings, and what really goes in to creating every aspect of her product line, YouTube vids, and catchy songs for her Siwanators. We knew there was a totally business minded boss babe inside her so we were thrilled to get the chance to chat with her again and give you guys a behind the scenes look at what goes into to bringing JoJo's brand to life. She's SO much more than just a hairbow, she's truly someone to be inspired by.
Get to Know JoJo Siwa:


She's totally business savvy:
Everyone knows JoJo Siwa as the girl with the big hairbow or the amazing dance moves, but did you know that she's constantly in meetings dishing out input on everything from her product lines to her music videos? "People like my opinion, people value it, and people really want to know what I have to say." Sometimes at fourteen it can be hard to find someone who'll truly listen to you, but it's not like that when JoJo steps into a conference room. Everyone there is ready to hear what she has to say. "For me it's really cool that I can go into a meeting with all these big executives and say something like "I think we should do the purple one!", she shared with YAYOMG! When JoJo Siwa voices her opinion, it's heard, valued, and almost always makes it's way into the final result.
She loves collaborating with her team and values their advice as well. When working on a music video her expert team presents her with a few ideas on how things should go down and they work together to narrow it down to the very best idea that'll work best for the song and the vibe they're going for in the video. Fans know that JoJo's videos are always colorful, sparkly, and oozing with energy and that's all due to these collaborative meetings she attends.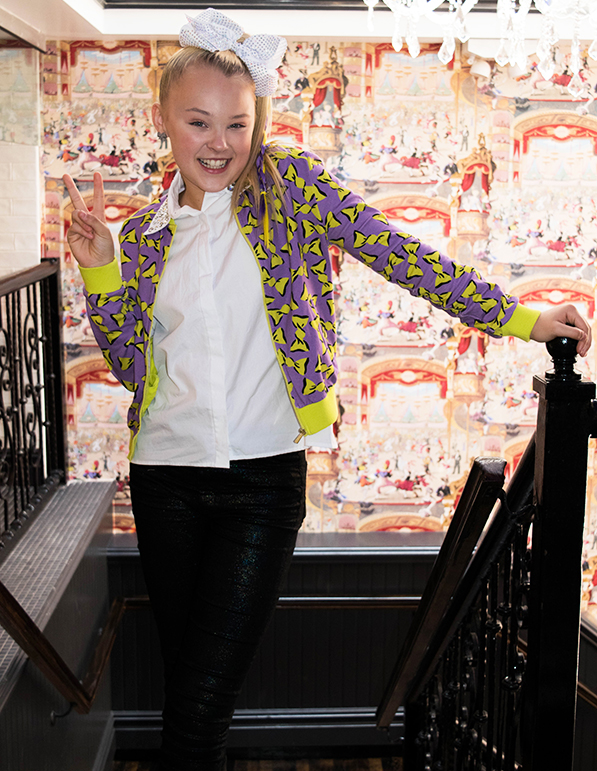 JoJo's business side all started when she and her mom decided to make their homemade bows from their living room to a real product. Now that she's sold millions of bows to millions of girls around the world at Claire's, Justice, and even QVC, we had to know – is she still as hands on as she used to be? Turns out, she is. JoJo shared a recent experience with us about working on her bows. "Yes! Literally the day before yesterday I went to the bow headquarters. The people who make the bows are called H.E.R. Accessories and I went to their HQ and I got to see all the new stuff and tell them all the ideas I had. It was really cool."
The JoJo Siwa brand is about to get bigger than ever. Fans can expect to see everything from bedding to karaoke machines releasing this holiday. There will even be a way to make their own JoJo Bows at home! If you can think of it, JoJo's adorable face and colorful personality will likely be plastered all over it. When we asked her what fans can expect she said "A LOT of new sparkly things. There's so many new things coming out that I love so much. It's literally unbelievable to see it all, it's so, so, so cool."
We were invited the same day to Nickelodeon HQ in Times Square to get a peek at some of these new products up close and we can vouch – they're definitely cool and fans are going to delighted by all the new goodies. But which products are JoJo's fav? "The doll was really cool and my dog plush for BowBow, I really loved that. The bedding coming out is AMAZING, there's a lot of really cool stuff."


She's proud of her accomplishments:
At just 14 years old, JoJo has accomplished so much. She's come such a long way since Dance Moms and has exploded into a teen icon and household name. Despite all that, it seems like just the beginning for JoJo. With everything from hit singles to an upcoming docu-drama special about her life about to appear on Nickelodeon next week, we were curious which of JoJo's accomplishments is she most proud of? "Boomerang is a big accomplishment and winning a Kids Choice Award. Those are the two biggest for me." With all that under belt, what could she still have left to accomplish? Her goal of the moment? Hitting 4 million subscribers on YouTube. "My goal right now is probably 4 million on YouTube, that's a big one. Getting close, less than 100,000 away!"
4 million subscribers on YouTube is nothing compared to JoJo's dreams for the future. If she wasn't doing what she does now, she'd want to work towards being a surgeon. "I wasn't doing this I'd definitely want to be a surgeon. I've always wanted to be a doctor, but I've always wanted to do this too." JoJo also told us that she might want to be a basketball player. She plays basketball all the time and it's something that she truly loves to do. Don't worry though, she won't be leaving the spotlight anytime soon. She's got so much more to accomplish as a singer, dancer, actress, and businesswoman. She'd also really love to meet the cast of Grey's Anatomy, one of her favorite shows.
What's it like for JoJo when she sees her fans rocking her bows or tagging her in photos of their JoJo merch collections? "It's really crazy. It's so cool to go out on the street and see someone wearing a JoJo Bow. It's unbelievable and just so cool.


JoJo's got the cure for a bad day:
JoJo always seems so confident and happy but when things don't go her way, she's got a great way to shake off a bad day. "I made a deal with myself about 4 months ago now. I'm not allowed to be nervous anymore and everyday I'm living it like it's my last. I'm doing something fun everyday. So then no matter if I work all day, do pushups all day, I'm gonna go out for ice cream after or play with my dog or SOMETHING every single day that makes me happy." Sounds like great advice not just for her, but for everyone.
She also has some extra special people in her life she likes to turn to for advice. "My mom. And my dog. BowBow gives me great advice." Being JoJo, she proceeded to do her BowBow's voice for us. We're thinking BowBow might need her own series and JoJo agrees. "She also signed a deal with Nickelodeon, so we'll see what happens!"


What's Next for JoJo Siwa:
So what's next for powerhouse JoJo Siwa? JoJo Siwa: My World comes out next week, giving fans an in-depth behind the scenes look at her life and how much hard work she puts into everything she does. It was also announced this week that she'll be starring on Lip Sync Battle Shorties with Nick Cannon, something she's really excited to share with the world. "I'm so excited for that because it's like Lip Sync Battle but it's for kids. "We shot the pilot for it, it's going to be so awesome. Nick Cannon is hosting and I'm his sidekick and it's gonna be so fun."
When we asked her go-to lip sync song, she said "Probably anything by Bruno Mars." and burst into a few lines of "That's What I Like". If you need more JoJo in your life RIGHT NOW you're in luck. Her "Hold the Drama" music video just dropped today and it's definitely going to make you want to get up and dance! Hit up JoJo's channel for the full vid.
JoJo's advice for her fans? "I would just tell them to be themselves, to be confident, and just have fun and live their lives." Seems like JoJo's advice holds true to the way she lives her own life. Happy, carefree, and totally loving every single moment. Thanks so much to JoJo for taking the time to chat with.
Need more marvelous girls to look up to? Check out our picks for 10 Women Who'll Totally Inspire You!
Photo Credit: YAYOMG!, @itsjojosiwa