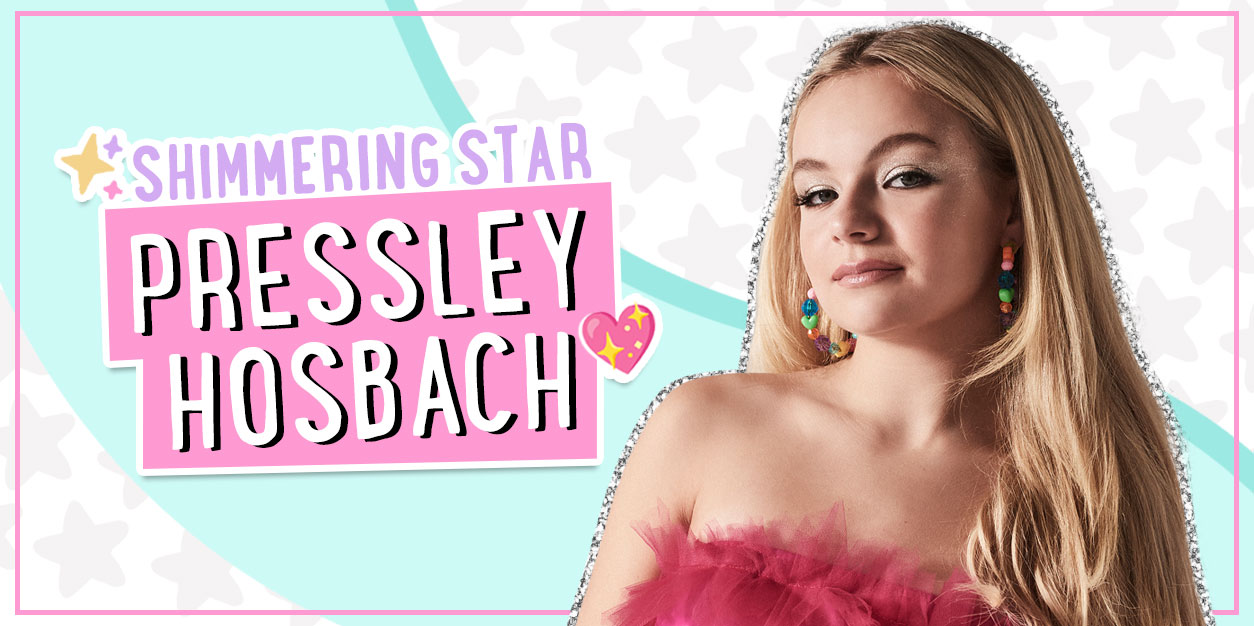 Shimmering Star Spotlight: Pressley Hosbach
Each month YAYOMG! selects a Shimmering Star to spotlight. Follow along as we shine a light on girls who represent kindness, positivity, empowerment, philanthropy, drive, and confidence. They're sure to inspire you!
March has arrived, and as Spring and the sunshine roll in, it's time to get to know our cheery Shimmering Star, actress, influencer, dancer, entrepreneur, and content creator Pressley Hosbach!
Pressley sparkled onto the scene as a dancer on Dance Moms at 6 years old, and she's come such a long way since then, appearing in Brat shows like Stage Fright and Attaway General and hosting Nickelodeon's LEGO Friends podcast. Now 16, Pressley is leveling up her influence, working with brands like Petite 'n Pretty and Abercrombie. Most recently, she's taken on the role of fashion designer, bringing her style visions to life and launching fashion lines with Windsor and Teenz Shop. Even though she's already done so much, Pressley is just getting started, and has even more projects on the way and has her sights set on one day attending the Met Gala and starring in a feature film.
Pressley shines on social as a positive force through every TikTok dance and picture with her puppy. She is passionate about making people happy, especially kids, and makes it her mission to inspire her millions of followers to spread kindness and positivity every day.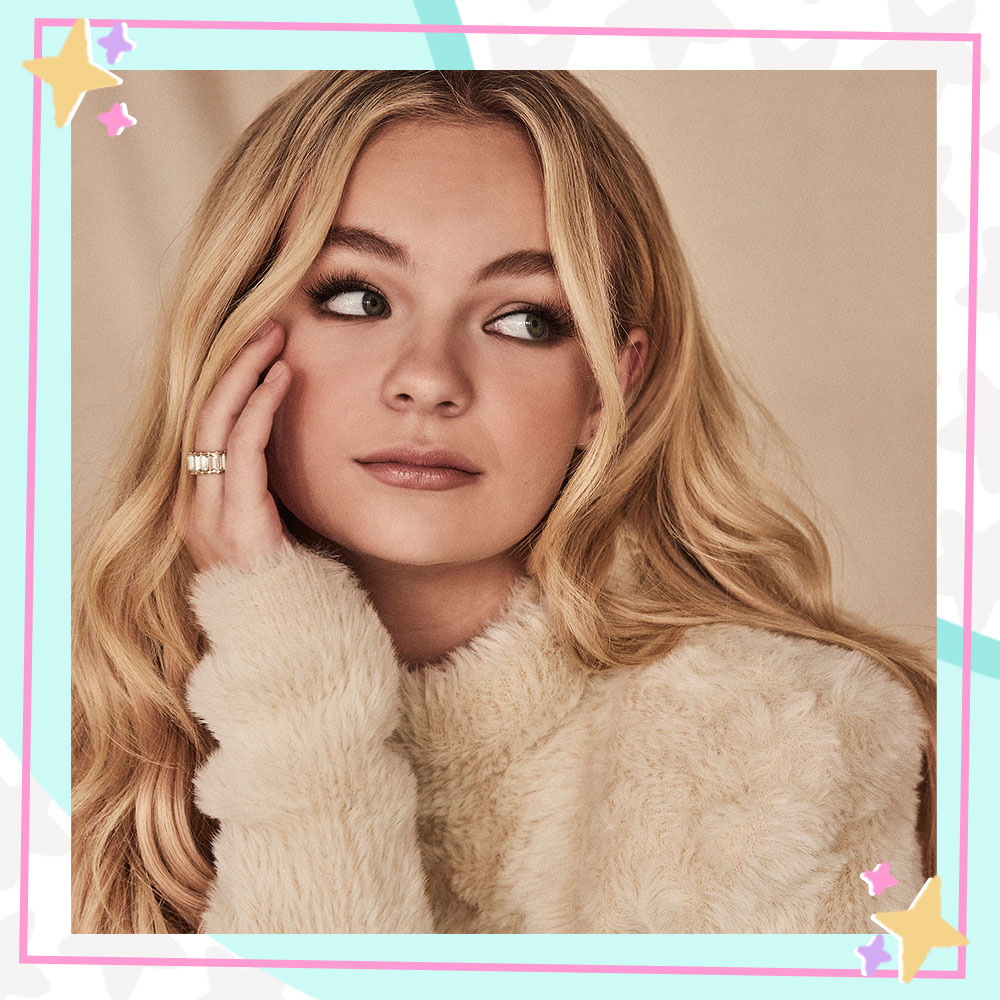 Pressley's next big adventure? Hosting the orange carpet at the Nickelodeon Kids Choice Awards! As a sneaker collector and designer of her own prom dress collection and her ever-sunny personality, Pressley couldn't be a better pick for celebrity interviews and fashion commentary on the orange carpet. Speaking of her prom dress line, here's what Pressley told us about designing her line of dresses. "I am super excited that I have my own prom collection with Windsor. This has been SO much fun to work on, especially since I am homeschooled and have never gone to a formal, homecoming, or prom. We are actually having a really fun fashion show event on March 11th at the Irvine Spectrum that is open to anyone to come and watch! It's going to be so fun, especially since I have some of my closest friends walking in the fashion show with me."
Get to know Pressley Hosbach as she dishes on her most memorable moments, finding balance in her busy schedule, and her advice on bringing positivity to your life every day!
Get to Know Pressley Hosbach: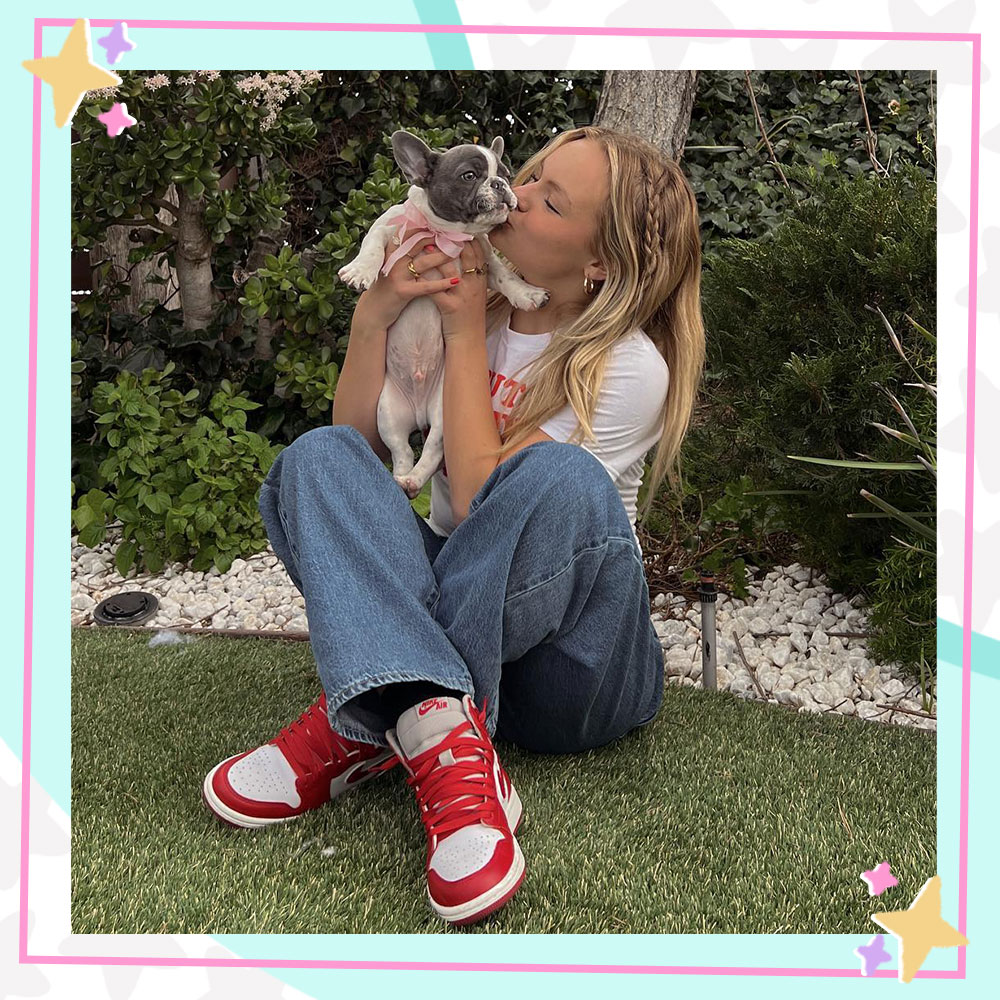 Tell us a little bit about YOU!
PRESSLEY HOSBACH: Well, obviously, I am a dancer, actress, singer, and creator, but in my free time, I like to do a lot of things! I LOVE fashion, and I LOVE sneakers. I have been collecting sneakers ever since I was little. It started because my dad has a huge sneaker collection and started buying me sneakers to match with him. From then on, I was hooked!
Besides that, I love reading, drawing, going to the beach, or going to pilates! I love trying new things and being adventurous.
From business meetings to acting, dancing, and launching a fashion collection, you truly stay busy! Taking a moment to pause, what have been some of your favorite moments?
PRESSLEY: There have been so many favorite moments, but a few off the top of my head are getting to be on the Kids Tonight Show, which was my first-ever talk show! Or when I saw my first magazine cover on newsstands for the first time!
I could go on and name a million more. I am so grateful for all of the things I have been able to experience!
How do you find balance amongst such a busy schedule?
PRESSLEY: It can honestly be hard at times, but I just have to remind myself that I am still a kid, so I have to take time to be one! I think a big reason I do so and stay so grounded is because of my parents. They always make sure I am taking care of myself and taking time to have downtime.

I also think that organization and time management is key. I like to keep a book with all of the things I need to do and accomplish, this way I can have a plan, figure out the timing to complete certain things, stay on task, and also make time for myself.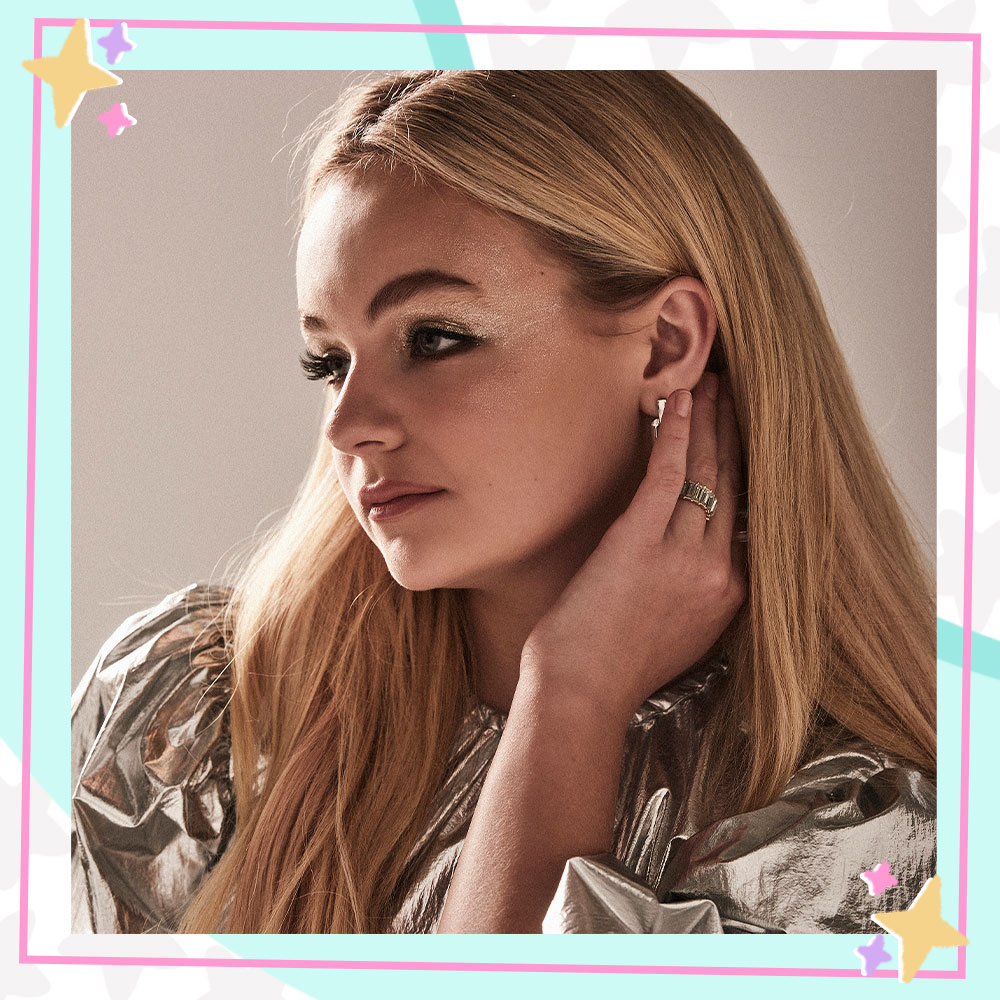 Positivity and kindness are kinda your thing! What is one simple way kids can add a happy moment to their day (or someone else's)?
PRESSLEY: Spreading positivity and kindness can be something as simple as smiling at someone or complimenting someone's outfit or hair. Small things like that, that you might think are silly, could really change someone's day!
Now when it comes to adding happy moments to your own day, you just have to do the things that bring you joy! If you don't truly enjoy what you are doing, find something new that brings you happiness. I also think that as silly as it may seem – just smile! I feel like smiling in itself just automatically makes you feel happier and can make you relax and take a breath.
I also think that during times when you maybe need a little reminder, just take a moment to think about all the positive and happy things or moments in your life, even if it is just a small moment like seeing a sunset or seeing a cute dog. Just finding little moments!
How do you shine bright?
PRESSLEY: I think that I shine bright by just being me and encouraging other people to do the same! Staying true to who you are is so important, so if I can do so and show other people that it's possible, it would truly make me so happy!
Also, I have worked in the past with St Jude's and am really looking forward to working with UCLA Children's Hospital. These are such important organizations doing amazing work, but because they focus on kids, they are especially important to me. I also have worked with the Downtown Women's Center in LA by donating products and clothing to their store that they have that provides jobs to the women of the DTWC.
Lastly, I just got a new puppy! Besides being obsessed with him I am now really interested in getting involved with an organization for animals.
The women who inspire me are…
PRESSLEY: My mom, Ashley Hosbach. Also, Reese Witherspoon, Dolly Parton, Maddie Ziegler, Zendaya, and Jennifer Aniston.
I am most passionate about…
PRESSLEY: My family, singing, acting, dancing, and making people happy!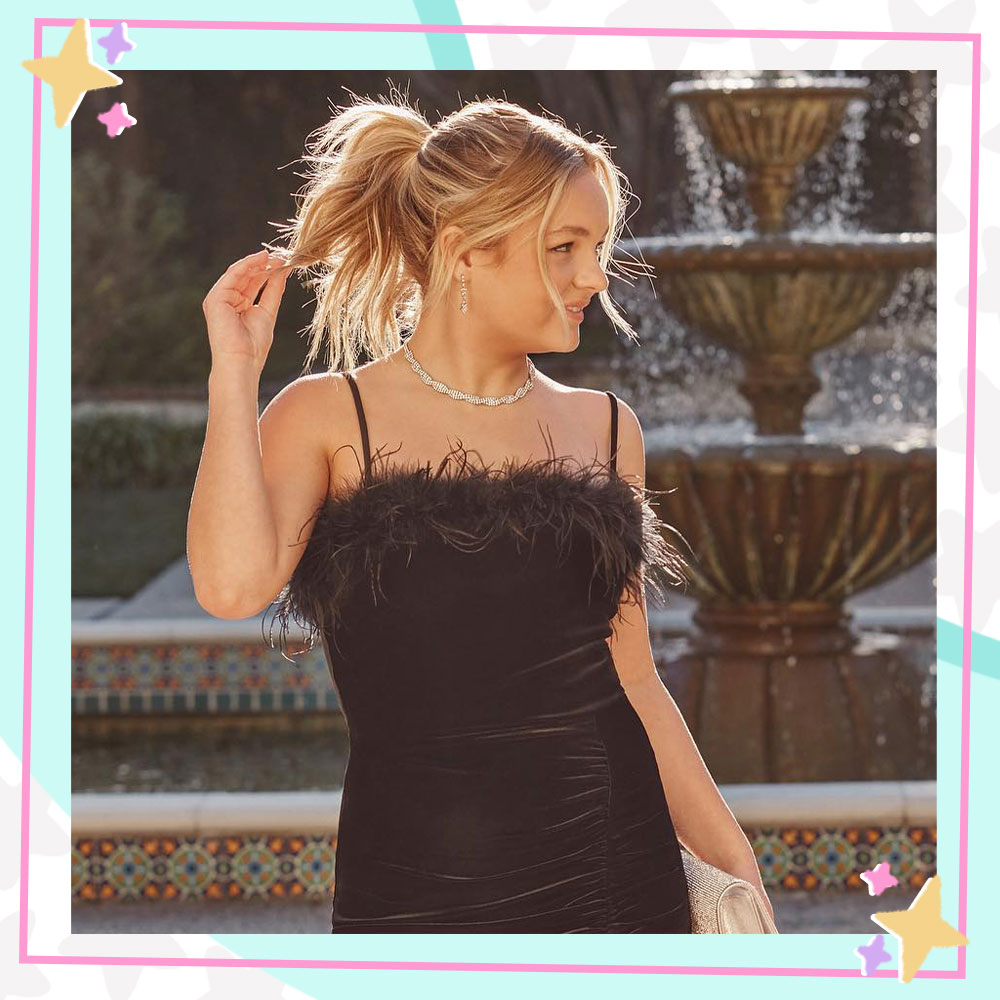 I feel most confident when…
PRESSLEY: I'm surrounded by people who bring me up and make me feel like I can be myself and not judge me for it!
My biggest dream is…
PRESSLEY:
To go on a world tour
Star in a feature film
Work on a television series as a series regular
Attend the Met Gala
Be on the cover of Vogue
The advice I want to share with other girls is…
PRESSLEY: Always remember who you are and stay true to that. And whatever it is you do in your life, do it with positivity and kindness!
NEED EVEN MORE INSPO?:
✨TWIN FOUNDERS: Catch up with sisterpreneurs Sophie & Izzy, Founders of SOZY Pencils!
💖CANDLE QUEEN: Get inspired by the 9-year-old Founder of thriving candle company, Lily Lou's Aromas!
✨MORE PRESSLEY: Find out more about Pressley's life as an influencer & dancer HERE!