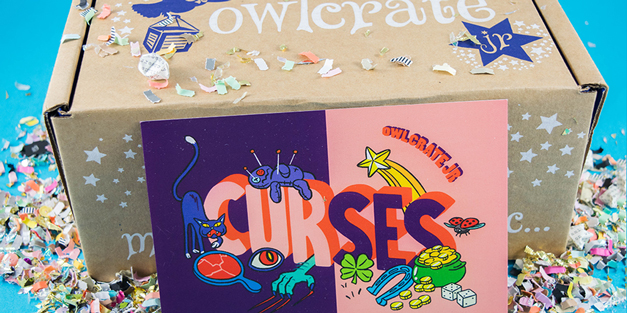 Protect Against Evil Curses with the November OwlCrate Jr. Box
Note: As OwlCrate Jr. Reps, we received this box for free in exchange for a fair and honest review. All opinions are our own.
Beware, this box is cursed! Okay, fine, that's not true – but it got your attention, right? Everything you'll find nuzzled within this month's OwlCrate Jr. box will help you learn about curses, protect against them, and even teach you the three most unforgivable curses of all.
Readers who love magical fantasy worlds will feel right at home with the contents of this month's box, including the amazing book – Nevermoor: The Trials of Morrigan Crow. It's the first in what looks to be a fantastic series, and even though it just came out last month, we can hardly wait until the second book hits shelves sometime next year. We just know you're going to love it, as well as the extra special items included in this month's box.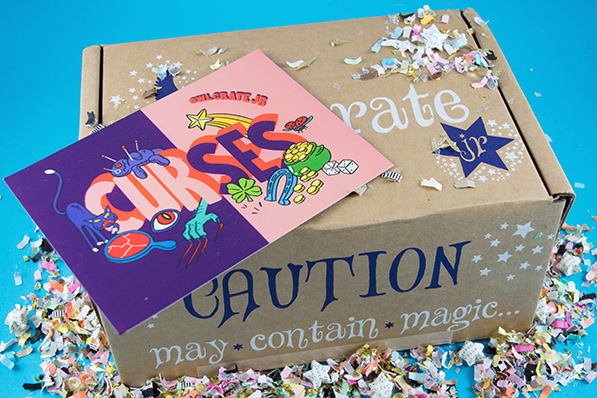 Ready to journey forward and see what we found in our OwlCrate Jr. this month? Keep on reading!
OwlCrate Jr. Unboxing – Curses – November 2017 Unboxing: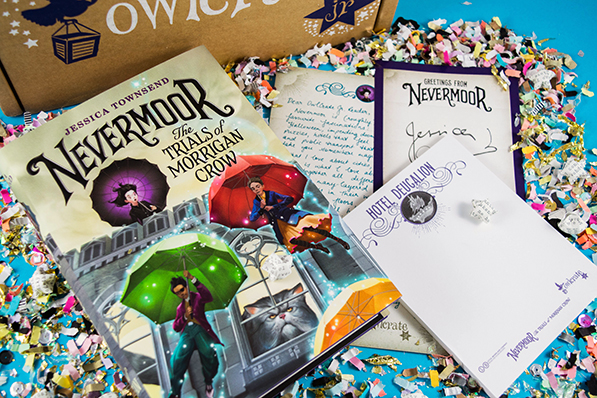 Book of the Month: Nevermoor: The Trials of Morrigan Crow by Jessica Townsend
About the Book:
Morrigan Crow is cursed. Having been born on Eventide, the unluckiest day for any child to be born, she's blamed for all local misfortunes, from hailstorms to heart attacks–and, worst of all, the curse means that Morrigan is doomed to die at midnight on her eleventh birthday. But as Morrigan awaits her fate, a strange and remarkable man named Jupiter North appears. Chased by black-smoke hounds and shadowy hunters on horseback, he whisks her away into the safety of a secret, magical city called Nevermoor.
It's then that Morrigan discovers Jupiter has chosen her to contend for a place in the city's most prestigious organization: the Wundrous Society. In order to join, she must compete in four difficult and dangerous trials against hundreds of other children, each boasting an extraordinary talent that sets them apart–an extraordinary talent that Morrigan insists she does not have. To stay in the safety of Nevermoor for good, Morrigan will need to find a way to pass the tests–or she'll have to leave the city to confront her deadly fate.
Along with your brand new book, you'll find a handwritten note from the author, a signed bookplate, and a notepad from Nevermoor's Hotel Deucalion that you'll only find inside your OwlCrate Jr. box! The Nevermoor series is recommended for readers who love Harry Potter and Neil Gaiman stories. If you love fantasy reads with fierce heroines, dark twists, and magical, atmospheric worlds, this is the series for you.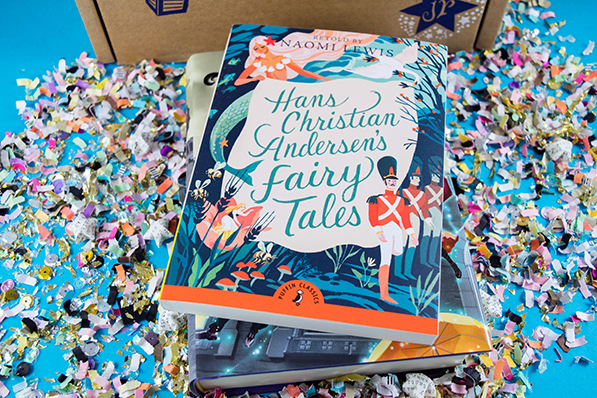 BONUS Book of the Month: Puffin Classics Fairytales
That's right, this month's box featured TWO full-length novels. It's like the OwlCrate Jr. team knew that we all needed a little something extra to read to get us through the wintery weather and the holiday craziness. We received a copy Hans Christian Andersen's Fairy Tales, but a bunch of other classic fairytale reads were sprinkled throughout each box, so it'll be an exciting surprise to see which one you receive.
Our book had a totally swoon-worthy cover and twelve fairytales inside, including Thumbelina, The Little Mermaid, and The Snow Queen.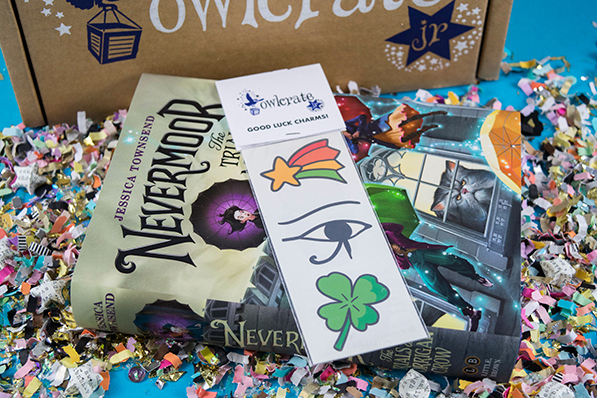 After reading a book about a girl born with a deadly curse looming over her, you'll definitely need some good luck on your side. With these super cute temporary tattoos, you'll literally be able to wear your luck everywhere you go!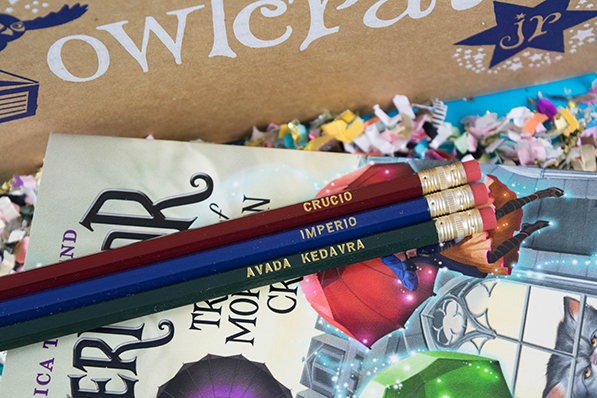 Unforgivable Curse Pencils from OwlCrate Jr.:
Brush up on your Defence Against the Dark Arts and learn to dish out unforgivable curses with these awesome Harry Potter inspired pencils. Unlike the curses, you can use these pencils as often as you like without being sent to Azkaban.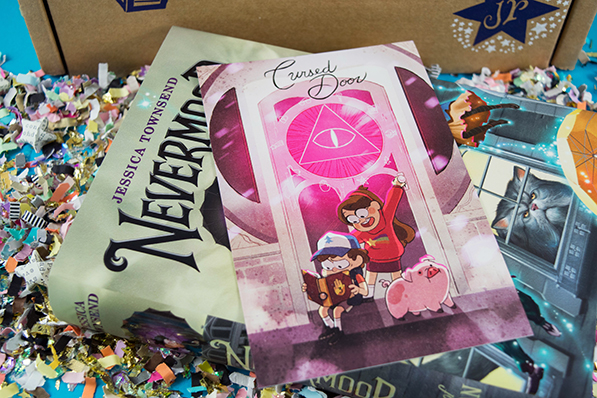 Gravity Falls Postcard by Rozenn Grosjean:
Send someone straight to another dimension when you mail them one of these Cursed Door postcards. Adorably illustrated with Mabel, Dipper, and Waddles from Gravity Falls, we totally understand if you'd rather hang this up in your locker instead of sharing it with a friend.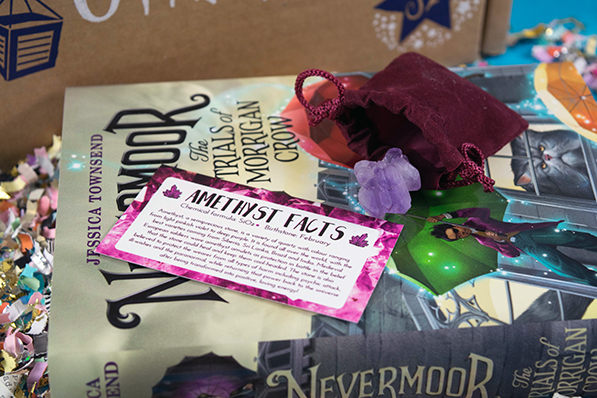 Amethyst Stone from Elf of Stones:
Amethysts aren't just pretty, they're known to ward off evil and for their healing abilities. They're an excellent stone to carry with you when you think you might be in danger or simply just for good luck. This gem comes complete with a lovely velvet bag for storage and a fact card explaining everything you need to know about Amethyst.
The final box of 2017 promises magic! December's theme is Abracadabra and features a magical middle-grade read and lots of magic-themed items inside.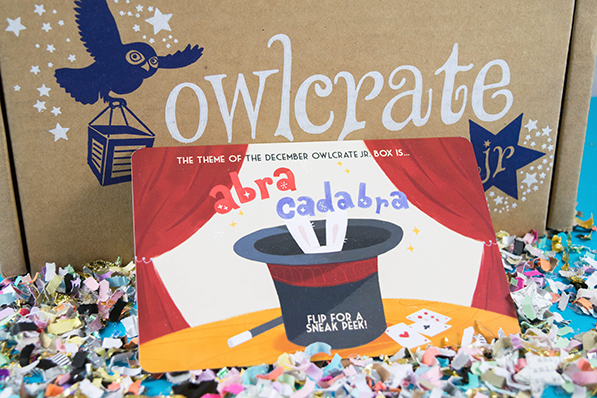 From the card insert:
"Presto Chango! We've pulled a fantastic new story out of our hats this December, sure to astound and amaze! Join a rag-tag gang of plucky characters on a magic-filled adventure full of friendship and bravery. This box will feature a signed book, perfect for fans of the circus, Pseudonymous Bosch, and Hugo Cabret!"
OwlCrate Jr. isn't just magical next month, it's filled with amazingness all year long. Whether you want to add an annual subscription to your holiday wishlist or pick up just a single box for your book-loving bestie, be sure to use our code OMG15 to save 15% off your first box! Our code works for the original OwlCrate as well, so the YA fanatics in your life can benefit too! Grab an adult and click here to sign up for a December box.
Trying to finish up your holiday shopping? Our YAYOMG! Holiday 2017 Gift Guide is here to help!