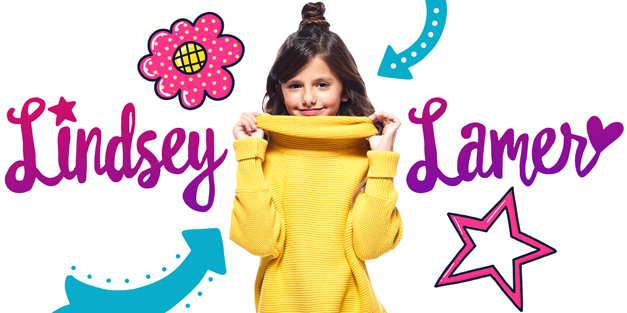 Lindsey Lamer on Girl Meets World, the Holiday Season, and Who Inspires Her
You probably recognize Lindsey Lamer from her role on Girl Meets World where she played Young Riley, but you'll be seeing much more of her popping up very soon. From lots of commercials to an appearance on Sam & Cat to her most recent film, Broken Memories, that shines a light on the struggles of with Alzheimer's disease, Lindsey is making quite a name for herself at a young age. While she totally rocks it on screen, when she's off-set, she's just a regular girl. She loves spending time with her family, making slime, and finds inspiration everywhere – from her older sister to the amazing Gal Gadot.
She's as sweet as she is talented, and we had the pleasure of chatting with her about how she got her start in acting, what she likes to do for fun, and what she loves most about the holidays.
Get to Know Lindsey Lamer:
How did you become interested in acting and how did you get your start?
My older sister is an actress. When I was little, I watched her musical theatre performances and she inspired me to be an actress. I love to pretend to be different characters. I got started when my sister's agent submitted me for a Sonic commercial and I booked the role. My younger brother is also an actor.
Can you share a favorite memory from working on Girl Meets World?
My favorite scene in Girl Meets World was the Bay Window episode where we did the musical number with Young Farkle, Young Maya, and the grown-up Lucas. I love to sing and that episode was so much fun to shoot.
You recently visited Santa with your family and did some holiday shopping. What do you love most about the holiday season?
School break is my favorite thing about the holiday season! I love having the break to spend time with my family and travel. I also love baking holiday cookies and building gingerbread houses.
What are some things you like to do for fun?
I love painting, making slime, and playing pretend with American Girl dolls. I also like to play Minecraft with my brother.
Aside from acting, what are some goals do you have for the future?
I love acting and hope to continue working as I get older. I would also like to become a Chef or Make-Up Artist. Creating things like characters, pastries, or new looks is exciting to me. I recently started learning to play the violin. I would like to be part of an orchestra when I get older.



What are some of your favorite shows and movies to watch when you're not on set?
I really like to watch Disney's "Jessie" and "Bunk'd." I also love the movies "Frozen" and "Elf."
Name three things you can't live without.
My family, my puppy Lady, and my cell phone.



What is something that has inspired you recently?
Wonder Woman is my favorite superhero. Gal Gadot represents a strong role model for girls and shows that girls can be superheroes too. She is an inspiration.
Loved getting to know Lindsey? Get to know Cooper Friedman, a fellow Girl Meets World actor with a passion for history.
Photo Credit: Brandon Showers, @lindseylamerofficial