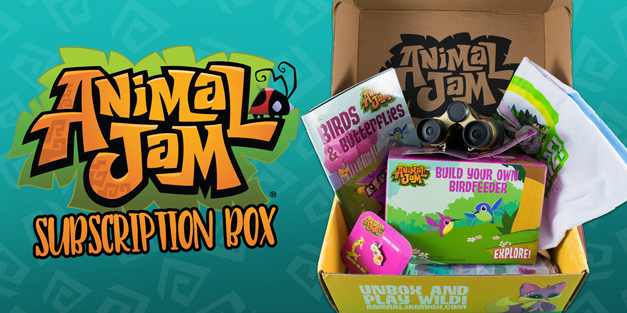 Play Wild with the Animal Jam Box from CultureFly
If you love decking out your animal, designing it's den, and exploring each and every corner of Jamaa, then you're in luck! The Animal Jam Box lets you take the adventure off the screen and into your life by supplying you with must-have mystery items for any budding explorer. Each box is shipped directly to your door every 3 months and comes jam-packed with exclusive items that are curated and created especially for Animal Jam Box subscribers.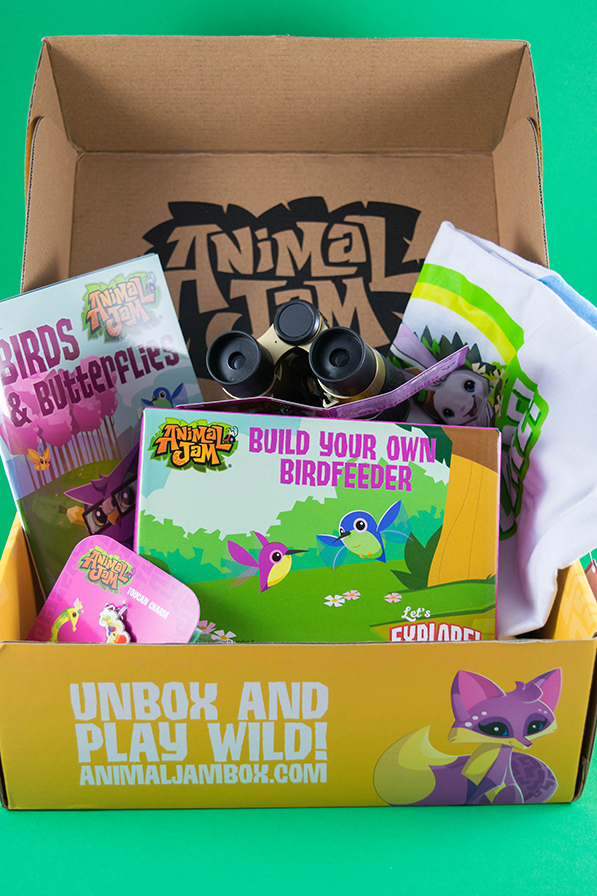 The amazing folks at CultureFly shared the most recent box with us, and we're so excited to show you guys what we found inside. Ready explorers and nature lovers? Let's head off on our journey through the Animal Jam Spring Box!
Animal Jam Box – Spring 2017 Unboxing: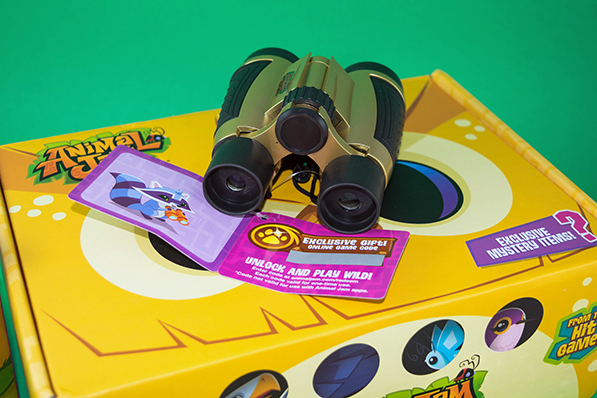 Adventurer Binoculars:
Can you even call yourself an explorer without a pair of binoculars? A good pair of binoculars can be a little pricey, but the Animal Jam team has got your back. They included a pair in this box to help you spot whatever you're looking for next time you head outside. May we suggest pairing it with the next item you'll find in your box? We think they're a perfect match!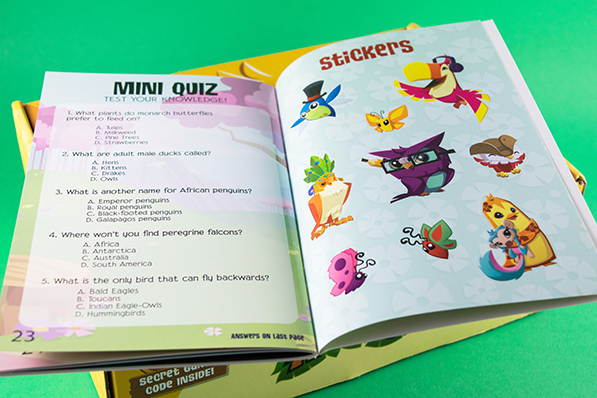 Spring Nature Guide Book:
This book is your guide to all things Spring. Head out into your backyard, local park, or anywhere else you love to explore and use this guide to help you spot everything from birds to butterflies. The book isn't just an informative guide, though. It comes complete with super cute stickers and lots of fun quizzes and puzzles for you to do while you're out seeking for your next big nature expedition.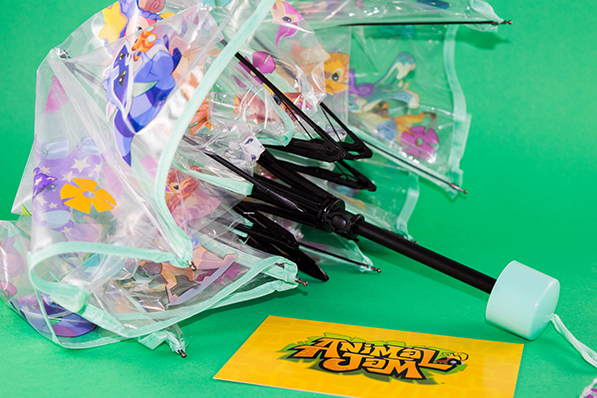 8-Panel Animal Jam Umbrella:
Spring is one of the most rainy times of year and this adorable umbrella will keep you dry. Sometimes Spring rains can come totally unannounced, so you'll definitely want to be prepared. Plus, while it's raining there's all sorts of fun insects and other creatures that come out that are usually hiding while the sun is shining. All your favorites from the game are here to help!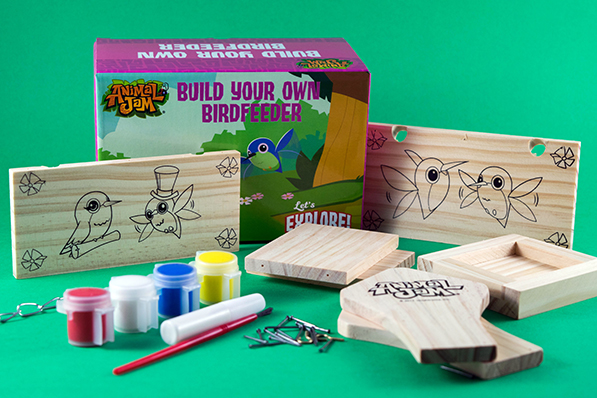 DIY Wooden Birdhouse:
If it's raining too hard to get outside, use the time to get hands on with this awesome DIY project. This craft kit comes with everything you need to create and customize a wooden birdhouse. With a place this awesome, birds of all kinds are sure to flock to your house. Make sure to leave them lots of delicious seeds to munch on.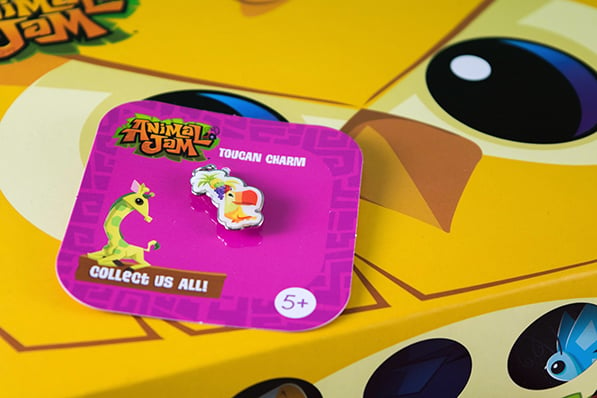 Toucan Charm:
If you were lucky enough to snag the first Animal Jam Box back in December, you already have a charm bracelet and Arctic Wolf Charm that's been dying for a new friend to hang by it's side. If this is your first box like us, don't worry. You can add this Toucan Charm to pretty much any other charm bracelet or even the zipper of your explorer pack. They're still selling the blank charm bracelet on the Animal Jam Box site for $6.99, so you can grab one when you sign up if you don't have one already.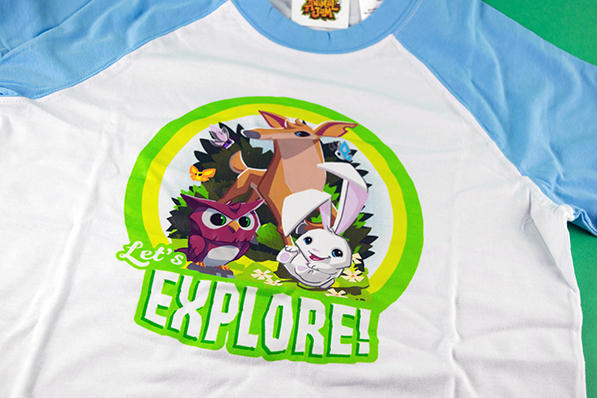 Explorer Tee:
No junior adventurer is complete without the gear to prove it, and we think you guys will just LOVE this shirt! It features a super cute deer, bunny, owl, and butterflies from the game and will definitely put you in the mood to break free from your computer and get outside. Just look at how cute it is!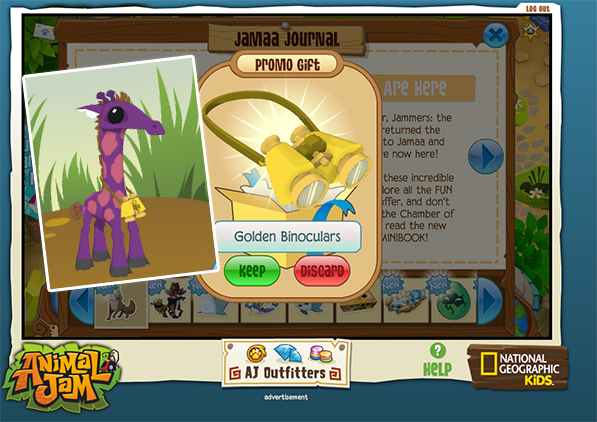 Exclusive Game Code:
Okay, so, all this merch is cool, but what about the reason you love Animal Jam in the first place? The game! Don't fret – every Animal Jam Box comes with a code that unlocks a special item in the game. In this case it's a pair of Golden Binoculars that can be equipped to your animal. Wear yours around your neck too and you can be totally twinning!
Note: The game code comes attached to one of the items in the box, in this case, the binoculars. It's not on a separate card. We've seen some reports of subscribers who accidentally threw out their code when they cut the tag off their binoculars. Make sure to always keep an eye out for the code in your box!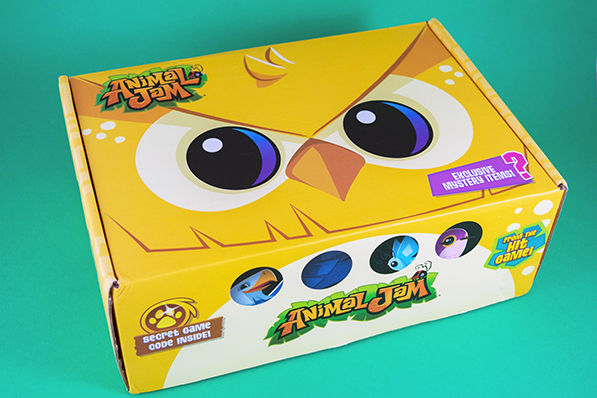 Now that you're totally hyped up for a big outdoor adventure, it's time to get your paws on the Animal Jam Box! Head on over to animaljambox.com, grab a parent, for more info and to subscribe! The boxes ship quarterly (in December, April, July, and October) and come bursting with exclusive items that are over $60 in value. The Quarterly Subscription costs $25/box and the Annual Subscription is $23/box, paid in full up front for the year. Either one you choose, you're getting a ferociously good deal.
Prefer collectibles to gaming? CultureFly teamed up with Moose Toys to create Shopkins Direct, the first-ever Shopkins subscription box! Click here to see the first exclusive item reveal!
Note: We received this product for free from CultureFly in exchange for a fair and honest review. We were under no obligation to write a positive review.