YAYOMG! Holiday 2018 Gift Guide
NOTE: Our YAYOMG! Holiday 2018 Gift Guide was hand-curated by the YAYOMG! Team. Some of our picks are items that we have received for free for past reviews. Our recommendations are based on items we loved and think our readers will love, and we received no compensation for featuring any of the items on this list. All opinions are our own.
Rounding up the products for our YAYOMG! Holiday 2018 Gift Guide is no easy task! Our list was curated with lots of love, care, and of course – glitter! Our Gift Guide consists of some of our favorite products of the year as well as some last minute additions that we think will make great gifting picks. Take a peek to find ideas for your own holiday wishlist or for inspiration for the perfect buys for your besties.
This year's list features returning categories from last year as well as some new additions! From craft kits to video games and everything in between, we hope our Gift Guide gives you lots of ideas this holiday season.
YAYOMG! Holiday 2018 Gift Guide: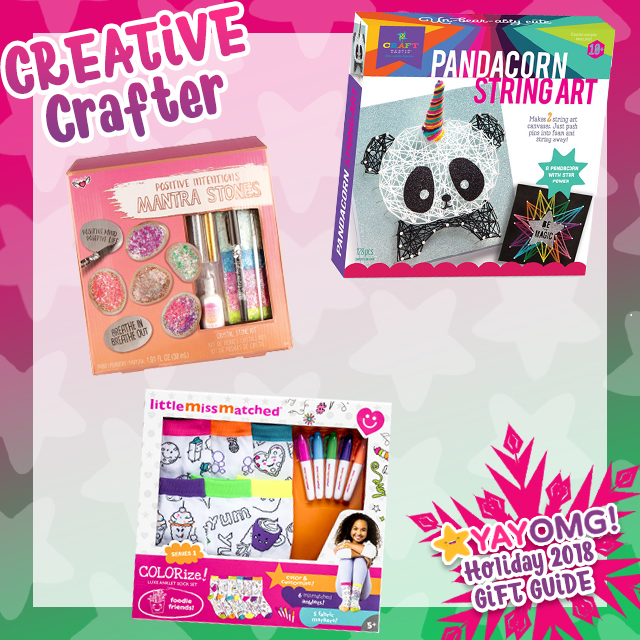 Creative Crafter:
Craft-tastic Pandacorn String Art Kit
Brand: Ann Williams Group
Price: $19.99
Why We Love It: It's colorful, cute and totally magical! We can vouch that Ann Williams String Art Kits are super simple to make and produce gorgeous, swoon-worthy creations that any crafter will be proud to display. This kit comes with everything you need to make two art pieces – a Pandacorn with a colorful 3D horn and a shimmering Be Magic quote.
Foodie Friends Colorize Deluxe Ankle Set
Brand: LittleMissMatched
Price: $19
Why We Love It: We all have that one friend who's always buying cute socks every time you hit the mall together. This LittleMissMatched sock set lets you get crafty and customize your own! The kit features 6 pairs of DIY ankle socks and 5 colorful fabric markers, allowing you to get your art on and dazzle up your socks any way you like! With 6 pairs to color, we think this makes for a great sleepover or sibling bonding activity.
Positive Intentions Mantra Stones DIY Kit
Brand: Fashion Angels
Price: $13.99
Why We Love It: This Mantra Stone DIY Kit is a must-have for anyone who loves to practice mindfulness. It's a simple, stress-free activity that will help you zone out and find your zen. It's simple enough for even the most basic crafter to get their DIY on, yet produce a gorgeous result. Create stunning mantra stones for everyone you know, write a soothing mantra on the back, and stay calm.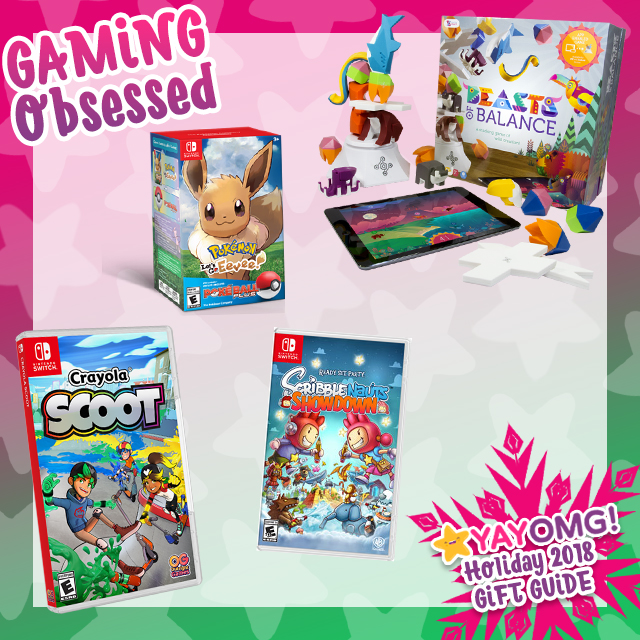 Gaming Obsessed:
Beasts of Balance: Core Edition
Brand: Sensible Object
Price: $99.95
Why We Love It: Often described as "Jenga meets Pokémon Go", Beasts of Balance is an innovative stacking game that is the perfect addition to your holiday wishlist. Blur the lines between reality and fantasy as you stack the physical pieces and watch as they come to life on your phone, tablet, or TV. Discover new species, care for your creatures, and explore a beautiful world on your own or play with friends and family. Recently released add-on packs are around $19.99 each, including additional animal figures and battle cards that add a new element of gameplay into the mix. Compatible with iOS and Android devices.
Crayola Scoot
Publisher: Outright Games
Price: $39.99
Why We Love It: Crayola Scoot blends all the best elements of the old school Tony Hawk skateboarding games with the colorful turf wars of Splatoon. Become a scooter legend as you shred, twist, and jump through twelve different scootparks to win the coveted Crayola Cup. There are lots of different modes, challenges, and battles to unlock, making it a great choice to play solo or in a group. Available for Nintendo Switch, PlayStation 4, XBox One, and PC.
Scribblenauts Showdown
Publisher: WB Games
Price: $39.99
Why We Love It: An imaginative twist on the party game genre, Scribblenauts Showdown is an engaging mix of traditional Scribblenauts word challenges and imaginative party game fun. Race around the board and compete against your friends in hilarious minigames or play in Sandbox mode for a taste of classic Scribblenauts fun. Easily one of our favorite games of the year! Pick it up for XBox One, Nintendo Switch, or PlayStation 4.
Pokemon Let's Go Eevee/Pikachu
Publisher: Game Freak
Price: $59.99 – $99.99
Why We Love It: Return to the Kanto Region and spend some time adventuring, battling gym leaders, and capturing the original 151 Pokémon! We've only had this game in-hand for a few days, but it's quickly secured a spot amongst our favorite games ever. Pokémon Let's Go goes back to the beginning, introducing new players to the classic Pokémon Red and Blue releases while bringing feel-good nostalgia for familiar players. We love the addition of the Pokéball Plus accessory, too. It's not necessary in order to play the game, but it does add an extra layer of gameplay that true Pokemon Masters will love. Available on Nintendo Switch.
Some of our other favorite games this year include:
Super Mario Party (Nintendo Switch, $59.99), WarioWare Gold (Nintendo 3DS, $39.99), Kirby Star Allies (Nintendo Switch, $59.99, Yoku's Island Express (Nintendo Switch, PlayStation 4, XBox One, PC, $19.99), and the Spyro Reignited Trilogy (PlayStation 4, XBox One, $39.99)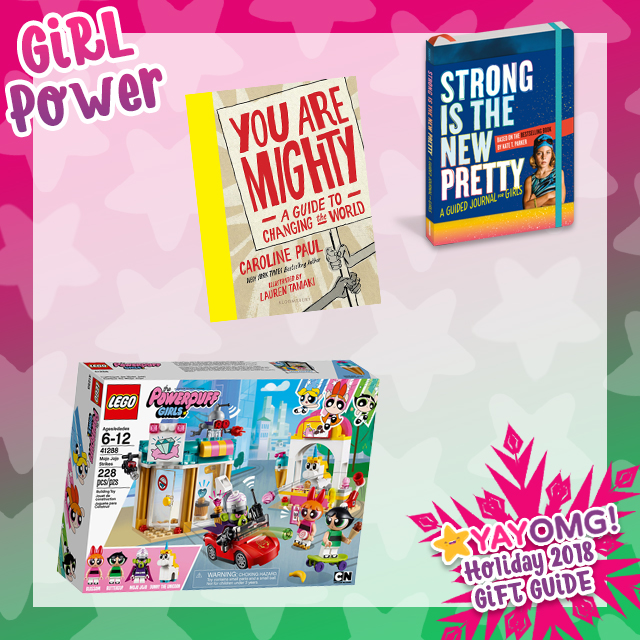 Girl Power:
Strong is the New Pretty: A Guided Journal for Girls
Publisher: Workman Publishing
Price: $13.95
Why We Love It: If you're a YAYOMG! reader, you know we've been gushing about this journal for weeks. There's a good reason for that – it's amazing! This interactive journal is created to empower and inspire girls to find their confidence and dream their biggest dreams. A great gift for your trailblazing bestie!
Powerpuff Girls Mojo Jojo Strikes
Brand: LEGO
Price: $29.99
Why We Love It: When we think of girl power, the Powerpuff Girls are always one of the first things that come to mind. They've been kicking butt and saving the world before bedtime for two decades now, and they've inspired girls everywhere to channel their inner hero. That's why we think the Powerpuff Girls LEGO Sets are an excellent build for PPG fans and empowered girls alike!
You Are Mighty: A Guide to Changing the World by Caroline Paul
Publisher: Bloomsbury Children's Books
Price: $17.99
Why We Love It: More than ever, girls are becoming interested in changemaking and activism. You Are Mighty is an age-appropriate guide for how to get involved in a meaningful, safe, and productive way. Through exciting activities, inspiring stories, and useful advice, Caroline Paul teaches girls how to use their voice for good.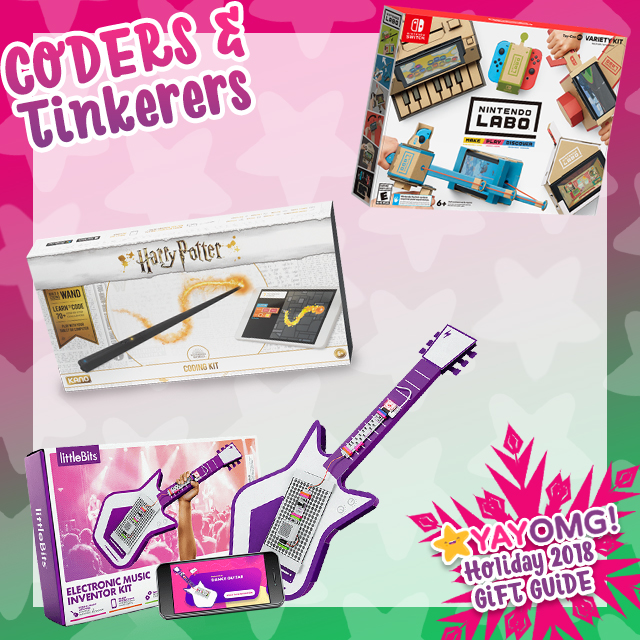 Coders and Tinkerers:
Harry Potter Coding Wand Kit
Brand: Kano
Price: $99.99
Why We Love It: With the power of coding basics, you can recreate the magic of Harry Potter in the comfort of your home. Build a wand that responds to every wave and twirl while also learning to code. Through your programming journey, you'll unlock costumes for your avatar, explore iconic Hogwarts locations and characters, and learn to cast enchanting spells.
Nintendo LABO Variety Kit
Brand: Nintendo
Price: $69.99
Why We Love It: Nintendo LABO was one of our most anticipated products this year, and even with all our hype it managed to soar past our expectations. Whether you're a skilled tinkerer or a full-on beginner, Nintendo LABO makes it super simple to craft and create playable cardboard creations that sync up with your Nintendo Switch. The Variety Kit is our personal favorite, but the Robot Kit and Vehicle Kit are both fantastic choices for your wishlist this year.
Electronic Music Inventor Kit
Brand: littleBits
Price: $99.99
Why We Love It: Learn the basics of electronics and build your own working instruments with this incredibly cool kit! The Electronic Music Inventor Kit includes everything you need to create a keytar, an air drum, magic guitar, and dance guitar. While working on each build, you'll learn the intricate inner workings of each instrument, create basic circuits, and even install accelerometers for motion controls. This is hands down one of the most impressive STEM kits on the market.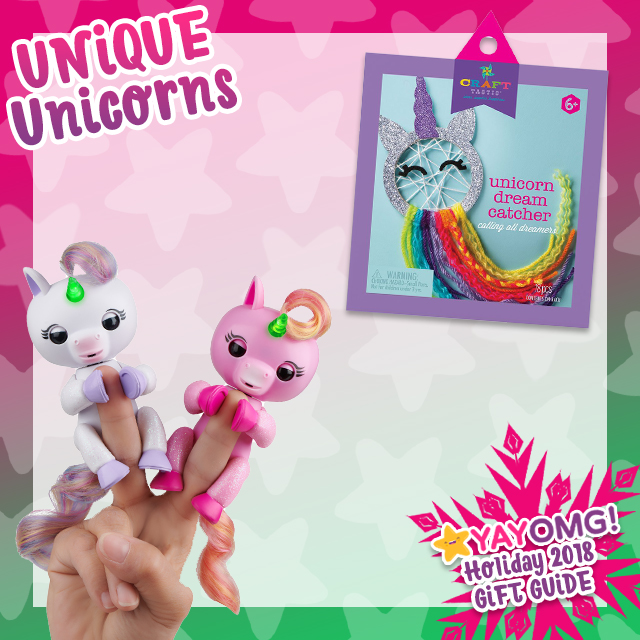 Unique Unicorns:
Fingerlings Light Up Baby Unicorns
Brand: WowWee
Price: $14.99
Why We Love It: There hasn't been a Fingerlings release we didn't absolutely love, but it's hard to deny the magic and charm of the Fingerlings Baby Unicorns. From their colorful manes to their light up horns, it's basically like owning a real pet unicorn. They respond to noise, motion, and touch with adorable sound effects, kisses, motion, and light up horns! A must-have for unicorn lovers of all ages.
Craft-tastic Unicorn Dream Catcher
Brand: Ann Williams Group
Price: $5.99
Why We Love It: Who wouldn't want to hang this glittering unicorn dreamcatcher above their bed? This inexpensive craft kit is small enough to fit in a holiday stocking and super simple to put together. At just $5.99, you can pick them up for your entire squad!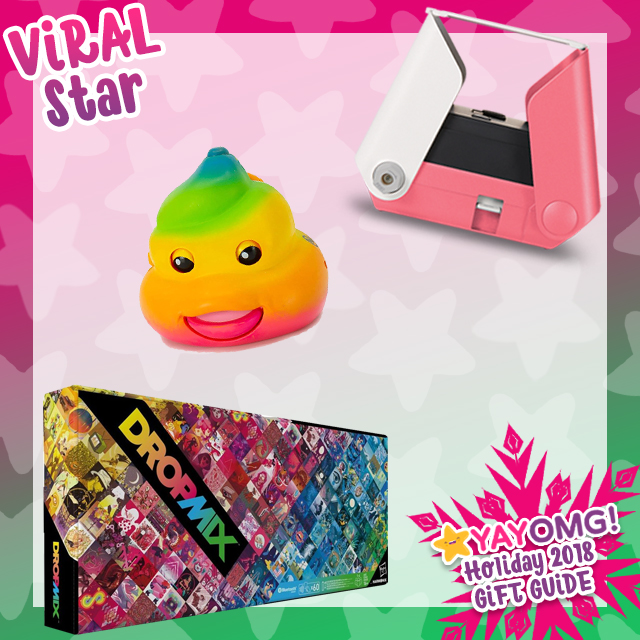 Viral Star:
KiiPix Smartphone Picture Printer
Brand: TOMY
Price: $39.99
Why We Love It: You and your friends spend so much of your time snapping pics and selfies, but once they're posted to Instagram, they pretty much just sit on your phone taking up space. That's what KiiPix is for! Find the pic you'd like to print, place your phone on top, turn the crank, and marvel at your awesome photo. The device doesn't require any batteries and is more than half the price of other mobile printers. The best part? They're compatible with Instax Mini Film! Set one of these up at your next school dance or birthday party so everyone can take home a memory of their amazing night.
Mojimoto
Brand: Cepia, LLC.
Price: $9.99
Why We Love It: If you and your friends are obsessed with creating lip sync vids on TikTok and sending Animoji, you're going to love Mojimoto. Each Mojimoto character comes to life with blinking eyes and an animated mouth. They can repeat what you say in a silly voice and even lip sync when they hear music. We think the rainbow poop is utterly hilarious, but there are 8 characters to choose from including unicorns, tacos, and kitties!
DropMix Gaming System
Brand: Hasbro
Price: $69.99
Why We Love It: DropMix technically came out last year, but it wasn't until Toy Fair 2018 that we discovered it's true potential. DropMix is a fast-paced music mixing game that you can play alone or with a group. We were absolutely mesmerized by how easy DropMix is to use and how seamlessly it mixes every single track, BPM change, and bass drop you throw its way. There are a ton of add-on packs to choose from to keep things fresh, and you can even save and share the mixes you create!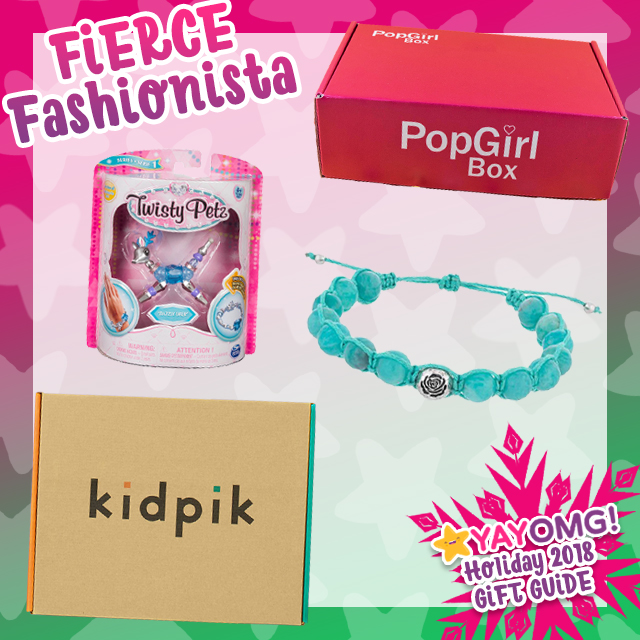 Fierce Fashionista:
PopGirl Box Subscription
Brand: PopGirl Box
Price: $29 per month + S/H
Why We Love It: PopGirl Box is one of our absolute favorite subscription boxes, but if you're a YAYOMG! reader, you already know that! Created by a real tween girl and her mom, PopGirl Box delivers adorable, trendy, and useful goodies to your doorstep each month. Subscribers receive 6-8 of items including jewelry, beauty products, hair accessories, and stationery supplies worth over $50 in value. We've unboxed every single box that has come out since it first the market earlier this year, and it just keeps getting better!
Annie LeBling Amazonite Stone Bracelet:
Brand: AnnieLeBling
Cost: $15
Why We Love It: In case you're not in the know, Annie LeBling is Annie LeBlanc's bracelet line that dropped this Summer. Made from gorgeous, colorful stones, these bracelets are both affordable and trendy. With lots of colors and styles to choose from, you can match them to all your go-to looks. A perfect choice for your most fashionable friend or the Annie LeBlanc fan in your life!
Twisty Petz
Brand: Spin Master
Price: $5.99-$14.99
Why We Love It: We are completely obsessed with Twisty Petz! Each of these collectible animals can be twisted into glamorous accessories. Wear them as bracelets, hair ties, keychains, or shoelace charms to glam up your look. Looking for more ways to accessorize? The Twisty Petz Babies sets can be connected together with dazzling gems to create longer chains and necklaces.
KidPik Clothing Subscription
Brand: KidPik
Price: Varies Based on Items Kept
Why We Love It: If you're someone who loves making bold fashion choices, KidPik is the perfect choice for your holiday wishlist this year. KidPik creates personalized fashion boxes based on your style personality. Every item in a Pik is created exclusively for KidPik and can't be found in stores. You'll only be charged for the items you keep and you can mail back the rest. We were incredibly impressed with our KidPik box and can't stop singing their praises. A YAYOMG! fav for sure!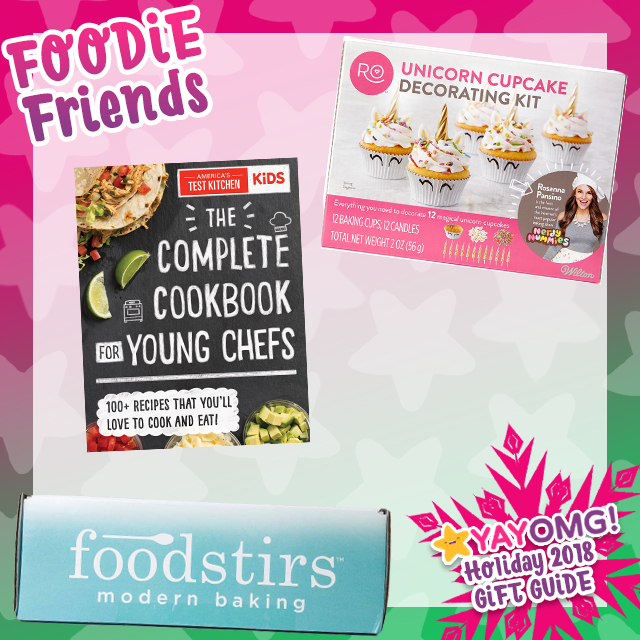 Foodie Friends:
Foodstirs Baker's Club
Brand: Foodstirs
Price: $24.99 per kit + S/H
Why We Love It: Foodstirs is a baking kit subscription that ships a new recipe to your door every other month. Budding bakers will love whipping up these super unique, delicious, and visually impressive recipes. Everything is easy to prepare with little or no help from an adult and are always made with good, organic ingredients. Don't want a subscription? You can pick up individual Foodstirs kits at Target, Whole Foods, and lots of other grocery stores.
Rosanna Pansino Unicorn Cupcake Decorating Kit
Brand: Wilton
Price: $14.99
Why We Love It: Ro's baking line made our list last year too! This year, we're most excited about her new Unicorn Cupcake Decorating Kit. This kit comes with smiling unicorn cupcake liners, golden horn candles, colorful sprinkles, and candy ears. Everything you need to whip up 12 unicorn cupcakes that are not only tasty but totally Insta-worthy! A fantastic gift idea for your favorite baker.
The Complete Cookbook for Young Chefs
Publisher: Sourcebooks Jabberwocky
Price: $19.99
Why We Love It: If you spend your time watching cooking videos and idolizing MasterChef Jr. contestants, this is the cookbook for you. With tasty, easy to follow recipes you'll learn how to cook like a pro while also understanding the science behind the foods you make. Featuring a wide variety of recipes including pesto flatbread pizza, sesame noodles with snow peas and carrots, and fudgy chocolate mug cakes.
Remarkable Readers:
OwlCrate Jr. Subscription
Brand: OwlCrate
Price: $27.99 per month +S/H
Why We Love It: We're pretty much OwlCrate Jr.'s biggest fangirls, a fact we are rarely quiet about. Each month, OwlCrate Jr. curates a themed box that includes a recently released middle grade book, interactive activities, and collectible items that connect to the theme, creating an engaging experience lasting long after you finish each book. We can't recommend it enough, it's the absolute perfect choice for anyone who loves to read.
Case Closed: Mystery in the Mansion by Lauren Magaziner
Publisher: Katherine Tegen Books
Price: $16.99
Why We Love It: Put on your detective hats, hunt for clues, interrogate witnesses, and solve challenging puzzles. As you adventure through the book, you get to make choices that affect the outcome of the story. It's a full-length middle grade novel suited for kids who love to read, but is also an excellent choice for reluctant readers who need that little something extra to keep them interested.
Fake Blood by Whitney Gardner
Publisher: Simon & Schuster Books for Young Readers
Price: $21.99
Why We Love It: Fake Blood is a hilariously endearing and relatable graphic novel about vampires, first crushes, and middle school life. You that awkward moment when you realize your friends are cooler than you or that you'd go to pretty embarrassing lengths to impress your crush? That's what Fake Blood is all about. Author Whitney Gardner perfectly captures all those moments and rolls them up into a fun vampire-hunting adventure.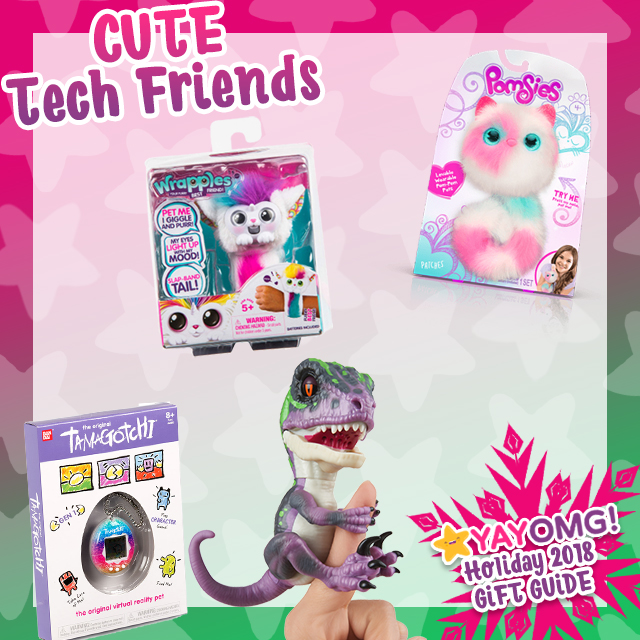 Interactive Friends:
Wrapples
Brand: Moose Toys
Price: $14.99
Why We Love It: A fluffy interactive pet that is also a slap bracelet? You KNOW we're all about this! We squealed with delight the first time we played with Wrapples. They're a perfect balance of the nostalgia of our childhoods mixed with technology we could have never dreamed of as tiny kids slapping bracelets on our wrists. Not only that, they're super adorable and have delightfully weird personalities. Wrapples can interact with each other, making them a great choice for besties, siblings, or any other inseparable duos in your life.
Pomsies
Brand: Sky Rocket
Price: $
Why We Love It: Pomsies are sweet interactive pets you can take anywhere! Pet, shake, snuggle, and brush them to hear them purr and watch as their glowing eyes change colors. Press their noses to unlock dance mode to really get the party started! Wrap their tails around your ponytail, purse, or wrist to take them with you on all your best adventures. The world of Pomsies has recently expanded! What started as a line of adorable kittens now includes koalas, puppies, and dragons. Take our quiz to find your perfect Pomsies pairing!
Tamagotchi
Brand: Bandai
Price: $14.99
Why We Love It: When Tamagotchis hit the scene back in 1997, they were all the rage. These tiny virtual pets were the Fingerlings of their time, a pocket-sized friend you could carry with you anywhere and take care of all day long. We collected and cared for quite a few of them in our middle school years, and look back on that time fondly. Tamagotchis really never went away, there have been a ton of different releases throughout the years overseas, and have seen lots of updates including the ability to connect and play with friends. But it's the revival of the classic that we're most excited about. If you're someone who loves mini-games or interactive pets like Hatchimals and Pomsies, we think you'll love throwing back and spending time with the OG virtual pet.
Fingerlings UNTAMED Raptors
Brand: WowWee
Price: $14.99
We Why Love It: Okay, we know, we already mentioned Fingerlings on this list. But hear us out. The UNTAMED series is our absolute favorite of all the Fingerlings to date. We even went as far as spending a day at the dinosaur museum with ours! We're all about the adorable unicorns, monkeys, giraffes, and pandas, but there's something utterly charming about the dinosaurs and wolves of the UNTAMED collection. They're absolutely ferocious and we love listening to them roar and chomp their jaws. They have such feisty personalities that make them a lot of fun.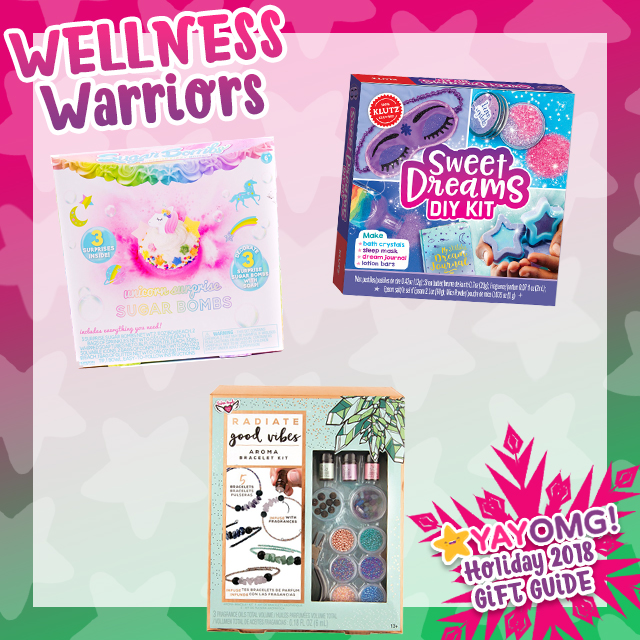 Wellness Warriors:
Sweet Dreams DIY Kit
Brand: Klutz
Price: $24.99
Why We Love It: This Sweet Dreams DIY Kit is designed to help you bring your self-care routine to the next level. The kit comes with everything you need to create the perfect stress-relieving nighttime routine. The included book doesn't just teach you how to create each project but also includes tips for guided meditations, sleep techniques, and more. Create everything from a sleep mask to bath crystals using the included materials and treat yourself to a night of bliss.
Unicorn Surprise Sugar Bombs
Brand: Horizon Group USA
Price: $14
Why We Love It: There are lots of DIY bath bomb kits on the market, but the Unicorn Surprise Sugar Bombs are hands-down our favorite. This kit comes with three pre-made bath bombs for you to decorate. Layer on colorful whipped soaps, sprinkles, and charms to create a decadent masterpiece. Then, drop it in water and watch it fizz! We loved this unique twist on a bath bomb craft and think these are a great pick for the bath bomb obsessed friend in your life.
Radiate Good Vibes Crystal Aroma Bracelet Kit
Brand: Fashion Angels
Price: $14.99
Why We Love It: Take your self-care routine on the go! Create a stunning crystal bracelet, drop on a soothing essential oil, and be reminded to find your zen every time you smell it. When the smell runs out, just add a few more drops for a mindfulness refresh. Pick up this kit for the wellness warrior in your life.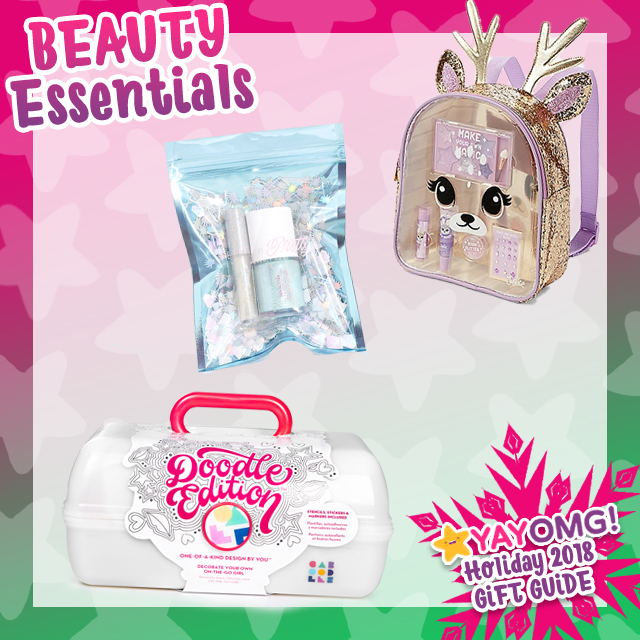 Beauty Essentials:
Deer Glitter Cosmetic Backpack
Brand: Justice
Price: $29.99
Why We Love It: This sparkly deer backpack comes stuffed with lots of beauty essentials from the Just Shine collection from Justice. Inside you'll find a sheet of body gems, lip balm, lip gloss, body glitter, and a shimmery eyeshadow palette! These cosmetic backpacks are available in a fox and owl backpack style, each with their own luxurious scent.
Chill Club Gen Glitter & 10K Shine Duo
Brand: Petite 'n Pretty
Price: $20
Petite 'n Pretty is a new line of cosmetics that has really won us over. All of their products, from lip gloss to eyeshadow, are made with subtle shades and good ingredients, making them an excellent choice for young makeup lovers. We recommend this combo that includes a lipgloss stick and body shimmer that will help you add a little sparkle to an otherwise ordinary day.
On-The-Go Girl Doodle Edition Caboodle
Brand: Caboodles
Price: $29.99
Why We Love It: Have you found the running theme on our list this year? We're all about the nostalgic revivals and Caboodles definitely fall in that category! Caboodles organizers have always stood out to us because they're super versatile and sturdy. They're traditionally known as a place to stash your all your makeup, but they make great organizers for everything from craft supplies to stickers to tiny collectible toys. We're most excited by the Doodle Edition because it comes with stencils, stickers, and markers so you can customize it and make it your own.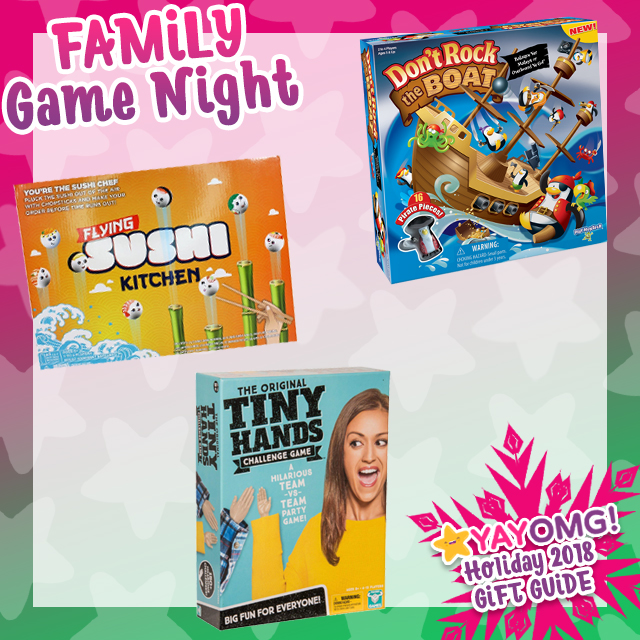 Family Game Night:
Flying Sushi Kitchen
Brand: Redwood Ventures
Price: $24.99
Why We Love It: From the first time we played this game at Toy Fair 2018, we knew it would be a favorite of ours this year. Step into the role of sushi chef and try to complete customers orders by grabbing the floating sushi pieces from the air using only chopsticks! Flying Sushi Kitchen brings just the right amount of challenge and is just as fun when played alone or in a group.
The Original Tiny Hands Challenge Game
Brand: Moose Games
Price: $14.99
Why We Love It: Team up with your besties a hilarious tiny hands challenge! Using only the included tiny hands, you and your friends will compete against each other to perform stunts. Try to catch a ball or passing a cup – things that are easy to do with real hands but become infinitely harder with tiny hands. When you're done playing, the tiny hands double as great selfie props!
Don't Rock the Boat
Brand: PlayMonster
Price: $21.99
Why We Love It: Don't Rock the Boat is a great pick for families to play together. It's easy to play for all ages, meaning everyone can get involved from your little brother to grandma. Place your penguin pirates on the ship one by one, but don't rock the boat! If the ship topples over and penguins going flying overboard, you lose! Simple to learn, but hard to master, this fast-paced game will bring lots of family fun.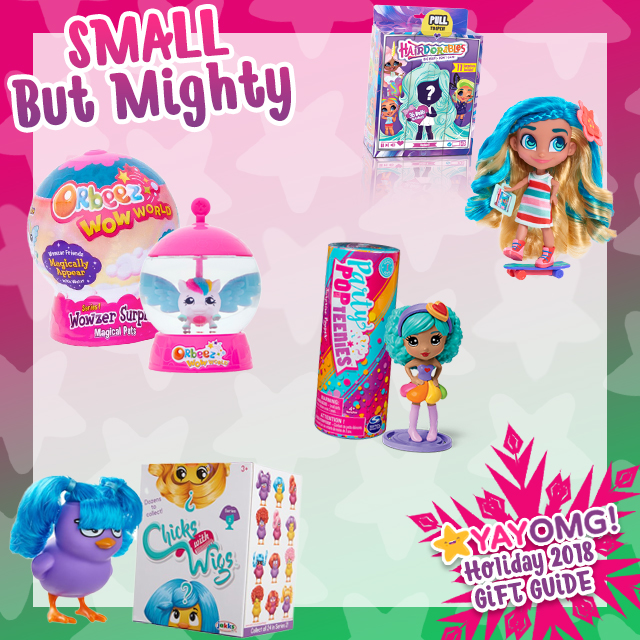 Small But Mighty:
Hairdorables
Brand: JustPlay
Price: $16.99
Why We Love It: We've always liked dolls, but we've always preferred adding other types of toys to our collections. That is, until Hairdorables came along! Combining the real hair and bright wardrobe of a doll with the fun of a surprise reveal, Hairdorables quickly became one of our favorite toys of the year. The unboxing experience alone is a ton of fun with lots of doors to open and accessories to uncover. The dolls themselves are totally gorgeous, have amazing hair, and have super fun personalities from tech wiz to rockstar to influencer!
Orbeez Wow World Wowzer Surprise Magical Pets
Brand: Maya Toys
Price: $5.99
Why We Love It: WOW is the right word indeed! Wowzer Surprise come inside little globes filled with Orbeez beads. To see which one you got, you'll need to pour in water and make the Orbeez disappear! We love how the globes double as displays, making them perfect for showing off your collection in style.
Party Pop Teenies Surprise Poppers
Brand: Spin Master
Price: $
Why We Love It: These tiny, fashionable friends come hidden inside confetti poppers, turning every day into a party! We love watching the confetti fly around the room, but the real excitement begins when you discover which character you've collected. Each Party Pop Teenies character brings something fun to the party and all rock seriously amazing outfits. Can we get Mai's unicorn look or Bella's ice cream inspired fashions in our size, please? Pick up a single popper or surprise set for that friend in your life who loves to party.
Chicks With Wigs
Brand: Jakks Pacific
Price: $5.99
Why We Love It: We love all things cute, but when you add in a twist of weird or silly, that's what excites us most. Chicks With Wigs fully embraces that silly vibe in the best way, and we're truly obsessed. Every time we open up one of these chicks or brush their hair, we giggle uncontrollably. These make a great stocking stuffer pick or gift idea for that one friend who truly stands out from the crowd.

Squishy Vibes:
Smooshy Mushy Movie Munchies Gift Set
Brand: Redwood Ventures
Price: $25
Why We Love It: If there's a Smooshy Mushy fanatic in your friend group, this Movie Munchies Gift Set will make them squeal with glee! Featuring multiple movie-themed squishies – like Pixie Pupcorn and Natalie Nacho, you'll love squeezing and squshing these slow-rise cuties every time you put on a movie marathon. This set also features 3D glasses and a 3D activity.
Bubbleezz
Brand: ORB Toys
Price: $9.99-$19.99
Why We Love It: Bubbleezz take the squishies trend and add in a bubbly twist! These cute collectibles are filled with Bubbleezz Beadz that make them extremely satisfying to squeeze Each Bubbleezz character comes with power charms to find inside that reflect their personality and abilities. Want to find out your Bubbleezz Power Charm Twin? Take our quiz!
If you liked the items on our YAYOMG! Holiday Gift Guide, stay tuned! We have a massive giveaway headed your way that includes quite a few of these awesome items!