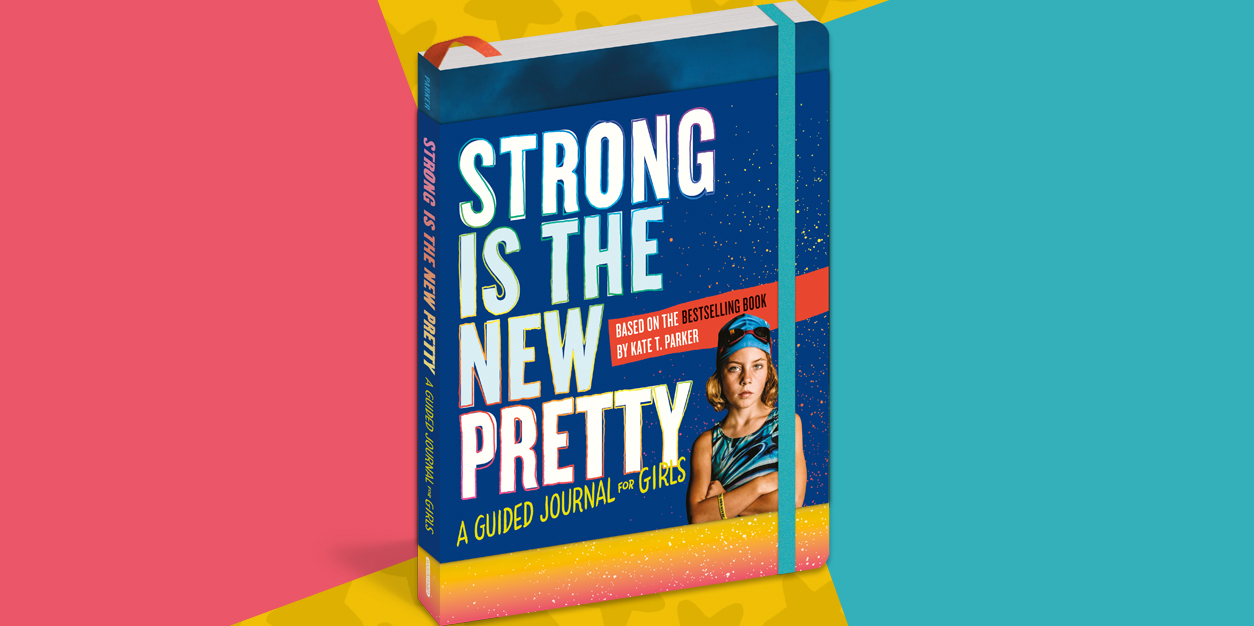 The Strong is the New Pretty Journal is an Empowering Tool for Girls
Is it possible to be head over heels in love with a journal? If you know us at all, the answer is always resounding yes! Strong is the New Pretty: A Guided Journal For Girls is the journal we're currently swooning over, combining the girl-power vibes of Kate T. Parker's bestselling Strong is the New Pretty book with an interactive journal, this is a must-have for girls everywhere.
Inspired by Kate T. Parker's internationally bestselling Strong Is the New Pretty, which Drew Barrymore called "the first thing in a while to kind of knock me off my feet," this guided journal invites girls ages 8 to 12 to discover and celebrate their independent, wild, silly, powerful selves.
Illustrated with favorite photographs from the book Strong Is the New Pretty (as well as more than 20 brand-new images), each page features an inspiring, interactive prompt that encourages writing, doodling, and creative self-expression:
Draw a picture of yourself as a superhero—what is your superpower?
Invent a new language, and write down some translations here.
What makes you unique? List three things about you that make you different.
As girls make their way through the journal, it becomes a source of motivation to be their most powerful selves. It's a personal keepsake to revisit again and again.
STRONG IS THE NEW PRETTY: A GUIDED JOURNAL FOR GIRLS
AUTHOR: Kate T. Parker
PUBLISHER: Workman Publishing
DATE: October 30, 2018
No matter what type of girl you are or aspire to be, this journal is essential for your collection. Filled with fun prompts to inspire your creativity and help you achieve your biggest dreams, you'll absolutely love filling in every single page. Most importantly, it helps you feel confident and happy to just be YOU! Here's why we think this journal is totally amazing.
Strong is the New Pretty: A Guided Journal for Girls:
Incredibly Inspiring:
The Strong is the New Pretty Journal encourages you to channel your inner girl power and use your voice for good. With prompts like the one you see above, this journal guides you along as you make your voice heard and spread kindness wherever you go. Even if your thoughts and ideas never leave the page, you'll feel better having taken a step in putting the pen to page and expressing your innermost thoughts.
In addition to great activist prompts like this one, there are also pages that help you do good and spread positivity right at home. The pages of this journal encourage you to do good deeds for others, give compliments, and brighten someone else's day. These small gestures can have often have a more significant impact than we expect. Whether the ideas you put down on these pages motivate you to solve injustice in your community or help you put a smile on someone's face, you'll feel amazing for having done it!
Awesome Fun:
Strong is the New Pretty helps you embrace all the best parts of yourself. That's why the journal is filled with pages to get your creative juices flowing. Your imagination can take you to incredible places, and with pages like this one, you'll never run out of inspiration. Doodle your way through fun activities or get your creative writing on. Not feeling inspired? There are pages to help you take a step back and meditate, track your favorite books, add new words to your vocabulary, and more.
Don't feel compelled by a particular page? Skip it and come back to it later – you're not being graded! This book is all about finding the confidence to be exactly who you are.
Empowering Your Dreams:
We all have dreams and goals, but a lot of times, they're a little abstract in our minds or can seem a bit scary. The Strong is the New Pretty Journal knows that the first step in achieving your goals is getting your idea out there. This is one of our favorite pages in the entire book because it encourages you to take that first step of putting your dream out into the universe. There also pages that allow you to make a list of the people you admire and people who have paved the way for your brilliance. Jot down the things that make you the unique and what types of superpowers you'd love to have. As you read through the pages, you'll discover that one of the most inspiring people in this world is YOU and that you're capable of anything you put your mind to.
Pretty amazing, right? Strong is the New Pretty: A Guided Journal for Girls is now available from Workman Publishing. The journal boasts over 175 colorful pages filled with prompts, empowering quotes, and images of strong girls just like you!
Looking for even more ways to get inspired? We think you'll love getting to know these amazing girls who are following their dreams, spreading kindness, and making the world a better place!