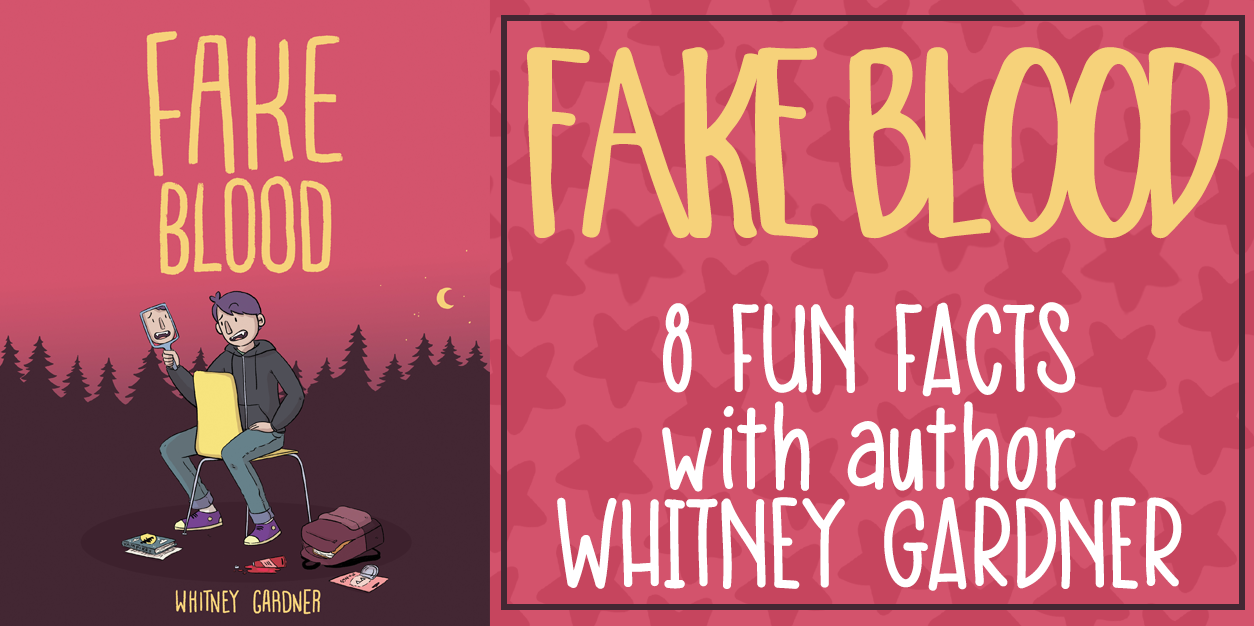 Fake Blood Fun Facts with Author Whitney Gardner
It's genuinely embarrassing how much we love Whitney Gardner's new graphic novel, Fake Blood. Almost as embarrassing as the lengths you'd go to impress your friends and crushes in middle school. That's what Fake Blood is about, it's an adorably relatable and uncomfortably real take on being an ordinary 11-year-old. Like a lot of you, AJ is headed back to school amongst changing friends, crushes, and growing up. You know how it always seems like your friends are growing so much faster than you are? AJ totally understands. He's pretty much the same as he's ever been. He spent his Summer at the library devouring books while his friends had real adventures climbing volcanoes and bungee jumping. Everyone seems to be different than last year in ways that AJ just isn't.
When he gets paired up with his vampire obsessed crush for a project, he goes out of his way to impress her by dressing and acting like a vampire to impress her. (Sparkly skin included!) Unfortunately, it turns out she's actually a slayer, and she starts giving him all the wrong kinds of attention! He's forced to admit that it was all fake, but the two discover a real-life vampire in their midst. AJ and Nia must work together to save the school and uncover mysterious secrets. Fake Blood is so incredibly fresh, charming, and super funny – it's definitely in the running for one of our favorite reads of the year! Most importantly, though, it's such a great reminder for why it's always best to be yourself.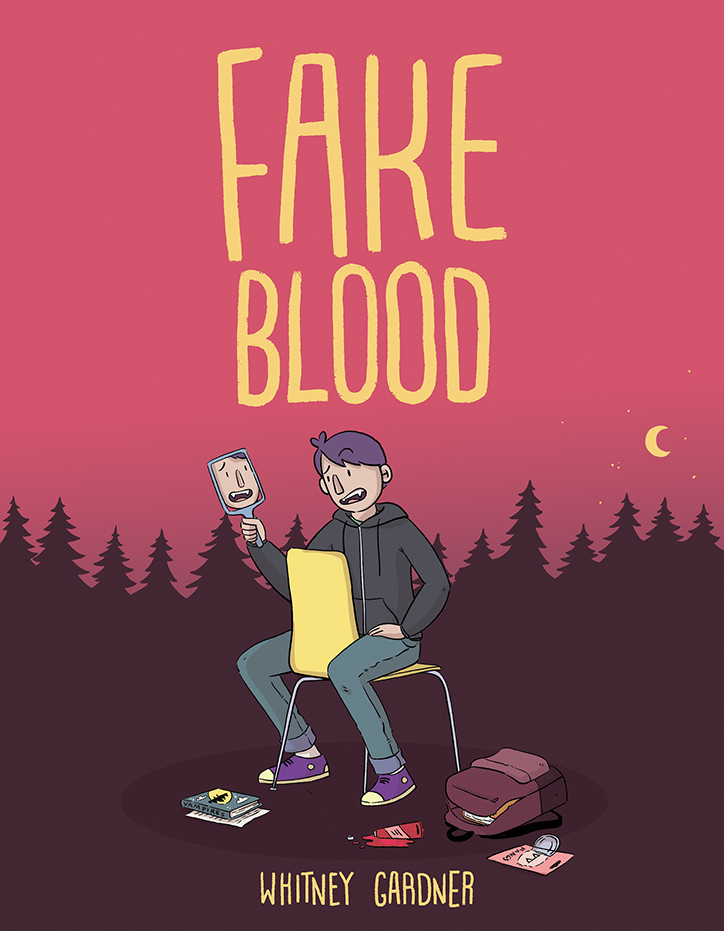 A middle schooler comes head-to-head with his vampire slayer crush in this laugh-out-loud funny graphic novel that's a perfect coming-of-age story for anyone who's ever felt too young, too small, or too average.

It's the beginning of the new school year and AJ feels like everyone is changing but him. He hasn't grown or had any exciting summer adventures like his best friends have. He even has the same crush he's harbored for years. So AJ decides to take matters into his own hands. But how could a girl like Nia Winters ever like plain vanilla AJ when she only has eyes for vampires?
When AJ and Nia are paired up for a group project on Transylvania, it may be AJ's chance to win over Nia's affection by dressing up like the vamp of her dreams. And soon enough he's got more of Nia's attention than he bargained for when he learns she's a slayer.
Now AJ has to worry about self-preservation while also trying to save everyone he cares about from a real-life threat lurking in the shadows of Spoons Middle School.
FAKE BLOOD
Publisher: Simon & Schuster Books for Young Readers
Release Date: September 4, 2018
We fangirled with such pride when Whitney Gardner agreed to share some Fake Blood Fun Facts with our readers. It's the perfect read for anyone who's ever felt unimpressive or a bit left behind and it pairs perfectly with the back to school and Halloween season. Get to know more about Whitney's inspirations for the story and how it all came together.
Fake Blood Fun Facts with Author Whitney Gardner:

FACT #1:

Fake Blood takes place in my old Portland neighborhood, St. John's. I loved living there. It was a small town inside of a small town right near the Willamette River. Spoons Middle School is actually based off of the local library.

FACT #2:

The main character, AJ, loves reading more than anything else in the whole world (except maybe Nia Winters). He has a huge collection of books. I didn't like reading very much when I was his age, and I always wish I did.


FACT #3:

AJ has a big sister, BB. I'm the biggest sister in my family, and it felt like there were times in the book where AJ really needed some sisterly advice. Also teasing. That's a big sister's job after all.

FACT #4:

AJ and his friends like to skip rocks across the Willamette River in Cathedral Park. I had to include the iconic St. John's Bridge, not only because it's beautiful but because I got married underneath it!
FACT #5:
I got the idea for Fake Blood in 2010 but I didn't nail down the story until years later. I was at an art gallery with my friend and after talking through the idea with her the whole story came flooding out at once. If you're going to write books, having a friend who you trust with your ideas is almost essential.

FACT #6:

Like AJ, I sometimes felt left behind when it came to my friends. It seemed like they were always going out and having amazing adventures while I was just at home drawing. I worried that made me a boring person. But it didn't! We all have different qualities that make us special and we should embrace them! No matter how small.

FACT #7:

I had so much fun writing Fake Blood. Some scenes made me laugh so hard I cried as I was writing them. It's motivated me to keep writing comics that fit into the same supernatural Pacific Northwest universe. I hope there are many more to come.

FACT #8:

My next graphic novel may or may not have to do with aliens. We'll see. 😉
Fake Blood is available today from Simon and Schuster Books for Young Readers, so head to your favorite bookstore or Amazon and pick up a copy! Looking for more graphic novels to add to your collection? We think you'll love Hex Vet: Witches in Training by Sam Davies.