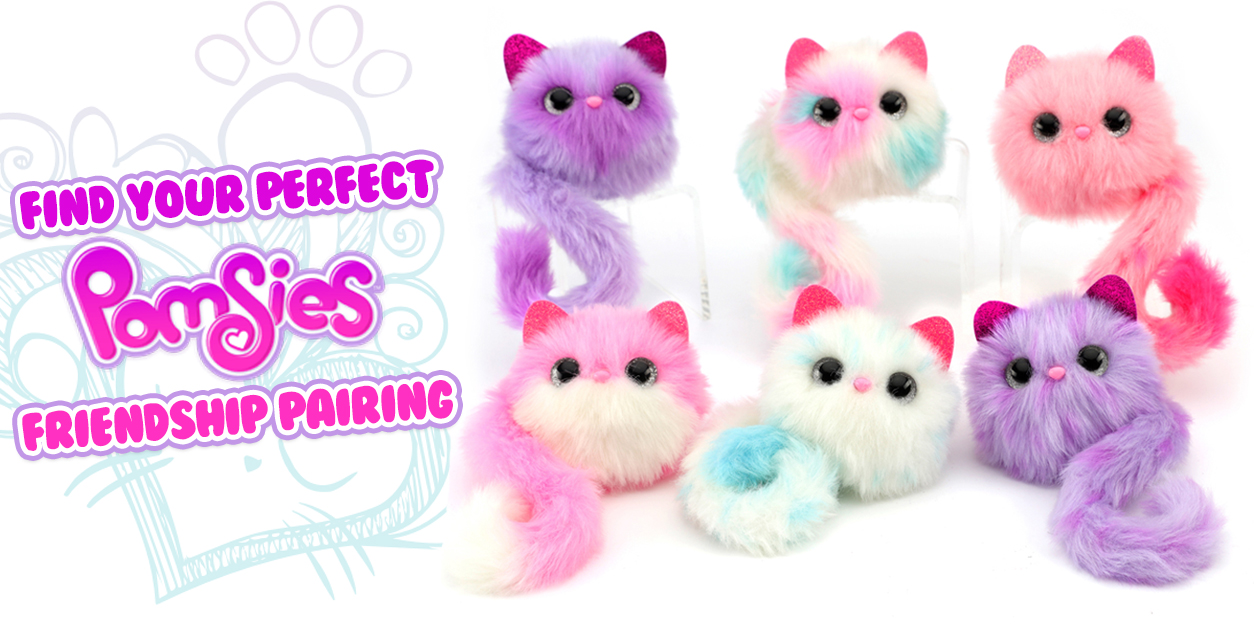 Find Your Perfect Pomsies Friendship Pairing
Note: We collaborated with Skyrocket on this Pomsies quiz and received a complimentary toy for review. All opinions are our own; we were under no obligation to give a positive review, and no money was exchanged.

If you don't already know what Pomsies are, you're about to become totally obsessed! Inspired by the pom-pom fashion trend, Pomsies are super cute wearable interactive pets that you can take with you anywhere.
Time to play? Your Pomsies eyes will light up a variety of different colors to tell you how they're feeling. As their eyes change from teal to pink to yellow to green, you'll get to cure their sniffles, feed them a treat, and make them giggle, meow, and purr by brushing their fur, petting, swaying, and tending to their needs. They have over 50 adorable reactions to discover and can even fart, burp, and hiccup! If your Pomsie starts singing and flashes rainbow eyes, you'll know you're doing an amazing job taking care of your new friend!
When the mood strikes, put your Pomsie into Freeze Dance Mode and play a super fun dancing game. When you're ready to head out, wrap your Pomsies tail around your wrist, backpack, or even your ponytail to take them with you on all your best adventures.
Discover Your Pomsies BFF:
Pomsies are loyal friends that need your love and care, but which one is the best friend for you? Take the quiz below, and we'll help you discover your perfect Pomsies pairing!
Want a Pomsies of your own to love, snuggle, and take care of? They are available now for $14.99 at Target, Walmart, and Amazon. New Pomsies colors and styles are coming soon, so keep an eye on their website so you can be the first to add your favorites to your collection!
Looking for even more toys to add to your collection? We think you'll love Cake Pop Cuties!