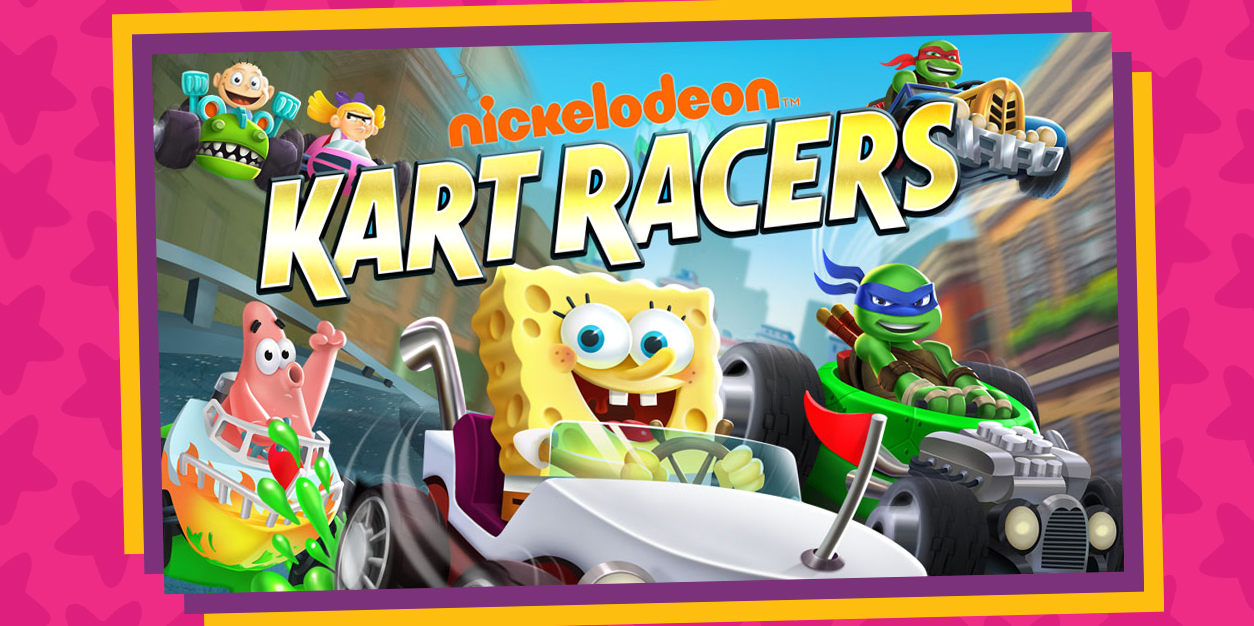 Get Your Slime on in Nickelodeon Kart Racers
Note: We received a complimentary review code in exchange for a fair and honest review of Nickelodeon Kart Racers. All opinions are our own; we were under no obligation to give a positive review.
Ready? Set. SLIME! Nickelodeon Kart Racers puts you in the driver's seat as you race through slime-filled tracks based on your all-time favorite Nickelodeon series. We can't get enough of the thrill of playing racing games, so when we heard Nickelodeon was releasing their own twist on the genre, we were super excited to try it out. The game delivers on all fronts, it's super fun to play, the controls are great, and it completely immerses you in the imaginative Nick worlds you've grown to know and love.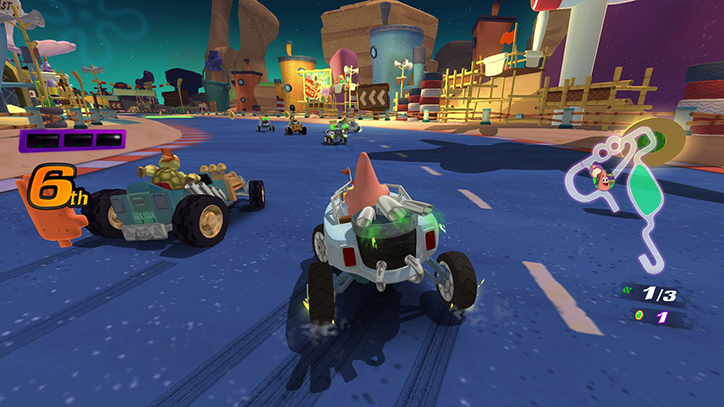 Nickelodeon Kart Racers is out now from GameMill Entertainment and Bam Tang Games, for Nintendo Switch, PlayStation 4, and XBox One. Here's why we think you'll love it!
Our Nickelodeon Kart-Racers Review: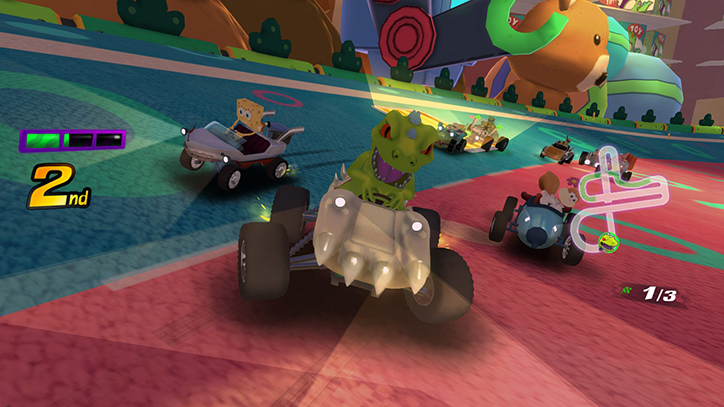 Iconic Nick Characters & Settings:
Being able to play as some of our favorite Nicktoons characters was one of the biggest draws for us. The fact that we could tear through the slime-filled streets as Reptar made it that much better! The Nickelodeon Kart Racers roster is made up of 12 characters to choose from, spanning four classic Nick series. You can play as Tommy, Angelica, and Reptar from Rugrats, SpongeBob, Patrick, and Sandy from SpongeBob Square Pants, Leo, Mikey, Raph, and Donatello from TMNT, and Arnold and Helga from Hey Arnold.
Each of the 24 racetracks bring the Nickelodeon vibes to life even more. Step into the wacky, colorful Nickelodeon world of your dreams as you race through Bikini Bottom, Arnold's school, and more! You'll love racing through familiar scenes from your favorite shows and making your way through seas of slime. You'll never struggle to race to the best of your ability as the controls are intuitive and handle extremely well.
We really enjoyed some of the tracks switched things up a bit by adding in extra twists to master while you race. Rather than just trying to aim for first place, some of the tracks will drop the slowest racer every few seconds or have you following arrows around the course. These additions are nice little surprises that keep things fresh and keep you on your toes. In addition to the typical Grand Prix Cups, you can also race on your favorite single tracks in Free Race mode and try to improve your best time in Time Attack.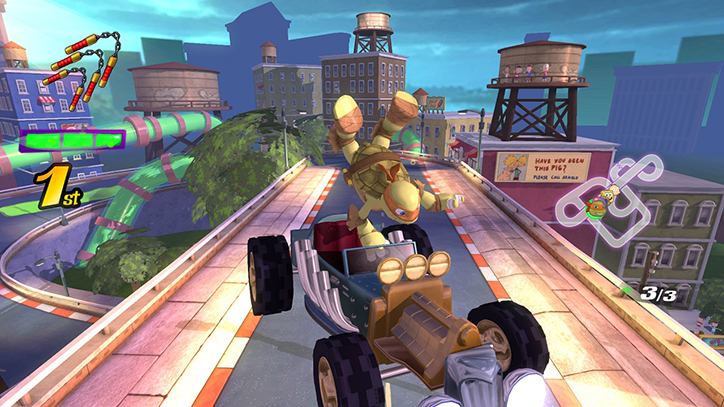 Customize Your Kart:
Like most good kart-racing games, Nickelodeon Kart Racers allows you to unlock and purchase upgrades and customizations for your karts. There are a wide variety of options to choose from. Give your kart an update with new parts, give it a new look with a paint job, and boost your stats with fun upgrades.
What would a Nickelodeon game be without the iconic green slime? Slime plays a big factor in Nickelodeon Kart Racers, in the form of huge speed boosts. Every time you drive through slime, your turbo meter will fill up. Use it for a boost that will send you soaring past the competition. Some of the tracks are filled with slime rivers, transforming your kart into a boat and giving you a non-stop, fast-paced ride. These were some of our favorite levels, reminding us of the water levels in Mario Kart 8 Deluxe.
Similar to other games in the racing genre, you can collect items that help you trip up your enemies or give you an advntage speed through each raceway. Each character has their own special attacks, like Spongebob's jellyfishes that swim by block the other racers view and Reptar's fireballs that you can shoot to knock out the player in front of you. In addition to special attacks, there are items all players can use, including Tommy's milk bottle, TMNT pizza slices, and other nostalgic references that really hit the Nickelodeon theme home.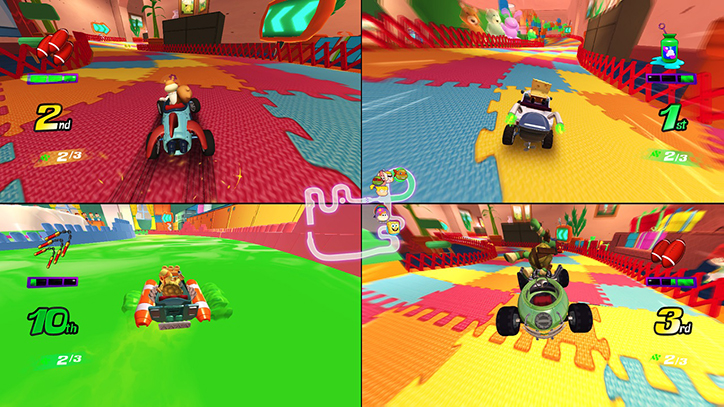 Race and Battle Friends:
Playing on your own brings hours of fun gameplay, but we all know the real fun begins when friends and family get involved. Local multiplayer gives you the ability to play with up to four people and turn up the competition. We typically find traditional racing more fun than the battle modes in these types of games, but if you're looking for more multiplayer fun, be sure to check out the Battle Arena. There you'll find Free-For-All, Tag, and Capture the Flag modes that bring hours of competitive fun.
In the end, we had a blast checking out Nickelodeon Kart Racers. We definitely recommend adding it to your collection. At $39.99, it's priced perfectly for a weekend of family racing fun or to add to your holiday wishlist.
If RPG's are more your style, we recommend trying out Cat Quest!