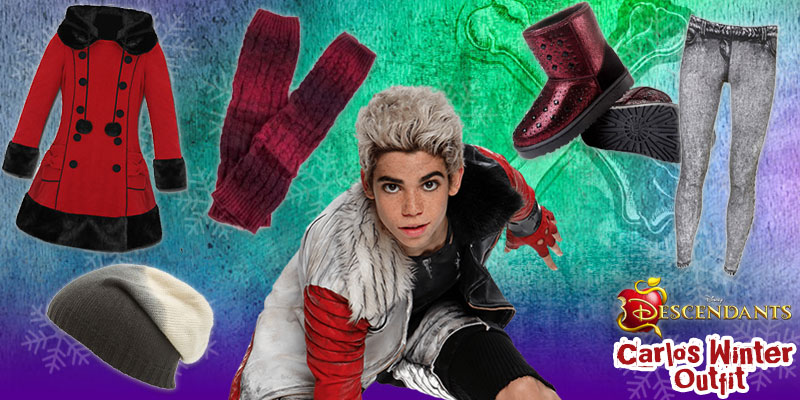 Descendants Winter Style: Carlos Outfit
Next up in our Descendants Winter Style Series is Carlos!
With signature colors of red, white, and black, Carlos' outfit is definitely the most festive. It's a great look for the holiday season, but totally works throughout the rest of the winter as well. Here's how you can create your own Carlos inspired winter look!
Coats aren't just the most important winter item, they're also pretty much the most important item in the
De Vil
family.
Cruella
wouldn't be caught dead in anything less than a perfect fur, but thankfully since
Carlos
loves dogs, you won't have to hurt any sweet puppies to pick out a killer jacket for your look. Our favorite coat choice (and one we actually own IRL!) is that red coat with the black fur. It's super cute, warm, and it gets about a million compliments every time we wear it.
Other great winter jacket choices for Carlos would include a Dalmatian print fur, an edgy peacoat, or maybe one of those vest/hoodie combos. There's examples of each in the gallery above for inspiration.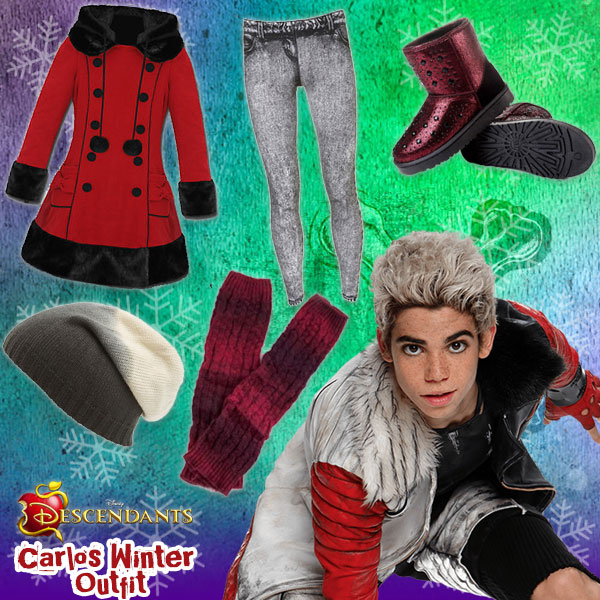 In terms of shoes, we stuck with a similar theme as our previous Descendants Style Series – studs, velvet, and lots of boots that will give you that Villain Kid grunge, but still keep your feet dry and warm on those snowy winter days. Accessorize your look with a dip dyed beanie, some leg warmers, and even a Cruella inspired phone case. Since Carlos is into music and tech, we even picked out some awesome earmuff headphones that are both cute and functional!
Add cute puppy flair with Dalmatian print leggings, tops, or accessories. If animal prints aren't really your thing, swap them for polka dots!
Top of the look by cramming some candy in your face, and you'll have perfect Carlos style! Don't forget to check out our Evie Winter Outfit, and stay tuned for our Mal and Jay inspired looks.