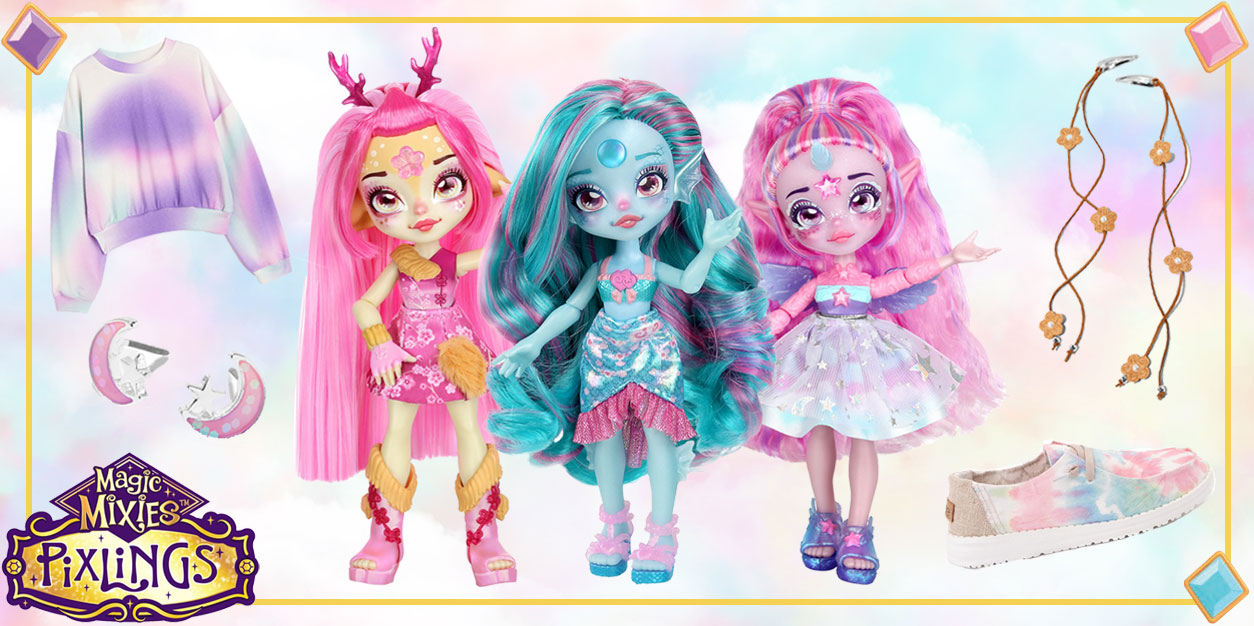 Enchanting Outfits Inspired by the Magic Mixies Pixlings
Magic Mixies fans, we're about to make your school year ✨enchanting✨ with outfits inspired by the Pixlings, Unia, Marena, and Deerlee!
The Magic Mixies Pixlings live in the magical metropolis of Pixia, surrounded by flowing potion fountains, magical creatures, and sparkling crystals. With a focus on friendship and powers of love, dreams, and adventure, Unia, Marena, and Deerlee are always ready to make a moment magical. These adorable collectible dolls from Moose Toys are absolutely spellbinding to play with as you mix their potions and cast spells, but they also have a seriously fierce fashion sense!
Their looks are totally enchanting, so we put together everyday looks inspired by Unia, Marena, and Deerlee so you can rock Magic Mixies Pixlings style everywhere from your hallway hanging with your besties to weekend faster than you can say Magicus Mixus!
Your Guide to Magic Mixies Pixlings Style: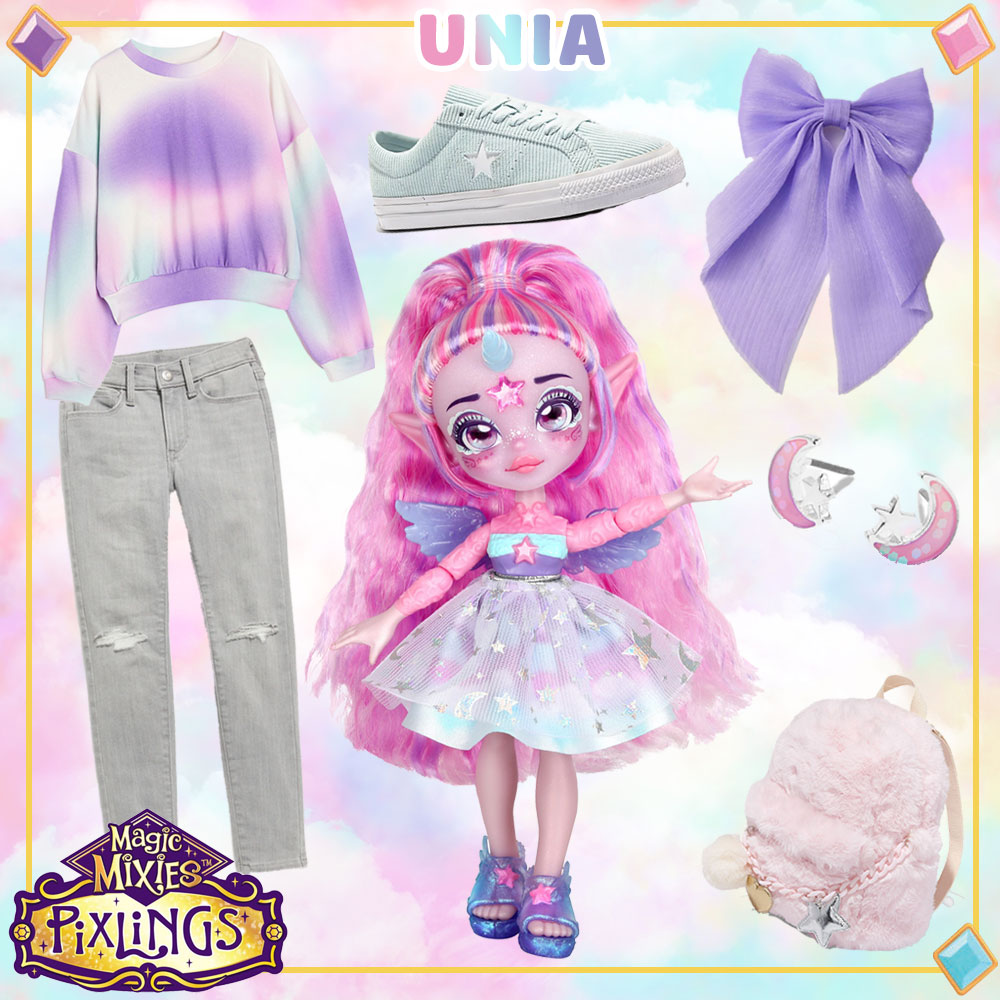 Unia the Unicorn:
Sweatshirt – H&M Kids | Jeans – Old Navy | Shoes – Zumiez | Bow – Urban Outfitters | Earrings – Claire's | Backpack – Claire's
Want to match Unia's dreamy unicorn vibes? Pair pastel shades with SO much sparkle, and you'll look majestic!
Her pink, purple, and teal color palette makes it easy to mix, match, and highlight the colors you love most. We chose a sweatshirt with all three shades and a pair of ripped grey jeggings for a cozy back-to-school-inspired take on her fit to ensure every walk down the hall this year is as magical as the Pixlings. Headed to a party? That pretty pastel dress hanging in your closet will work perfectly!
You don't need a Pixling elixir to match Unia's aesthetic – just reach for some shimmering accessories! Add items featuring soft colors and iridescent stars and moons, and your style dreams are sure to come true.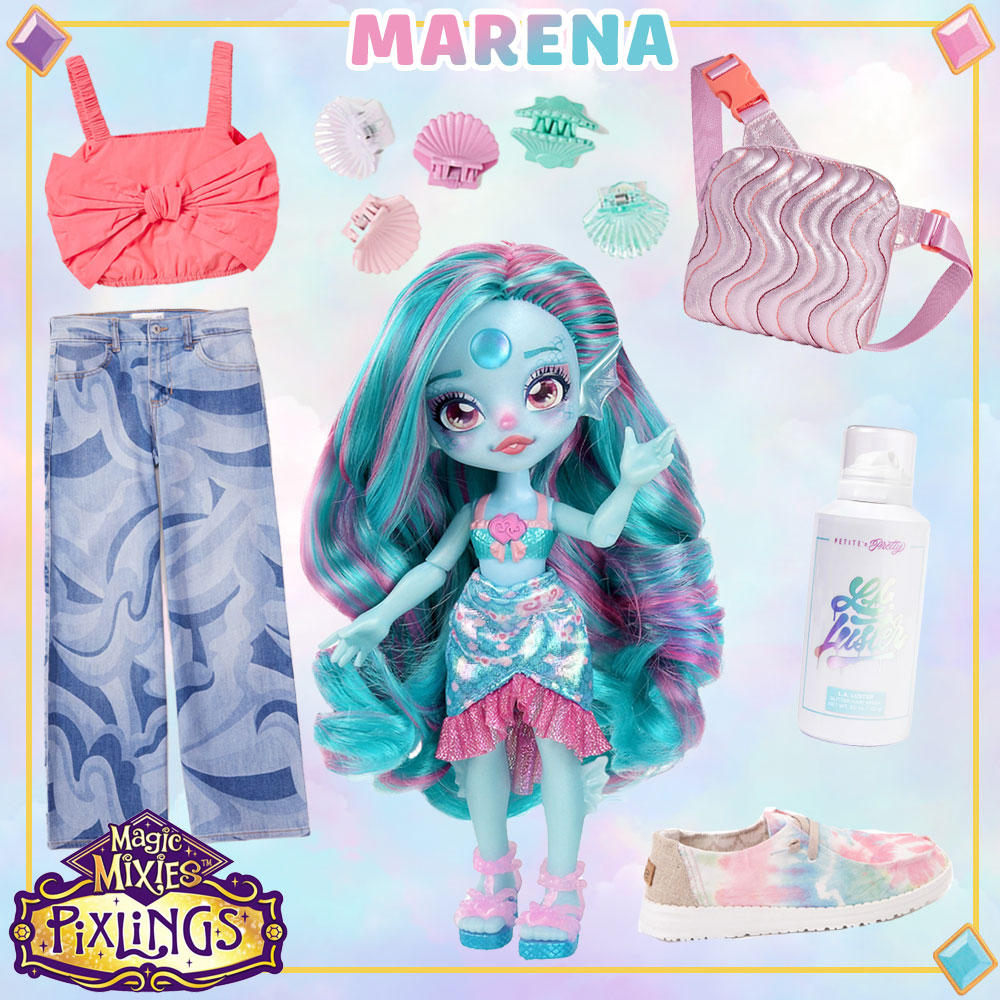 Marena the Mermaid:
Top – Zara Kids | Jeans – Abercrombie Kids | Shoes – Hey Dude | Hairclips – H&M Kids | Bag – State Bags | Hair Glitter – Petite 'n Pretty
Mermaidcore, but make it magic! Marena's beachy crop and ruffle skirt are simply spellbinding, but our take on her style pairs a ruffly tank with wide-leg jeans with swirls that look like waves for an ocean-inspired feel.
Being the thoughtful one, you know Marena carefully chooses each piece in her style to suit her vibe – and you can too. Draw from the details in her outfit to inspire your own. A little hair sparkle spray, seashell clips, and a shimmering bag bring endless deep-sea vibes. You'll make a splash everywhere you go, from study hall to the school dance.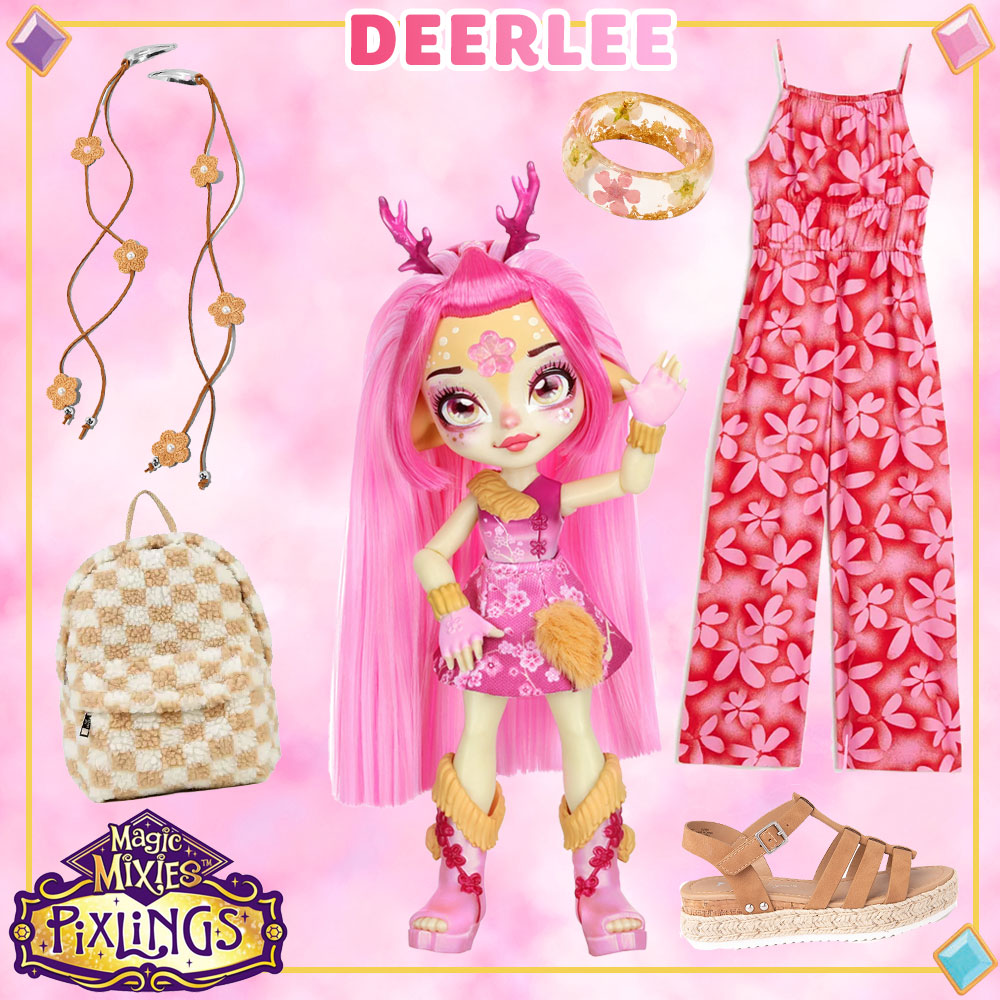 Deerlee the Deer:
Romper – H&M Kids | Sandals – Sarah Jayne | Hairclips – Claire's | Mini Backpack – Madden Girl | Ring – Claire's
Channel your inner woodland creature with Deerlee's forest-inspired fashions!
Pairing pinks and florals with earthy browns is an easy way to capture Deerlee's free-spirited nature. Being the adventurous one in the Pixlings squad, we think fluffy fabrics, crocheted accents, and bold patterns will leave you feeling confident to be as brave in your style choices as you are in life. For Deerlee, the accessories are as important as the outfit itself. We selected dangling hairclips inspired by her long, flowing hair, a mini backpack to stash all her adventure essentials, and sandals with a crochet accent to tie everything together.
✨SHOWCASE YOUR SHINE 👇🏼:
✨MAKE SANRIO BESTIES: Unravel the mysteries of Friendship Island & befriend beloved Sanrio characters. Peep our game review.
💖SONGWRITER DREAMS: Singer-songwriter Annissa Murad shines bright in our Shimmering Star Spotlight!
✨FIERCELY FICTIONAL: Get to know Paloma from Totally Psychic, your new fav read filled with psychic readings, friendship mishaps, & misbehaving ghosts!