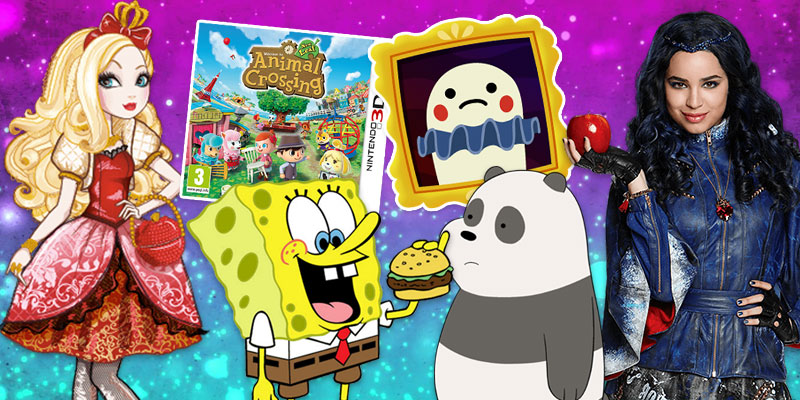 Video Game Recommendations Based on Your Favorite Character
Everyone's got their favorite cartoon or TV show characters, but have you ever wondered what video games they might be into? We picked some of the best characters we could think of and paired them up with a video game recommendation on what we think they might play and what you'd love to play if you're a fan of that show/character! Whether you're total gamer or more of the casual gaming type, we think you'll love getting your hands on these games!
Video Game Recommendations Based on Your Favorite Character: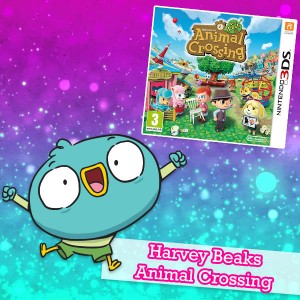 Harvey Beaks – Animal Crossing
Fans of Harvey Beaks will definitely love the Animal Crossing series! Much like Harvey himself, this game is peaceful, relaxing, and the perfect way to spend a Saturday (after you've cleaned your room, of course!). Decorate your house, go fishing, meet your neighbors, and dig for fossils. It's a great game for people who love to play games, but aren't looking for a crazy challenge. The game is endless, so there's no way to "win". Complete your collection of bugs, fossils, and fish, spend your time designing cute outfits, or plant lots of flowers and trees. We can totally see Harvey curled up in his neatly made bed playing Animal Crossing. The latest version is on the Nintendo 3DS, but there's also a few others, so whatever Nintendo console you have, you should be able to find a copy.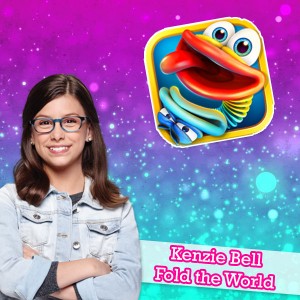 Kenzie Bell – Game Shakers – Fold the World
Since Kenzie is the genius developer and designer behind the Game Shakers success, a weird and wacky mobile game is the perfect fit for her, or fans of Game Shakers in general. In Fold the World, you'll help guide Yolo (How Game Shakers-esque is a character named Yolo?!) through a pop-up storybook world by folding and unfolding different areas of the map to reveal the paths. It's quirky, fun, and totally feels like something the Game Shakers would make themselves. This one is only on iOS right now, so grab your iPhones and iPads and get to playing!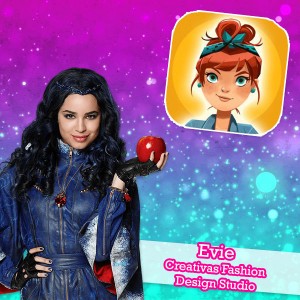 Evie – Descendants – Creativas Fashion Design Studio
While Descendants definitely showed us that Evie is super smart and more than just the fairest of them all, her eye for fashion goes simply unmatched. That's why we think fans of Evie could definitely get into Creativas Fashion Design Studio. The app follows a group of artsy students at a secret design academy. (Like Auradon Prep for future fashion designers!) In the game, you'll get to design and create your own outfits, learn real fashion design tips, and complete awesome fashion challenges. We think Evie would find this game completely wicked! If you think you'd be into it, we wrote a full post about how awesome the game is here.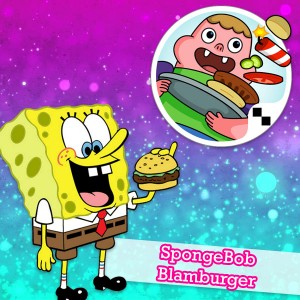 SpongeBob SquarePants – Blamburger
SpongeBob is extremely loyal to the Krusty Krab, so he'd definitely never leave in order to work at a different burger shop, but that doesn't mean that he can't get down with some burger flipping action on his phone on his day off! Blamburger is actually a game based on Clarence from Cartoon Network, but who says we can't mix and match cartoon worlds? In Blamburger, you'll move Clarence left and right in order to fill his burger with ingredients as they fall from the sky. Watch out for explosive though, or else you'll find out what the BLAM in Blamburger is all about! You can pick it up on iOS, Android, or Amazon, but if you don't have a mobile device, you can also play it on the Cartoon Network site!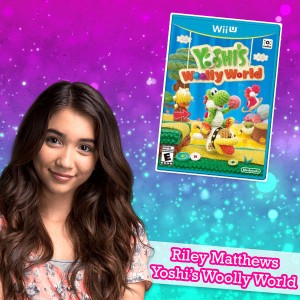 Riley Matthews – Girl Meets World – Yoshi's Woolly World
Since we all know Rileytown is full of smiles, sunshine, and happiness, we figured a Riley Matthews fan would love playing a game that brings exactly that. Yoshi's Woolly World is a totally adorable game that is really fun to play and you can't help but smile the entire way through. The worlds are built out of craft supplies like yarn and buttons, and there's even an entire world in the game dedicated to cookies and sweets. Riley could definitely get lost in the sheer cuteness of this game for hours, and we think you will too!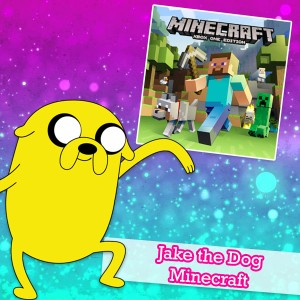 Jake the Dog – Adventure Time – Minecraft
Since Jake loves Card Wars, and Adventure Time is inspired by Dungeons and Dragons, it's clear that he'd be into a game inspired by fantasy and creativity. Can't you just see Jake losing himself in Minecraft for hours upon hours, crafting, mining, and kicking Creeper butt? It's such a perfect fit for Jake, it could even be an Adventure Time episode, where Finn and Jake get sucked into the game. We bet they'd be able to build a killer treehouse, too! Unleash your inner crafter and explorer by giving Minecraft a go!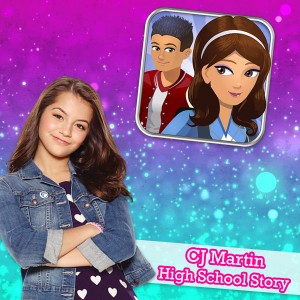 CJ Martin – 101 Things to Do Before High School – High School Story
Since CJ, Fenwick, and Crispo are all about cramming in as much fun as possible before they head off to High School, we think that High School Story (for iOS, Amazon, and Android) would be a great pick for fans of the show. In High School Story, you get to build your very own dream school and go on quests with your friends (and sometimes frenemies!). You can set up and customize your school any way you want. The great thing about HSS is that everyone pretty much gets along. It's a school that you create to get away from the usual "jocks and nerds can't be friends" types of arguments and lets everyone get to know each other and hang out together. The quests range from fun hangouts and parties with your besties to cramming for tests even getting ready for the big game. Plus there's lots of great outfits to dress up your characters in, and you can even go on dates! They've even started teaming up with brands and celebs recently to allow you to hang out with characters such as the ghouls from Monster High and celebs like Lea Michele. There's new updates to the game pretty much every week, so you'll never get bored, unlike at real school!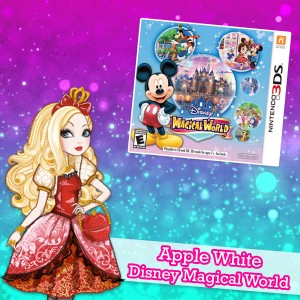 Apple White – Ever After High – Disney Magical World
What better choice for a future queen like Apple White from Ever After High than a game about the most famous kingdom of them all – the Magic Kingdom! In Disney Magical World for the Nintendo 3DS, you'll get to run a cafe, go on an RPG style adventure through all your favorite Disney lands (100 Acre Wood, Wonderland, and Agrabah), dress up in stylish Disney inspired outfits, and hang out with all your favorite characters. It's the perfect game for any Disney fan, but as future royalty, we know Apple White would love a game where she'd fit in like a total princess. Even more good news, this game is getting a sequel! Disney Magical World 2 releases in Japan in just a few days, so the rest of us should hopefully be able to get our hands on a copy sometime next year.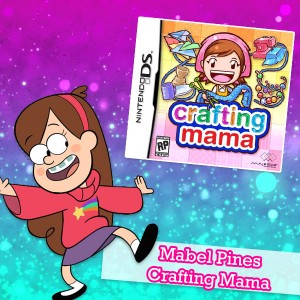 Mabel Pines – Gravity Falls – Crafting Mama
When you think of Mabel Pines, you first think of sweaters- but then you think of crafts! Mabel's love for crafts is unmatched by pretty much any other character in cartoon history, which is why we think Mabel and fans of Mabel would love Crafting Mama for the Nintendo DS. (It'll work on the 3DS too, but it won't be in 3D). You'll get to play fun crafting mini-games to create everything from jewelry to pottery to outfits and more! Plus, you'll get to channel your inner Mabel Pines while you play. Just be careful not to bedazzle your face!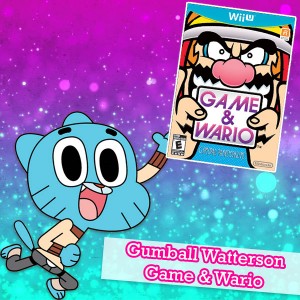 Gumball Watterson – The Amazing World of Gumball – Game & Wario
Since The Amazing World of Gumball is kind of a random, all over the place fun and weird show, Game & Wario (or any of the Wario Ware games) are a great match for any Gumball fan. In Game & Wario for the WiiU, you can play a variety of mini games either solo or with a friend. You can put on your detective hat in Shutter, and help Mona take pictures of missing criminals. You can hit the slopes in Ski, helping Jimmy T ski for as long as possible without falling off the slope. You can Disco with a friend, trying to stump them with your musical rhythms or play Sketch which is a Pictionary style drawing game. There's tons more games to play and we can totally see Gumball and Darwin having a blast with this game.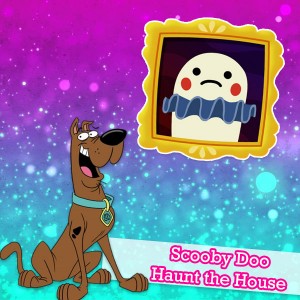 Scooby Doo – Haunt the House: Terrortown
Since Scoob and the gang are known for their monster and ghost hunting adventures, we thought that he might enjoy turning the tables and becoming the haunter! In Haunt the House: Terrortown, you play as a ghost who gets to haunt everything from houses to trains (and even the North Pole). You can possess pretty much any object inside an area and use it to scare the pants off people inside. So you can possess a light, and flicker or swing it around. Or hop inside a clock to make the arms spin around and around. Each thing you do will freak out the people around and scare them away. It's a really unique take, allowing you to play haunter instead of the haunted, and it has really great music and graphics. The best part? You can get it on: iOS, Android, Playstation Vita, and Steam.

Panda – We Bare Bears – Neko Atsume: Kitty Collector
Since Panda is way into Japanese culture, anime, and manga, Neko Atsume: Kitty Collector is the perfect choice for him. In Neko Atsume, you get to collect kitties! Put out food and toys to attract cats to your garden, and check in every once in awhile to take their pictures and learn about them. It's a very low maintenance game that doesn't require the dedication and attention span that most virtual pet care games do. Neko Atsume is just a peaceful and fun way to spend time with and collect cats. Use your fish as currency to buy toys and food to attract kitties to your yard. Putting out nicer food and toys will attract more of the rare cats, and even some costumed kitties. The game has been around for awhile now, but they just finally released an update that allows you to play in English, so it's more accessible than ever before. We know this game would quickly become a Pan Pan obsession (maybe even to the level of Tote Life!), and we think you'll love it too. You can pick it up on iOS and Android devices.
Hopefully you found a sweet new video game to try out! Enjoy!