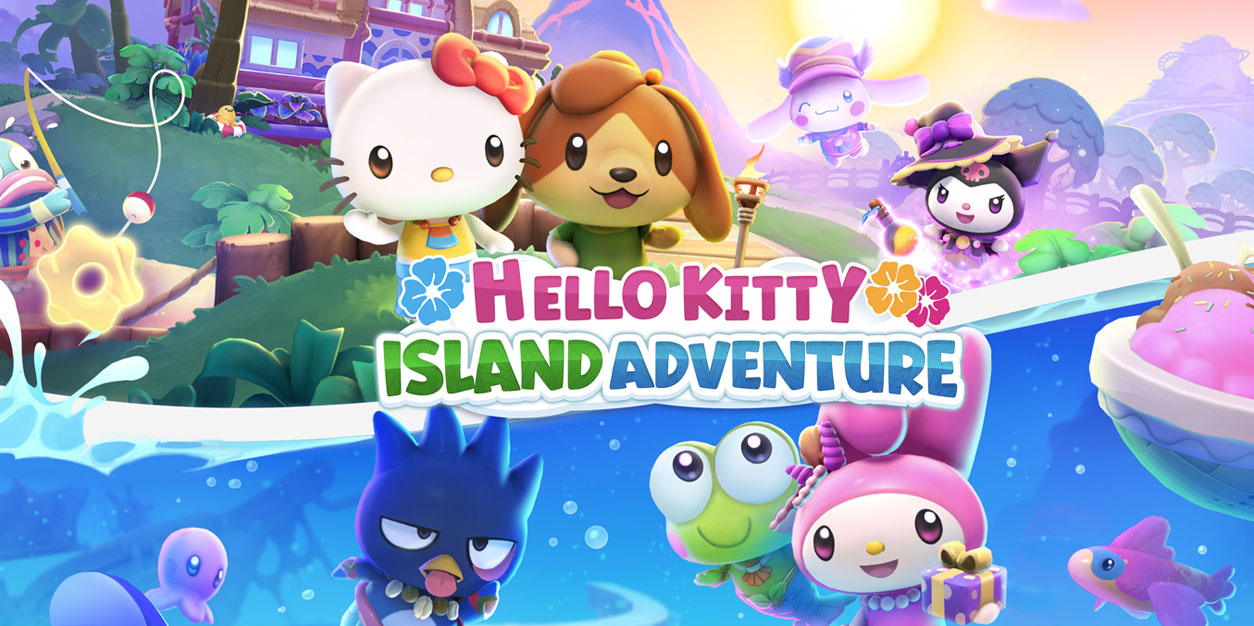 Uncover Theme Park Mysteries & Make Supercute Friends in Hello Kitty Island Adventure
NOTE: We received a complimentary review code in exchange for a fair and honest review of Hello Kitty Island Adventure. All opinions are our own; we were under no obligation to give a positive review.
Ready to embark on a supercute adventure and make memories with Hello Kitty and Friends? Hello Kitty Island Adventure has finally arrived on Apple Arcade, and it's this iconic squad's most charming adventure yet!
We can spot a cozy game we'll love from a mile away, and it was love at first sight when we watched the game teaser for the first time. Scenes of a sprawling island filled with life-sim activities like fishing, gardening, and bug catching flash by alongside surprises like mine carts flying around tracks, swimming underwater using a mermaid fin, and cavernous puzzle dungeons. You get to do all this and more with Hello Kitty and the rest of her crew by your side? Count us in! We knew we couldn't wait to get our hands on this game that's over two years in the making.
Luckily for us, the team at Sunblink were generous enough to share a review code, and we dove right in! After two full weeks spent fixing up cabins, getting baking lessons from Hello Kitty, snapping silly selfies with Gudetama, and spooky puzzle-solving inside a haunted house with Kuromi, we're finally ready to share our experience with our readers and let you all in on a huge secret – this game is even better than looks.
Our Review of Hello Kitty Island Adventure:
Welcome to Friendship Island:
The game begins on an airplane en route to Friendship Island. The Sanrio squad is eager to spend time at Big Adventures Park, a theme park promising everything from haunted thrills to an ice cream ship. Sounds like a dream come true to us!
My Melody has been invited to open a gift shop at the park, and since she's so sweet, she invited ALL her friends – including you – to join her. Friendship is key in any story starring Hello Kitty, so the first thing you'll do is customize your own adorable character and walk around the plane, getting to know each of the Sanrio crew and their unique personalities (as well as a first taste of the funny one-liners that made us genuinely laugh throughout the game.)
After watching Keroppi and Badtz-Maru bicker like two inseparable besties sometimes do or discovering that Chococat is even more intelligent and adventurous than you ever knew, things take an unsuspecting turn. Hello Kitty's perfectly prepared cakes start flying out of the kitchen, forcing everyone to make a balloon-guided landing onto the island – only to discover that it's not at all what was promised. The island is abandoned, the rides are broken, and not all the characters made it to the main area of the resort. Don't worry – they're all safe, just lost!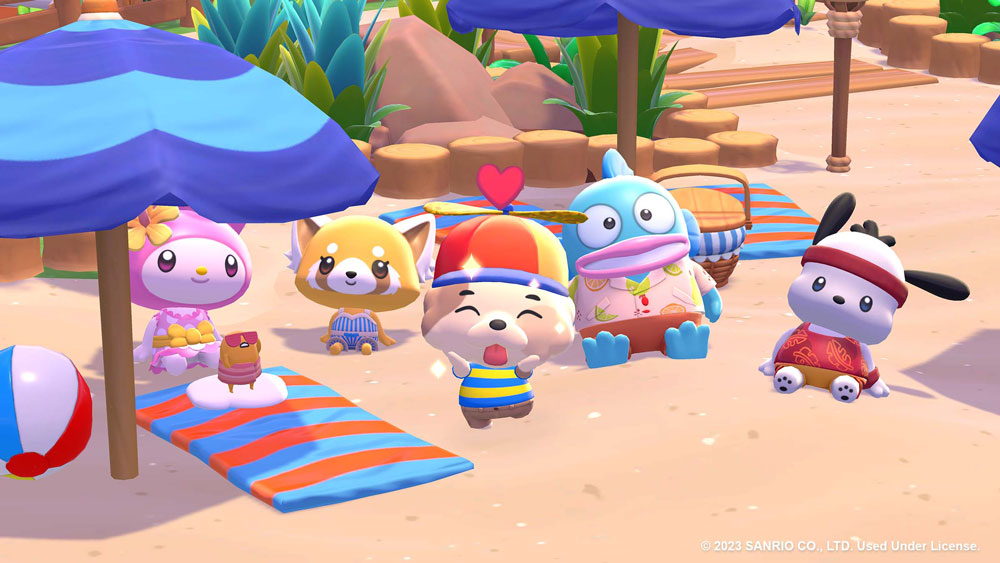 Adventure is Everywhere:
If it seems like there's a mystery just waiting to be solved, you'd be right! As the Sanrio squad sets up shop, it's up to you to locate their missing friends and lost luggage scattered across the island. As you cross simpler quests off your list and start enjoying all this tropical paradise has to offer, it won't be long before the story draws you in even further, allowing you to start unraveling the mystery of this once fun-filled theme park. Don't forget to stop by the bulletin board each day where daily character requests await, or ask My Melody for a Vibe Check to see how you're progressing in bringing the island back to life.
You'll soon find yourself doing more in-depth quests, like collecting power crystals to access secret puzzle dungeons or gathering and crafting resources to restore the theme park's damaged attractions back to their former glory. As you repair ziplines, donate unique island critters to the oddly empty Nature Preserve, and fix up a run-down Dance Hall, you'll be one step closer to unlocking the seemingly endless secrets of Friendship Island.
This game combines the best elements of a cozy life sim with platforming, many mini-games to master, tricky puzzles to complete, and a storyline you'll have a blast piecing together. We were wowed by this game, and we know you will be too!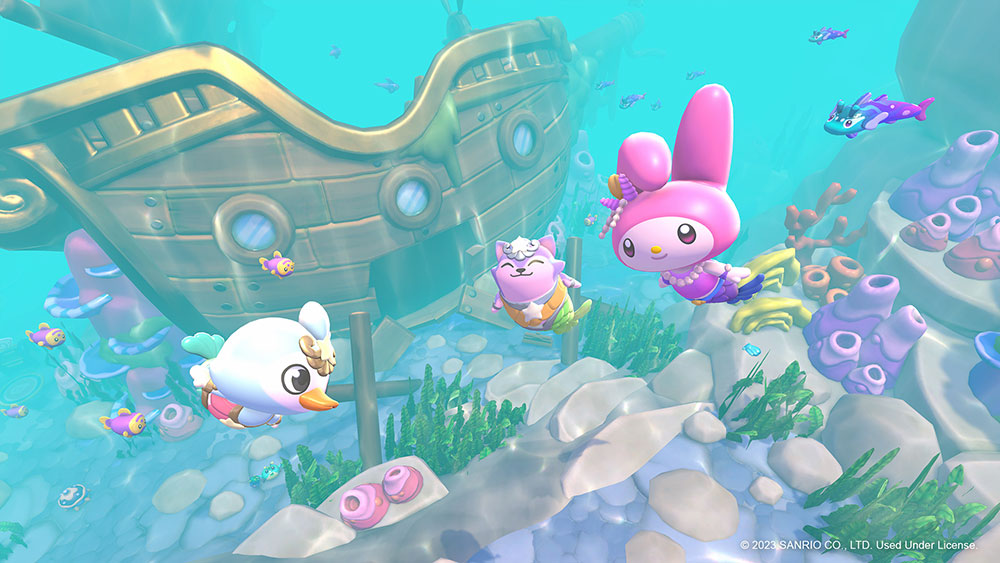 So Much to Explore:
What surprised us most was how big this game felt, even after sinking over 15 hours into playing. It never stopped feeling like we could run in any direction and encounter something new. The map is huge with several distinct biomes, each with something unique to offer, including a deep-sea underwater area to explore too! (You'll need to get the sassy Kuromi to warm up to you first, though!)
From the foggy, pumpkin-filled Spooky Swamp to uncovering ancient secrets with Retsuko at Mount Hothead and riding minecarts in Gemstone Town, it can take quite a bit of time walking, climbing, and swimming your way from area to area, but thankfully resident cutie pie Cinnamoroll is as loyal a mail carrier as he is a pup, unlocking mailboxes you can use to fast-travel between locations.
One of our favorite things to do is Gudetama Snap, an evergreen side quest where you'll earn egg-themed rewards (and puns) from Pocchacco each time you snap a certain number of photos with the Gudetamas hidden across the island. They're not always in plain sight either, and with 96 different Gudetamas in funny poses to find, you can't be lazy if you want to find them all!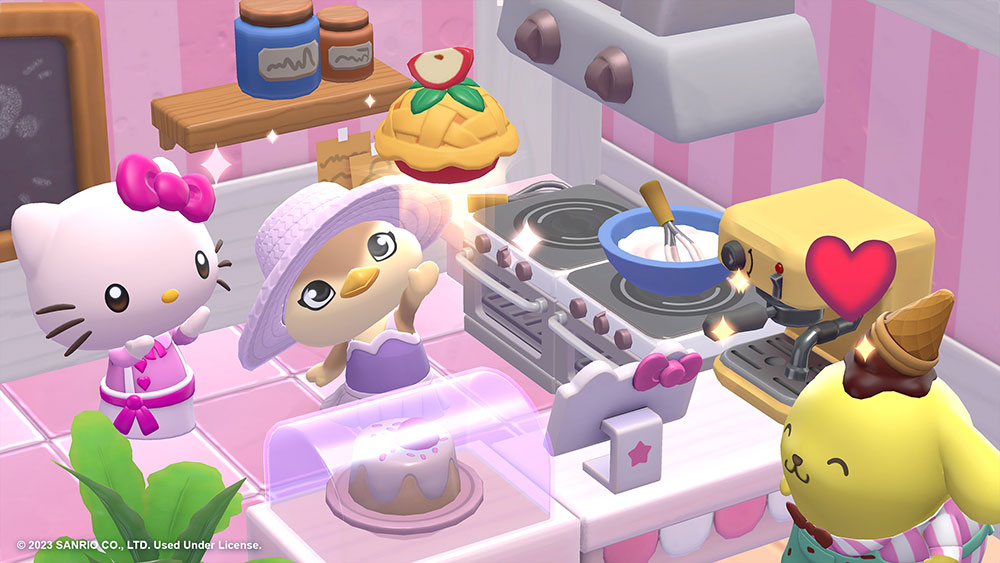 Lots to Do & Collect:
Everything you need to upgrade your island and make the most of your adventures is possible through trading in-game items, completing quests, and opening treasure chests – there are no in-app purchases here!
Whether you're whipping up sweet treats in Hello Kitty's cafe kitchen, collecting dyes to customize the perfect outfit at Tuxedo Sam's clothing shop, or making handy new creations at Chococat's crafting table, there's always something to do. With hundreds of items to collect, there's never a dull moment and always a reason to scour the island with a friend by your side or step up to a mirror to pick a new fit, fur color, or animal type for your character.
You'll need to trek across every inch of this island, collecting materials, opening treasure chests, and catching critters. Climb to the very top of a cliff for a birds-eye view of hidden items and then glide down using your handy handful of balloons to scoop them up, venture behind a building to pick up a lost comic book, sneak down a ladder to find a hidden Gudetama nestled between the trees, ready for you to snap a selfie.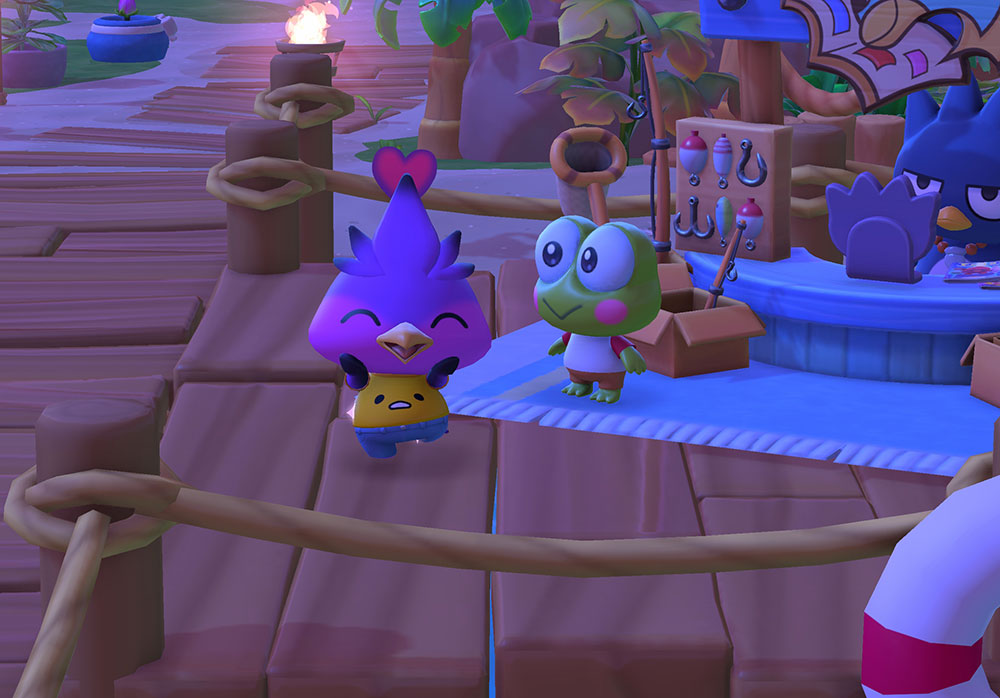 Friendships Dreams Come True:
If you're anything like us, becoming besties with Hello Kitty or Pompompurin is on your bucket list, and this game makes those dreams come true. Raise your friendship level with each character by giving them daily gifts and completing their specific quests. Visit them often and take note of their favorite things, and you'll go from New Friend to Best Friend in no time. You can even ask them to hang out with you!
Our hearts practically melted when Keroppi asked to join us on a quick quest to pick up a piece of furniture from My Melody for Badtz-Maru's comic stand. We gifted him a critter to ensure that friendship grows even more, of course!
Hello Kitty Island Adventure stars so many Sanrio favs already, but as you fix up run-down cabins, new visitors will stop by for a visit. The first visitor we unlocked was Dear Daniel, Hello Kitty's boyfriend, who wanted to give her an apple pie. Such a swoon-worthy guyf! It's not as simple as finding enough materials to rebuild the cabins though. You'll have to decorate them to the visitor's specific tastes before they make their way to the island. From wallpaper decorated with veggies to dressers shaped like Hello Kitty, these spaces are a great way to channel your inner interior decorator.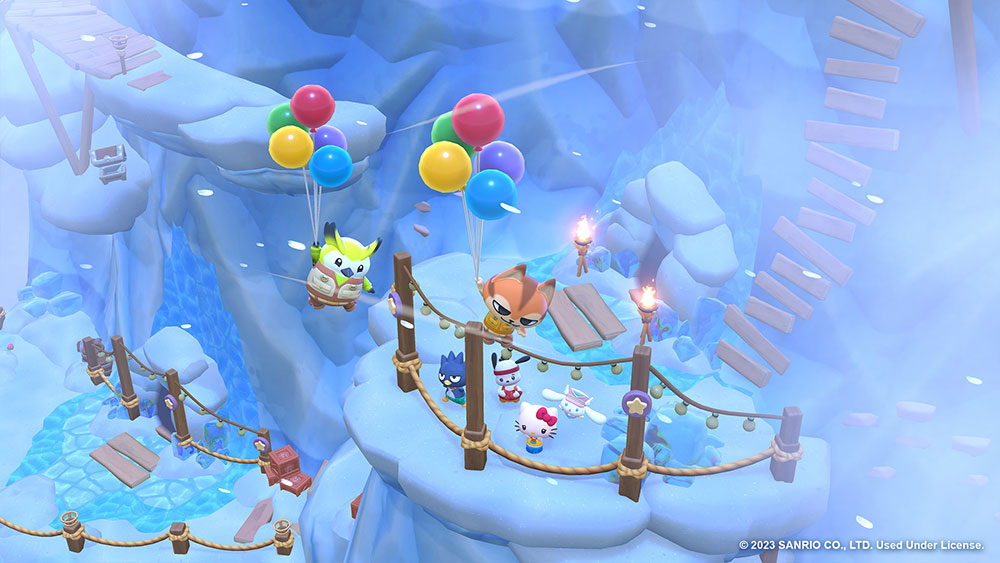 Your Real Friends Can Come, Too:
Everything is more fun with friends, and you can invite your IRL besties to stop by your island (or visit theirs) through Game Center or a unique friend code. Having friends over isn't just for show, either. Team up to build stamina together for increased climbing power, trade items to complete your collections, or solve puzzles that seemed impossible without someone there by your side.
We weren't able to try this out while reviewing, but we can't wait to give it a try now that the game is available!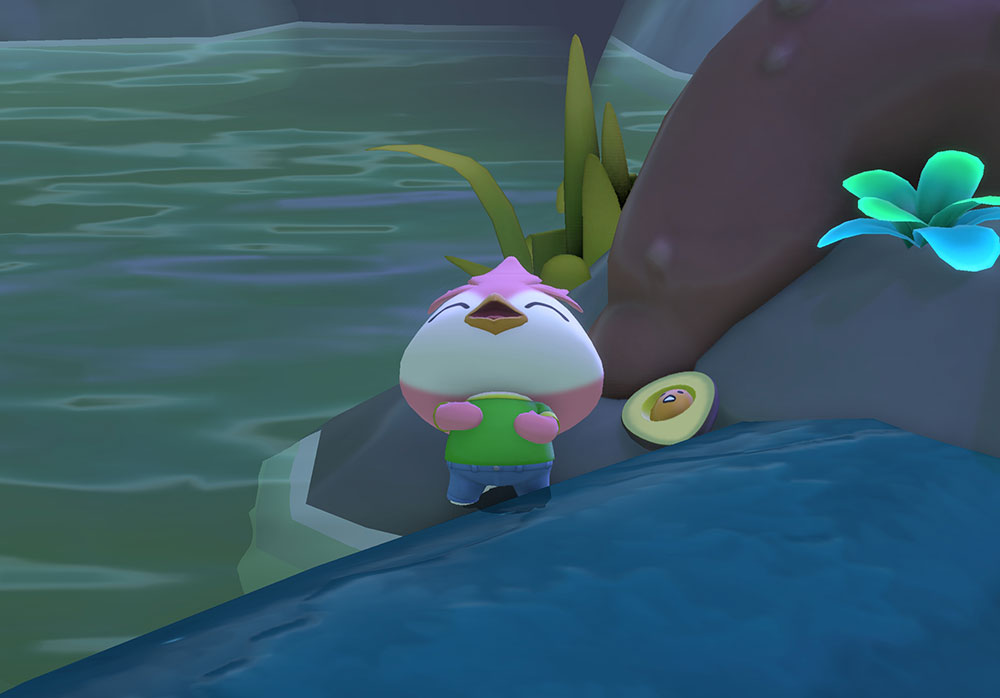 Launch Celebration & More Fun to Come:
Island adventures await in this adorable game, but so do rewards! You'll want to join in the fun as soon as possible to take advantage of the Launch Event that rewards players with unique items each day they play for the first 4 weeks. Earn valuable items like new outfits and decor, strawberry crates, clothing dye, flour, and more.
We spent quite a bit of time with the game the past two weeks, and it still feels like we've only scratched the surface of what it has to offer. The developers say there are about 40-50 hours of gameplay to start, and there's more on the way in free future updates that will help you clear the clouds on the undiscovered spots on the map, adds well as add new potential visitors and more items, events, and challenges.
Editor's Note: Hello Kitty Island Adventure is exclusively available on Apple Arcade, which requires a paid subscription to access. There are no ads or in-app purchases. App Store Rating: 4+
💖NEED EVEN MORE FUN?👇🏼:
✨SNACK TIME: Discover which summer treat you should snack on this summer – take the quiz!
💖SWEET STUFF: Our latest edition of HEART EYES has SO many swoon-worthy finds you'll adore!
✨PIKMIN VIBES: What's your Pikmin personality? We're sharing what your fav Pikmin says about YOU!