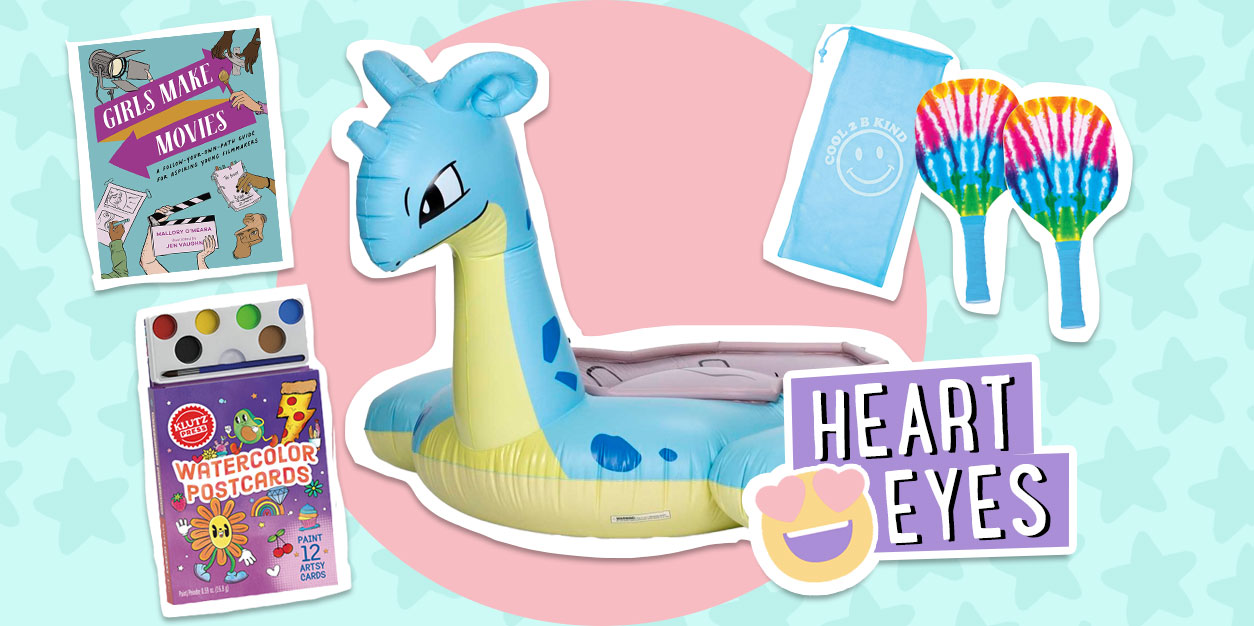 HEART EYES: Teenage Krakens, Pickleball Fun, & Stackable Stickers
HEART EYES is a monthly series on YAYOMG! where we keep you in the know about all the best new stuff that will have you twinning with your favorite emoji.😍
*NOTE: Our HEART EYES roundup is hand-curated by the YAYOMG! Team. Some of our picks are items we have received for free for review, some are not. Our recommendations are based on items we love and think our readers will love. We do not use affiliate links.
Grab your heart-shaped sunnies because our June edition of HEART EYES is filled with SO many ways to soak up the sun, kick back in the air conditioning, and make this summer your best yet!
You've only got three months of homework-free bliss, so it's essential to make the most of those hazy, warm, sunny days. Whether you're camp-bound, poolside, or prefer iced coffee and air conditioning, we're here to help you thrive this summer. Head out to the beach with a stash of snacks and new reads in an adorable plushie tote from Tee Turtle, or toss Koosh balls by the pool. Make your picnic perfect with a portable (and super cute) pickleball set, and write home from your family vacay with stand-out watercolor postcards.
Need to chill out? Cool off by catching Ruby Gillman, Teenage Kraken at your favorite local theater and make the most of rainy days while rolling up Katamari or rumbling with the Crash Bandicoot crew. There's even a book on our list that will inspire you (and teach you how) to make your own movie!
From butt-inspired activity books to Disney-inspired beauty must-haves, these are the 14 things we think will give you HEART EYES this month!
HEART EYES – June 2023: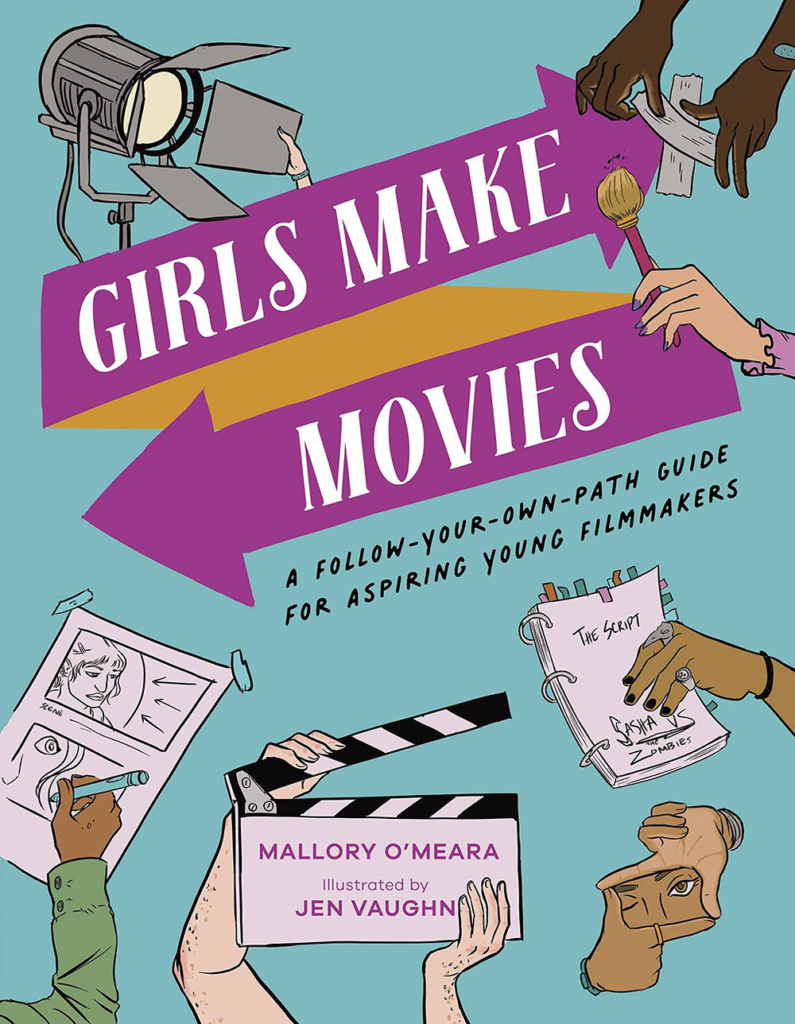 Girls Make Movies by Mallory O'Meara & Jen Vaughn:
Are you an aspiring filmmaker or movie aficionado? This is the book you need by your side!
Combining the best parts of journaling prompts and choose-your-own-adventure books, this follow-your-own-path guide to movie-making will help you on your journey to creating your first hit film. As you make choices in each chapter, you'll bring your film to life through each stage of production, from screenwriting to location scouting and even special effects.
Alongside it all, you'll learn about inspiring women in the film industry and details about every aspect of what it's really like to take a movie from script to screen.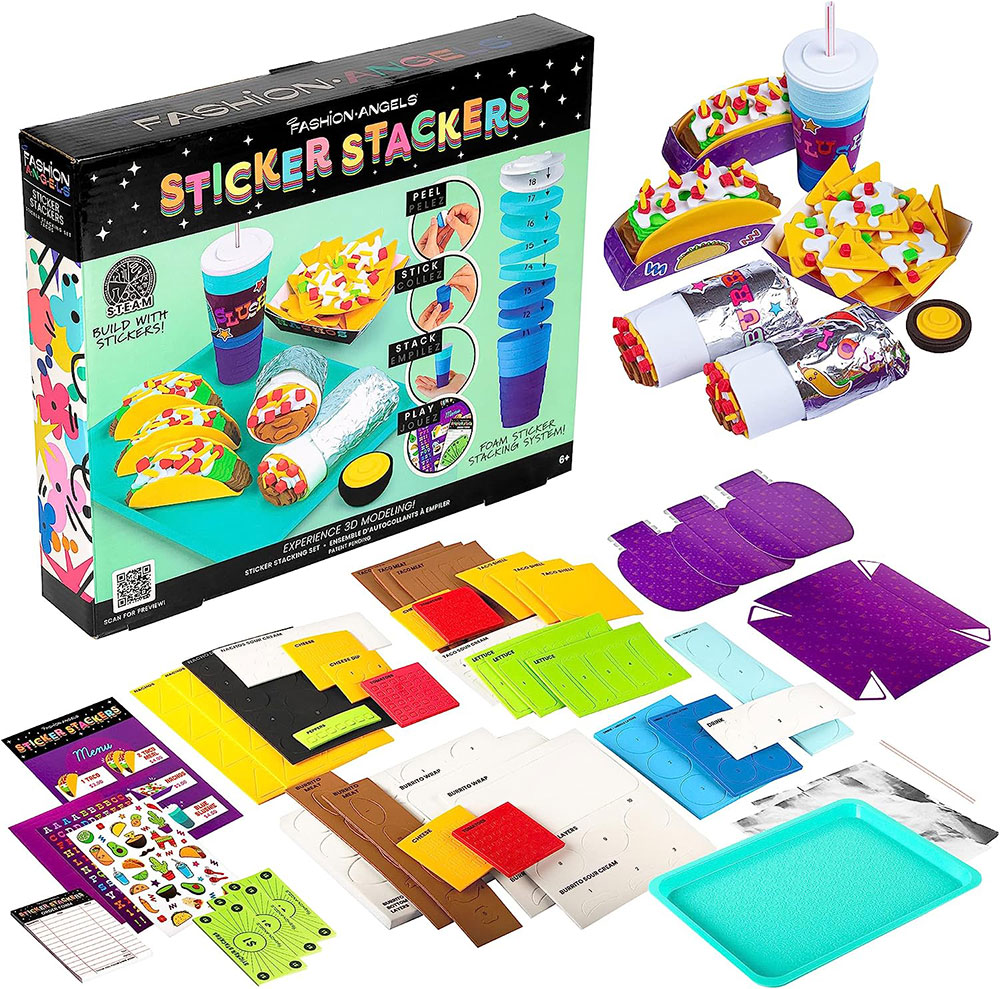 Sticker Stackers by Fashion Angels:
Sticker lovers, get ready to make your foodie dreams come true!
Known for their inventive and totally trendy DIYs, Fashion Angels' new line of crafting kits are a clever new way to build 3D models – using stickers! Each of the four food-themed Sticker Stackers kits will have you creating a menu of everything from tacos to sushi by stacking and layering stickers like a puzzle or color-by-number.
Customize your scene with adorable add-ons like decorative decals, folding cardboard containers, fake money, and tiny trays. For the artsy foodie, there's no better way to add delicious flair to craft time.
Discover the hero just beneath the surface as some surprising news makes a splash in Ruby Gillman's world!
Ruby is an ordinary teen just trying to survive high school, stay under the radar, and dreaming of taking her crush to prom. The only problem? Prom is taking place on the water, and going in the water is strictly forbidden by Ruby's family. She doesn't know why, but after diving into the water to save Connor after a promposal gone wrong, Ruby finds out she's descended from a long line of warrior Krakens and is destined to inherit the throne from her grandmother – aka the Kraken Queen!
This super fun flick flips the usual myths upside down, making Krakens the good guys and mermaids the most feared, power-hungry creatures in the sea. But when Ruby learns that her family has been hiding a huge secret, this shy teen finds her confidence and joins forces with new girl and mermaid Chelsea to try and unite the Krakens and the Mermaids and hopefully bring peace to the ocean once and for all.
TBH, Ruby Gillman is our kinda main character. We love an underdog realizing their full potential, and you can find us seated with popcorn in hand on June 30th!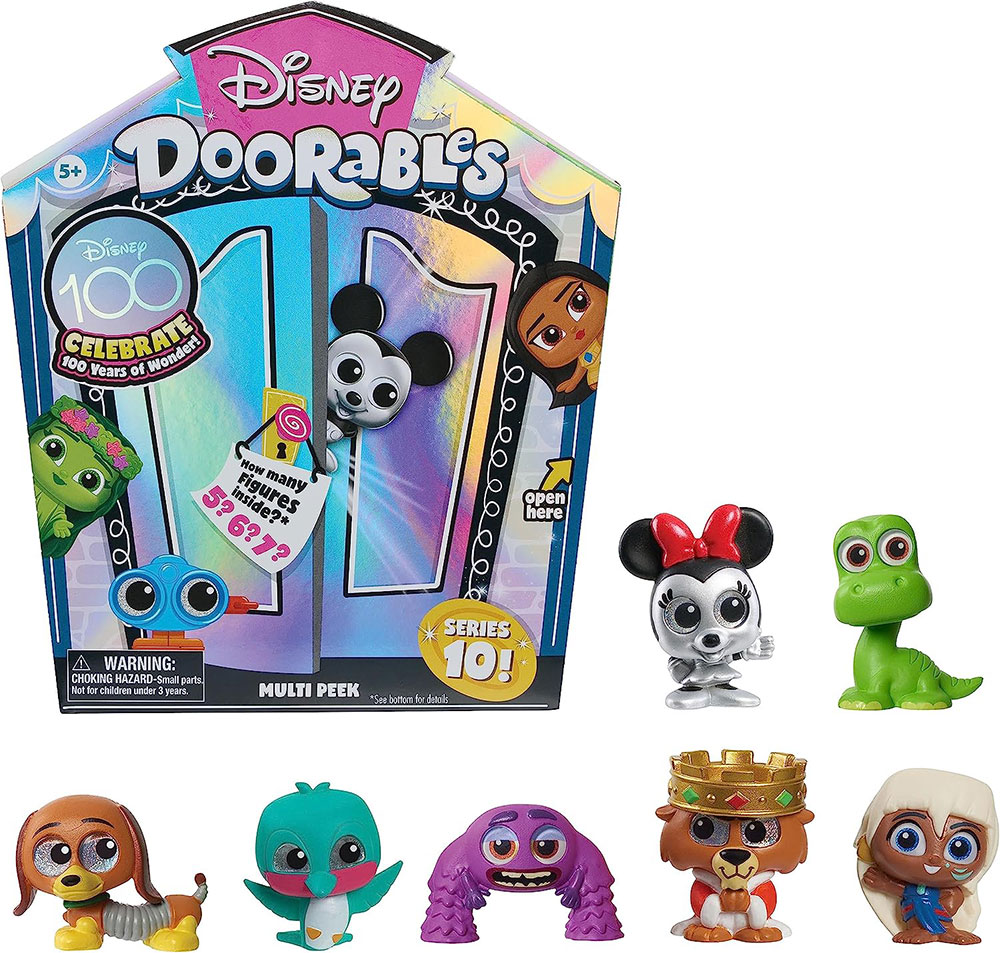 Disney Doorables Series 10 from Just Play:
Calling all collectors! The latest addition to the Disney Doorables lineup is here to make your toy collection even more magical!
If you're not on board with the Doorables craze yet, you're about to be because Series 10 is quite possibly the best yet! These tiny toys are here celebrating 100 years of Disney magic! Behind every door, a surprise is in store, but since Series 10 is a part of the Disney100 celebration, there are over 80 possible characters to discover, including a chance to find the ultra-rare limited-edition Mickey Mouse Disney100 figure – only 100 created in total!
Series 10 is truly for the fans, taking you on a deep dive through Disney history with never-before-featured Doorables from The Emperor's New Groove, Atlantis: The Lost Empire, Robin Hood, Pocahontas, and The Good Dinosaur, and special metallic editions of Minnie Mouse, Stitch, Jack Skellington, Snow White, Woody, Winnie the Pooh, Simba, Elsa, and Tiana.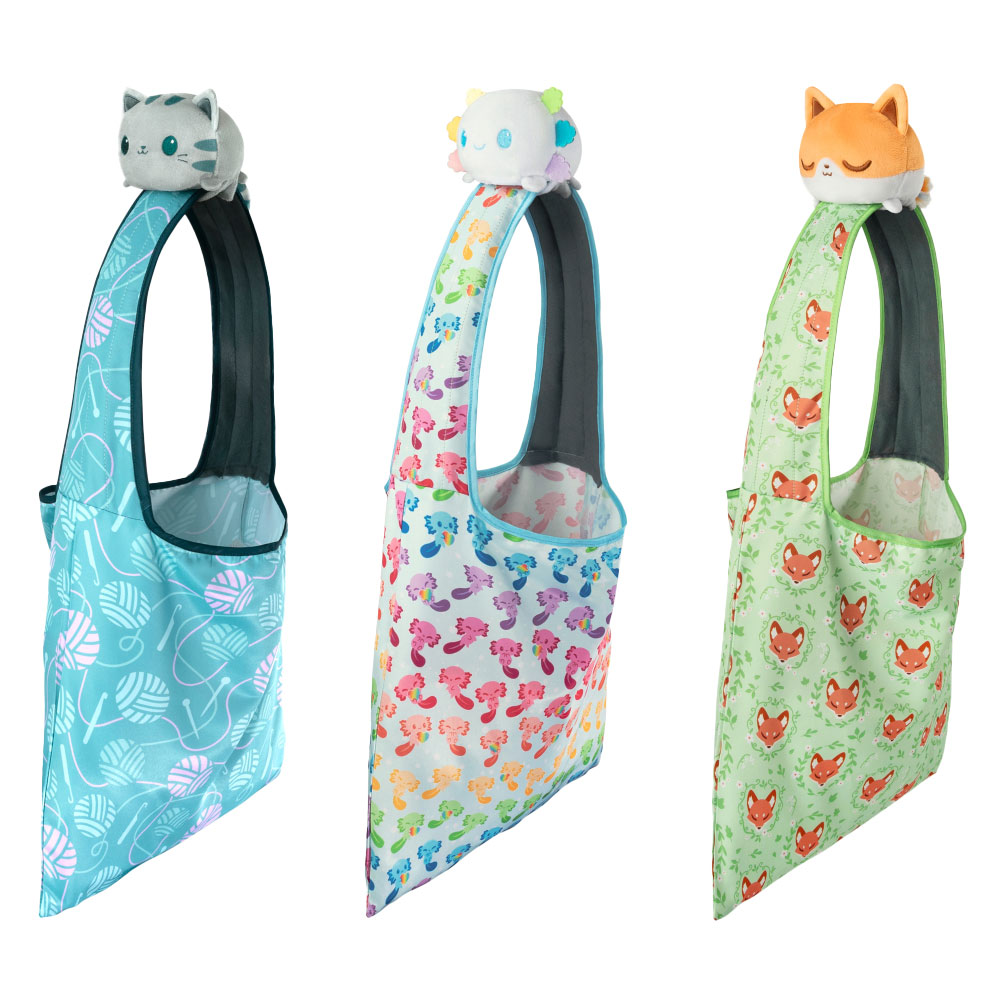 Plushie Tote Bags from Tee Turtle:
What could be better than a colorful bag to stash your stuff and an adorable plush you can cuddle?
Shoutout to the geniuses at Tee Turtle for this super innovative and useful new way to express your aesthetic while never forgetting to bring your tote to the store again. Each plushie tote features super cute (and super soft) plush you can snuggle, with a reusable tote hiding inside.
While you're rocking the tote, your new plush friend rides on your shoulder for maximum cuteness. Showcase your pride with rainbow axolotls, channel cottagecore vibes with a sleepy fox, and embrace your love of gardening with a smiling succulent.
Fill your tote with everything from beach reads to thrift-store finds and everything in between!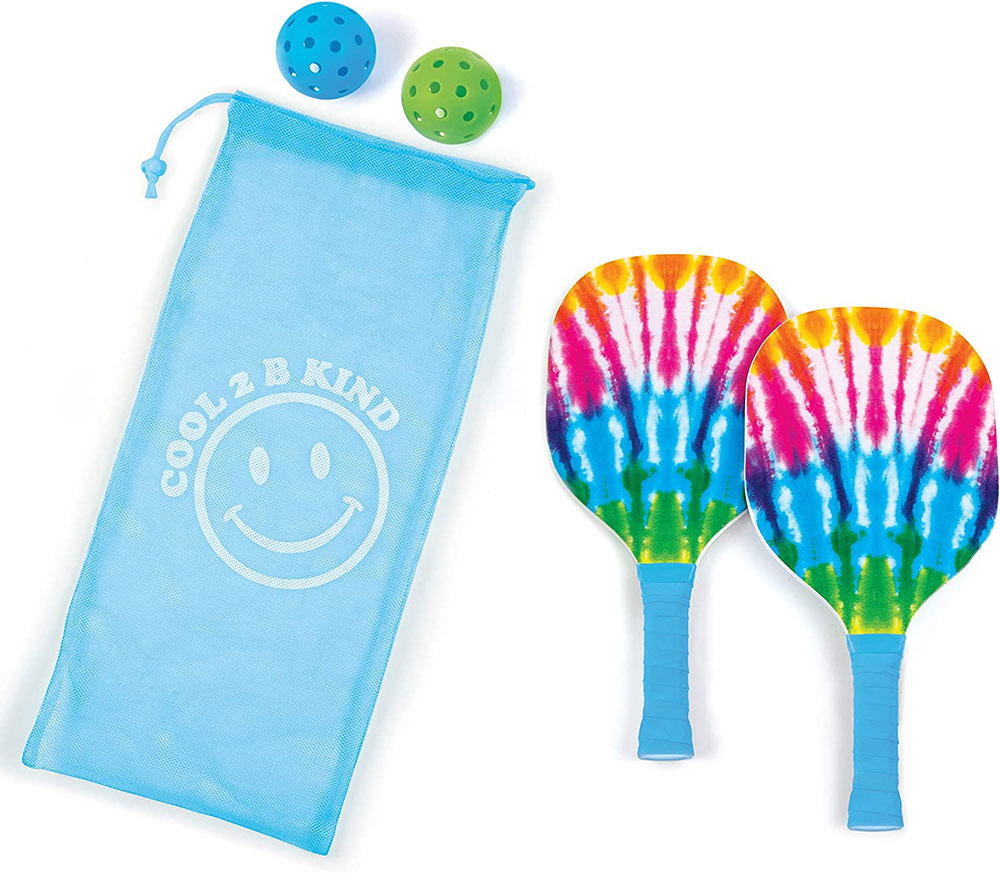 Pickleball Activity Set from 3C4G:
Dreaming of becoming a pickleball girlie? We've got the perfect way for you to jump into the craze and step onto the court with confidence.
Been hoping to try out pickleball but aren't sure where to start? 3C4G just released two stylish pickleball sets that make it easy to play in your backyard, at the beach, or pretty much anywhere your heart desires. Choose between an eye-catching tye-dye (seen above) or a pretty pastel adventure theme and then get ready to serve.
Each set comes with two colorful pickleball paddles, two pickleball, and a mesh drawstring back you can stash everything in so you can carry them along for months of warm weather fun!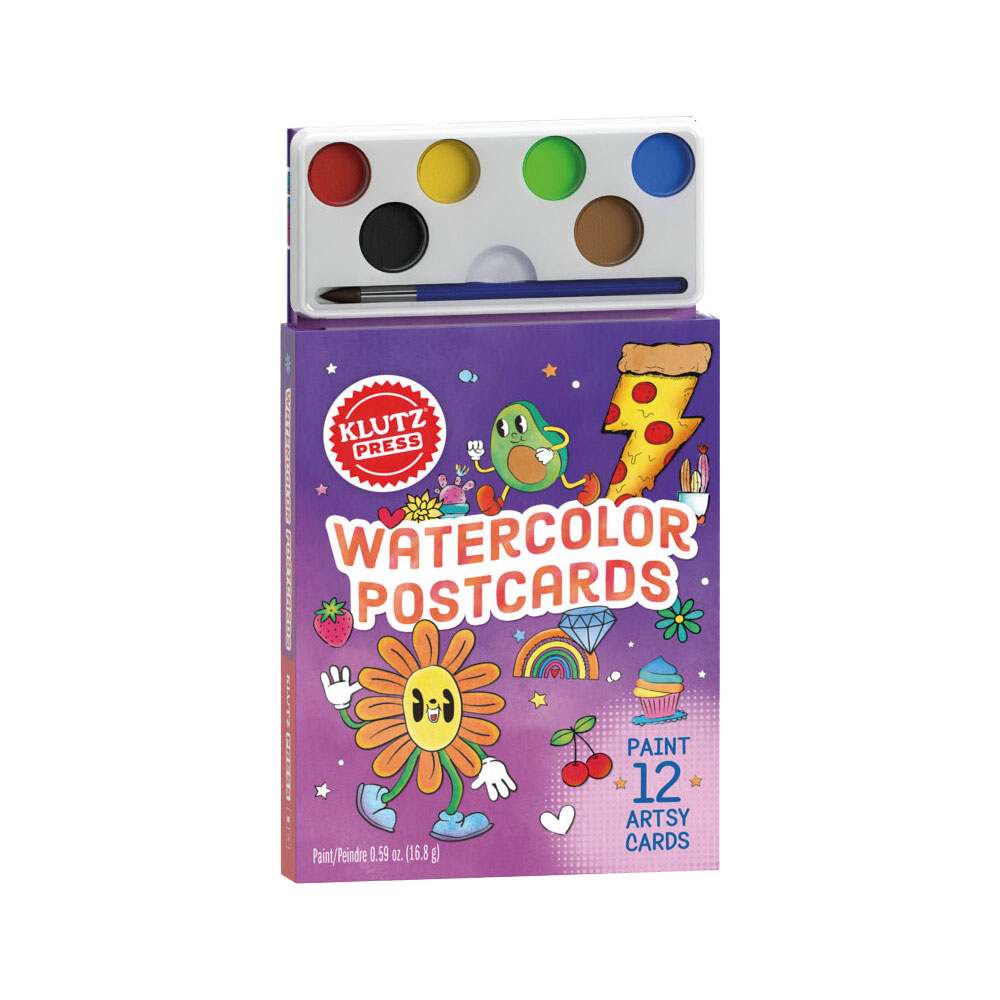 Watercolor Postcards from Klutz:
Summer break, you've met your match!
Our friends at Klutz always crush it, but this Watercolor Postcards kit is the perfect summer snatch. With 12 artsy cards to paint and six watercolor shades, you'll get an activity to keep you busy and a way to stay in touch with your besties while school is out or spread kindness while away at camp. The set also includes painting tips and techniques to transform your watercolors into full-on masterpieces.
Klutz thought of everything, so the entire kit can be easily packed away into your backpack or carry-on so you can take it along on all your summer adventures!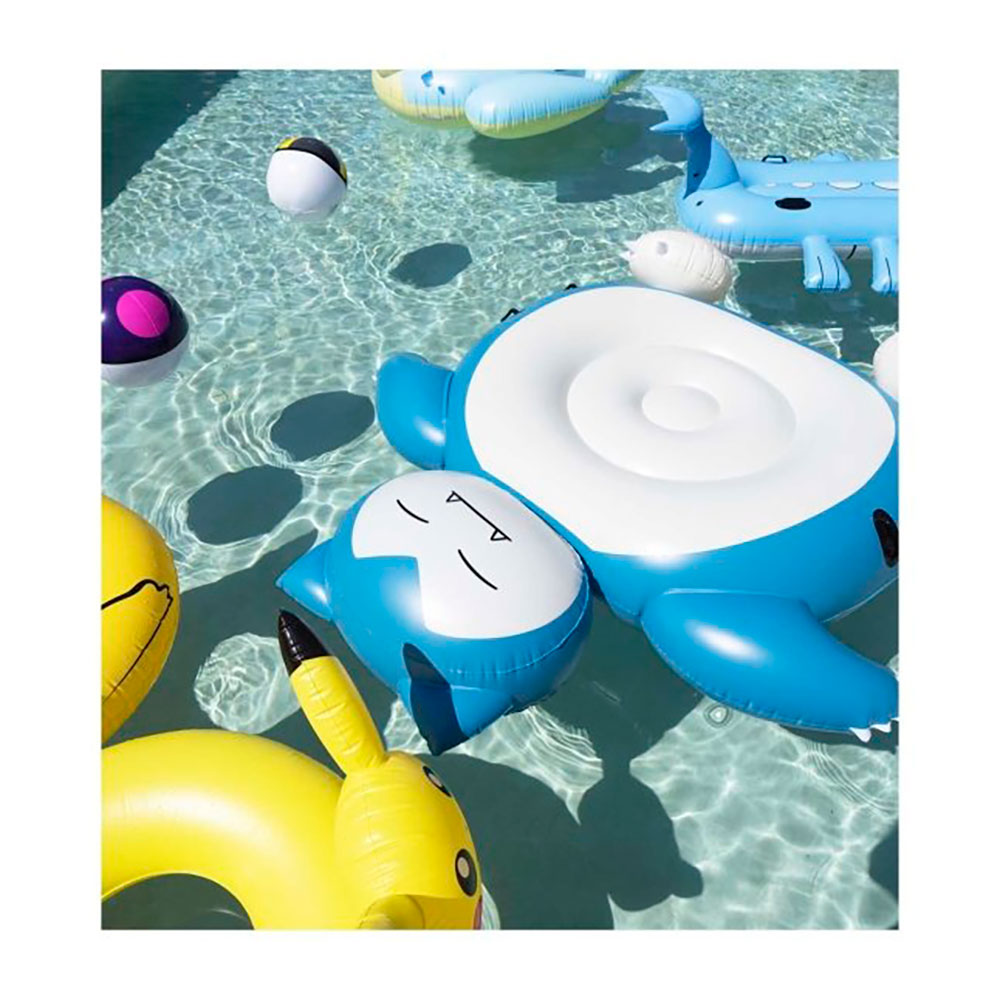 Lay poolside, Pokémon style, with these nautical new pool floats shaped like your favorite Pokémon!
Ranging from ride-on rafts like Lapras, lounge-worthy floats like Magikarp, and floaty innertubes like Pikachu, Pokémon is serious about making a splash this summer. Whether you catch 'em all or snag your favs, summer vacay will feel like an epic adventure through the Paldea region. You can catch us sunnies on, slathered in sunscreen, napping the day away on a Snorlax.
There are even Pokéball-inspired beachballs you can snag to feel like a true Pokémon Trainer!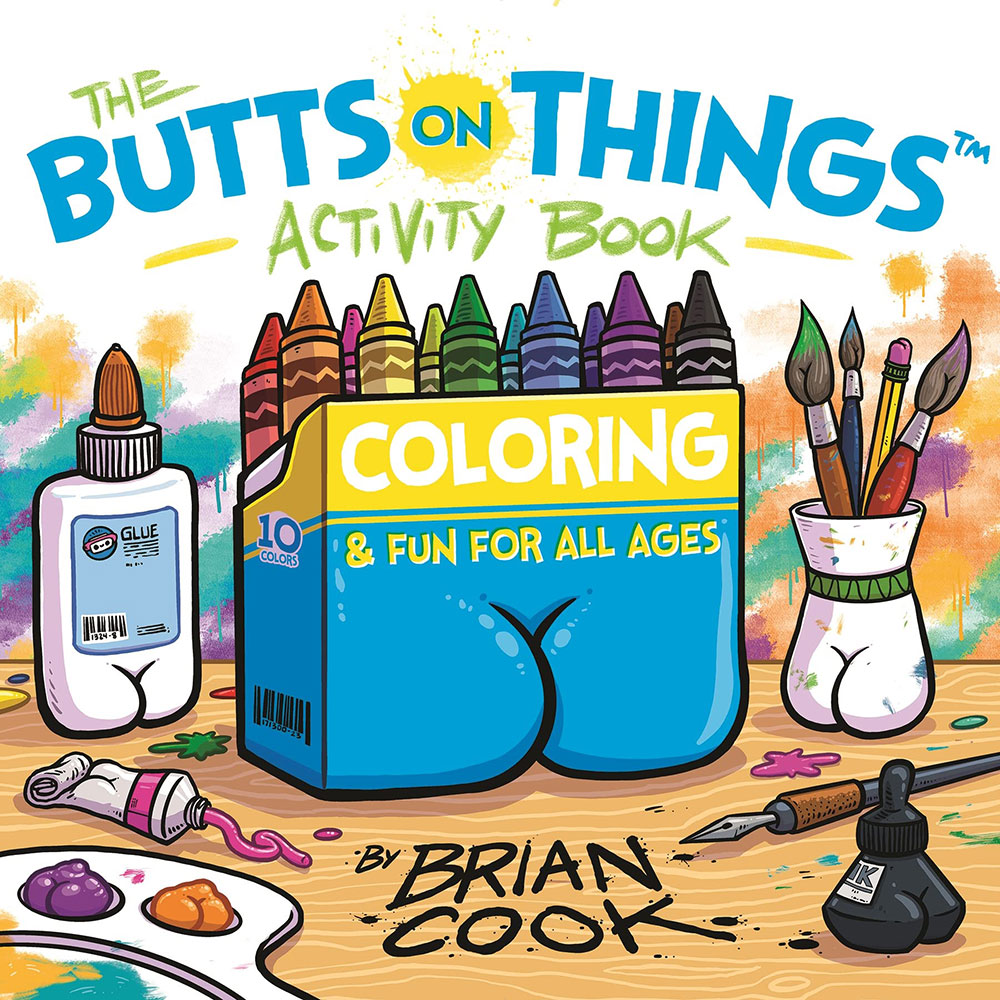 The Butts on Things Activity Book by Brian Cook:
If you can imagine it, Brian Cook has drawn a butt on it!
Known for his popular Butts on Things book, the hilarity continues in this interactive activity book filled with inanimate objects with butts. From coloring pages to mazes, these hilarious activities are the perfect boredom-buster for butt lovers! Unwind before bed by making your way through a tushie-shaped maze, or pass the time on a lengthy road trip by coloring a galaxy filled with butt-shaped planets.
You'll crack up while making your way through 40+ pages of LOL-worthy butt-shaped bliss!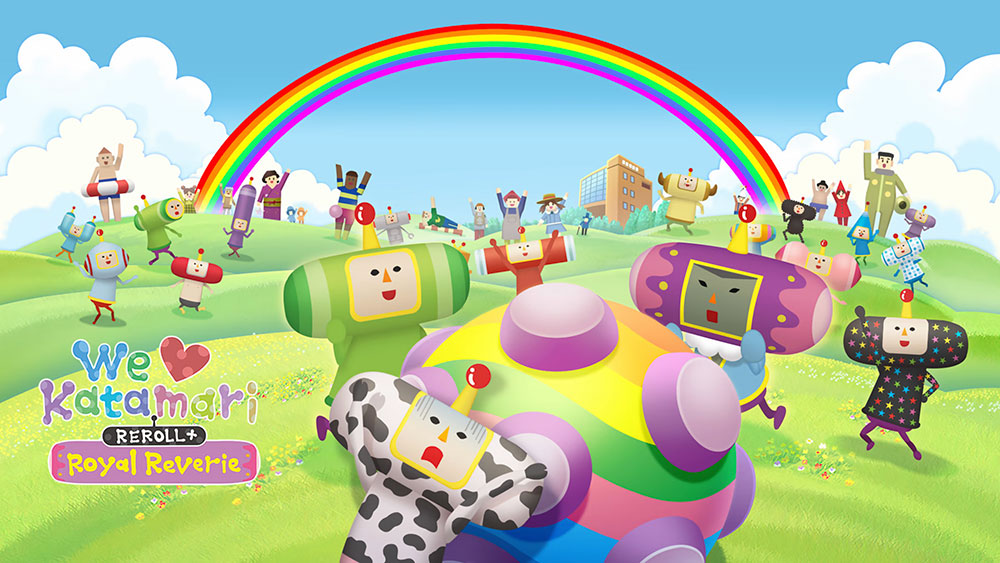 We Love Katamari REROLL + Royal Reverie for Nintendo Switch:
ROYAL RAINBOW!!!!!!!
We DO love Katamari, so we can barely contain our excitement about the newest REROLL. The King of the Cosmos is back in a fully remastered version of the sequel to Katamari Damacy. With fresh new graphics and the unforgettable soundtrack from the original, this new version is the best way to roll your heart out.
Step into the role of Prince of the Cosmos and roll up everything from paperclips and snacks to giraffes and cars as you grant wishes to adoring Katamari fans scattered around the park. Find the Cousins hidden within each level and try to beat your best scores as you roll the biggest Katamari you can. This new edition of the game comes with Royal Reverie, including a glimpse into the King of the Cosmos past and extra tricky levels where you get to roll as the young king.
Out now for Nintendo Switch, you can take this gloriously weird game along with you on all your summer adventures.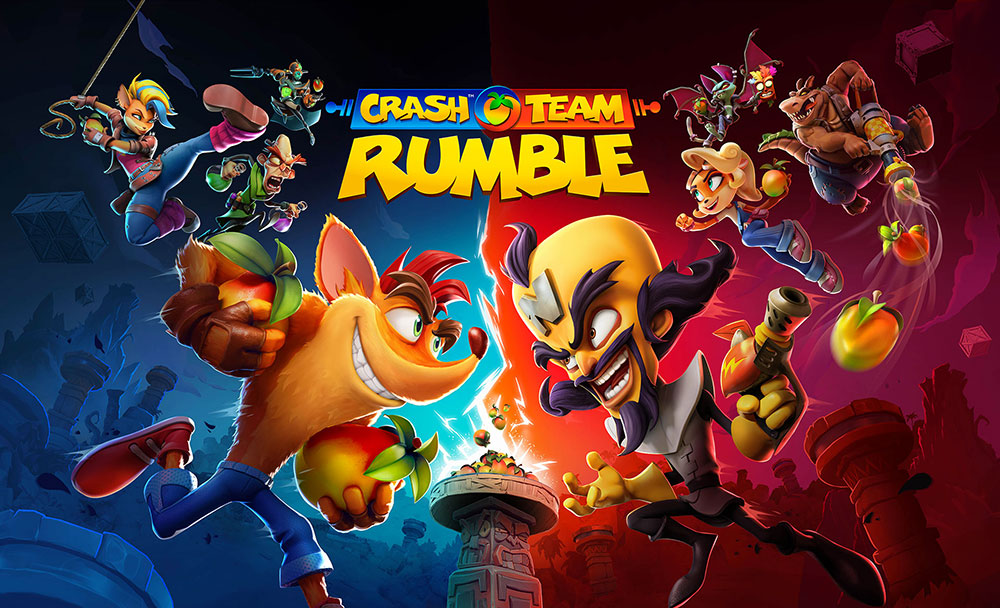 Crash Bandicoot and the gang are back – and this time, they're ready to rumble!
Move over peaches and strawberries – Wumpa are the fruit of the summer, and it's an all-out battle to claim as many as you can in this fast-paced team competition starring everyone's favorite bandicoot. Assemble your squad, strategize to battle the opposing team, and work to gather Wumpa fruit before the enemy while protecting your stash and capturing key points around the map.
Each iconic Crash character has a unique ability that gives you an advantage against the enemy. From Crash's powerful Superslam to Catbat's health-recovering Heal Burger, master each player's unique skills or choose a fav to main.
With more maps, modes, heroes, and rewards on the way, the rumble is just getting started!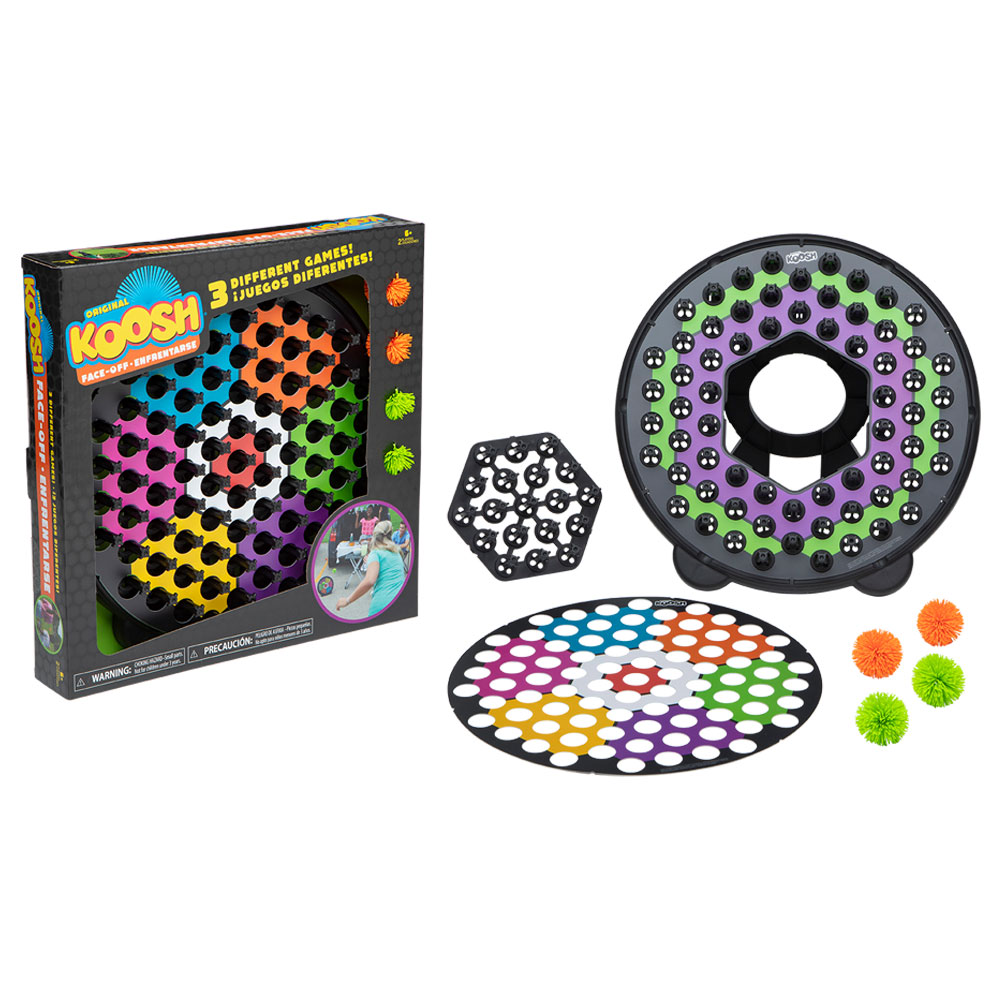 Face off against your friends with this awesome new Koosh target game!
With ways to play inside and outdoors, Koosh has you covered through summer thunderstorms and sunny days alike! With Koosh Face-Off, you'll set up the target, choose a faceplate, and toss Koosh balls until you claim victory. There are three different games – Around The World, Classic Champ, and Center Toss and the target can be set up on the ground, on a table, or even hung up on a wall.
Challenge a friend to see who comes out on top, or play solo to sharpen your skills and become the very best Koosh star you can be!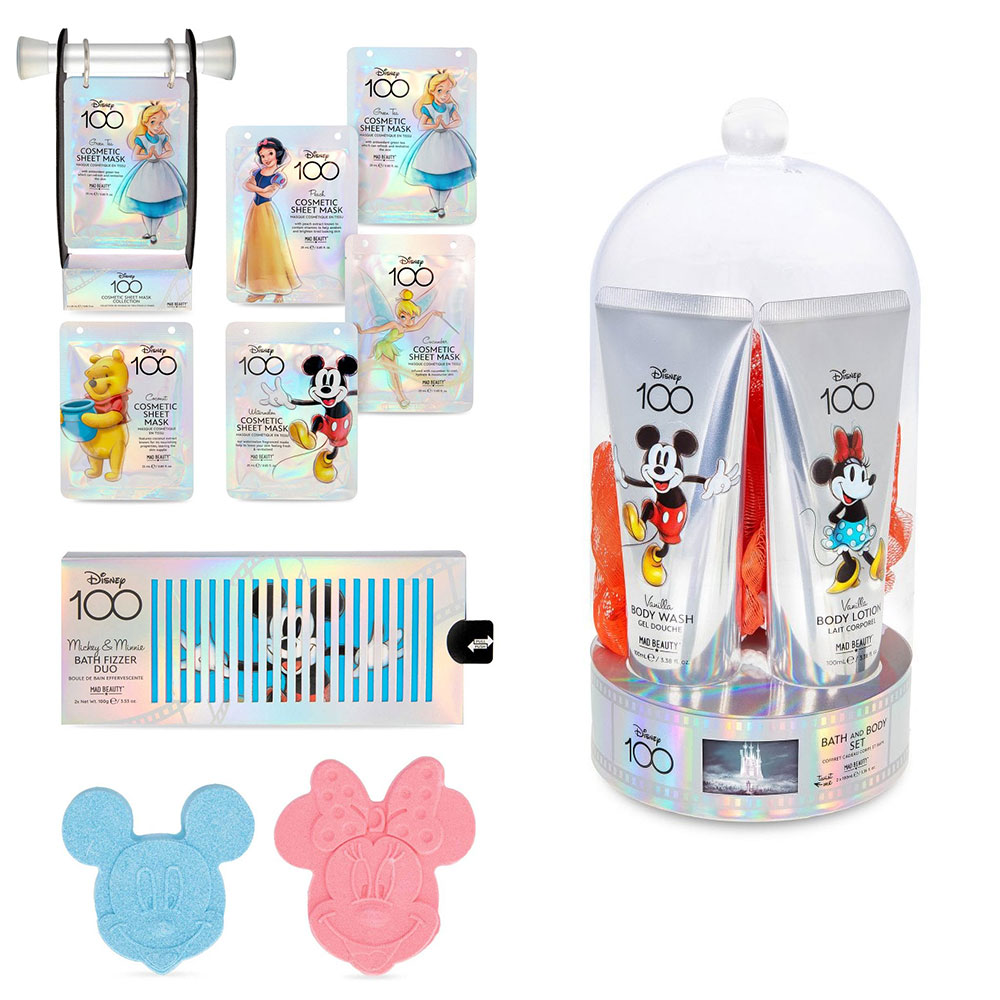 Disney100 Collection from Mad Beauty:
Infuse a little Disney magic into your GRWM vids with this enchanted new collection from Mad Beauty!
100 years of wonder calls for a serious celebration, and Disney has pulled out all the stops to make this a year-long party with loads of exclusive releases! Their collab with Mad Beauty features some of your Disney favs across everything from body wash and bath fizzers to lip balm and sheet masks.
Each product comes inside shimmering holographic packaging decked out with Disney characters and interactive elements based on classic animation techniques that honor the innovation Disney is known for, like the Winnie the Pooh lip-balm flip book or moving Mickey nail file.
No matter how you choose to add everlasting Disney magic to your routine, we know you'll look and feel enchanting!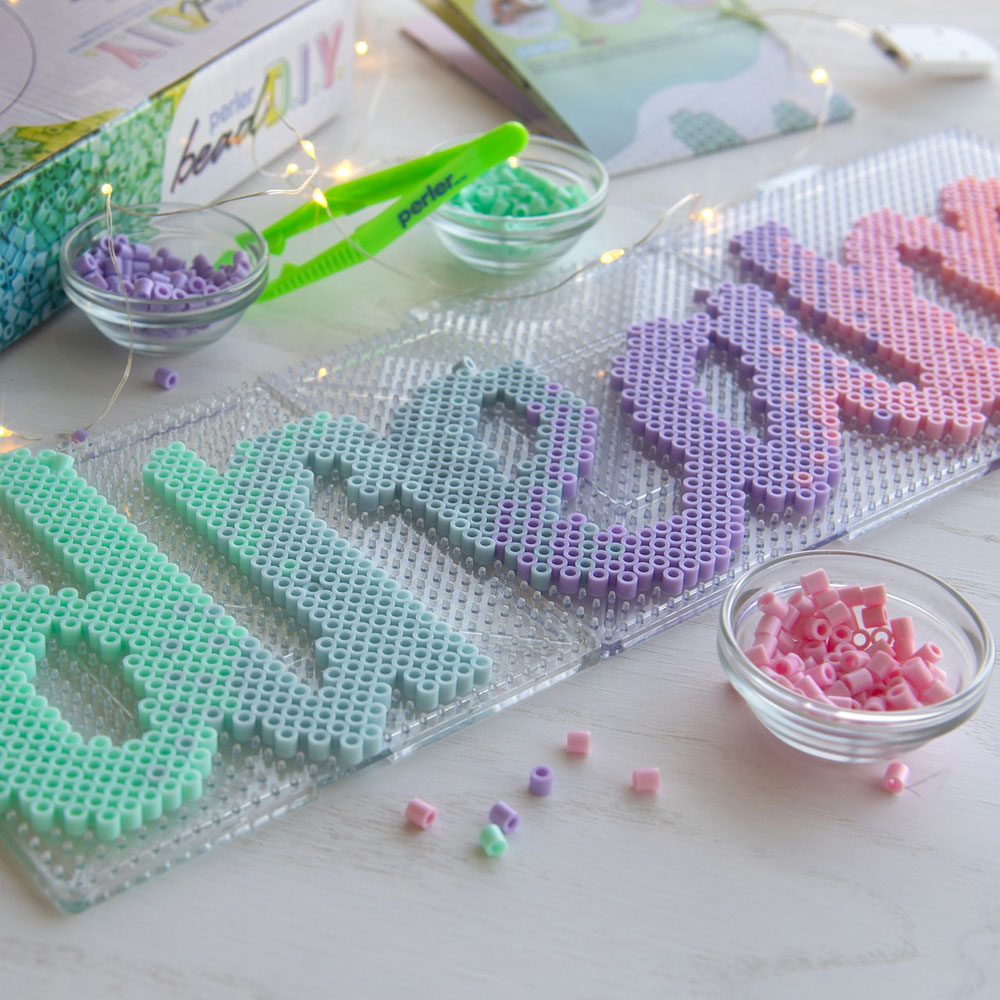 Bead D.I.Y. Dream Activity Kit from Perler:
Create dream decor with this new line of Perler Bead D.I.Y. kits!
Channel your artsy side with these new craft kits that make Perler beads the star! This dreamy DIY features everything you need to glam up your room and transform your bookshelf, desk, or study space into a zen oasis. Featuring everything from pretty pastel beads and a strand of twinkling fairy lights, chill out as you bring your dream decor to life one bead at a time.
While your favorite adult breaks out the iron to fuse everything in place, head to your room to pick out the perfect place to display your finished creation. We love the idea of kicking back in a fluffy bean bag chair and cracking open our dream journal with this fabulous craft shining in view.
Need more DIYs? This new line has something for everyone, from bead and paint canvases to tie-dye suncatchers and other amazing crafts to help you design your dream room!
😍 Keep an eye on our HEART EYES series for fresh new releases every month!