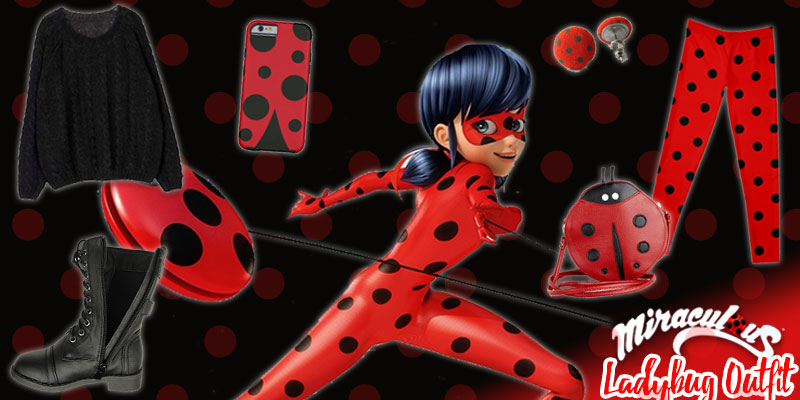 Miraculous Style Series: Ladybug Outfit
If you've been following our Miraculous Style Series, you've probably been waiting for this exact moment. The final character. The Ladybug outfit! If you're just joining us now, definitely take a peek at our looks for Adrien, Marinette, and Cat Noir to add even more Miraculous style to your closet!
Like we mentioned in our Cat Noir outfit post, we're taking the superhero looks in a much more casual direction. It's not exactly easy to find or wear an all leather polkadot cat suit to your babysitting job or if you're trying to just blend in and not get called on in class. Plus, people will probably walk up to you and be like "Hey, you're clearly a crime fighting ladybug! What's up with that?!". While that's nice at ComicCon or a Cosplay competition, we're definitely all about giving you an outfit you can actually wear any day of the week
Since polkadots are a bit hard to match with other polkadot items (or ladybug spots, we should say!), in most cases you're not going to be able to pair up a polkadot top with a polkadot bottom to give you that full body ladybug effect that Marinette has. Instead, what you can do is pick a polkadot top or bottom, and then pair it with a solid color for the opposite piece. Have a favorite black sweater? Pair it with polkadot leggings or pants. Have a cute polkadot top? Rock it with some solid red or black jeans. (Or red AND black jeans, like the two-toned ones in the gallery!)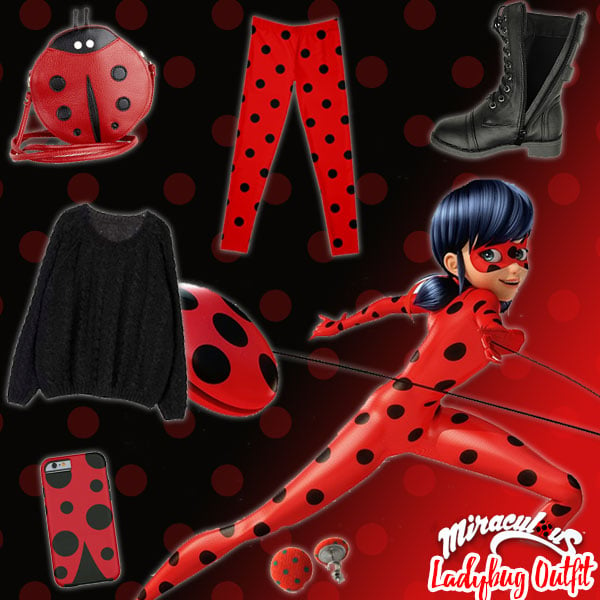 Since Ladybug doesn't really have specific shoes like Cat Noir does, you're free to interpret those however you'd like. Black combat or leather boots are a solid go-to that will match pretty much any piece you pick for your outfit and give a little edge to your look. We also added in some cute flats and sneakers to inspire you.
You can easily add in more ladybug spots when you go to accessorize. A ladybug purse and earrings that match Ladybug's real costume aren't too hard to find out in the real world. And don't forget those red ribbons to tie up your pigtails! If pigtails aren't your thing, try a polkadot hat or a headband instead.
Spots On, and you're done! You look totally amazing and if you're anything like the real Ladybug, you ARE amazing and can do anything from kicking bad guy butt to totally demolishing a pop quiz!