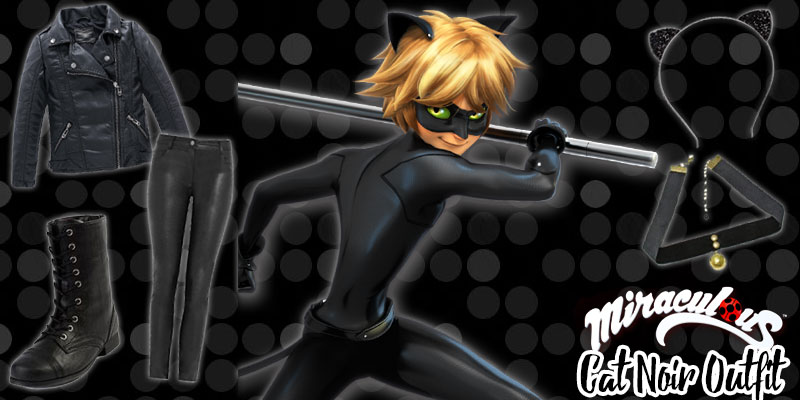 Miraculous Style Series: Cat Noir Outfit
Claws out, everyone! It's time for the next look in our Miraculous Style Series! Our previous look covered the charming style of Adrien, so this time around we're showing you how you can rock a purrr-fect Cat Noir outfit.
Since Cat's outfit is mostly just a black leather cat suit that isn't really suitable for everyday wear (though it's great for crime fighting!), we decided to do a more everyday spin on the outfit. Something that still says "I'm a totally kick-butt crime fighting wit-wielding cat, but I also sometimes have to go to school or take out the trash and I'd look sorta weird walking around in a one piece cat suit."
Instead of a tight leather top, you can rock a black tee with a leather jacket. You'll get all the edge of a crime fighter and still be totally comfy. If you want to take the look a little further, try a leather tee or peplum shirt or even a regular tee with leather pockets or sleeves.
For bottoms we suggest either leather pants/leggings or just going the route of regular black skinnies or leggings. The leather will be more authentic, but less comfy for all-day wear. (But perfect for doing a weird Mr. Pigeon luring dance for no reason!)
Shoes of course are just black leather boots. Cat Noir's are flat, but feel free to add a heel if you're not really going on any big adventures where you need to run around a lot. We also found some super adorable boots with kitties on them that are an absolute must-have for any cat lover.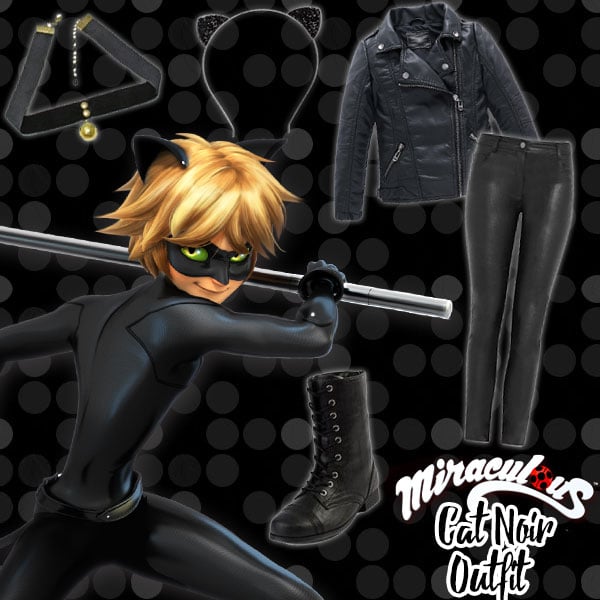 To accessorize your Cat Noir outfit, you can don the cutest black cat ears you can find. For a more fashionable look, try one of those thin cat ear headbands that are on trend right now. For a more true to the real thing look, they make furry clip-in cat ears. The tail is optional, based on how authentic you're trying to be. It's fun to swing around, but it might get caught in the door if you're late and running to catch the bus. Add a leather belt, a cat bell choker or necklace, and some black gloves and you're set. Purr-fection!
All that's left is to put your claws out and no one will suspect your secret identity of just a regular kid! Stay tuned for our Ladybug Outfit later this week. It's the last look in our Miraculous Style Series, and don't forget to check out our Marinette and Adrien looks if you're going for a more casually inspired Miraculous style!