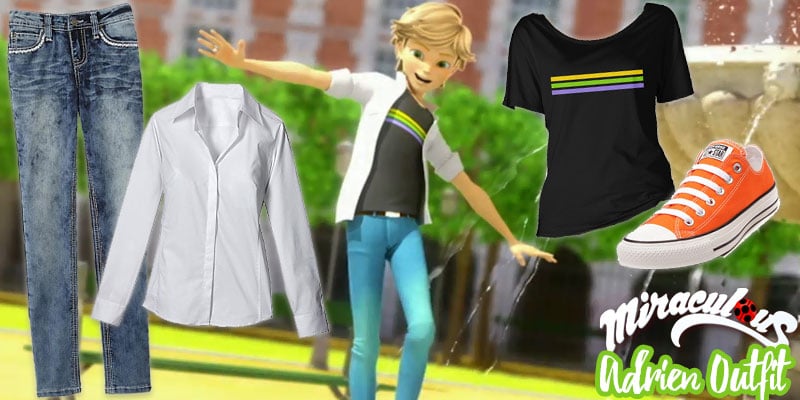 Miraculous Style Series: Adrien Outfit
Last week we posted our Marinette inspired outfit, and you guys went totally crazy for it. It was one of our most popular lookbooks we've ever done besides Disney Descendants! Since you guys liked it so much, we figured it was time to share our next look so you can dress like the charmingly adorable (or adorably charming?) Adrien!
Adrien's style is pretty easy to replicate. Grab a white collared shirt, layer it over a black tee, throw on some jeans, and add a pair of orange Chucks. Mess up your hair a bit, and any fan of Ladybug and Cat Noir will stop you on the street to ask you if you're THE Adrien Agreste.
If you're looking for Adrien's exact shirt, that'll be a little tricky since it's not really sold in stores (Though it's been announced that Nick will be releasing some official merch in the fall, so maybe you can get your paws on a shirt like his soon.) You can tend to find fan-made versions online, but if you don't really mind not having his exact shirt (or feel like adding your own twist) it's still a pretty easy look to mimic.
A plain black tee is a great option, and most people already have one in their closet. You can also go for different stripes or just pull from the black/white/yellow/green/purple color palette to interpret the look however you'd like. As the son of a famous fashion designer, we're thinking Adrien would be pretty cool with you rocking this look however you see fit.
If it's cold where you live, try a white denim or leather jacket or even a cardigan instead of the white button down for the same effect, but warmer!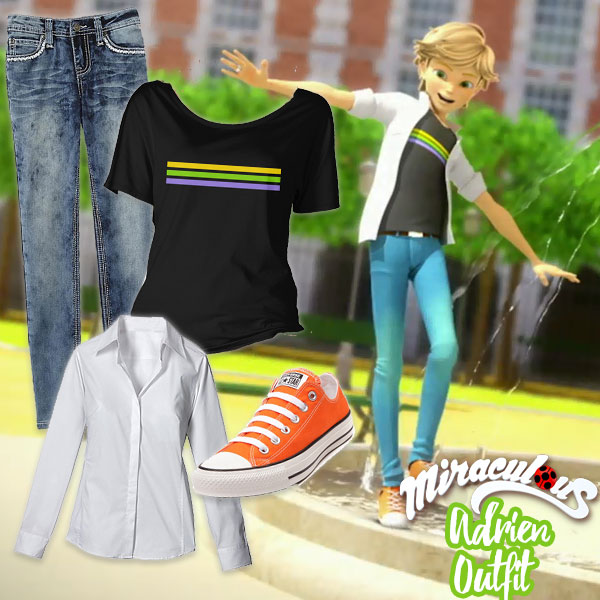 To accessorize the look, add a silver ring, a black belt with a silver buckle, and a messenger bag. When Plagg isn't in the ring, Adrien's is just a simple silver band. We tossed a few options, including an adorable cat ear ring, in the gallery above to inspire you. We also included a few cute choices for belts, messenger bags, and even some other paw print and a butterfly accessories. (Fun Fact: Adrien's sneakers have a butterfly on them!)
Our Miraculous Style Series will continue soon with Cat Noir and Ladybug inspired outfits, but until then, check out our Marinette outfit and our Miraculous Quiz to find out if you're more of a Ladybug or a Cat Noir!