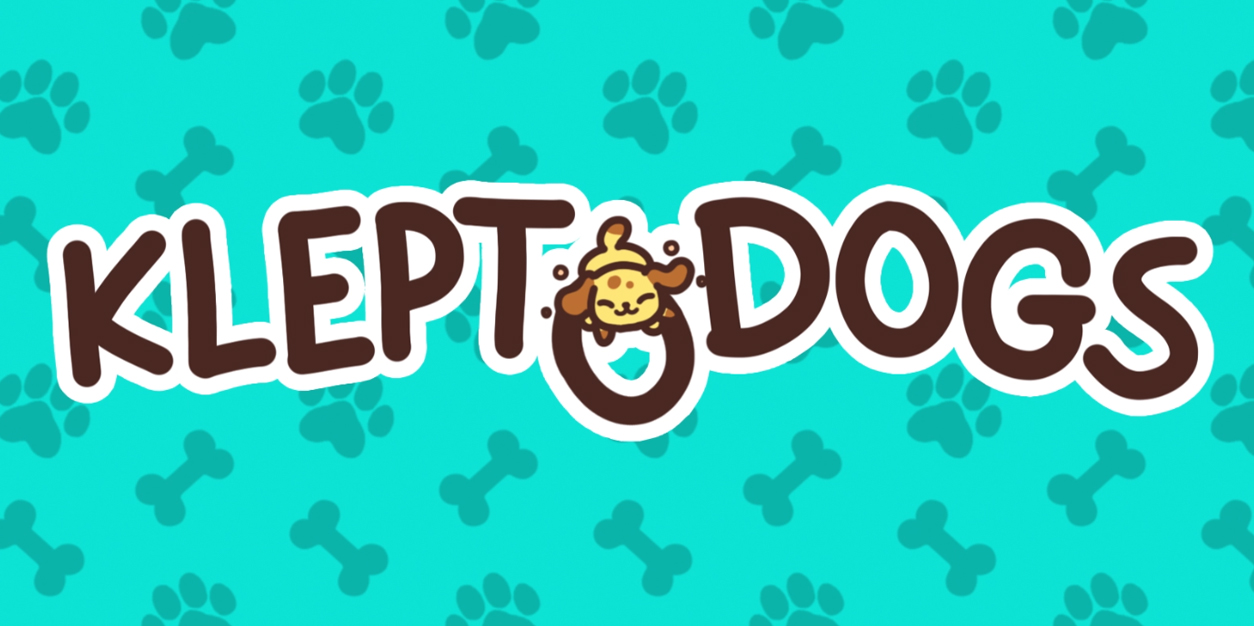 KleptoDogs Review: An Adorably Barktastic Companion to KleptoCats
Note: We received free in-game currency from HyperBeard in exchange for a fair and honest review of KleptoDogs. All opinions are our own; we were under no obligation to give a positive review.

If you're anything like us, you've sunk countless hours into HyperBeard's KleptoCats and KleptoCats 2 unlocking new cats, dressing them up, and sending them out to collect the hundreds of available in-game items. If you've ever played KleptoCats and thought to yourself "This game is the best, but I'm more of a dog person!", you're in luck because as of last week, KleptoDogs is totally a game that exists! You can check out the trailer here.
What makes KleptoDogs so great? We're about to tell you. Here are all the reasons we love the game!
5 Barktastic Reasons We're Loving KleptoDogs:
Gem Dog is the STAR!
That's right! Just like how Guapo is the main cat in KleptoCats, Gem Dog is the adorably fluffy star of KleptoDogs. We're personally very excited that Gem Dog has finally gotten the recognition he deserves. It's his time to shine!
So how do you play? If you have ever played KleptoCats, you'll find KleptoDogs is very familiar. It plays similarly to the original KleptoCats with the freshly updated art stylings of KleptoCats 2. But with dogs. Really stinkin' cute dogs. If you've never played before, it's incredibly easy to pick up. Send Gem Dog out, wait for the timer to run down, see what surprise he returns with. These items will be added to your collection. Repeat over and over until you've collected them all, but don't forget to stop and give Gem Dog a treat, a pet, and a wash to show him what a good boy he is.
Tons of Cute Doggos
We're KleptoCats die-hards here at YAYOMG!, so we didn't think there would be too much that surprised us when sitting down to try out KleptoDogs. It's basically the same game with dogs, right? And while the answer to that is mostly yes (though it genuinely doesn't take away from any of the fun, even as someone who's put a LOT of time into playing them), there was one thing we were really blown away by. There are SO MANY CUTE DOGS.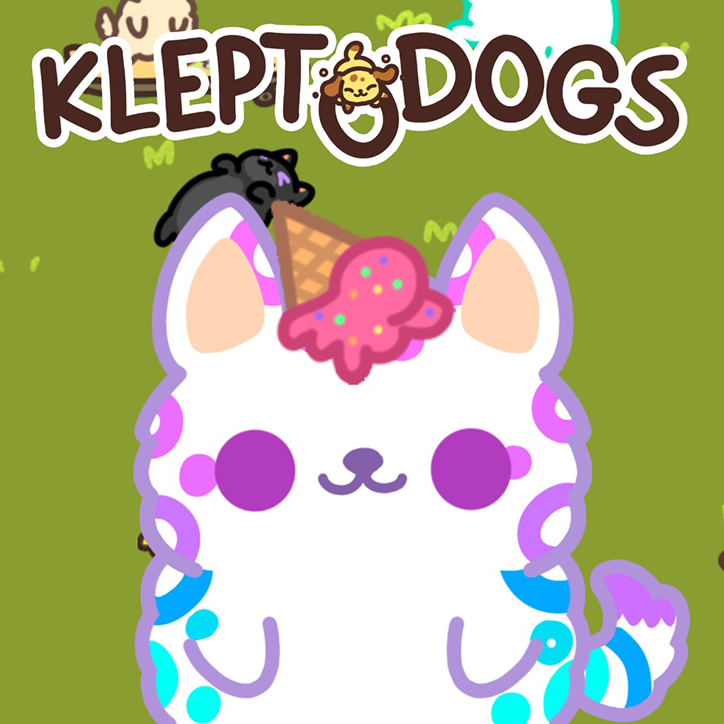 The KleptoCats all have pretty much the same base look and are differentiated by their unique colors and patterns. In KleptoDogs, HyperBeard has gone above and beyond, offering up not just different colorings, but different breeds as well. There are currently 30 dogs to collect in each room, spanning a variety of different breeds. (Yes, there is a Corgi!) More dogs will be added in future updates, but for now, these 60 doggos should take you awhile to unlock at 8 gems each.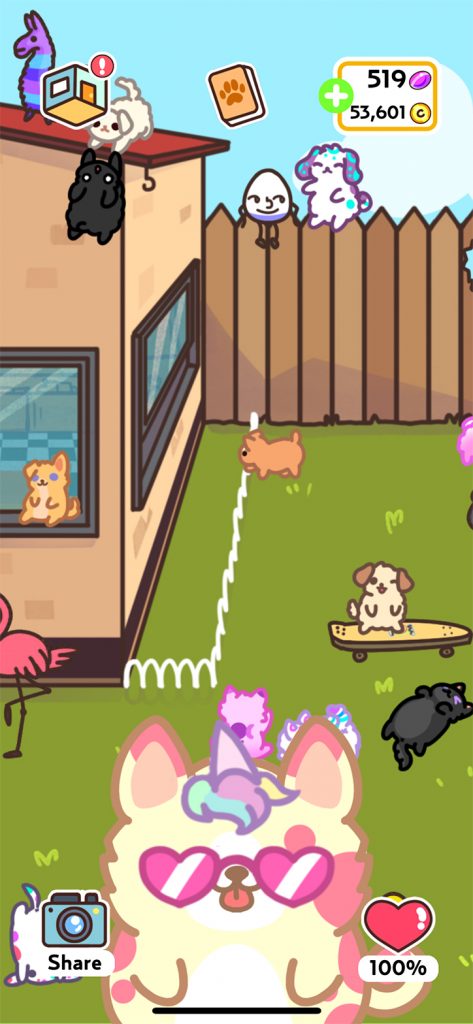 Each dog comes with their own adorable name, fun personality, and can be dressed up using the items in the Boutique. Which is our favorite? We love all of our little puppers, but if we had to pick, it would be a toss-up between SnoopDog, Bella, and Miki. SnoopDog looks just like Snoopy and we're loving the colors on Bella and Miki. Miki, who can be seen above with the ice cream on her head reminds us of Lisa Frank!
Relaxing and Cute
Just like it's predecessor, KleptoDogs is relaxing and fun. The thing we love most about HyperBeard's games is that they're all about the fun of collection and surprise. Like tearing open a new blind bag or surprise reveal toy, you never know which items your dog will bring back for you or which breed you'll unlock next. It never fails to put a smile on our face.
Super Fun Mini Games
Since dogs love to play different games than cats IRL, KleptoDogs comes complete with 3 brand new mini-games to play with your loyal puppy companions. Head to the Barkcade and join your favorite pup for some hoop jumping, hole digging, and snack catching! Playing the mini-games will help you pass the time while waiting for your dogs to return as well as help you bank some extra coin.

Lots to Collect:
Since the main objective of the game is collecting, HyperBeard has given you lots of ways to do it! You'll start the game off in the Backyard with Gem Dog by your side. As you play, you'll be able to unlock a second room, the Kitchen, as well as 60 total dogs. Your dogs will bring back items from their travels that will slowly start to fill your inventory, as well as each of the scenes. It's always fun to watch how the items and cats change the background as they start to fill in the scene.
The Backyard has 101 items to collect and the Kitchen has 100, totaling a whopping 201 items to discover. Like in KleptoCats, many of the items are references to real-world things and pop culture moments, so keep a keen eye out for references and puns.
In addition to all of that, if you're a hardcore collector, you'll also want to unlock all the items in the Boutique. This will be a little trickier, as these items cost coins and gems, but we know you're up for the challenge! Plus, these items can be worn by the dogs. Who doesn't want to deck their dog out in cute little outfits and accessories? We sure do!
Final Thoughts:
All in all, KleptoDogs is a great choice for anyone who loves collecting, cute dogs, and simple, yet addictive games. It's easy to play, ridiculously cute, and doesn't take up too much of your time at once. If you liked KleptoCats, you will definitely love KleptoDogs, but newcomers to the series will enjoy the experience as well. The game is now available on iOS and Android and is free to play. There are some in-app purchases available, so be sure to ask a parent for permission before spending any real cash.
So far, the game doesn't seem quite as mysterious as the KleptoCats series, but since we all know cats are weird, mischevious little creatures and dogs are happy, fun-loving pals, that could explain it. But, who knows what's to come in future updates. We'll definitely be looking forward to it.
If you like KleptoDogs, check out our review of some of HyperBeard's other games, KleptoCats 2, Clawbert, and Chichens!