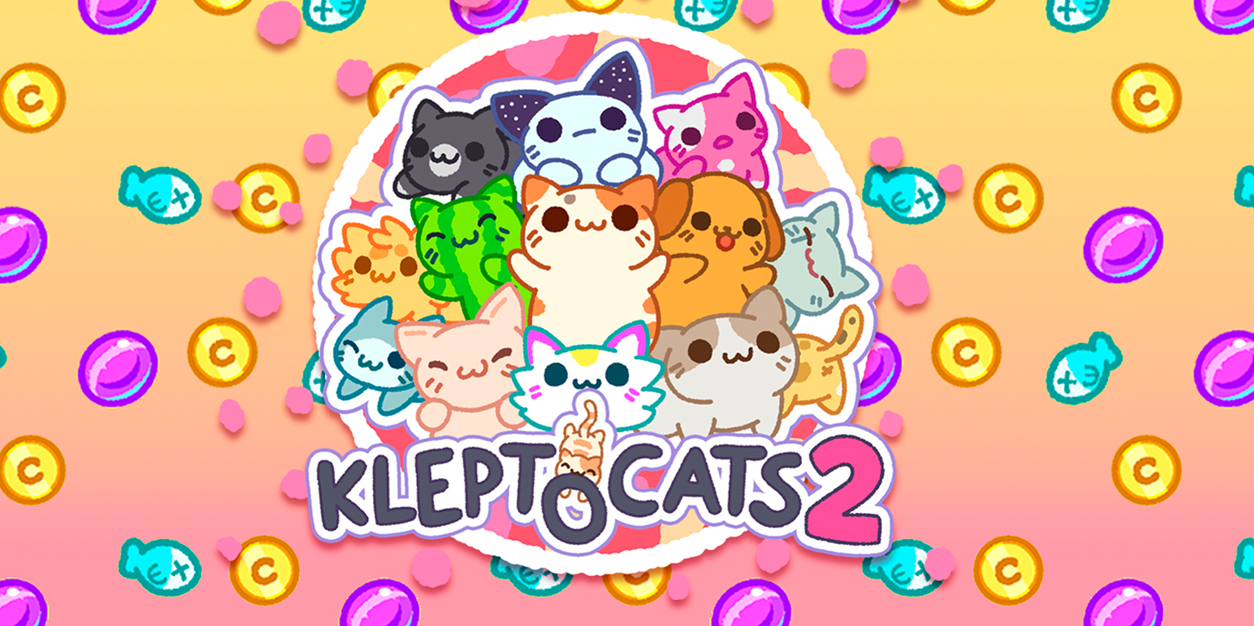 KleptoCats 2 Review: A Totally PAW-some Sequel
Note: We received free in-game currency from HyperBeard in exchange for a fair and honest review of KleptoCats2. All opinions are our own; we were under no obligation to give a positive review.
The KleptoCats are back and they're here to steal your heart! (and a whole lot of stuff!) The highly anticipated KleptoCats sequel, KleptoCats 2, has finally arrived on iOS and Android from HyperBeard. This new version of the game takes everything you love about the original and builds on it by adding in some fantastic new artwork, a more engaging story, and lots of new kitties! The great sense of humor and looming sense of mystery and evil is still ever-present throughout the game, and we're definitely loving it. Not convinced? Read our review below to find out everything you need to know about the game!
Everything You Need to Know About KleptoCats 2:
If you've played the original, you'll be able to jump right into KleptoCats2. On the surface, the two games are pretty similar. Send your cat out into the world, wait a little bit, and see what crazy surprises it comes back with. If you're new to the KleptoCats universe, this is the version you want to get in on. Your gameplay experience kicks off with a little glimpse into the mischevious story and the ever so slight looming dark side of the game. A quick tutorial takes you through the most essential elements of the game, like caring for the cats, sending them out on adventures, and the other need-to-know basics.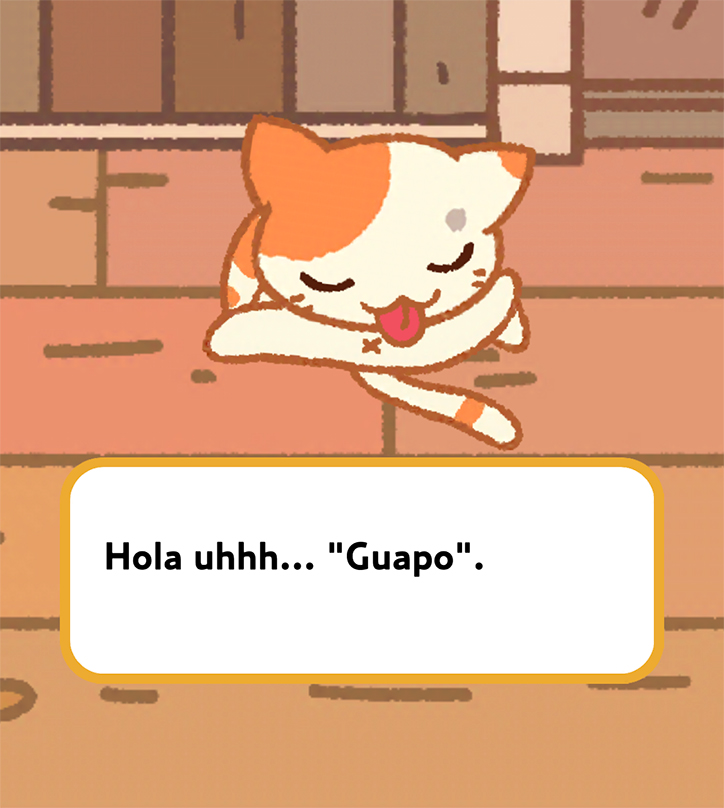 As of the date of this review, there are 15 cats to collect and 3 rooms to unlock with lots of items to find in each. You'll start the game with one cat, Guapo, who you can send out on a mission. When he returns, he'll bring you a gift in the form of an item, puzzle piece, or coins. As you progress through the game, you'll build up your collection of both treasures and cats, discover hidden secrets, and uncover the lore of the KleptoCats.
Sometimes you'll notice that your cat gets dirty, hungry, or sad. Just tap on your kitty to feed, pet, or clean them and then they're ready to go back out into the world to steal more stuff. If the original game is any indication, we're in for a TON of updates, including new cats and items to collect, new rooms to unlock, outfits to buy, and a whole lot more fun!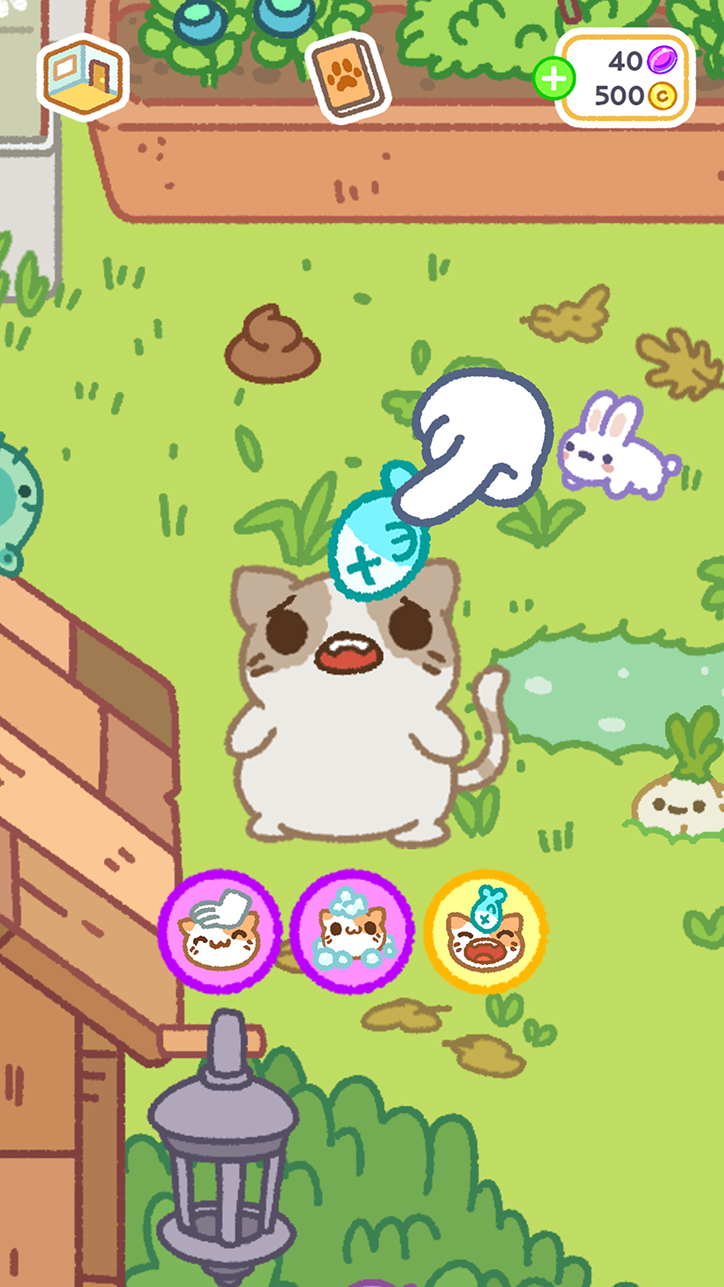 We love the way HyperBeard always sprinkles their games with jokes, puns, and pop-culture references. We unlocked a starry cat named Neal D with the bio "We are made of star stuff." and is based on the amazing astrophysicist, Neil DeGrasse Tyson and one of our cats brought us back a sad looking axe that says "It ain't the sharpest tool in the shed." As of now, you can't dress up your cats like you can in the original, but the menu shows that the Boutique is coming soon.
So Many Secrets:
Like KleptoCats, KleptoCats 2 is packed with lots of hidden secrets for you to discover. Some are a little harder to find than others, so our advice is to click on everything and always be on the lookout. You never know which item your cats will bring back that that contains a clue. There are two types of secrets – ribbon rewards and safe passwords.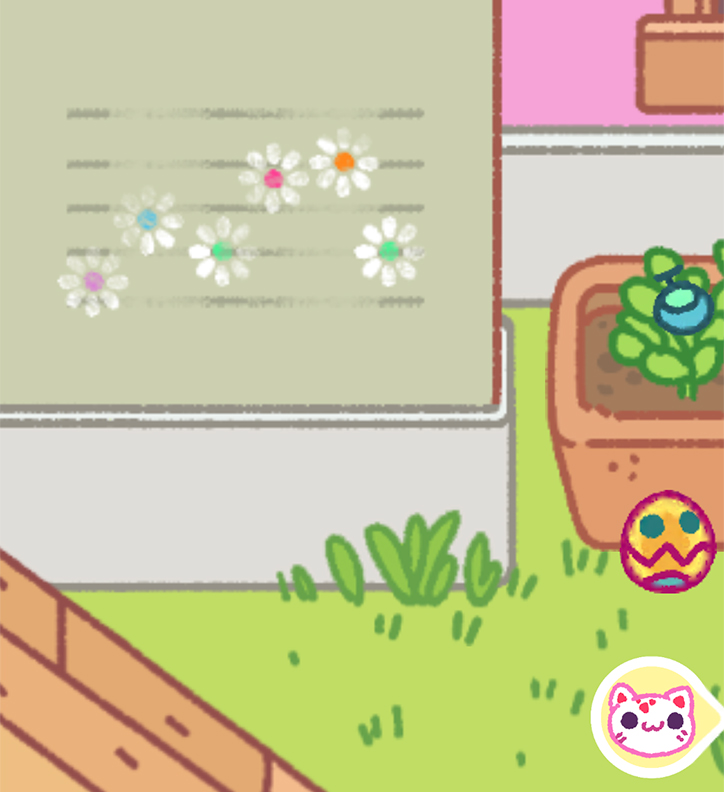 To unlock your ribbon reward for each room, you'll have to figure out the hidden puzzle. We don't want to spoil anything, but we'll give you one hint. See those colorful flowers on the wall on the far right of the Patio? Remember those; they'll come in handy for unlocking your purple ribbon for that room. You'll also earn ribbons for finding all the items in each room as well.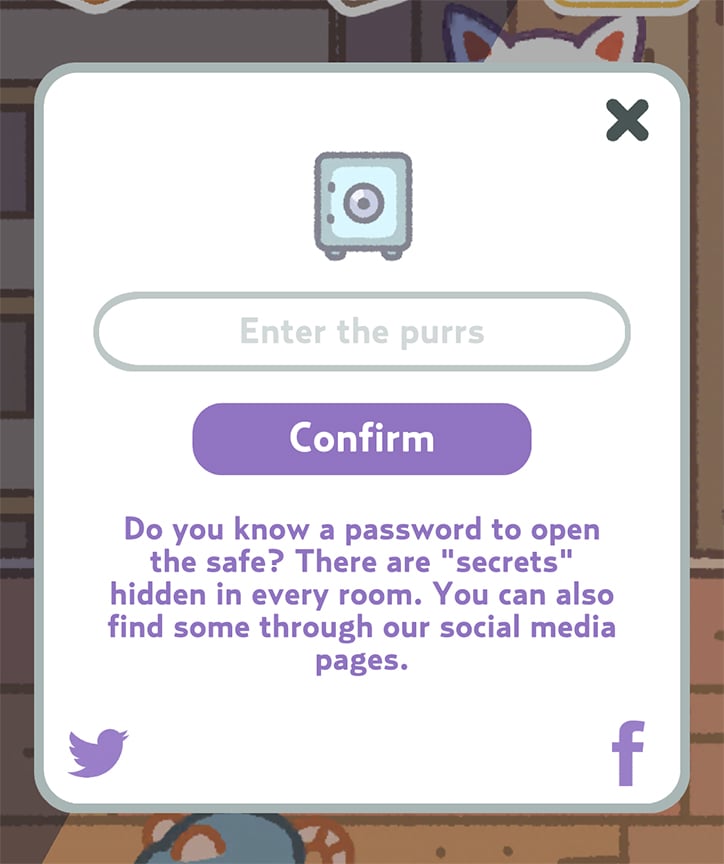 Safe Passwords are a little trickier. These are found by piecing together clues in the game. Anything that looks like it might be a password usually is, so don't be afraid to type it into the safe. You'll want to be on the lookout for hidden words, codes, or even special symbols. Sometimes you'll have to figure out a code or put two clues together in order to complete a password, so never give up – they're worth the trouble as solving the safe secrets earns you gems! The Rooms menu displays how many safe secrets there are to find and tracks your progress, so always check back to see if there's anything you might have missed.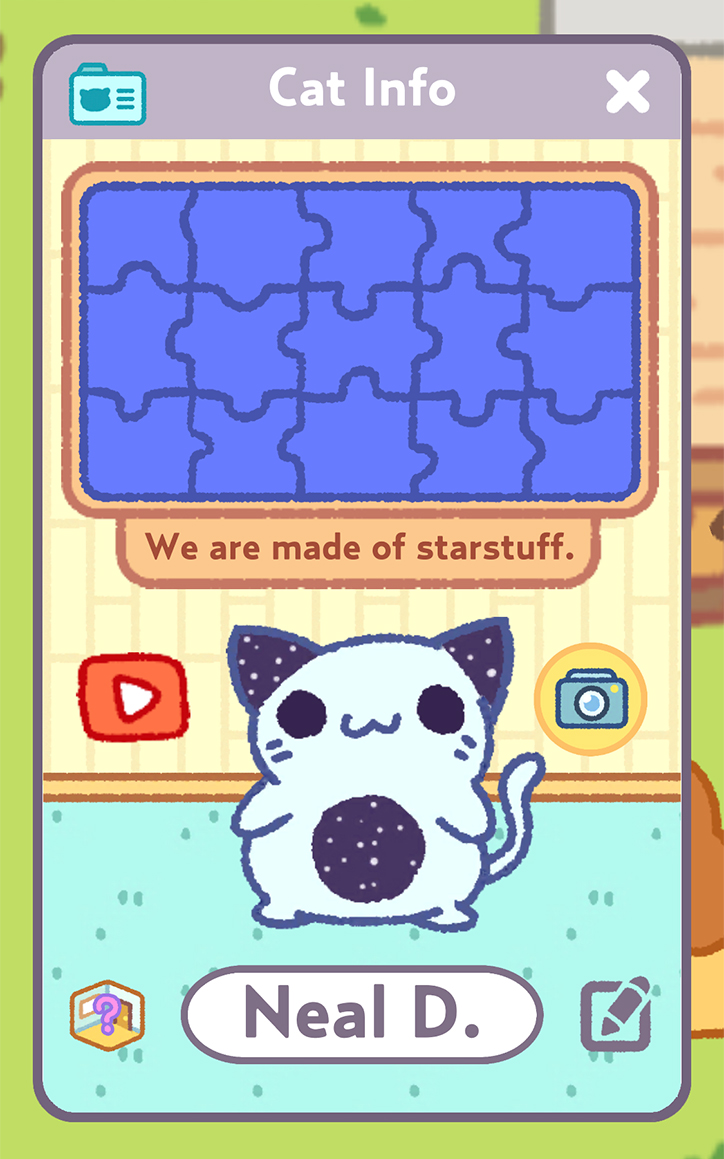 You may notice that sometimes your cats bring back a puzzle piece. If you collect all the pieces for each cat, you'll get to see a special image that reveals a little more about the mystery of KleptoCats lore. If you're like us, you're probably always wondering where the kitties came from, where they go when they hop through the portal, or how they always manage to steal stuff without getting caught. The puzzle pictures reveal a bit about this, but HyperBeard is also working on a KleptoCats animated series that explains even more. You can find the pilot episode by clicking on a cat in the Cat-alog and clicking the Play button OR watch it now, by visiting HyperBeard's YouTube channel. We can't wait to see the rest of the episodes!
Coin Collecting Tips:
Coins can be used in a few different ways. If you're someone who's all about collecting every item and every puzzle piece, you'll want to try to earn as many coins as possible so you can send out multiple cats at a time. The first cat is always free to send out, the second is 100 coins, and the third is 180. If you're more interested in unlocking all the cats, you'll need gems more than coins. You can also use coins to purchase gems from Gem Dog. (Or buy them from the shop.)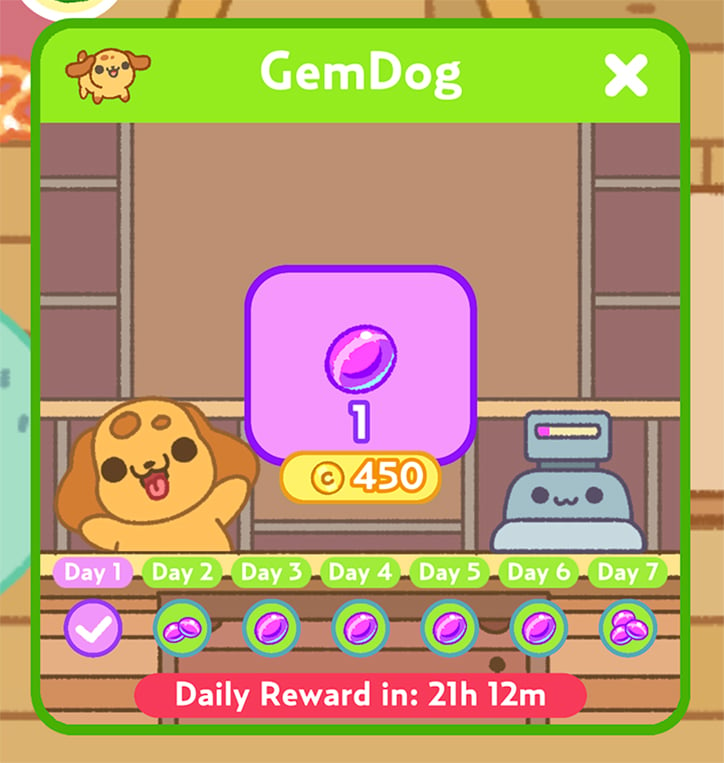 That's right! The illusive Gem Dog is now a part of the game! We're not sure if he's there willingly or if the cats are holding him hostage, but you can find Gem Dog waiting in any of the rooms to give you a daily reward. Be sure to check in with this good boy every day to collect your daily bonus as well as exchange your coins for gems. He offers different gem deals each day.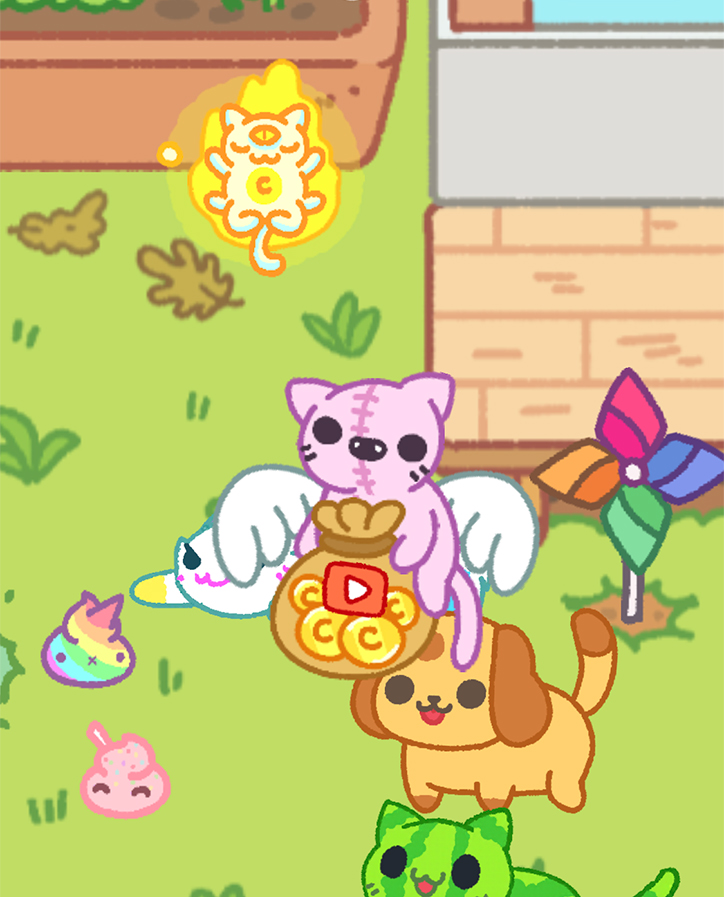 Like the original, there are lots of ways to earn coins and gems without ever having to spend a dime. Your cats will sometimes bring you coins instead of items when they return from their mischevious thieving. Another way to make some cash? Cleaning up cat poop! Each time you come back to the game, be sure to search each room for poops. Since the KleptoCats don't have an in-game litterbox, they love to poop all over the place! Tap these colorful poops to clean them up and collect a few coins. (You can also turn the poop off in the settings if you're tired of cleaning up after your kitties.) The Golden Cat is also back, and wiser than ever with an all-knowing third eye. When you see him, be sure to tap him as many times as you can to maximize the number of coins he gives you. You can also keep an eye out for a stitched up cat that flies by with video ad can you can watch for about 350 coins.
Another great way to earn coins? Play the mini-games!
The Mini-Games:
The mini-games are really easy to play and are a great way to switch things up, chill out, and collect coins. You can play them at any time by tapping the icon in the menu. There are three games available, Catchy Catch, Sneik, and Fishing.
Catchy Catch:
In this game, fish will drop down from the top of the screen. Tap left or right to move your kitty underneath the fish to catch them. Every six fish you catch will earn you 1 coin.
Sneik:
Similar to the classic phone game, Snake, but with fewer obstacles and more steak! Swipe your finger up, down, left, or right to move your cat and collect as many steaks as you can. Six steaks collected will earn you 1 coin, plus this game drops coins throughout the level.
Fishing:
This cat is taking a break from stealing stuff and is out at sea on a fishing trip. When you see an exclamation point appear, there's a bite on your line! Quickly tap the screen to reel in your fish. Like the other games, you'll need to collect 6 to earn 1 coin.
Final Thoughts: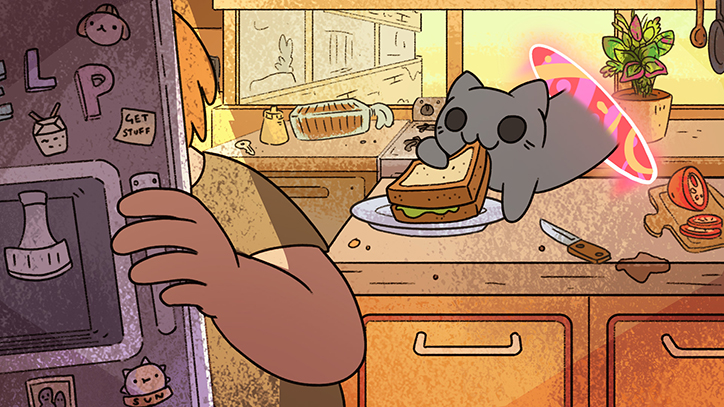 KleptoCats 2, while similar to the original, feels a lot more complete. Despite the fact that it's new and there's not quite as much content yet, we can safely say this game is more polished, more fun, and will feel really complete as the game receives more updates. We like how adding in the puzzles, animations, and a little bit of a storyline gives the whole game a little more of a purpose. The added animations give the game a lot of life. Each time you enter a room your cats aren't just sitting around, they're cleaning themselves, stretching out, and licking their little butts makes them feel so much more real and engaging.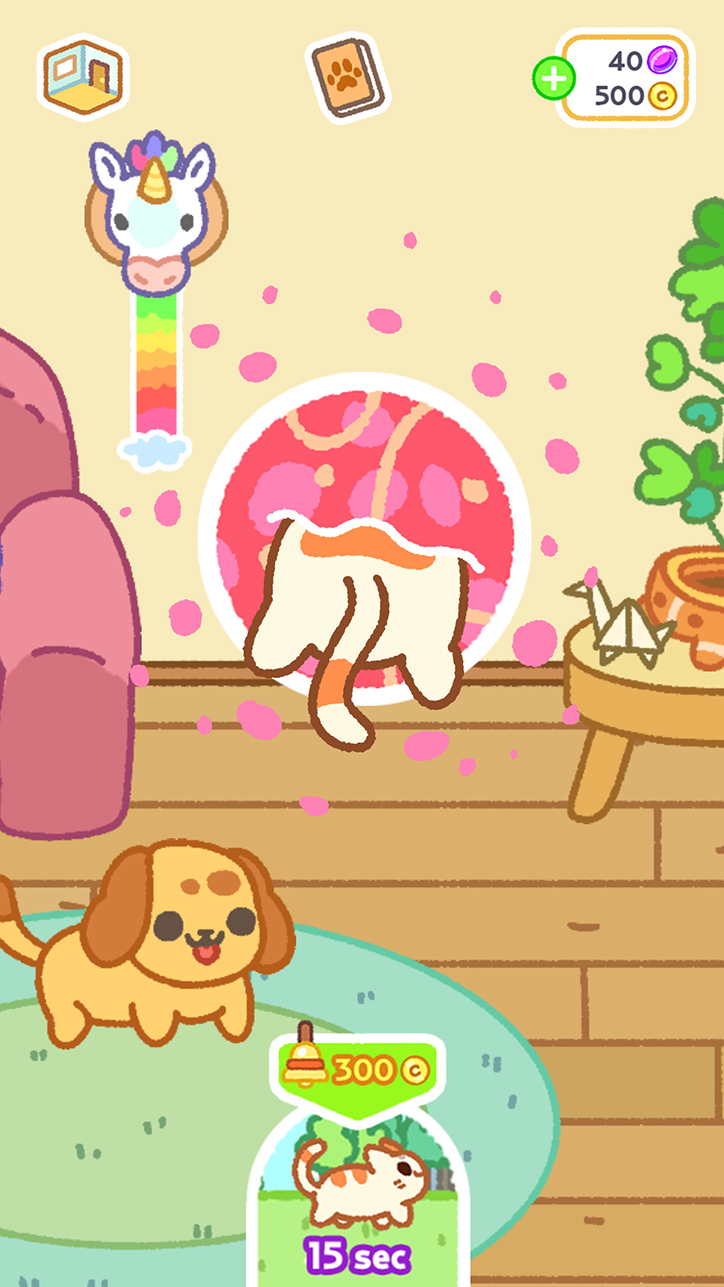 You feel like you're working towards something rather than just aimlessly sending your cats out. (Though let's all be honest, the original is super addictive, cute, and fun!) Even if you've played the original, KleptoCats 2 still feels fresh. You can tell the team learned a lot from the first game, listened to their fans, and put together a sequel that really is purr-fect! With an animated series in the works and a line of toys releasing soon, one thing is for sure – these paw-some kitties are taking over the world!
Want to learn more about HyperBeard and how they create their games? Check out our interview with HyperBeard Co-Founder and all around awesome guy, Antonio Uribe!