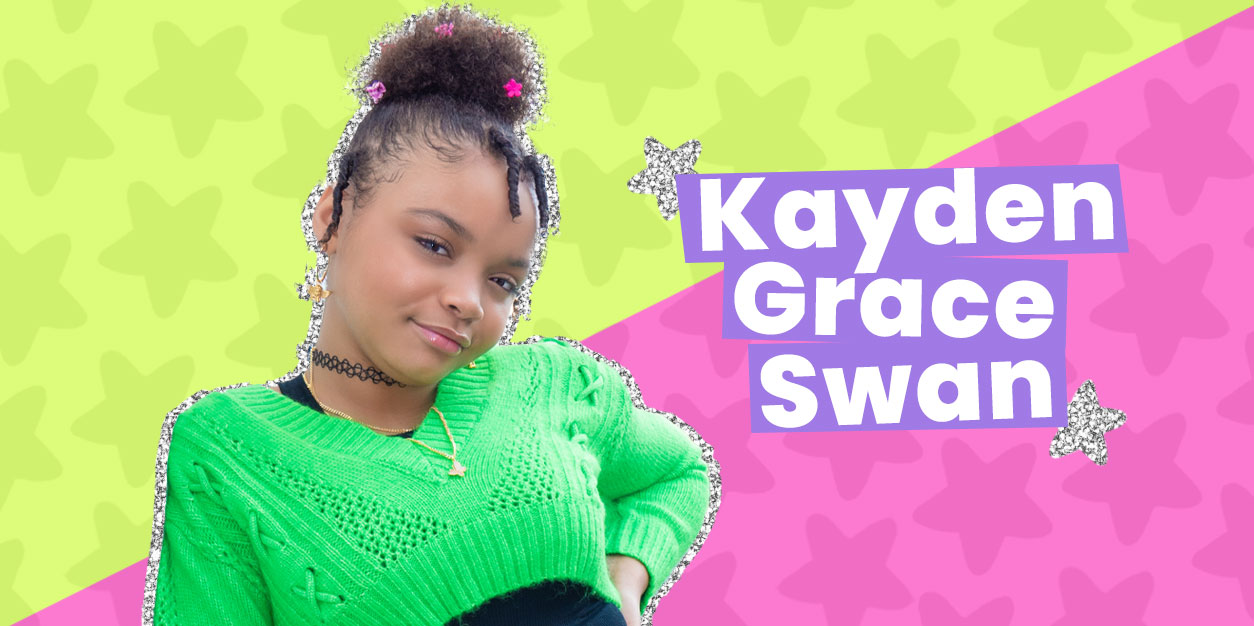 Shimmering Star Spotlight: Kayden Grace Swan
Each month YAYOMG! selects a Shimmering Star to spotlight. Follow along as we shine a light on girls who represent kindness, positivity, empowerment, philanthropy, drive, and confidence. They're sure to inspire you!
Our final Shimmering Star for 2020 is totally out of this world! At least, she is on her brand new Nickelodeon show, The Astronauts, a series about five kids who accidentally rocket themselves into space and need to figure out how to survive.
Kayden Grace Swan stars as Doria, a stylish go-getter who brings a lot of confidence and attitude to the show. When she isn't slaying on-screen, Kayden is always channeling her creativity. She loves expressing herself through her fashion, pairing bold looks with unique accessories that truly shine! Speaking of accessories, Kayden is a budding entrepreneur who's currently in the process of launching her own line of hair charms, jewelry, and other amazing accessories. While most of us were dealing with virtual school days and drive-by birthday parties, Kayden spent her quarantine writing books, Word Smash and Text Smashages, inspired by all the texting she was doing with her friends during the pandemic.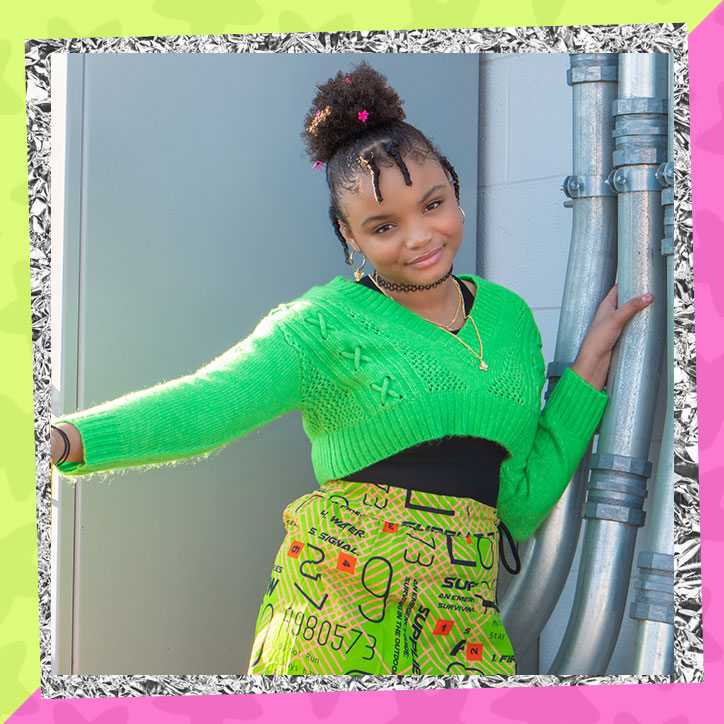 In addition to her unstoppable passion, Kayden also has a big heart! Together with her BFF Jalyn Emil Hall (CW's All American) and his foundation Hall Of Fame Inc, they are planning a Holiday Giveback to the homeless community. "We are currently gathering hats, gloves, masks, and socks and will distribute them to local homeless shelters before Christmas. We believe that it is important for kids in this industry to always give back to those less fortunate.", Kayden shared with YAYOMG!
Get to know Kayden Grace Swan as she dishes on The Astronauts, designing her own accessory line, and her biggest dream for the future!
Get to Know Kayden Grace Swan: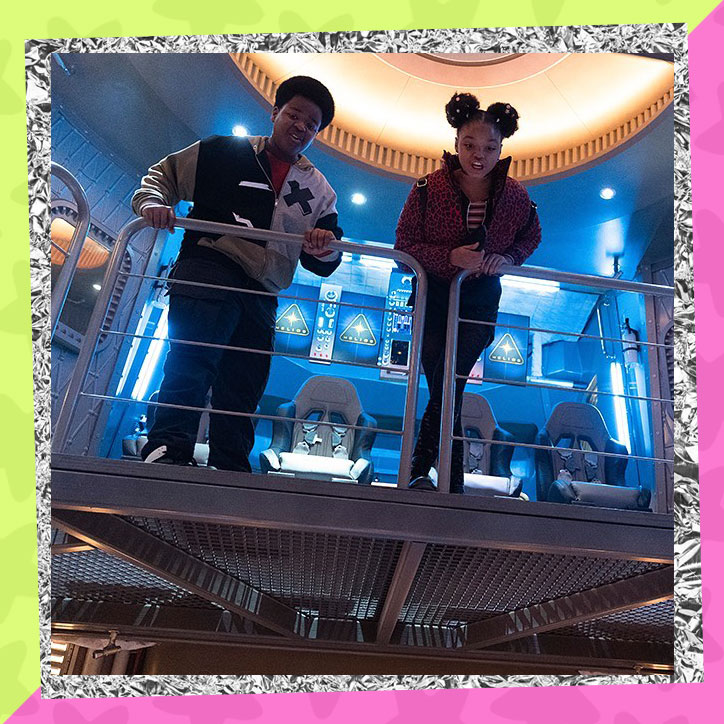 Tell us a little bit about YOU!

KAYDEN GRACE SWAN: I'm a big-time gamer girl. You can always catch me on all the latest live online multiplayer video games. I love all things '90s – the fashion, the tv shows, and especially the hip-hop music! I'm an avid reader. One of my favorite things to do on a cloudy day is to read a great book and drink my favorite peppermint tea from one of the many vintage teacups I've collected over the years.

I love thrifting and creating fun and unique outfits from all my finds! And I am a huge animal lover. I have one rescue cat Luna and 2 rescue dogs, Peanut and Gingie.
You star as Doria in the new Nickelodeon series, The Astronauts. What can you share about the show and your character?

KAYDEN: The Astronauts is about five kids who did not really know each other. They were just being mischievous and found themselves in a situation they had not planned on. Now they are five kids that have to deal with very adult situations!

Doria is self-confident, stubborn, and – unlike her brother Martin – extroverted. She is obsessed with fashion, pop stars and music, and has an interest in medicine. She likes to argue and always gets her way.

If asked what she wants to be when she grows up, she would reply that she's going to be a Nobel-winning neurologist AND a top fashion designer, AND a professional choreographer!
In addition to acting, you're also an entrepreneur! Tell us a little bit about your Kayden Style accessories!

KAYDEN: I am in the process of developing and designing an accessory line that is based around my style and flair for all things fashion. In my opinion, accessories are the key to pull a whole outfit together and make it unique. Expect Kayden Style accessories to be a fun and fabulous addition to your fashion doodads!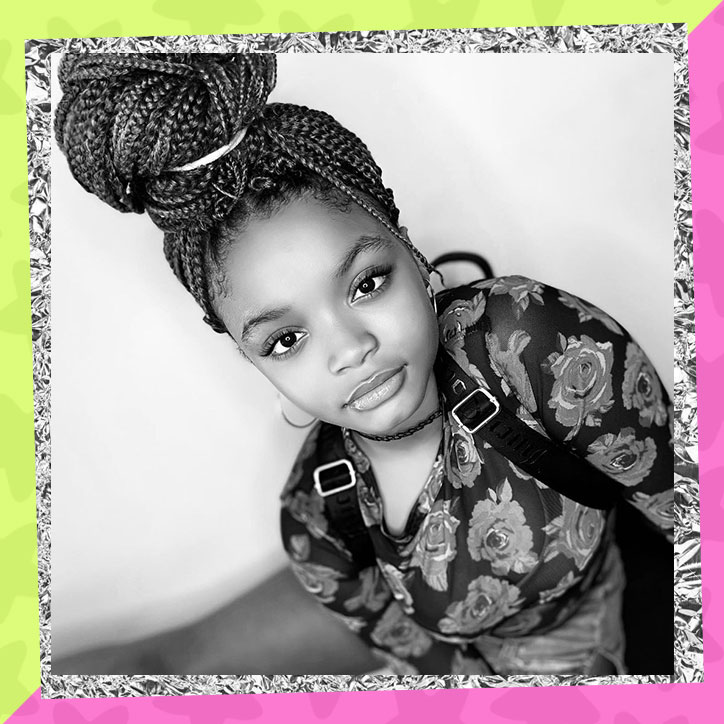 You also wrote TWO books during quarantine. What inspired you to write Word Smash and Text Smashages and what are they about?

KAYDEN: Word Smash and Text Smashages were a much needed creative outlet to the endless boredom of quarantine over the summer. I decided to write Word Smash first. It's a book about my funny words I make up and use in silly situations.

My second book, Text Smashes, is a collection of cleverly created texting acronyms that I made up and used during the pandemic. I always try to make the best out of any situation, plus it helps that I find humor in almost everything!
How do you shine bright?

KAYDEN: I shine bright by simply refusing to stop discovering and loving myself and others. I believe by doing this, it doesn't allow me to be insecure or hate another young woman that may shine brighter than myself. We need to stop being afraid of other girls dimming our light and instead help one another shine not just bright but brighter!

None of us are immune to jealousy or a lack of self-confidence, but I feel hatred is a waste of energy. I concentrate on how to be the best me and what will allow me to go confidently in the direction of my dreams.
The women who inspire me are…

KAYDEN: My mother inspires me to be creative, and I really admire how she handles negative situations, people, and words with grace.

Outside of all the amazing women in my family, I have been most inspired by Hydeia Broadbent. Even though I've never met her, her story of overcoming obstacles from such a young age is one of the most touching and motivating stories I've ever heard.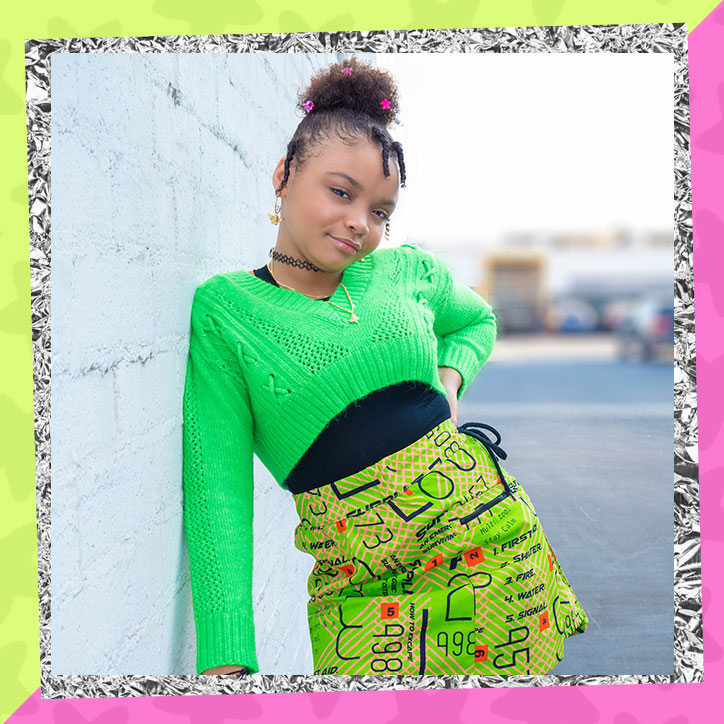 I am most passionate about…

KAYDEN: I have a passion and love for animals. I've been fortunate to work with local shelters that allow children to work one-on-one with animals, help assist needy shelter pets, find animals a new home, and even play with animals all day long! I just want to be a voice for animals that are abused and neglected.
I feel most confident when…

KAYDEN: I feel most confident when I'm just being my fun, silly self. I think stand up comedians have the most confidence because you need to act silly every now and then, which allows you to relax, interact, and connect better with people.
My biggest dream is…

KAYDEN: My biggest dream is to write and direct a horror spoof film like the Scary Movie series. I love how these films combine current movies and issues with a scary theme. In my movie, I'd like it to be an all kid cast, in a "Who Dunnit" style, something like a real-life Among Us game! I think that would be amazing.
The advice I want to share with other girls…

KAYDEN: The advice I'd like to share with other girls is to be your authentic self. Being true to yourself sometimes feels hard to do in our world, but it is very simple. You just need the courage to believe that you will grow up to be exactly who you are meant to be. There is power in you…the question is, what will you do with your power?
Now that you know Kayden, catch up with her Astronauts co-star, Miya Cech! Plus, get inspired by our previous Shimmering Stars like Madison Reyes, Rosie McClelland, and the cast of The Baby-Sitters Club!