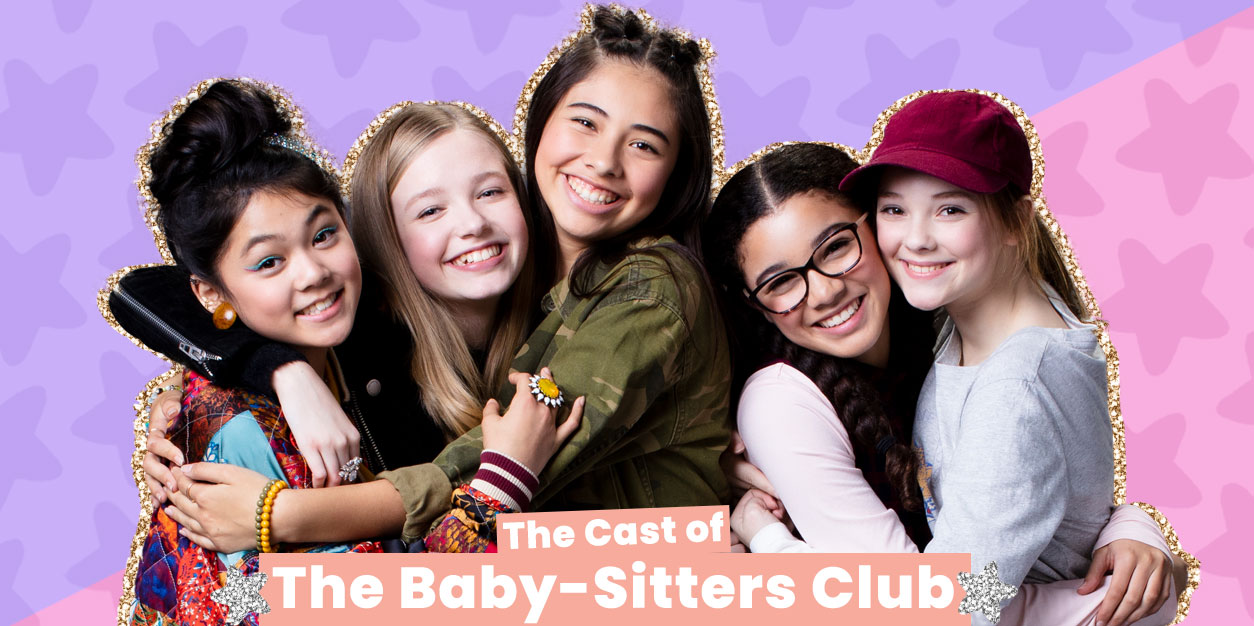 Shimmering Star Spotlight: The Cast of The Baby-Sitters Club
Each month YAYOMG! selects a Shimmering Star to spotlight. Follow along as we shine a light on girls who represent kindness, positivity, empowerment, philanthropy, drive, and confidence. They're sure to inspire you!
This month's Shimmering Star Spotlight is an extra special one! Rather than one girl – we're featuring FIVE! Meet Sophie Grace, Xochitl Gomez, Malia Baker, Shay Rudolph, and Momona Tamada, the cast of the new Baby-Sitters Club series!
You're about to meet your new BFFs and your new favorite show all at once! Inspired by the novels by Ann M. Martin, Netflix gave The Baby-Sitters Club a super fun modern makeover that oozes '90s charm. Grab your hidden candy stash and prepare for a weekend of summery girl power vibes. The series hits Netflix on July 3rd!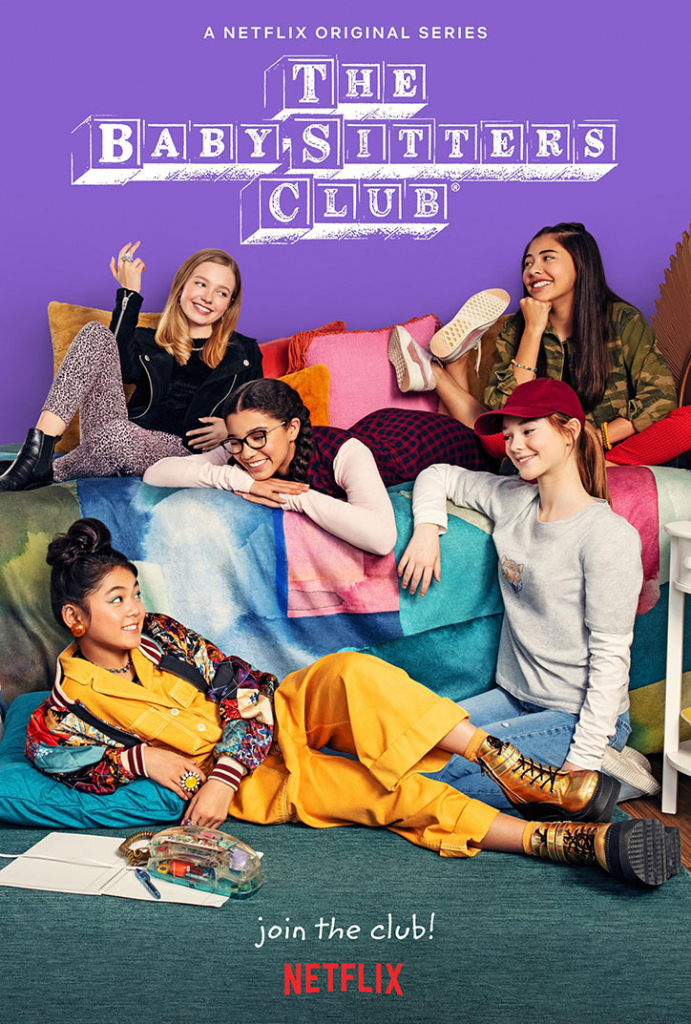 Kristy, Mary Ann, Claudia, Dawn, and Stacey couldn't be more different, but they're a group of fiercely supportive friends who come together to start a babysitting service in their small town. Through homework struggles, changing families, and out of control babysitting gigs, these girls would do literally anything for each other.
Plus, their entrepreneurial spirit is totally empowering! These relatable characters have inspired generations of girls to find their confidence and make their mark on the world – and we know the new series is going to do the same for girls like you.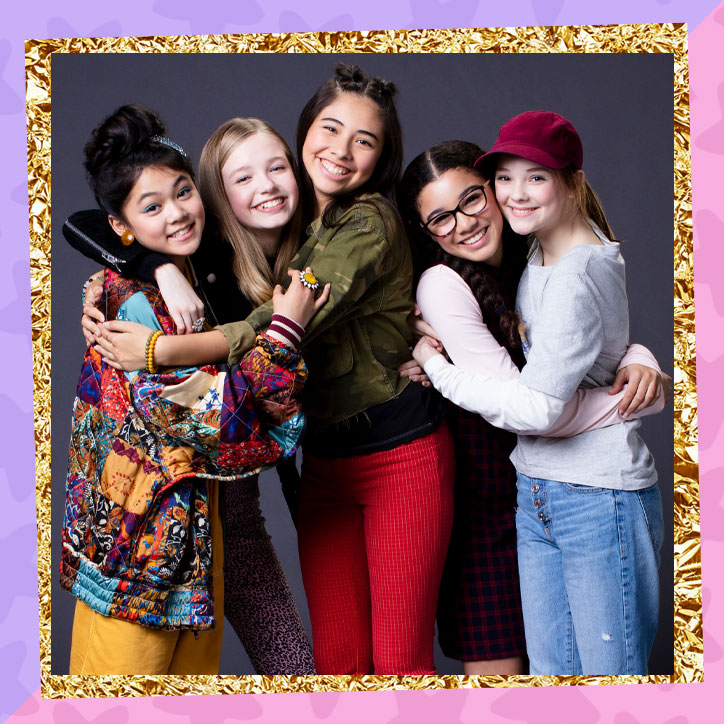 Each member of the BSC shines bright in their own way, and so do each of the actors who play them. That's why we couldn't resist featuring all five of these amazing girls as our Shimmering Stars for July!
Get to know Sophie Grace, Xochitl Gomez, Malia Baker, Shay Rudolph, and Momona Tamada as they open up about their biggest passions, how they shine bright, and of course, share lots of behind the scenes details about The Baby-Sitters Club!
Get to Know the Cast of The Baby-Sitters Club:
Sophie Grace as Kristy Thomas:
Tell us a little bit about YOU!

SOPHIE GRACE: Some of my favorite hobbies and things include plants, art, writing, hanging out with my friends (and their dogs), hot chocolate, sunglasses, travel and exploring, cooking and baking (even though I definitely need more practice!) and having dance parties.
How do you shine bright?

SOPHIE GRACE: I shine bright by supporting other girls and spreading joy and kindness as much as I can. I think it's so important to lift each other up and if you notice something beautiful about someone, inside or out, tell them!
How would you describe your character, Kristy Thomas?

SOPHIE GRACE: Kristy is a girl boss. She's passionate, intelligent, creative, and fiercely independent. Along with all that, she is thoughtful and has a heart of gold. Something I love about her is that she's not perfect and doesn't feel the need to be.
What did you love most about bringing this iconic series to life?

SOPHIE GRACE: What I love most about bringing this iconic series to life is being part of five strong yet wildly different young women growing up together. They all come from different families with different backgrounds and different interests, but they're always there to support and help one another through thick and thin!

Kristy and I are very similar, and we've both been called bossy many times, but Kristy and the rest of the girls taught me that it doesn't have to be an insult. Being a leader is such a good quality, and it's silly to use a word with a negative connotation.

The girls taught me that I don't have to pipe down and that I can speak my mind, on and off the screen. It's so inspiring and exciting that we can teach young kids watching us on TV how important it is to love ourselves and one another, and to set our insecurities aside.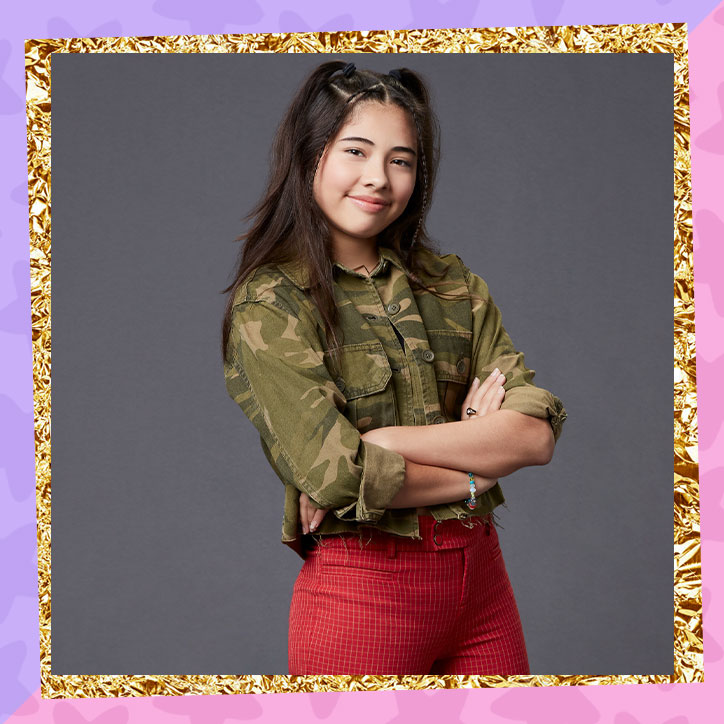 Xochitl Gomez as Dawn Schafer:
Tell us a little bit about YOU!

XOCHITL GOMEZ: My name "Xochitl" means "flower" in Nahuatl, the native language of Mexico and Central America. People are always scared to say my name because it looks so weird in English, and they aren't sure how to pronounce it. But it's actually been kind of an interesting way to break the ice and start talking to a new person – kind of an unexpected perk of having an unusual name. In case you were wondering, I pronounce it SO-CHEE, so it rhymes with Mochi, LOL!

I'm a mixed race girl that's half indigenous Mexican and half Caucasian. So even though I look very Latinx, I've also got German, Irish and Scottish.

I love swimming and usually join the swim team every summer at my local pool. I work out pretty much every day. I love exercise videos, and I constantly try new ones to change up my routine so I don't get bored with it. Usually, I will FaceTime with one of my friends and we will do the same video workout together. It's a fun way to stay fit and see friends without having to go to the gym.

I've picked up a couple of new sports as well. I've been doing Wushu, which is a form of martial arts, and I recently learned how to skateboard while I was in Canada shooting the series. Vancouver has so many awesome skateparks! I'm just a beginner and I fall a lot – yeah, I'm that kid at the park in a full set of pads, LOL!
How do you shine bright?

XOCHITL: I am especially proud to be the new and updated version of Dawn Schafer for the Netflix series adaptation. I can't tell you how important it is that a Latina character and her family are represented on the show. I grew up never really seeing anyone who looks like me in a TV show, so its great to be in this series where a Latina character is valued for her abilities and friendship.

To have the opportunity to shine at all is an ongoing struggle for women and girls of color. So often, there are no stories that include us, so we are invisible and seem uninteresting. In The Baby-Sitters Club, all girls are equal and able to shine bright, regardless of race. Imagine that!
Which 3 words would you use to describe your character, Dawn Shafer?

XOCHITL: Confident, supportive, environmentalist!
What advice do you think Dawn would want to share with our readers?

XOCHITL: Dawn's advice would be simple and reflective. 1) Treat others as you would want to be treated. 2) Respect nature. She is your mother, and without her, you would not exist. 3) The first duty of society is justice. 4) There has never been a good war or a bad peace.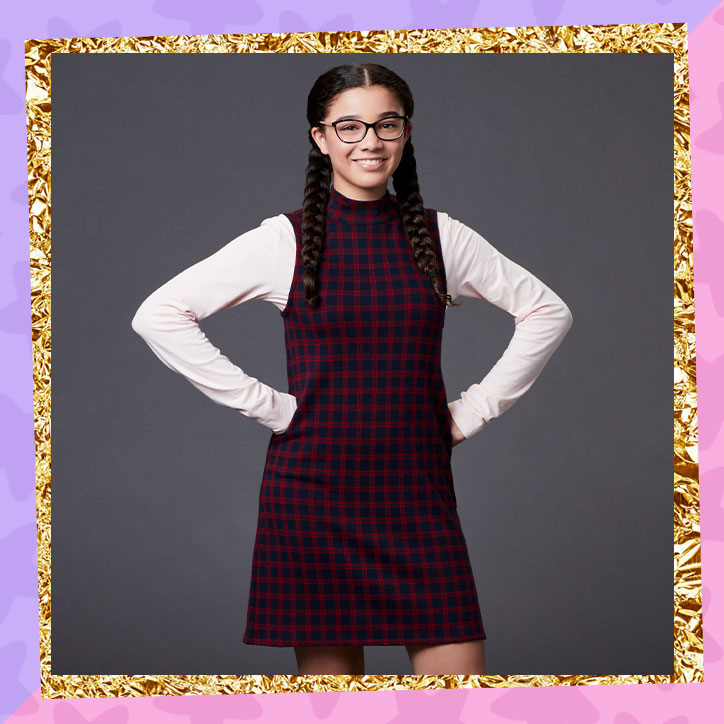 Malia Baker as Mary Anne Spier:
Tell us a little bit about YOU!

MALIA BAKER: I love spending time with friends, family, and my four pets! I like to fiddle around with guitar and piano even though I am not an expert. I love to listen to music, but my taste in music is all over the place, haha! I go from Bob Marley, to Amy Winehouse, to Louis Armstrong then to The Beatles. Ice cream is my favorite thing to eat, even though my body temperature is always freezing. I really love helping out the community I am in.
How do you shine bright?

MALIA: I have been told I am a young activist, and I'd like to think I am as well. I hope to use the platform I am gaining to spread my voice for change into our world and to talk about issues that need to be discussed!

I also love volunteering whenever I get the chance; it makes other peoples' day, which in reality makes mine!
What do you love most about playing Mary Anne?

MALIA: I have always related to Mary Anne reading the books growing up, which I think makes playing her even more special. I love how relatable she is and how much confidence she gains over time…it's something to look up to for sure!
How are you hoping the BSC series will inspire other girls?

MALIA: I hope the BSC will inspire other girls to honestly believe you can make a change, because you can! I also hope it'll inspire other girls to have their own "great idea" like Kristy and to achieve your great idea with amazing young ladies by your side.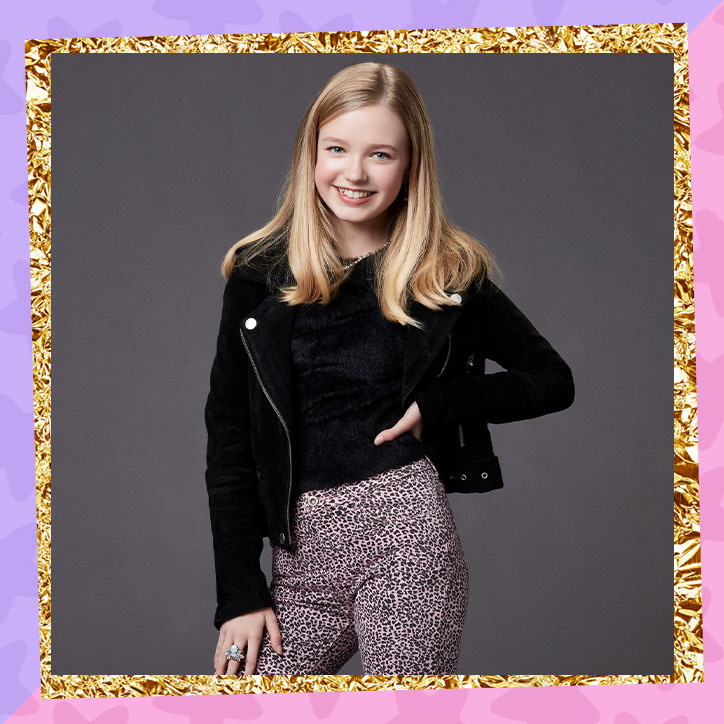 Shay Rudolph as Stacey McGill:
Tell us a little bit about YOU!

SHAY RUDOLPH: I really like music! I play the piano and guitar. My favorite colors are lavender and sage green. My favorite food is watermelon, and I enjoy reading and writing poetry!
How do you shine bright?

SHAY: Being kind to everyone, no matter what, is something that has always been important to me. I hope that I can use my platform to voice my opinion about this and let younger girls know how necessary it is to be compassionate to all people.
What do you want fans to know about Stacey?

SHAY: At first, it may seem like Stacey only cares about boys and fashion, but in her heart, the friendships that she has with the other club members are what matters to her the most.
Do you have a favorite memory from filming that you'd like to share?

SHAY: All five of us girls would get to set earlier than needed so that we could all sit in one of our trailers, eat warm pancakes, and watch a Netflix show together. This was one of the ways that we really started bonding, and then it quickly turned into a daily activity that we all loved to do.

We had so much fun on set, and I'd really say that every single moment and every scene we shot has a good memory attached to it.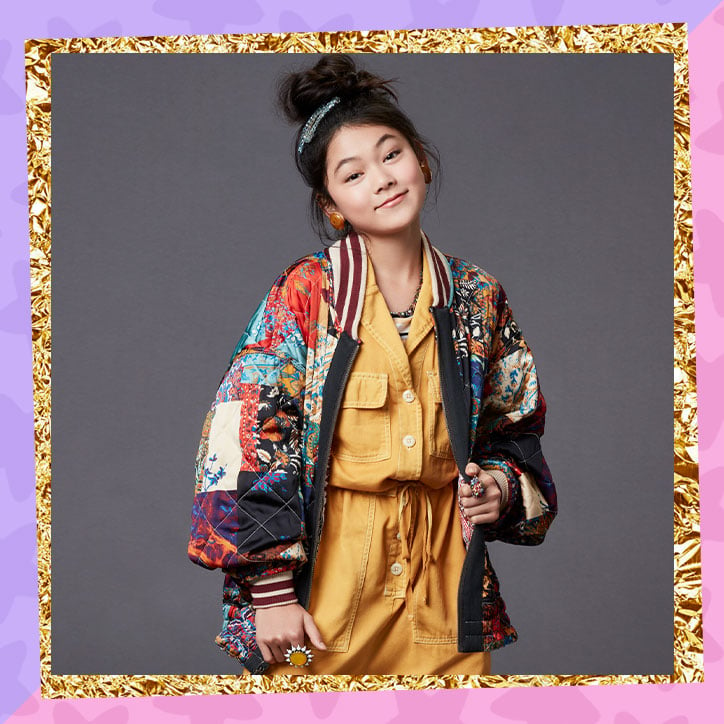 Momona Tamada as Claudia Kishi:
Tell us a little bit about YOU!

MOMONA TAMADA: Many people might know that I love baking. Owning a bakery was one of my first dream jobs! Aside from acting, I'm also a dancer and have been doing that since I was four years old. I love expressing myself through dance.
How do you shine bright?

MOMONA: Having this opportunity to share my voice and spread happiness on a larger scale is something I never thought I would have.

A simple way that I like to spread kindness is just to smile at someone! That was actually a homework assignment for one of my elementary school classes. Such a simple act of kindness might just brighten up someone's day!
Which 3 words would you use to describe Claudia Kishi?

MOMONA: Creative, bold, and a dreamer!
Claudia's room is used as BSC headquarters. Can you tell us a secret about her room?

MOMONA: One of the walls in Claudia's room completely lifts to give us more space so that we can shoot from different angles!
Want to get to know even more inspiring girls? Check out our new interview series, Girls Who Shine, where we're shining a light on young activists, entrepreneurs, and other amazing girls!