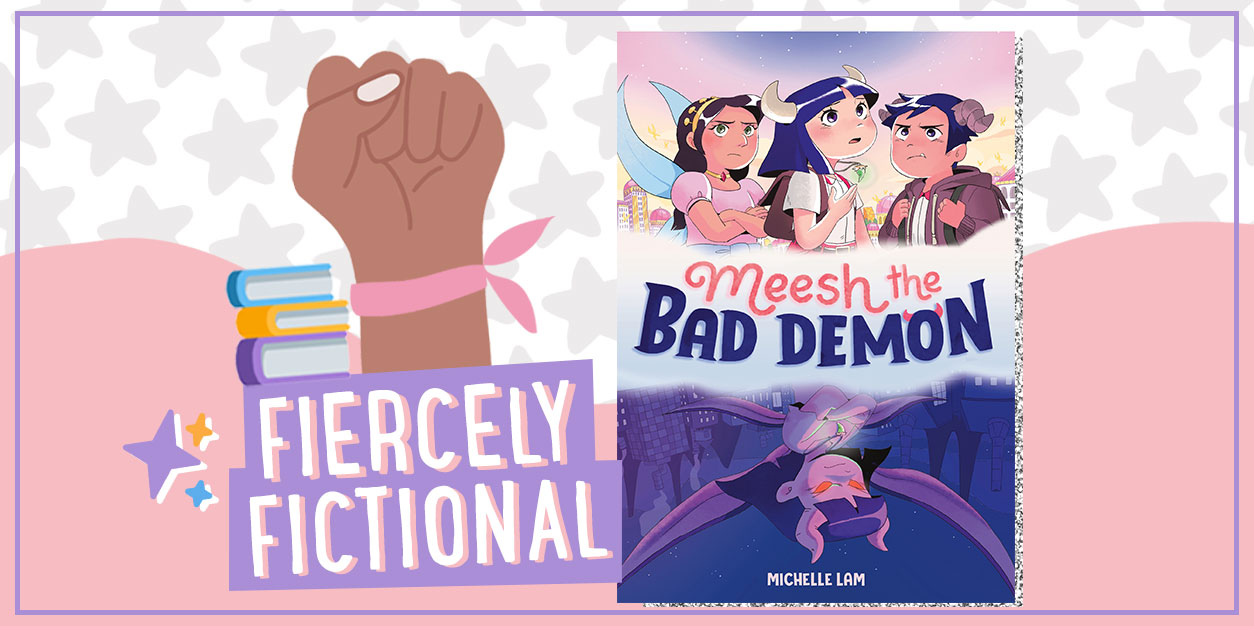 FIERCELY FICTIONAL: Meesh the Bad Demon
FIERCELY FICTIONAL celebrates fierce, inspiring fictional girls we know you'll love. To us, "fierce" isn't just about slaying dragons or solving mysteries. It's about breaking free from your comfort zone, discovering your confidence, fighting for what you believe in, & discovering your emotional strength. Any girl can shine bright & be fierce, & in this series, we'll be connecting you with a new fiercely fictional character every month!
We're here with another edition of FIERCELY FICTIONAL, and this time we're introducing you to the sweet and unexpectedly courageous Meesh from Meesh the Bad Demon, a whimsical new graphic novel by Michelle Lam.
Raised by her grandmother, Meesh lives in the fiery Mount Magma, a realm of fire-breathing, acid-spitting demons she just doesn't relate to. She's a demon too, but instead of acing her demon classes and sharpening her horns, Meesh loves all things pink and prefers watering her flowers and getting lost in her favorite tv shows about fairies who save the world – and all her classmates at Mount Magma Middle School make fun of her for it. Meesh is seen as an outcast, her demon skills just aren't that great, and she doesn't quite fit into the world she was born into. She dreams of one day visiting Plumeria City and meeting Princess Nouna, her favorite fairy princess, and feels like she relates to fairies much more than demons.
Meesh the Bad Demon: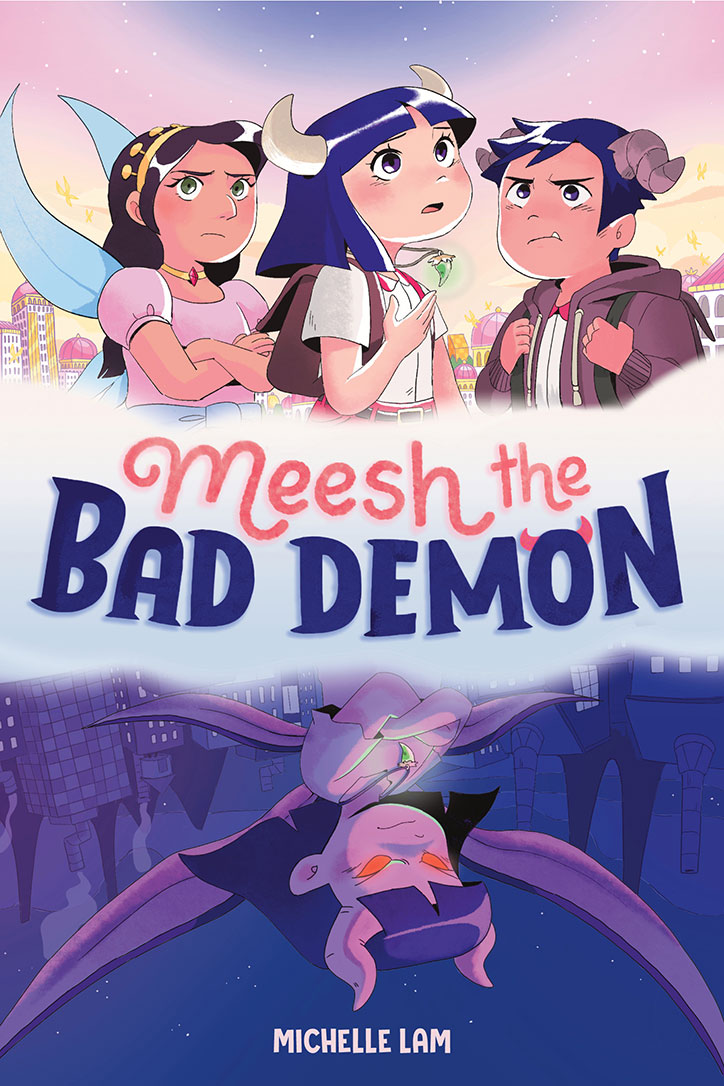 A tale of unlikely heroes and myths is made real in this debut graphic novel series about a "bad" demon trying to find her place in the underworld. But she'll have to save it first!
Meesh is a bad demon. "Bad" in that she always sees the good in those around her—which isn't how a demon is meant to feel or act.
Bullied by the other demons, twelve-year-old Meesh is more likely to be found reading magazines from Plumeria City—the fairy realm—and fangirling about the fairy princesses.
But when disaster strikes and all of demon-kind is threatened, Meesh must journey to other worlds in search of help.
As luck would have it, she meets a fairy princess right away. Things in the fairy realm aren't so perfect either, though. As Meesh makes surprising new friends and unites a band of outcasts, she learns there's much more to being a demon than she ever realized. And learning to love herself might just uncover the secret to saving her home.
Meesh the Bad Demon
AUTHOR: Michelle Lam
PUBLISHER: Alfred A. Knopf Books for Young Readers
DATE: March 21, 2023
When disaster strikes and all the demons are turned to stone except for Meesh, she's the only one who can save the day. Determined to save her grandmother, she sets out to Plumeria City to seek help from the fairies and their healing crystal that can save the underworld – only to discover that it's nothing like what she expected. Fairy life isn't anything like it seems on tv, and the fairy princess she idolizes most ends up disappointing her. Thankfully, she meets a group of fellow outcasts who help her along the way, form a friendship bond, and celebrate each other for who they are. Meesh discovers that it's their differences that make them great and that learning to accept herself might be the key to saving her realm and her beloved grandma!
Meesh is optimistic and sweet, determined and protective, and never gives up, even after her reality is shattered by an unexpected truth. She always sees the best in people and is open to giving people second chances. If you love heroic underdog stories, quests through whimsical realms, and unexpected friendships, you'll adore this magically cozy read filled with girl power and adorable pastel illustrations that feel like a warm hug.
We're so excited to share that author Michelle Lam is here to give you an even closer look into Meesh the Bad Demon and share the 5 reasons she thinks Meesh is totally fierce!
Five Reasons We Think Meesh is Totally Fierce:

She stays true to herself in a world that tries to change her:
Meesh lives in the world of demons who love to sharpen their horns, breathe fire, and cough out acid. While most of these traits are common for the average demon to exhibit, Meesh prefers to just play with her fairy figurines and watch shows about fairies saving the world. Although many demons look down upon the whimsical-ness of fairies, Meesh continues to water flowers and watch fairy TV shows with her grandma.

She gains the courage to venture out of the only home she's ever known:
Meesh always dreamed of visiting Plumeria City, the fairy world, with her grandma. Although things didn't work out as originally planned, Meesh makes her way there all on her own when chaos ensues in her home of Mt. Magma.
Meesh explores new worlds and lands in an effort to save her home, but also most importantly, her grandma. Meesh learns about how different worlds operate, from emotional trees, to jumping clouds, and running with wolves, and meets new friends along the way.
Despite going through a tragic experience, Meesh continues to learn and grow outside of her comfort zone.

She will protect what she cherishes the most:
Throughout the many obstacles thrown at Meesh, she will never give up on the ones she loves. Meesh was raised by her grandma primarily growing up, and when she risks losing her, she will do absolutely anything to save her. The love she has for her grandma is what initiates Meesh's journey to loving herself as a demon.
Meesh learns of the powers behind the fang necklace that her grandmother gives her, and she also uses it to help the friends she makes along the way.

She will forgive those who have hurt her:
Meesh is no stranger to bullying from both fairies and demons. She's been bullied by a demon classmate in middle school for taking care of a flower, and she's been attacked by the one fairy she admires the most – Princess Nouna. While Meesh doesn't simply let them get away with this, she eventually forgives them after they apologize and admit their wrongdoings.
Meesh seeks empathy and understanding with those who may have hurt her, and in the end she realizes they are all probably more similar than they think they are. After working out things with each other, Meesh learns that maybe she and her newfound friends can actually make a good team.

She faces the truth head-on:
During Meesh's journey of saving Mt. Magma, she encounters a lot of unexpected truths along the way. The fairies she always glorified weren't exactly who she always thought they were, and the truth behind what happened to Mt. Magma turns out to be a surprise.
While the truth is hard for Meesh to swallow, her determination to continue moving forward with the help of her friends will hopefully make the world a better place for all creatures.
📚In need of some inspiring new fictional favs? Get to know even more fierce fictional characters in our FIERCELY FICTIONAL series!