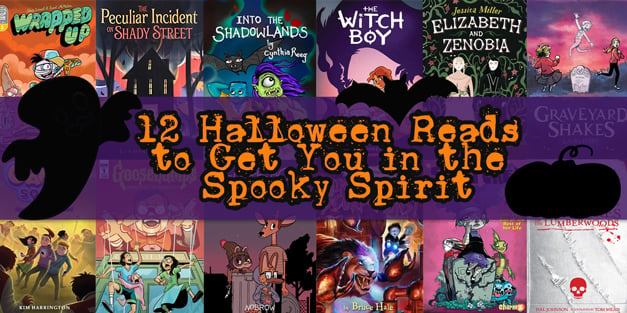 12 Halloween Reads to Get You in the Spooky Spirit
With your costume perfected and your Halloween plans in place, you might be looking for a way to get your thrills in before the big day. Whether you're headed to a haunted house or you're hitting up a Halloween party with your friends, we've got the perfect way to get you into the spooky spirit of the season.
These 12 stories range from funny to frightening and are sure to give you a serious thrill. A great mix of books, comics, and graphic novels, this is definitely our favorite list of Halloween reads we've ever done!
12 Halloween Reads to Get You in the Spooky Spirit:

Wrapped Up by Dave Scheidt and Scoot McMahon
This brand new comic series from Lion Forge is perfect for anyone looking for a monstrous adventure without too many spooks and scares. Milo is a 12-year-old mummy who's always looking to have a fun time. His best friend is a weird old wizard, his babysitters are witches, and the cool teens in town are vampires.
Despite all the characters being your typical scary creatures, the only scary thing about Wrapped Up is how SCARY GOOD it is! It's all the fun stuff in life crammed into one exciting read – comic books, skateboarding, pizza thieving, wacky wizards, magical kittens, and weird love-crazed gorillas.

The Peculiar Incident on Shady Street by Lindsay Currie
We've already gushed about how much we loved this book when we interviewed author Lindsay Currie, but since it's a favorite of ours, we don't mind telling you again. A great blend of creepy atmosphere and best friend adventure, the mystery in Peculiar Incident will have you turning page after page as you uncover the clues and piece everything together.
This book has a haunting and a few scary scenes, but nothing too intense. Tessa's friend group feels so real you'll be wishing for more adventures with them long after you close the book. Pairs perfectly with the glow of a freshly carved jack-o-lantern.

Goosebumps: Monsters at Midnight by Jeremy Lambert and Chris Fenoglio
Goosebumps is a classic Halloween staple, and now it's back with a brand new adventure in comic form! This new series from IDW Publishing features all new Goosebumps stories that are sure to give you a good scare. This first story, Monsters at Midnight, takes place in Horrorland – the iconic spooky theme park from the Goosebumps series and the location of the next Goosebumps movie!
Monsters at Midnight is the story of two sisters who must work together to take down an evil shopkeeper, Slappy the Dummy, and all the monsters that Horrorland has to offer. The first issue is out now, and it's an excellent choice for anyone looking to check out Goosebumps for the first time, but also full of easter eggs and throwbacks that hardcore fans will love.

Monstertown Mysteries: Invasion of the Scorp-lions by Bruce Hale

The awesome lenticular cover will draw you in, but you'll definitely stay for Carlos and Benny's third monster hunting adventure. This silly, supernatural series perfectly combines middle school life with monsters, weird happenings, and laugh out loud funny moments. This series reads like a Halloween special you'd watch on TV, in fact, any of the Monstertown Mystery books would make for great movies! A great choice for anyone looking for a lot more laughs than scares.

Garbage Night by Jen Lee
Garbage Night isn't your traditionally scary story. There's no ghosts or monsters; no jump scares, no thrills. The creepy vibe of this story comes from its location, a barren neighborhood where the food is running out and friends Simon, Cliff, and Reynard are struggling to survive. This unique story has moody artwork that truly captures the mysterious, post-apocalyptic vibe. You may want to leave the lights on for this one.

Monster or Die: Into the Shadowlands by Cynthia Reeg
The first Monster or Die book, From the Grave, made our list last year, so we were excited to discover that the second book hit shelves just in time for this year's Halloween season. Frank's story continues as he must take on the terrible troll, Malcolm McNastee who's on a mission to get all misfits banished from Uggarland. To save the other monsters, he'll need to outsmart Malcolm and brave the perils that wait for him in the Shadowlands, and prove that there's a place for ALL kinds of monsters in Uggarland. Silly, spooky, and filled with fantastic monster puns and lots of heart.

Graveyard Shakes by Laura Terry
Two stories intertwine in this dark, imaginative graphic novel about sisterhood, girl power, and family. This is a great pick for anyone looking to dabble in something a little darker this Halloween. After being homeschooled their entire lives, Victoria and Katia are attending a boarding school for the first time. Victoria lays low and does her best to fit in while the spirited Katia never apologies for her quirks, even when she gets picked on by her classmates.
One day after having a fight, Katia runs away from school, and Victoria goes searching for her, stumbling across an active graveyard brimming with ghouls, ghosts, and a strange man named Nikola and his adorable son, Little Ghost. In order to find her before it's too late, Victoria and Little Ghost team up and search together. While the story is fantastic, it's the artwork that truly brings this terrifying tale to life!

Gamer Squad: App of the Living Dead by Kim Harrington
The third book in the Gamer Squad series shakes things up a bit. Bex and Charlie have already faced off against the real-world versions of the monsters and aliens from their favorite mobile games, so they're certainly not interested in playing the new zombie game that has everyone hooked. But when the entire school comes down with a flu that turns them into zombies, Bex and Charlie realize that they're the only ones left who can save the day. Get to know more about this super fun series, check out our interview with author Kim Harrington.

Stitched: The First Day of Her Life by Mariah McCourt and Aaron Alexovich
Stitched is a dark story of a patchwork girl who wakes up in a crypt with no memory of who she is or how she got there. As she makes her way through the cemetery trying to piece together her missing memories, Crimson faces dangerous creatures, makes new friends, develops first crushes, and begins to discover who she really is.
Loving this story? We've got a lookbook that will help you create the perfect Crimson costume for Halloween. The second graphic novel in the series hits shelves in March 2018 from Charmz.

Elizabeth and Zenobia by Jessica Miller
While not too intense for most readers, this is the most spine-tingling story on our list. We'd suggest this one to read by the glow of the moon on October 31st while you devour your candy stash. After being abandoned by her mother and often neglected by her father, Elizabeth turns to her friend Zenobia for companionship. A bit gloomy and rough around the edges, Zenobia isn't always the best friend, but she's the only one Elizabeth has. The loneliness aches deep in this gothic mystery filled with ghosts, seances, and tragic secrets.

The Witch Boy by Molly Knox Ostertag
A charming, magical adventure about witches, shapeshifters, and embracing your truest self. In Aster's family, girls learn spells to become witches and boys shapeshift into animals. That's the way it's always been, and straying from that path is forbidden, and most of all, dangerous. Aster is intrigued by magical incantations and witchery and often hides out and takes notes when his sisters have spellcrafting lessons.
When he meets a new friend Charlie, the two of them bond over the things that make them different and become the great friends that they both needed. As danger looms and a mysterious creature takes a boy, Aster can help, but it would mean admitting how much magic he's learned. He'll need to find the courage to practice his skills, save his family from danger, and show the world who he truly is.

Fearsome Creatures of the Lumberwoods: 20 Chilling Tales from the Wilderness by Hal Johnson and Tom Mead
Great for busting out the flashlight around a campfire or at a Halloween party, Fearsome Creatures of the Lumberwoods tells the haunting tales 18 of fantastical creatures in American folklore. The stories in this book range from gruesome to scary to completely terrifying. Want to know more? Check out our list of Creepy Reads featuring Fearsome Creatures of the Lumberwoods and other eerie stories and creepy cookbooks.
Need more spine-tingling fun? These Gross Desserts Soft'n Slo Squishies are a gruesome delight!