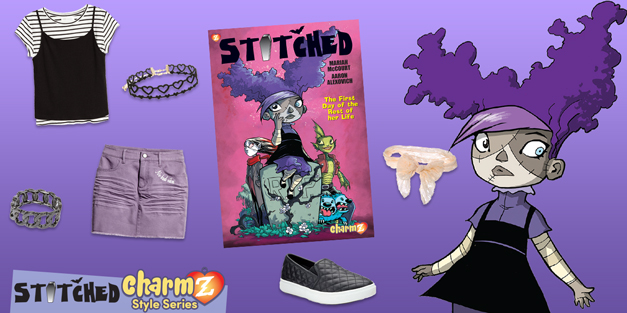 Charmz Style Series: Get Crimson's Look from Stitched
For the second outfit in our Charmz Style Series, we decided to go deep into the foggy and mysterious Cemetery of Assumptions and spend some time with our favorite stitched together girl, Crimson Volania Mulch. If you haven't read Stitched: The First Day of the Rest of Her Life by Mariah McCourt, you're missing out.
It's the story of a patchwork girl who wakes up inside a crypt in the middle of a cemetery and isn't sure who she is or why she's there. While trying to figure things out she makes some friends, like the shy artistic werewolf named Wisteria and a snarky magic technician named Parameter. She also discovers that vampire boys are pretty darn cute! But Crimson doesn't exactly have time for a relationship while she's trying to put together the pieces of who she is – literally.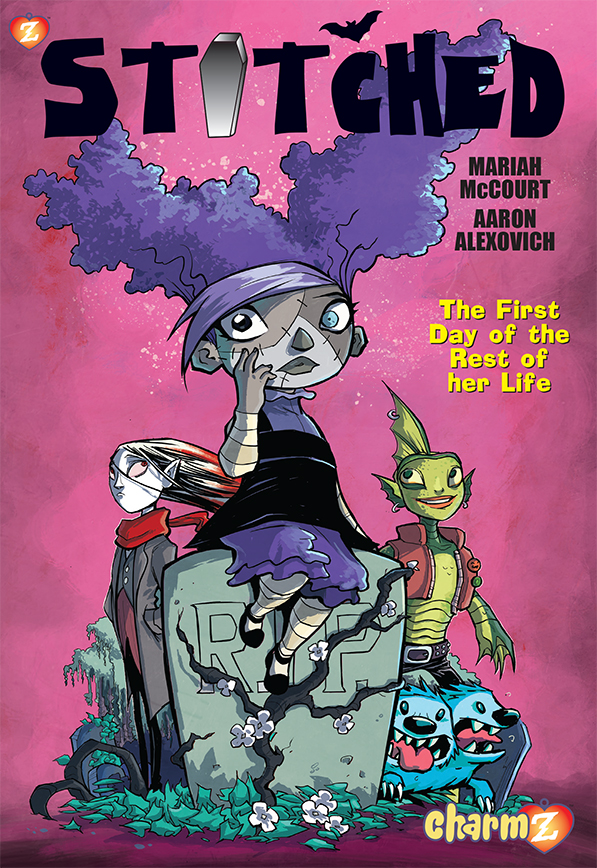 Along her journey, Crimson discovers that she's actually made up of many stitched up girls, and she must find them all and put herself back together so she can learn who she truly is. Stitched is the perfect mix of creepy and gothic paired with friendship, boy drama, and your classic tales of teen awkwardness. (And fantastic art by Aaron Alexovich that's totally to die for!) Just because she's not in middle school doesn't mean Crimson has it any easier than you guys when trying to figure out where she belongs in this crazy world.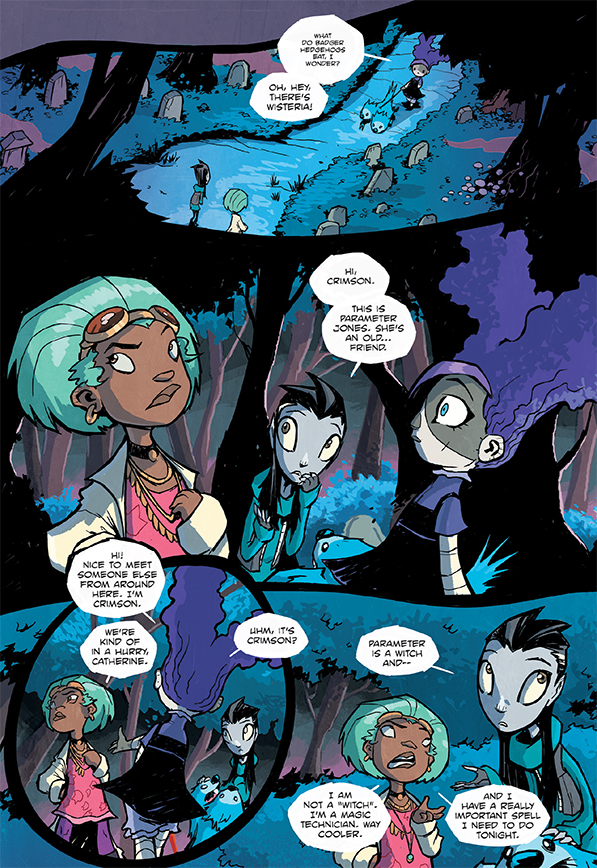 In case you aren't familiar, Stitched is one of many new graphic novel series from Charmz, the tween focused imprint of Papercutz. Every book published by Charmz features fantastic female characters, engaging stories, and colorful art all made with girls in mind. Whether you're a seasoned comic reader or a first-timer, the Charmz novels will totally charm you with their independent girls and relatable stories that are just brimming with heart. The first 3 titles released in May, including Stitched, Chloe, and Sweeties, with more on the way later this year. Each of these novels are part of their own series, so if you totally love one (or all) of them, there will be new stories within that world for you to love. The second volume of Stitched doesn't come out until Spring 2018, so in the meantime, why not check out our Stitched Style Guide so you can learn how to rock Crimson's look?
Charmz Style Series: Stitched Style Guide: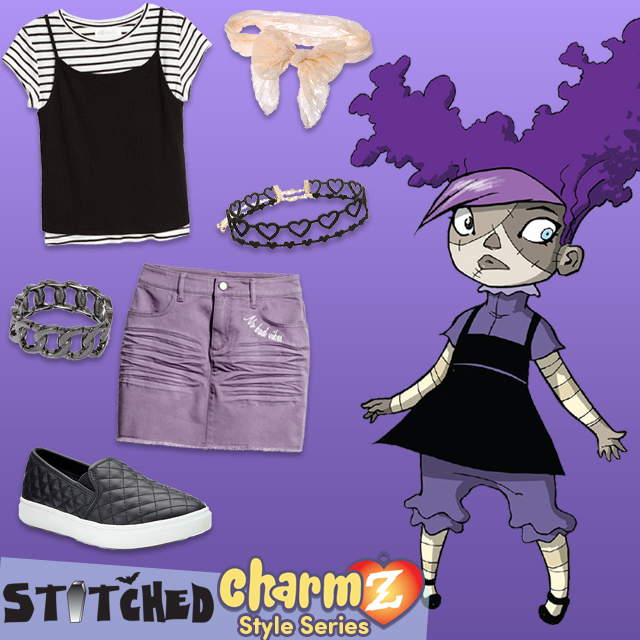 Crimson's outfit is totally cute, but it's a little unrealistic for day to day life. You can't really rock it in Summer, because honestly, even though it's basically a romper, it looks a little hot and bulky. Plus, wearing mummy style wraps isn't exactly going to keep you cool and probably wouldn't fly at school. If you want to dress like Crimson for Halloween or ComicCon, you might want to mimic her outfit more closely, but we put together a look that channel the fun goth vibes and similar colors of her look, but in a way that's totally wearable whenever.
Since her look is all about the layers, we incorporated them in a different way by selecting a layered cami/tee set. You can create your own using any cami and tee you have in your closet, or you can pick up a pre-layered combo at the mall. We chose to go with stripes, because we thought it tied into the lines on her linen wraps and stitches. (Ripped leggings would work for this too!) You can easily swap out the stripes for a purple tee for a more exact version of Crimson's look. To bring in the purple, we picked a cute purple denim skirt. You can still easily head out on a journey of self-discovery like Crimson while wearing this outfit, we just made it a little more accessible. Want to vary the look a bit? Try black overalls with a ruffled purple top underneath.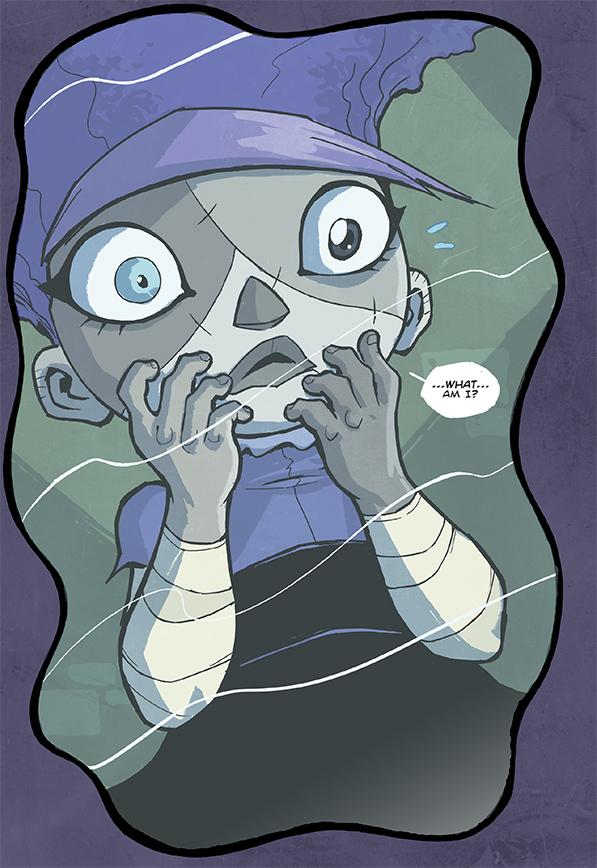 Now for the accessories. No look is complete without accessories, and while Crimson doesn't wear any, we think she totally would if there happened to be a place to shop while she traveled through the cemetery. Our first pick? A cream colored lace headscarf. It'll give you the mummified style without having to actually wrap yourself in bandages. Since you likely won't be able to make your hair as big as Crimson's this cute bow will help you hair stand out in a big way. (A JoJo Bow would also be a great pick!)
You could also try some purple hair chalk or temporary dye. We also added in a chunky chain link bracelet and heart choker for some cute, yet edgy style. Crimson wears Mary Jane style shoes, which you can easily find at most shoe stores, but we made things a little more trendy with some leather slip-ons.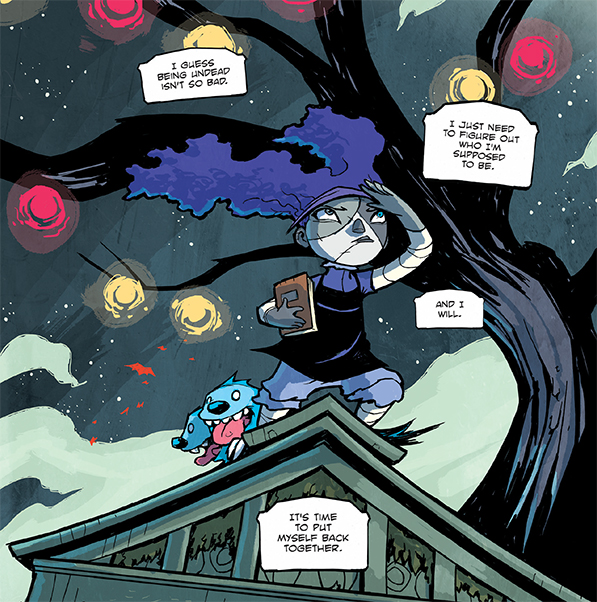 The best way to create a totally authentic Crimson style? Read Stitched for yourself and get to know Crimson and her story on a personal level. We have a feeling it'll become an instant fav!
Love our Stitched Style Guide? Here's where you can pick up the items for yourself!
Top: Double Layered Top – H&M Kids – $14.99
Skirt: Twill Skirt – H&M Kids – $19.99
Shoes: SO Marsh Slip-On Shoes – Kohl's – $24.99
Headwrap: Ivory Lace Headscarf – Claire's – $9.99
Bracelet: Hematite Link Stretch Bracelet – Claire's – $6.50
Choker: Heart Choker Set – F21 – $5.99
If you liked this look, be sure to check out our Chloe Lookbook and find out more about her struggles as the new girl at school. Stay tuned for our third look based on Sweeties coming up soon. It's sure to be a double whammy of sisterly bonding and fabulous fashion! You can find even more of our Style Guides here.