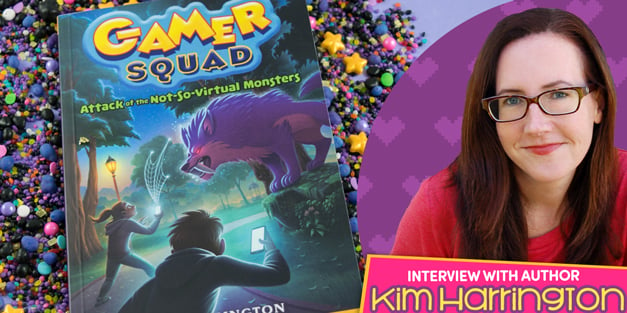 Gamer Squad: Interview with Author Kim Harrington
Here's the scene. It's July 2016. Pokémon Go just came out two weeks ago and despite the high temperatures and thick Summer humidity, you've been outside all day, every day hunting for Pokémon. Maybe you walked around your neighborhood playing with your family. Or paired up with a large group of friends to hit up a big park in a nearby area to tackle a gym. Everywhere you went, everywhere you looked, people were holding up their phones, swiping their fingers across their screens, trying to capture new digital monsters out in the real world. Maybe some of those people who used to be strangers became friends.
Remember how amazing that all felt? How cool it was to explore new places you've never been and that incredible sense of community that stemmed from just one little mobile game? That's the feeling that author Kim Harrington perfectly captures in her new series, Gamer Squad. It was her goal to take that feeling and write about it, getting readers excited about gaming, adventure, and friendship. We think she totally nailed it.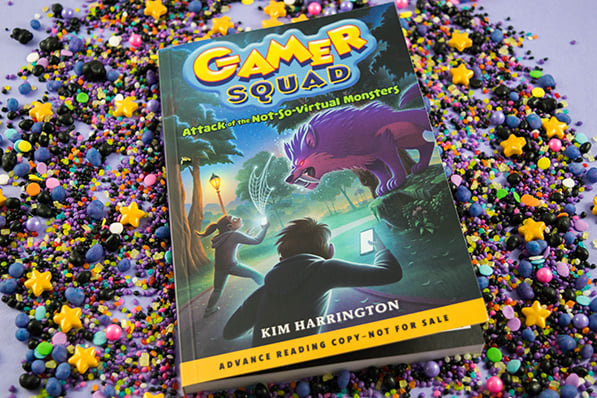 Gamer Squad: Attack of the Not-So Digital Monsters is the story of best friends Bex and Charlie. They spend their days playing the latest hit game from Veratrum Games, Monsters Unleashed. Together they hit up all the best spots in the neighborhood trying to capture everything from SpiderFangs to OinkCats using BattleNets. One day though, things go totally wrong. After messing with an strange old machine in Charlie's grandfather's attic, Bex's Monster Lab goes empty. All those monsters she spent hours and days collecting are now completely missing. That is until they walk outside, right into a living, breathing VampWolf.
The monsters from Bex's game somehow escaped into the real world and it's up to her and Charlie to capture them and make things right. The difference between playing the game and playing in real life? These monsters are REAL and they damage they deal is very real too. Bex and Charlie will need the help of the entire neighborhood to put these creatures back where they belong.
We absolutely loved the way this fast paced, action packed book felt so authentic. Kim Harrington clearly spent as many hours as the rest of us in her own neighborhood playing Pokémon Go and sprinkled her story with elements of classic 80's adventure stories that have inspired her over the years. We were lucky enough to chat with her about what inspired this fantastic series, the importance of celebrating girls in STEM, and her love of gaming.
Gamer Squad: Interview with Author Kim Harrington: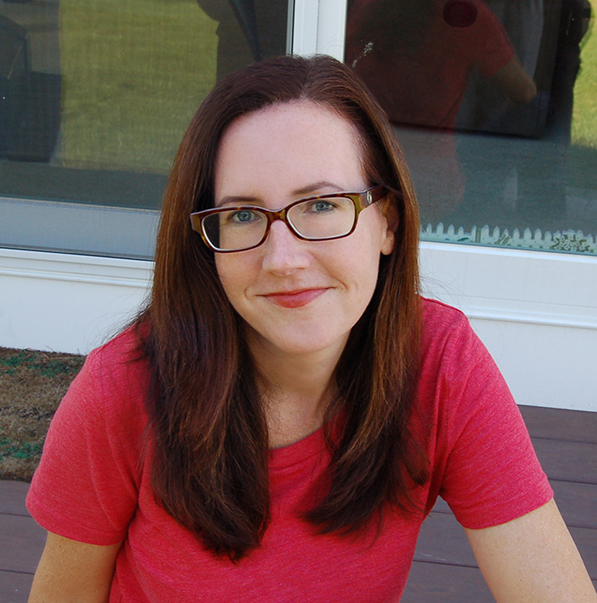 YAYOMG!: How did you come up with the idea for the Gamer Squad series?
KIM HARRINGTON: I've been intrigued by mobile games that blow up big and suddenly everyone you know is playing—starting with Angry Birds and Flappy Bird. I love how a game can bring people of all ages and gaming abilities together. I remember the winter Trivia Crack became popular and I played against my son and then my father. Three generations playing the same game! And when Pokémon Go hit the scene, it expanded it further. We found ourselves walking downtown, talking to people in our community who normally we would have just walked by. It brought everyone together. And I thought, "Someone should bottle this feeling and put it in a middle grade book." And then I decided to do that myself.
YAYOMG!: Are you a gamer yourself? If so, what are some of your favorite video games?
KIM: I've always loved playing computer games, ever since my first TI-99 and Commodore 64. I haven't been playing console games lately (mostly because I'm not really into RPGs and the Playstation is always taken by other members of the household). But I've been playing a lot of Time Management Games on the PC lately. They look stressful, but I actually find them calming. It's a great way to decompress after a long day.
YAYOMG!: The book features an AR mobile game called "Monsters Unleashed" that shares a lot of similarities with Pokémon Go. Did you get to spend hours playing Pokémon Go for research?
KIM: Oh, yes, for "research." Only for research. 😉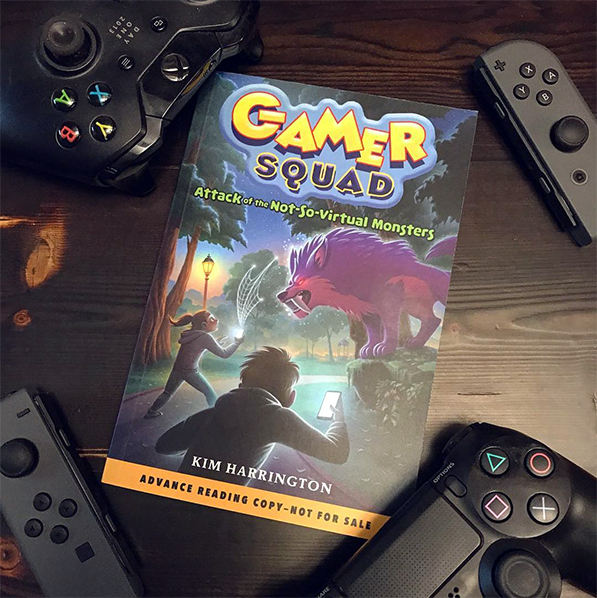 YAYOMG!: The main character, Bex, is a girl who LIVES to game and totally kicks butt. Was it important to you to feature a strong female character in your gaming-focused series?
KIM: This was very important to me. Gaming is assumed by many to be a male dominated interest, but a recent study showed that 50% of men play video games and 48% of women. So it's pretty equal!
Also, supporting girls in STEM has always been important to me. Norah, the main character in my Sleuth or Dare series, has a strong knowledge of astronomy. And Bex's interest in programming plays a much bigger role in book two, Gamer Squad: Close Encounters of the Nerd Kind.
YAYOMG!: The book features a ton of extremely unique monster mashups, including VampWolf and OinkCat. Which is your favorite? Which would you be most terrified by if you saw it lurking on the street like in the book?
KIM: I had a lot of fun creating the monster mashups. (In fact, I think I may have named the game Monster Mash at one point and changed it.) My favorite and the most terrifying is the SpiderFang. Spiders are a deep fear of mine, so putting one in the book to challenge Bex and Charlie was also a challenge for myself! To craft the scene, I had to do a little spider research, including googling "do any spiders make sounds"? Note: If you fear spiders, never google this. *shudder*
YAYOMG!: Bex and Charlie love to hit up their local ice cream shop together. What's your go-to when you order ice cream?
KIM: The Strawberry Sundae from Dairy Queen is my absolute favorite!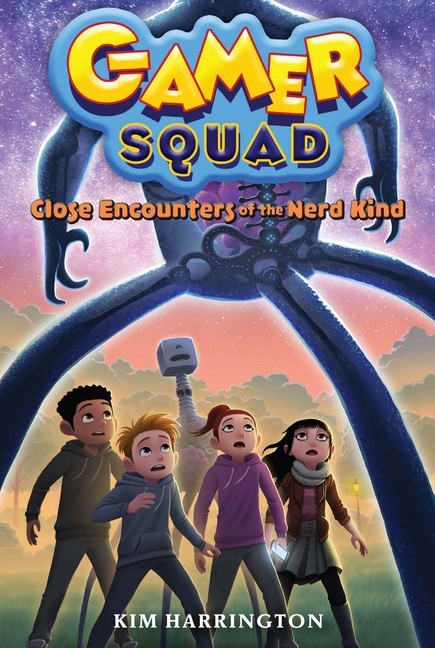 YAYOMG!: Aside from all the monster sized action, Book 1 focused a lot on bullying in the form of Charlie's totally awful brother and Bex's ex-best friend Willa. What themes can readers expect out of Books 2 and 3?
KIM: Middle school is a time of change and kids are figuring out who they are and who they want to be. This comes into play a lot in book two as Bex and Charlie's friendship is tested. First crushes and all those awkward moments involved in that also plays a part as Marcus (Bex's crush) gains a bigger role in the next book.
YAYOMG!: What's the best part of writing a book and what's your biggest challenge as a writer?
KIM: This will sound strange but the best part is when it's done. I've written over ten books and sometime during the writing of every single one I think, "I don't know how to write anymore. I can't do this. I've lost it, whatever it is." But then I finish the book and I get this rush of relief, happiness, and pride. So it will be no surprise for me to say that my biggest challenge is self-doubt. 😉
YAYOMG!: What are 3 must-read middle grade books that you think our readers should try?
KIM: For readers who like spooky: Ghostlight by Sonia Gensler.
For readers who like funny: Tales of a Fourth Grade Nothing by Judy Blume.
For everyone: Wonder by R.J. Palacio.
YAYOMG!: Do you have any advice for our readers who love to write?
KIM: I started writing in third grade. I'd craft a story (mostly creepy ones) and scribble these horrible illustrations (I'm TERRIBLE at art), then staple it together into a book. I only wish I'd kept all those books! They would be great to look at now. But my advice would be to just write. Don't worry about it being perfect. Just have fun with it. And read a ton. Read, read, read!
Kim's Gamer Squad Fun Facts: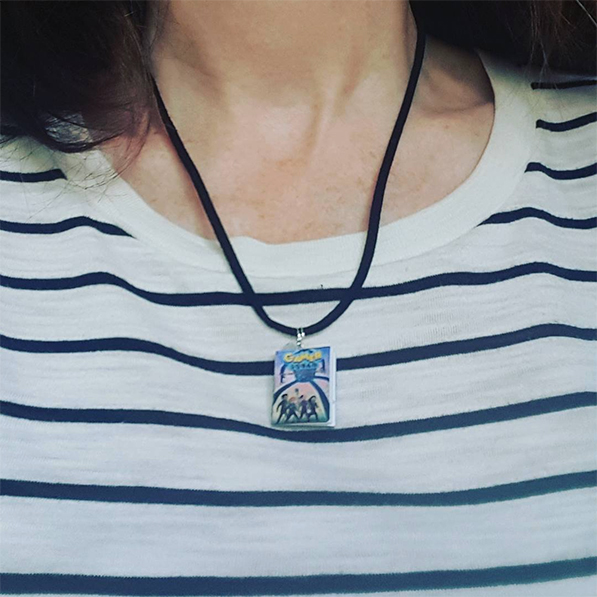 – The names of many of my friends are strewn throughout the books.
– People who live in my town may recognize some of the settings—like the library, a particular restaurant, and the park.
– I know nothing about ballet but my son's girlfriend is a dancer, so she helped me with Willa's dance terminology.
– I got a little teary-eyed writing Chapter 15.
See the necklace above? It's a tiny copy of Gamer Squad that Kim received as a gift to celebrate the release of her book. So cool!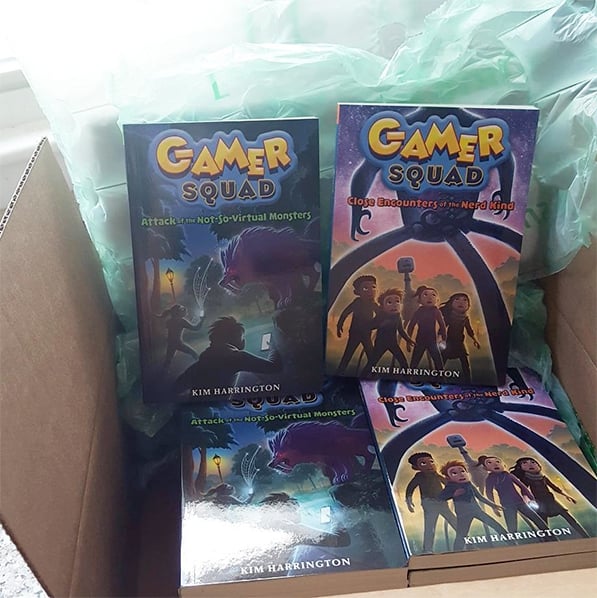 The first two books in the Gamer Squad series are now available from Sterling Children's Books! Join Bex and Charlie on their gaming fueled adventures in Attack of the Not-So Virtual Monsters and Close Encounters of the Nerd Kind. The third book, App of the Living Dead, will hit shelves in October.
For more exciting new books releasing this August, click here!