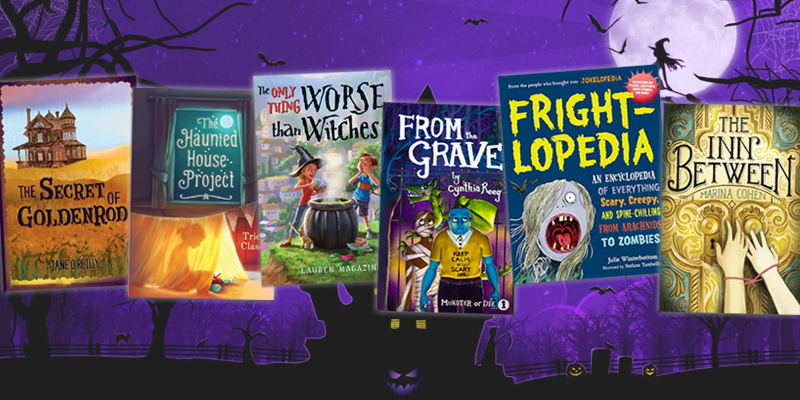 8 Spooky, Silly, Creepy, Eerie, Mysterious, and Freaky Halloween Reads
Last year we put together a list of 8 Spooky Halloween Reads to help you guys embrace the exciting few days before Halloween, and this year we're back with 8 more! After you've carved the perfect Jack-o-Lantern and put the finishing touches on your costume, these books are the perfect way to keep the scares in the air and the chills running down your spine.
We tried to shake it up at a bit with our choices this year as much as possible, so these 8 books range from mysterious to paranormal to totally hilarious! No matter what your tolerance for scares and frights, there's absolutely something great for you to read this Halloween and beyond.
8 Spooky, Silly, Creepy, Eerie, Mysterious, and Freaky Halloween Reads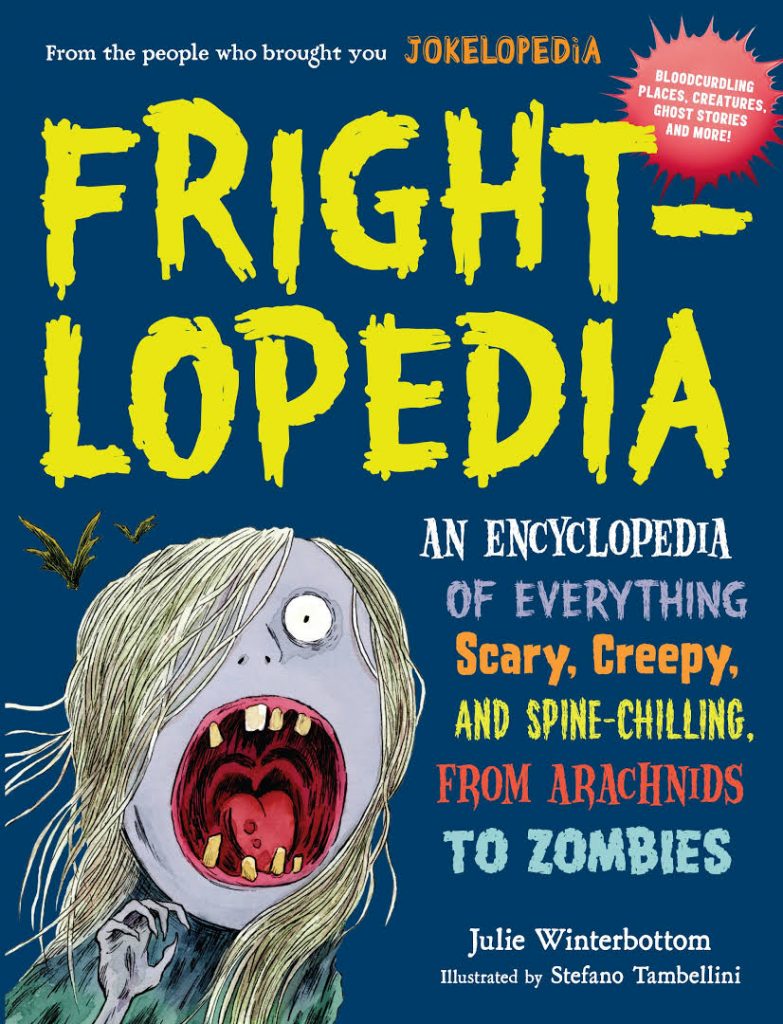 "Frightlopedia: An Encyclopedia of Everything Scary, Creepy, and Spine-Chilling from Arachnids to Zombies" by Julie Winterbottom
This book is the perfect side-kick for kids who love all things scary, spooky, creepy, crawly, freaky, and frightening. From spider facts to haunted towns to recipes for fake blood, this book is the gift that keeps on giving in terms of frights all year long. Plus, you can learn how to haunt your own house so you can truly terrify your parents and siblings. Doesn't get much better than that! Thanks to our friends at Workman Publishing for sharing a copy of this awesome book with us.
We begin our list with "Frightlopedia" because we believe that the Halloween fun should always be shared with others. This book is perfect for stashing in your bag to bring along with you to a Halloween party so you and your buds can hold the perfect séance, share spooky stories, and learn all the reasons you should actually love rats. "Frightlopedia" is jam packed with eerie illustrations and freaky facts that'll help make you an expert in all things creepy crawly and give you great ideas for Halloween pranks. Having a copy of "Frightlopedia" by your side will really bring your Halloween to horrifying new levels. There's also a few fun DIY's in there that will help bring your party or costume to life (or death, if that's more up your alley). The best part? Since this book is spooky themed rather than Halloween themed, you can find lots of reasons to read and re-read it all year long.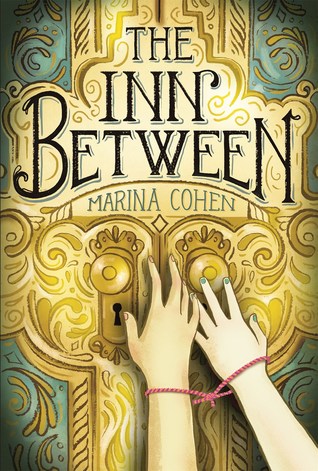 "The Inn Between" by Marina Cohen
We've written about this one before, but we absolutely adored it, so it gets a place on this list. Set in an eerie hotel where nothing is quite what it seems, "The Inn Between" lures you in, spooks you just enough, and surprises you with lots of twists and turns. This book has kind of an eerie, mysterious vibe to it, but nothing that should give you nightmares.
Quinn's life is kind of a mess right now. Her BFF Kara is moving away, she got caught cheating at school, and her sister Emma has gone missing. In order to be able to spend some time with Kara before she's gone for good, Quinn joins her family on the road trip they're taking across the country to get to their new home in California. When the family gets tired on their trip, they decide to stop and spend the night at the Inn Between, a seemingly normal hotel they discovered while driving. From the moment Quinn steps inside, she can tell that things aren't quite right. Strange things start happening, family members start disappearing, and the hotel staff never seem to have any real answers to her questions. The plot builds slowly and reveals little clues that help the reader solve the mystery of the hotel alongside Quinn and Kara. While this story is a spooky on one the surface, there's a much deeper story happening alongside it that really tugs on the heartstrings and is full of emotion. If you end up loving "The Inn Between" as much as we did, try our DIY Skeleton Key Necklace craft and create yourself a little piece of the story to wear with you everywhere you go.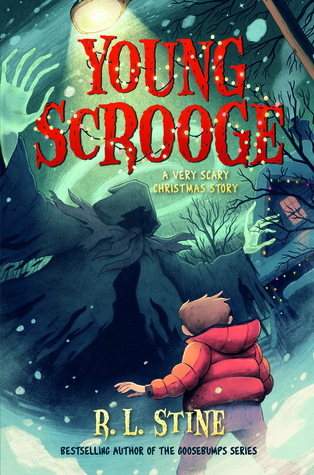 "Young Scrooge: A Very Scary Christmas Story" by R.L. Stine
Would a Halloween book list even BE a Halloween book list without including R.L. Stine? We don't think so. He's basically the king of scary stories. But we're not here to share a Goosebumps tale with you guys this time. In fact, "Young Scrooge" is actually a creepy Christmas story inspired by "A Christmas Carol". This means you can enjoy this book throughout the entire holiday season, kind of like "The Nightmare Before Christmas!"
Rick Scroogeman hates everything about Christmas. From the carols to the lights to the holiday cheer, Rick simply can't stand it. Between his bully-like nature, the last name of Scroogeman, and his overall grumpy demeanor, everyone in Rick's life starts calling him Scrooge, something he hates even more than Christmas itself. One day, Rick is visited by three ghosts and starts to get a taste of his own medicine. He's convinced he's living a nightmare, since he's totally afraid of ghosts. Like in the classic "A Christmas Carol", the ghosts of Christmas past, present, and future help Rick realize the error of his ways, but not without a few scares! This book balances the spooky and the funny in a way that fans of R.L. Stine will totally love.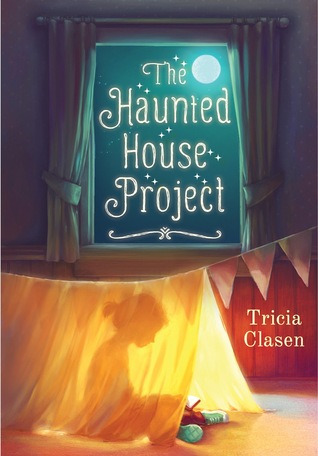 "The Haunted House Project" by Tricia Clasen
The title of this book may lead you to believe there's a haunted house filled with ghosts or horrible creatures, but what this house is actually filled with is a family struggling to cope with the loss of someone they loved dearly. If you're not so into scares and frights, cozy up with this bittersweet little book and prepare to feel all the feels and fall in love with your new favorite read.
Andie's mother was recently killed in a terrible car accident, and ever since, her family has struggled hard to keep it together. Their suffering has led to more than just sadness and an empty hole in their hearts, it's torn their family apart, leading to a gambling addiction for her father and causing her sister to give up on her big dreams for the future, all the while growing more and more distant from each other in the process. Andie describes her mother as the glue of their family, and worries that "without her, we may never stick together again." When her and her science partner team up for a paranormal inspired school project, Andie is inspired to start a project of her own – she's going to "haunt" her own house to help keep the spirit of her mother alive. Andie believes that a whiff of her mother's perfume or the sounds of her favorite song will bring to life all of the good memories of her mother and help bring her family back together. Despite her good intentions, dealing with grief isn't that easy and things don't go exactly as planned. This little story is both somber and hopeful and makes for a great read at Halloween or any other time of year.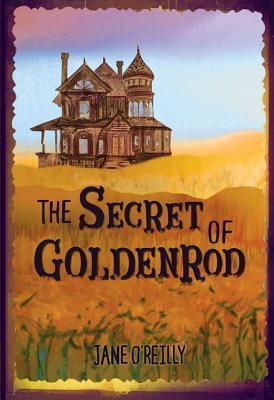 "The Secret of Goldenrod" by Jane O'Reilly
Unlike our previous pick, the old Goldenrod mansion in this book actually is haunted for real, or it at least seems to be. "The Secret of Goldenrod" feels like a mysterious fairytale, keeping you turning page after to page to find out why this house seems to have a mind of it's own and learn more about the friendship between Trina and the porcelain doll that's come to life in her dollhouse. We reviewed this fantastic book more in depth when it was released earlier this month, click here to check it out.
Trina and her father have just moved into yet another new home. They don't stay in one place very long because her father is a master carpenter who takes on many different jobs in lots of different cities, requiring them to move around a lot. Trina doesn't mind so much, but is definitely excited about moving into Goldenrod because they'll get to stay for an entire year, their longest project yet. The old Victorian mansion is located in a small town called New Royal and it is in need of quite a bit of work. Right away, Trina is able to tell that something is off about her new home. It's creaky floors and whistling pipes aren't just freaking her out – they seem more intentional, as if they house is trying to tell her something. When Trina finds an old dollhouse and beautiful porcelain doll, she decides to take it on as her own renovation project, but soon discovers there's something very special about Augustine, the doll who lives in the dollhouse – she's alive! Augustine belonged to the daughter of the original family who lived in the house, and is able to share some history of New Royal and the Goldenrod estate with Trina. Together, these two become close friends, helping each other understand the world and piece together the mysterious secrets of the "cursed" old house.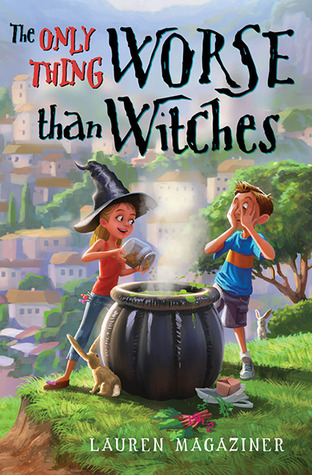 "The Only Thing Worse Than Witches" by Lauren Magaziner
Witches are definitely one of the first things that come to mind when you think of a scary story or Halloween night, which makes "The Only Thing Worse Than Witches" a great pick for our list. This goofy little book is jam packed with everything a Halloween read needs – witches in training, magic, evil teachers, thrills, spooks, secrets….and bunnies.
In Rupert Campbell's world, witches are a real thing that really, really exist. Sounds pretty great for a kid who dreams of broomsticks, potions, and spells – right? Unfortunately, he's been forbidden by his mother from ever going to the witch-y part of town but he's really not sure why. So when Rupert discovers an ad for a witch's apprentice, he knows he's the right kid for the job. Things don't turn out to be exactly what he had envisioned, he was thinking he'd be the sidekick to a seasoned witch with lots of experience, but instead ends up with Witchling Two, a quirky witch in training who's practicing for her witch BAR exam. (And isn't so great at doing magic or remembering things.) Since witches and humans aren't supposed to hang out, their friendship is the source of trouble through many of their crazy adventures together as they help each other out through sticky situations and uncover some major secrets about their town. The characters in this book are so charming and loveable you'll find yourself wishing you could join their little squad IRL.
So what makes this otherwise silly book so perfect for Halloween? Mrs. Frabbleknacker, the evilest 5th grade teacher that's ever taught. She's always keeping kids late after school, sometimes for DAYS at time. She doesn't let the students talk to each other before, during, or after class. She's basically a mean old witch! She'll absolutely scare the pants off of you at each mention of her name and make you happy she's not YOUR teacher. We're shuddering just thinking about it.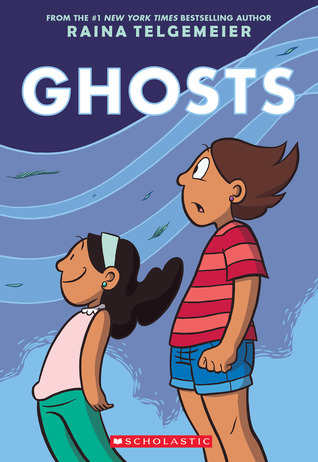 "Ghosts" by Raina Telgemeier
Was there any doubt that we'd be adding this to our list? The atmosphere in this fun graphic novel is classic Halloween. With each panel you can feel the chill growing in the air and the entire book just feels and reads like a foggy Halloween night. While it definitely lives up to it's name, this story is less about frights and more about celebrating sisterhood, embracing hard situations, and understanding new cultures and ideas. For our full review, click here.
Cat and Maya are leaving their comfortable lives behind and moving to a new town with their family. The reason? Maya suffers from Cystic Fibrosis, serious, yet manageable disorder that causes breathing complications, lung infections, and other symptoms that aren't easy to deal with when you're a kid. Cat and Maya's family are moving to Bahía de Luna, a town with salty fresh air that will be helpful for Maya's condition. When the girls start to explore their new town, they meet Carlos, a kid who has lived in the town his entire life. He's eager to befriend the girls and share the town's history with them, except Cat isn't so sure she wants to know, as the town has a history filled with ghosts. When Maya's curiosity pushes her a little too far, Cat must learn to face her fears about the reality of her sister's condition as well as living in a brand new place. Weaved between the pages of the story is a bit of an introduction to Día de los Muertos, a traditional Mexican holiday that takes place after Halloween. The people of Bahía de Luna take this annual celebration very seriously which helps introduce the girls (and the readers) to a part of their culture they never knew much about.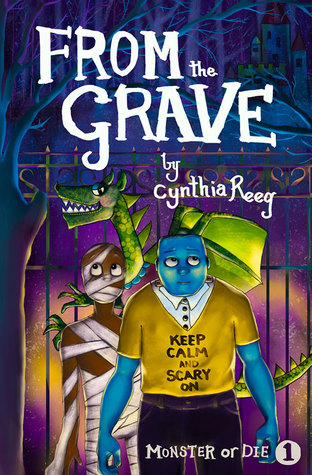 "From the Grave" by Cynthia Reeg
"From the Grave" is the perfect read for fans of "Hotel Transylvania", "Hocus Pocus", and other movies that embrace the sillier side of the horror genre. It's the first book in the "Monster or Die" series and we recommend it for anyone who's looking for a book that's fun to read with a flashlight under the covers but won't make you jump every time you hear a creak in the floorboards.
This not-so-ordinary tale of growing up and fitting in follows Frank, a Frankenstein monster who doesn't like being mean, dirty, or scary. Oh, and did we mention that he's blue instead of green? Because of this, Frank ends up labeled a misfit and attends class with the other monsters who aren't quite "right". A mummy who won't stay wrapped, a dragon who breathes water instead of fire, and even a troll who wishes to be beautiful. As if being an outcast isn't hard enough, Principal Snaggle decides to banish all the misfit monsters to Exxillium for the day (a horrible place filled with blue skies, fresh air, and sugar) to scare them into wanting to be more monsterly. Frank and his friends must decide if they're willing to conform to monster life or show the world that staying true to who you are is the most important thing.
The monster world of Uggarland in "From the Grave" is oozing with detail and monster-puns that'll draw you in and have you giggling from start to finish. Shoutout to Cynthia Reeg, the author of this adorable read, for providing us with an advanced copy. We really appreciate it!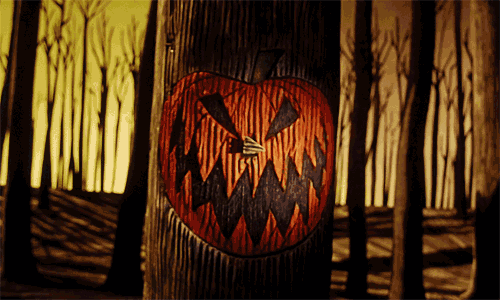 Now that you've got your Halloween TBR stack all planned out, find out which Halloween Character is most like you by taking our Halloween Zodiac Quiz!