4 Creepy Reads For Kids Who Love All Things Gruesome, Spooky, & Slimy
It's been 3 years since R.L. Stine's The Haunting Hour went off the air and the Goosebumps: Horrorland doesn't hit theaters until Fall of NEXT year. If you're the kind of kid who thrives on scary stories, bug hunting, or loved slimy things before slime was cool, it's been pretty dry in terms of kid-friendly scares to keep you up at night. That's why we put together a list of delightfully creepy reads that will fuel your passion for all things disturbing and keep you up to date on some of the most deadly, scary, and strange creatures and critters on Earth.
Whether you love catching bugs with lots of legs, reading up on on supernatural creatures, or getting dirty in the kitchen, there's a book here for you.
4 Creepy Reads For Kids Who Love All Things Gruesome, Spooky, & Slimy: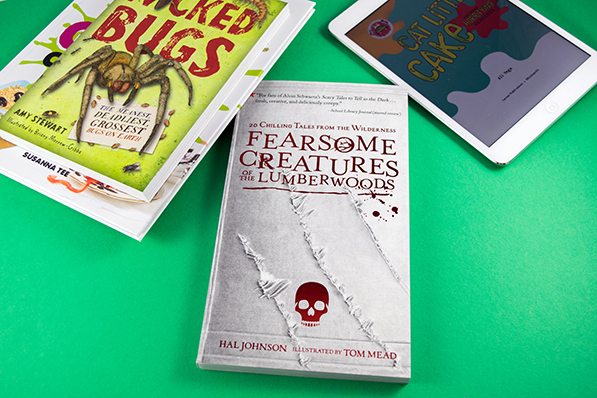 Fearsome Creatures of the Lumberwoods: 20 Chilling Tales from the Wilderness
Author: Hal Johnson
Publisher: Workman Publishing

Fearsome Creatures of the Lumberwoods will help you on your path to becoming a cryptozoologist by detailing 20 legends of the most fantastical beasts into American folklore. If you dare flip through the pages of this terrifying book, you'll learn of the Whirling Whimpus, the Snoligoster, the Hyampo Hog Bear, and more bone-chilling tales. These elusive creatures may not be as legendary as Nessie or Sasquatch – but they're just as fascinating. Every creature is illustrated in extreme detail so you can get a close look at these fascinating creatures. This book is the perfect match for kids who love hunting for Bigfoot and trying to spot the Loch Ness Monster. It's a great pick to bring along on your Fall camping adventures.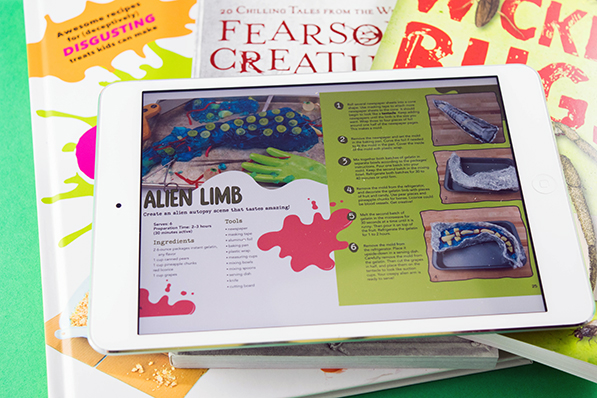 Little Kitchen of Horrors
Author: Ali Vega
Publisher: Lerner Books
The Little Kitchen of Horrors cookbook series contains 6 digital cookbooks oozing with nasty looking yet totally tasty recipes. From Cat Litter Cakes to Zombie Gut Chili, there's tons of recipes across the 6 books to help you freak out your friends. For those of you who love to cook and bake, step up your game and get creative by learning to cook food that looks terrible but tastes surprisingly delicious. Who said you had to wait til Halloween to start the scares? Whip one one of these strange treats to bring life (or the undead) to any birthday party or sleepover. Spanning breakfasts, dinners, desserts, and party foods, you'll learn to cook a horrifying meal for any time of day.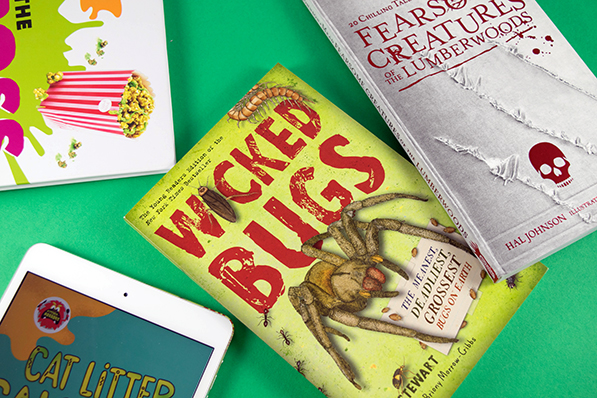 Wicked Bugs: The Meanest, Deadliest, Grossest Bugs on Earth
Author: Amy Stewart
Publisher: Algonquin Young Readers
If you're both fearless and curious, Wicked Bugs is the book for you. This book features nearly 40 species of the meanest, grossest, and deadliest bugs on Earth. These creepy crawlies are enough to freak out even the most courageous scientists and entomologists – think you can handle it? The bugs in this book all have detailed illustrations, spine-chilling descriptions, and is filled with freaky facts. You might read this over and over again for fun, but definitely stash it away for a school science project because you're about to be a total bug expert. Read about scorpions that glow, centipedes that can catch bats, and caterpillars that sting.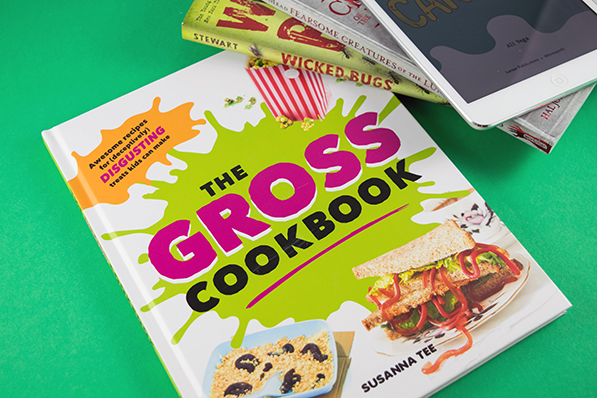 The Gross Cookbook
Author: Susanna Tee
Publisher: Sourcebooks Jabberwocky
You may be thinking "Another cookbook?! Give me the scary, slimy stuff!", but hear us out. The Gross Cookbook doesn't just teach you how to cook terrifyingly delicious treats – the book is also littered with facts! Learn the truth about REAL gross foods enjoyed by people all around the world. You'll find facts about weird delicacies from around the globe like Fish Eyeballs, Fried Tarantulas, and Roasted Rat making this book a great choice for those of you who like to learn AND do. Whip up some Chewy Cockroaches in the kitchen and then read all about Deep-Fried Rattlesnake while you enjoy your scary good home cooked meal. There's even some great party planning tips and cooking lingo that'll help ensure you're always able to party like it's October 31st!
Need more ways to get your scare on? Check out our list of 8 Spooky, Silly, Creepy, Eerie, Mysterious, and Freaky Reads!
Note: We received free review copies of Wicked Bugs, Fearsome Creatures of the Lumberbwoods from Workman Publishing and Little Kitchen of Horrors from Lerner Books in exchange for fair and honest reviews. We were under no obligation to give a positive review.