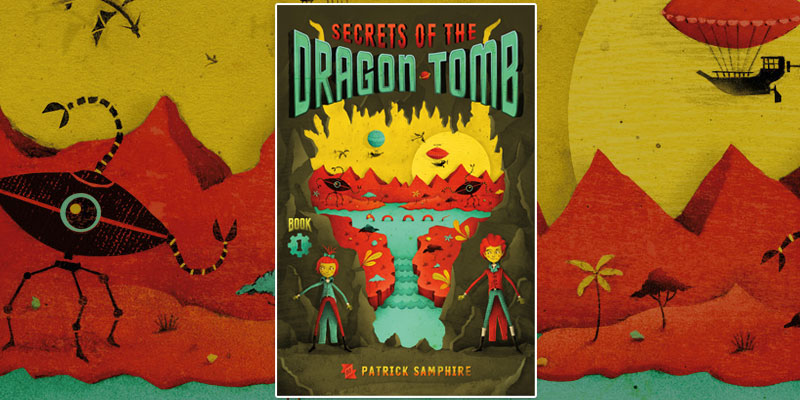 Secrets of the Dragon Tomb
"I was dangling from a rope, fifty feet up the side of a great pillar of red Martian rock, with my arms buried in a sopping curtain of tanglemoss and bury-beetles trying to build a hill over my head, when I finally realized I had chosen the wrong summer vacation."
If you can read that sentence and not immediately want to know what happened the exact moment before and after, you might want to see a doctor because we're not sure if you're alive.
That enticing opening line comes from "Secrets of the Dragon Tomb" by Patrick Samphire, an inventive, hilarious adventure that you won't be able to put down. The story is a little bit steampunk, a little bit sci-fi, and a whole lot of fun!
Edward Sullivan is seemingly ordinary. He's twelve years old. He loves reading spy adventures in his favorite magazine, Thrilling Martian Tales. He lives in 19th century Mars, where dinosaurs roam free, dragon inhabit tombs, and robot servants are the norm. Wait, what?!

In Mars 1816, nothing is quite like anything you've ever seen before. It's more like your wildest fantasy come to life, including dragon tombs that hide incredible ancient Martian technology that once allowed the British Martian society to thrive and made tomb explorers rich.
Despite his surroundings, Edward still finds himself wishing for a more exciting life filled with spy adventures and day-saving just like in Thrilling Martian Tales. Unfortunately, he's stuck with an absent minded, yet genius father, a mother and sister who want nothing more than to climb the social ladder, another sister who's brilliant and always stealing his magazines. He had the chance to spend his summer vacation with his best friend Matthew, but he stayed home to keep his wacky, distracted family on track and out of trouble. That is, until his dad invents something that turns out to be the key to one of the last great dragon tombs and everything goes completely awry! His cousin Freddie mysteriously stops by and starts asking a lot of questions and a bunch of houses start getting raided.

Once Sir Titus Dane, a dastardly archeologist (and someone who once adored Edward's mother) finds out about the water abacus, the Sullivan family finds themselves kidnapped, leaving Edward and his sisters as the only ones who can tackle the perilous Martian wilderness to rescue them. Looks like Edward is getting the adventure he always wanted, but now that he's face to face with danger, can he manage to pull himself together to save the day?
His little sister Putty seems to have all the answers, his older sister Olivia keeps the group grounded, and Freddie is brave in the face of danger. Does Edward bring to the table or are his idea of adventures destined to forever be between the pages of his favorite magazine? You'll have to read it to find out!
Secrets of the Dragon Tomb is only the first in this epic adventure, so if you love the story as much as we do, there will be sequels waiting for you in the not too distant future!