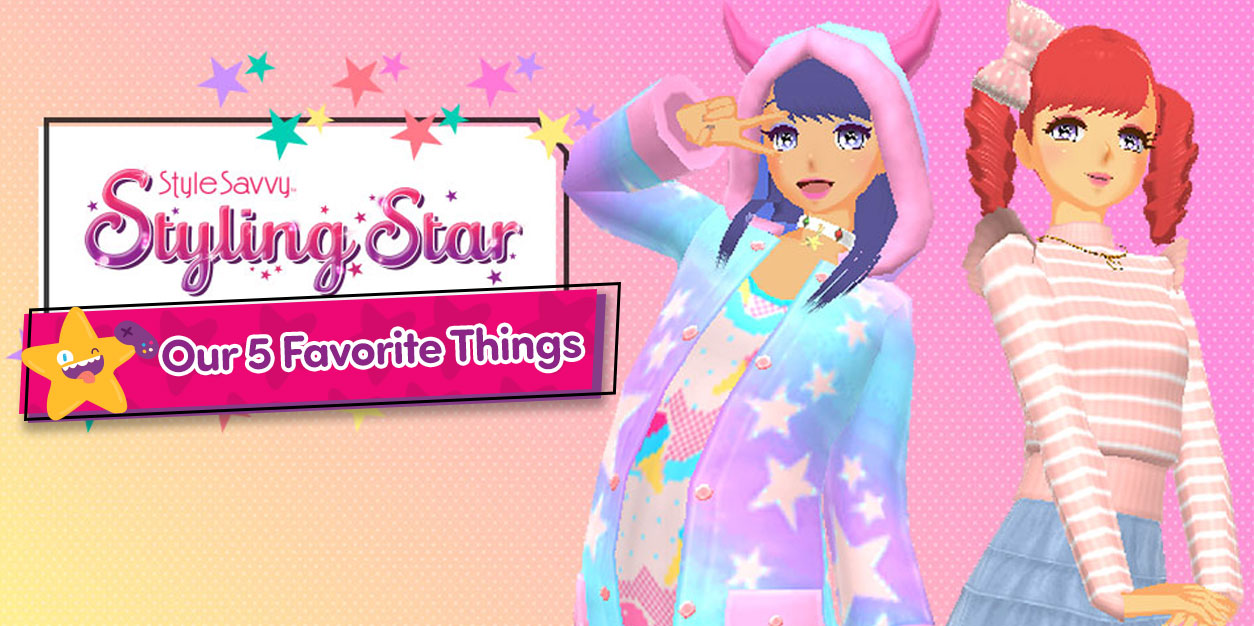 Our 5 Favorite Things About Style Savvy: Styling Star
Note: We received this a review code for this game in exchange for a fair and honest review. We were under no obligation to write a positive review.
The Style Savvy series is back and better than ever! Style Savvy: Styling Star for Nintendo 3DS brings all the elements you love from past games in the series and combines it with brand new features and gameplay to get excited about. Even if you don't consider yourself a fashionista IRL, you'll find yourself completely immersed in this super fun fashion simulation. We had been looking forward to this one for quite awhile and were thrilled to discover that the amazing folks at Nintendo had gifted us a review code so we could get playing right away when the game released last month. Watch the trailer here.
Style Savvy: Styling Star:
The game begins with you stepping off the train in Beaumonde City and meeting up with your uncle, Tim. He's the current owner of the local fashion boutique, but he's leaving town to follow his musical dreams and is leaving the shop in your hands. It turns out the store isn't very well known and doesn't have many sales, so it's up to you to bring new life and a love of fashion to the city.
At first, most people are reluctant to shop at your store as they've had a bad experience before or barely even know the shop exists, but as you style your customers, they leave happy and full of glowing recommendations that quickly help get the word out for you and boost the reputation of the shop. Before that, though, you'll get a chance to customize your avatar, check out your new apartment, and get ready to embark on your new fashion adventure!
The game begins rather quickly, but even if you've never played a Style Savvy game before, it's pretty easy to get started and follow along. Anything that's important is explained to you as you go, and everything else is pretty easy to feel out for yourself.
Our 5 Favorite Things About Style Savvy: Styling Star: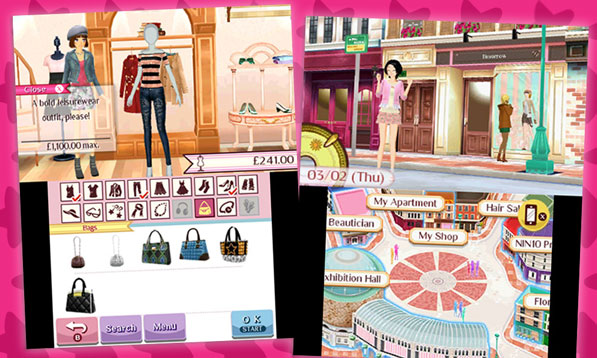 Customization:
There are seemingly infinite ways to customize your character, your apartment, and your shop in Style Savvy: Styling Star. You start off with a pretty decent amount of hair, outfit, and nail art options to dress up your character and a few design options for you to jazz up your apartment and boutique, but as you play the game and level up your Stylist Rank, you'll unlock more and more options to choose from.
You can even customize your in-game mobile phone with wallpapers from the clothing outlets at the Exhibition Hall. Eventually, you'll unlock ways to design your own custom shop logo, shopping bags, and clothing line!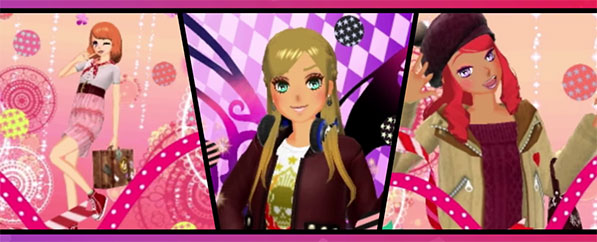 Your Choices Matter:
Part of the storyline in Styling Star that makes it stand out from other Style Savvy games is becoming a stylist to music stars on the rise. There are three characters in the game, Rosie, Yolanda, and Alina who are all looking to make it as the next big pop star. After discovering what an amazing stylist and supportive friend you are, put their fashion fates in your hands.
As you dress these characters for their most important life moments, the styles you choose impact their stories directly. The way you decide to steer their styles will determine which song they sing at their live performances and even cause other customers to request outfits in the style of these budding stars.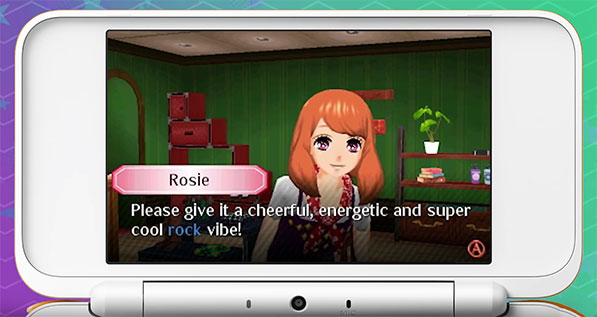 Relationships:
The relationships you make with some the customers, your assistant, and some of the other in-game characters feel much deeper this time around. For example, a girl named Jo and her grumpy brother stop by your shop one day, and you instantly click with her. The more she visits your shop, your friendship builds and eventually, you'll help Jo through a few personal dilemmas on her journey to open her own music club.
Even with characters you don't have quite that level of connection with, their stories still stick with you as they often bring things up from previous conversations you've had. Styled someone for a date? When they return to your store, they'll tell you how it went really well and ask you to dress them for another. We noticed that over time, some of the customers changed up their entire style based on a suggestion we made here or there. After you've styled your customers, the next time they return to your shop they'll be wearing the last thing you styled for them, which makes your choices feel worthwhile and makes you feel like you're getting to know them on a personal level.
You can also text with them using your in-game smartphone and invite them to the shop for a personalized style sesh where you can create an entire look for them!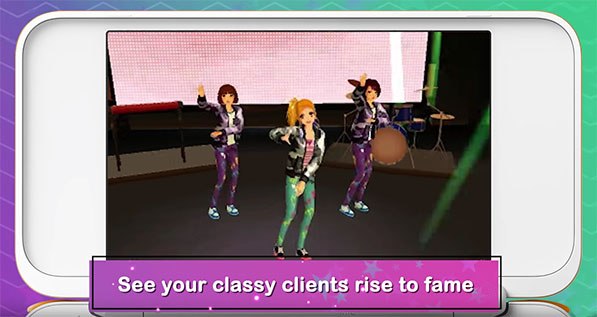 It feels gratifying to learn how you've impacted and improved your customer's lives. They often tell you how you boosted their confidence, helped them thrive at an important meeting, or just generally made their day great. It makes them feel like regular customers rather than just repeat customers and it makes your work feel so worthwhile. Is this how real stylists and fashion designers feel all the time? Because it's kind of great, TBH!
The compliments and feedback the customers give can boost your confidence as a stylist and make you, the player, feel like you're doing something right and something worth all the time you invest into the game. Sure, there are times you won't get it right, and your customers will be let down, but there really aren't any hardcore repercussions for this. You'll often be given a second chance to impress them at a later time, so feel free to be bold and take big risks – they usually pay off!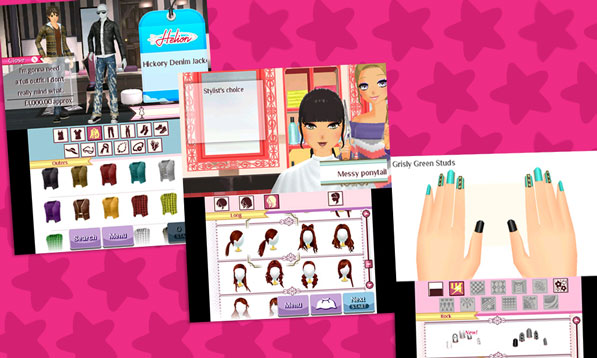 It's Not JUST Fashion:
While running your own boutique and showing off what a bold fashionista you are is super fun, it only scratches the surface of what you can do in Style Savvy: Styling Star. Take on different careers by designing bold nail art, take on the role of makeup artist at a cosmetic store, work as a hairstylist as you help out at the local salon, and even consult at a menswear boutique! We love how the Style Savvy series is a fun way for aspiring designers and stylists to explore their passions.
It's not all work, either. You can stroll through the park, sip fancy coffee at the cafe, shop for decor at the florist, or have hilariously awkward banter with the strange guy who owns the pastry cart. There are even a few situations where you can break away from your routine and attend the events going on in your customer's lives, watch them perform, and more.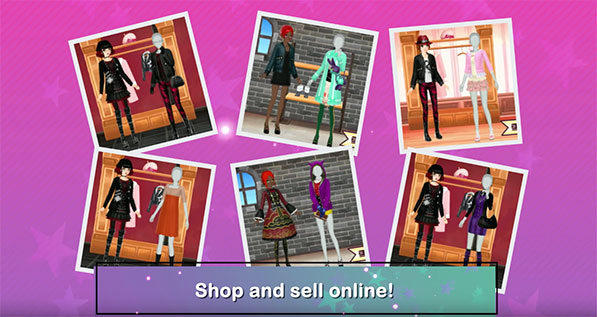 Online Marketplace:
If you love games that let you get a glimpse into what other players are creating, you'll definitely love the Design Centre in Styling Star. You can browse other's clothing designs and buy them using the money you make in your shop. Since it's pretty easy to make money within the game, you can pretty much afford anything you want as long as you're willing to spend a few in-game days dressing customers. You can also upload up to three of your own designs at a time and put them up for sale. It keeps track of how many users around the world have purchased your item, and you get to keep the in-game cash for anything you sell!
Browsing through the items isn't a perfect experience, but if you know someone's specific shop or item ID, it's very easy to go there directly and find what you're looking for. We just love seeing how creative other players can be with their designs, but the best part is that it takes the already crazy high amount of in-game outfits and exclusive amiibo-only outfits from over 20,000 to a seemingly endless sea of fabulous fashion!
Speaking of those amiibo outfits, you can tap your amiibo onto your Nintendo 3DS gamepad to unlock exclusive amiibo-only outfits. Pretty much every amiibo and amiibo cards will unlock something, but specific amiibo, like Mario, Isabelle, and Princess Peach will unlock character-specific outfits.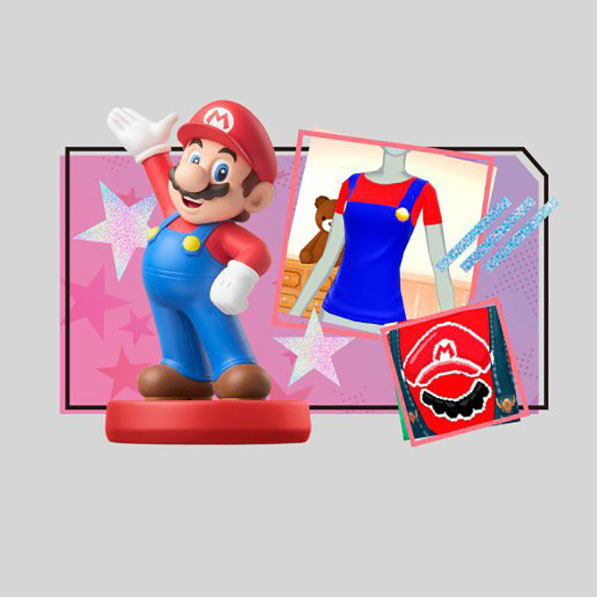 All in all, we really loved Style Savvy: Styling Star and think it's the best entry in the series so far. We're hopeful that there will be even more Styling Star games in the future that will find a home on Nintendo Switch or even as a mobile title.
Our wishlist? Seeing the hairstyling and beauty elements a little more fleshed out, maybe have even more control over some of the business elements of running your store, and diversity in terms of age, body type, etc. Think of how much fun it would have to be figuring out how to style a mom, a girl entering junior high, or even a grandma and how their tastes would differ.
Ready to play? Style Savvy: Styling Star is now available in the Nintendo eShop for $39.99.
Can't get enough styling and creating? Find out why we're excited about Nintendo Labo!