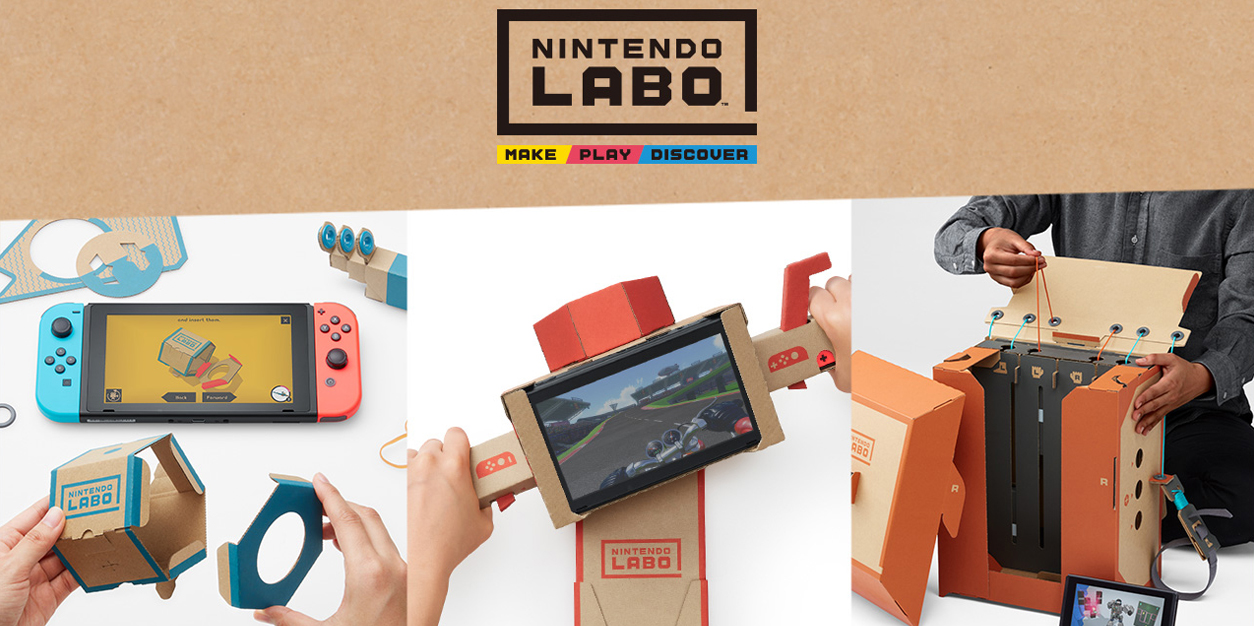 Make, Play, and Discover with Nintendo Labo
Just when you thought Nintendo couldn't possibly be any more innovative, they drop a huge announcement on a Wednesday afternoon that changes the way kids and gamers all around the world are about to interact with their Nintendo Switch. The big news? Nintendo Labo, a new line of DIY kits that will change the way you see boring old cardboard forever. Watch the video here to see the amazingness!
Everything We Know About Nintendo Labo:
As you can see from the video, Nintendo Labo aren't your ordinary DIY kits. Sure, you'll get your craft on by following the instructions on your Nintendo Switch screen and putting together anything from an awesome robot to a mini-piano and a fishing rod, but that's just the beginning. After you've finished building your Toy-Con creation, you'll be able to bring it to life using your Nintendo Switch.
Connect your Joy-Con controllers and tablet screen to infuse musical magic into those cardboard piano keys or transform your cardboard robot suit into something you can actually wear and use to smash in-game buildings! In addition to giving you something fun to build and play with, Nintendo Labo teaches you the mechanics of how things work, giving you all the tools you need to tweak, tinker with, and fully understand the inner-workings of what you've created.
When Nintendo Labo launches this April, there will be two kits available:
Toy-Con 1 – $69.99:
The variety kit comes with everything you need to create FIVE different Nintendo Labo projects, including cardboard sheets, string, eyelets, rubber bands, and more. What can you create with this kit? RC Cars, a Fishing Pole, a House, a Motorbike, and a Piano.
It also includes the Nintendo Labo Variety Kit software.

Toy-Con 2 – $79.99:
Craft a robot mech suit you can wear! This kit features everything you need to build a headset, backpack, and transforms your body into a giant robot-sized controller.
You'll also receive the Nintendo Labo Robot Kit software.
There will also be a Customization Set available at launch for $9.99 filled with stencils, stickers, and decorative washi tape so you can further customize all your amazing creations. Since it's cardboard, you can paint, color, sticker, and design pretty much any way you want with materials you have at home as well. Definitely going to need one of these sets so we can stick Mario's eyeballs on our Labo creations!
Once you've brought your creation to life, you'll be able to really dive into the "discover" part of Nintendo Labo. The software will show a 3D model of what you've built and teach you how it all works from the inside out, including the motion controls, infrared sensors, and more. The Nintendo Labo Toy-Con kits are much more than simple cardboard. We haven't gone hands-on with these kits ourselves, but from what we can see, this cardboard looks super durable, and we're beyond excited to try out these first two kits when they release on April 20, 2018.
The best part about Nintendo Labo? This is only the beginning. This Spring we'll see the first two kits, but we know there's so much more to come. Nintendo is always innovating and dreaming up new play experiences, and we'll see plenty of new kits to build (just watch the announcement trailer again more closely for a glimpse at what's to come).
What's buzzing through our minds, though? The possibilities of the Toy-Cons to interacting with real Nintendo games in the future. Imagine having to build yourself a house in Animal Crossing using Nintendo Labo? Or craft yourself a cardboard sword you can use in Breath of the Wild? What if you could throw a real cardboard Pokéball to capture a Pikachu in the upcoming Pokémon game? The possibilities are endless, and we just can't wait to see where Nintendo Labo is headed.
If you're as excited as we are, the kits are now up for pre-order on Amazon, Game Stop, and a few other retailers. If you're living in the NYC or San Fransisco area, you can hit up the Nintendo Labo website and have your parent sign up for a chance to attend the Nintendo Labo Studio event where you can get hands-on with Nintendo Labo and meet other gamers who love to build and create.
If you love tinkering, building, and creating, you'll love Hack Along with GoldieBlox!