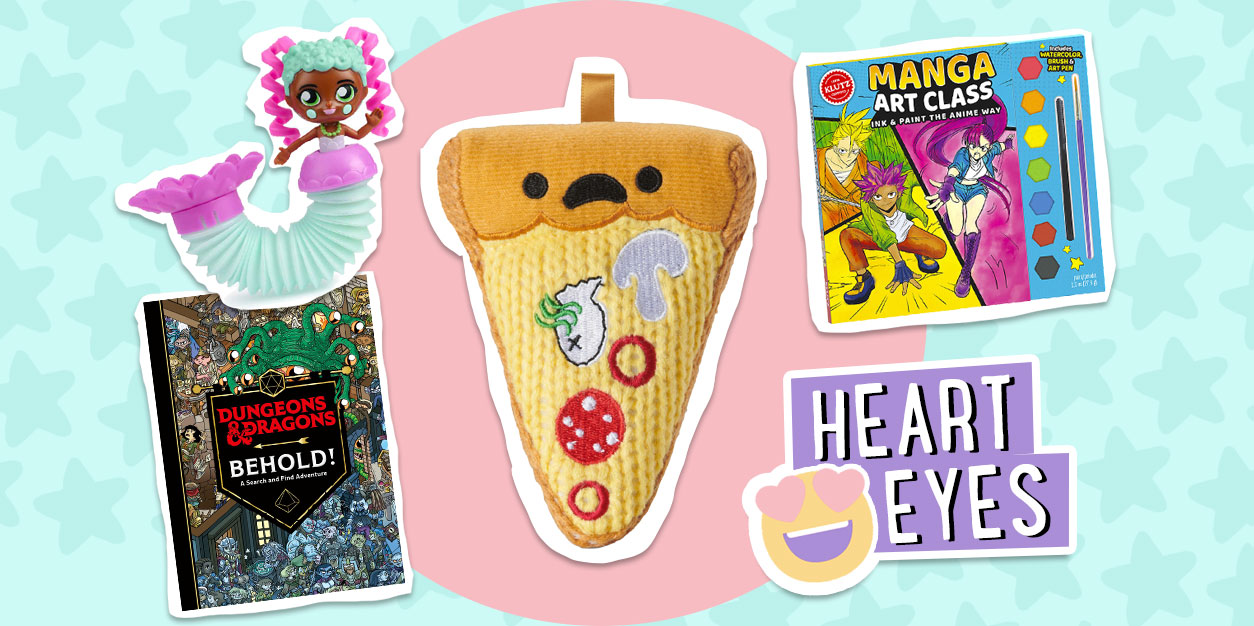 HEART EYES: Manga Art, Baking Kits, & Moon Girl
HEART EYES is a monthly series on YAYOMG! where we keep you in the know about all the best new stuff that will have you twinning with your favorite emoji.?
*NOTE: Our HEART EYES roundup is hand-curated by the YAYOMG! Team. Some of our picks are items we have received for free for review, some are not. Our recommendations are based on items we love and think our readers will love. We do not use affiliate links.
Ready for your monthly dose of swoon-worthy stuff? The latest edition of HEART EYES has arrived just in time to make you say, "I need that!"
February is such a confusing month. Sure, everything is pink and covered in chocolate (an absolute win), and the sun starts setting earlier, giving us a little more daylight to enjoy. But as we make strides towards Spring, we're still stuck trudging through chilly weather and wondering when we can finally enjoy outside again. While you dream of reading on a park bench or hitting up a food truck, this month's list is here to keep you company! Pick a side between Cute vs. Evil in Tic Tac KO, knit accessories for your ever-growing Squishmallow collection, and get to know the coolest new teen superhero you'll ever meet!
From boba tea backpacks to search-and-find adventures, these are the 16 things we think will give you HEART EYES this month!
HEART EYES – February 2023: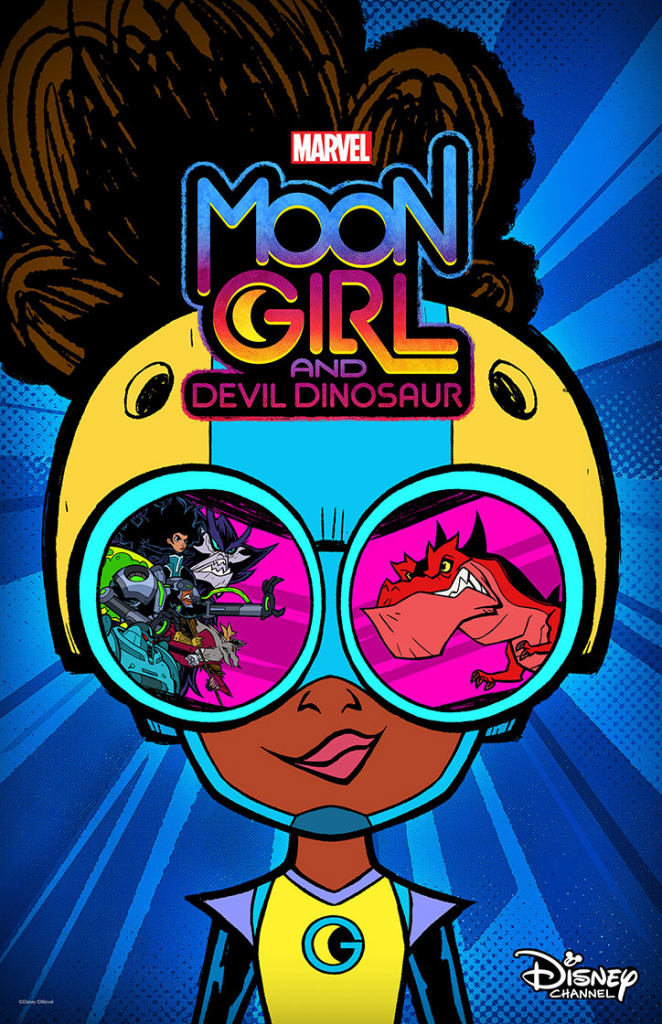 Moon Girl and Devil Dinosaur on Disney Channel:
POV: You're a whip-smart 13-year-old girl who just opened a portal, summoned a giant red dinosaur from the past to the present, and decided to team up as a crime-fighting duo!
Inspired by the Marvel comic of the same name, this new animated series introduces Lunella Lafayette, a Black girl living on the Lower East Side in NYC with her roller-rink-owning parents and grandparents. Rather than superpowers, Moon Girl invents her awesome gadgets in the secret lab she built below her apartment building and uses them to take on both her real-life struggles and to protect her tight-knit community from dangerous villains!
Featuring a vibrant stylized art style, a totally killer soundtrack, and an authentic glimpse into teen life paired with superhero action, this series is sure to become your new fav!
Dying to see this smart girl slay? Us too! Moon Girl and Devil Dinosaur hits Disney Channel and Disney+ this month!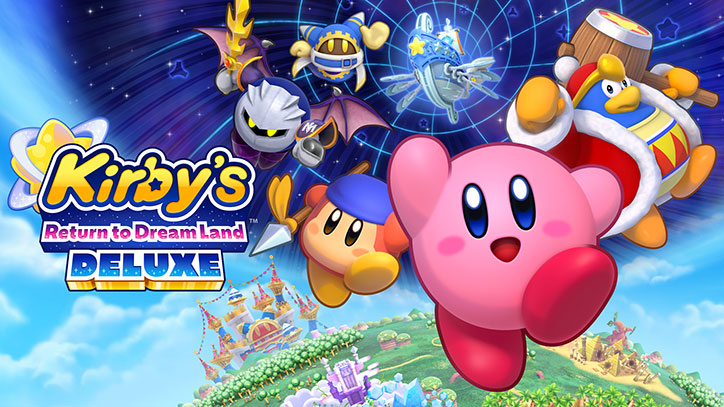 Kirby Return to Dream Land Deluxe on Nintendo Switch:
The iconic pink puffball is back in a remastered version of the Wii classic Kirby's Return to Dream Land!
Kirby games never disappoint, bringing all the copy abilities and exciting adventure vibes in an adorable platformer package! This new Deluxe version is a multiplayer adventure across Planet Popstar that you and up to three other players can take on together. Work together to suck up baddies, team up for piggyback Team Attacks, and find Magalor's missing ship pieces.
But like most Nintendo throwbacks, there are tons of new additions to make the game feel fresh. There are new copy abilities, like Mecha and Sand, Merry Magoland amusement park, which features lots of carnival-inspired minigames, and the Magalor Epilogue, an entirely new story you can unlock!
Kirby's Return to Dream Land Deluxe hits Nintendo Switch on February 24!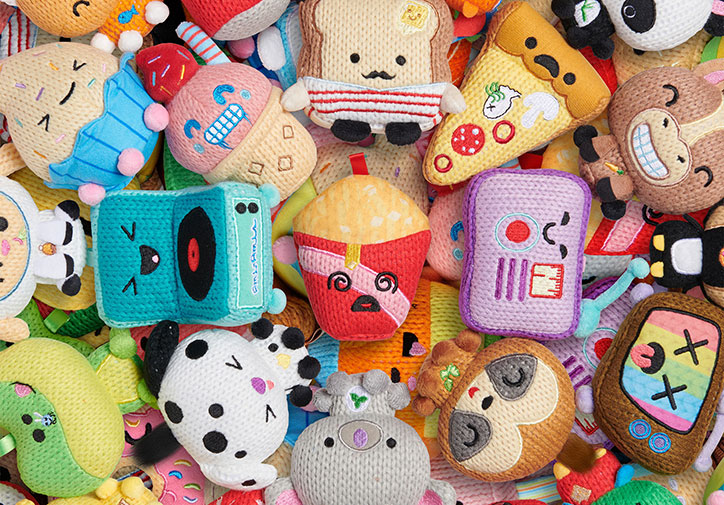 A quirky new collectible is here to take over your pile of plushies – and we're SO here for it!
Ami Amis are cozy, knitted characters inspired by all the best things in life – food, music, animals, and nostalgic throwbacks! From frazzled old computers to sweet, smiling bunnies, each of these 30 knit plush fit within a theme, like Foodie Friends and Retro, and have an expressive face you'll swoon over.
There's something for everyone – whether you're a gotta-have-em-all collector or want to pick and choose your favorites, there are so many to choose from. If you need us, we'll be hopping from store to store hunting for the elusive Ultra Rares!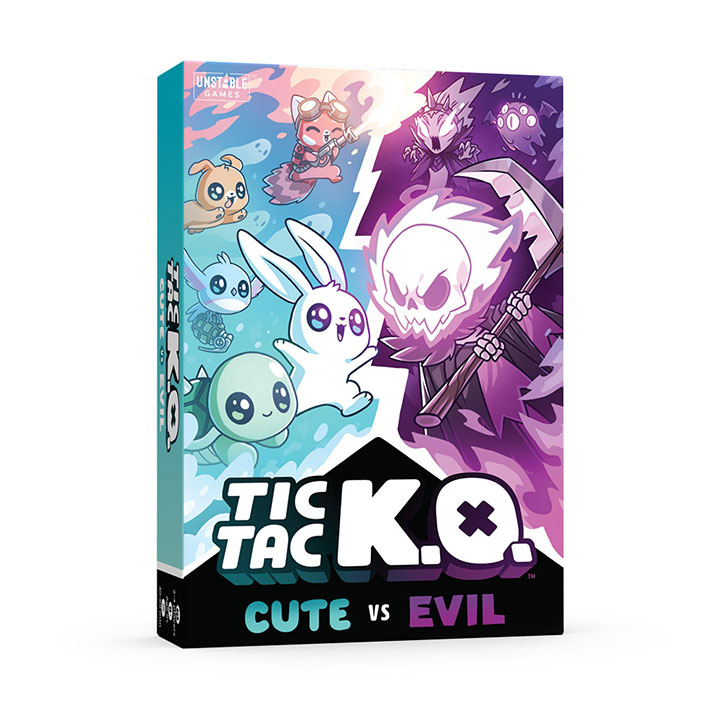 Tic Tac K.O. Cute vs. Evil: from Unstable Games:
Are you on Team Cute or Team Evil? This fast-paced card game adds a diabolical twist to Tic Tac Toe!
Join forces with a team of adorable critters or creepy evil-doers in this battle for the ages! Fight for control of the grid and knock out the other team by playing characters, claiming squares, and completing objectives – but be sure to keep your strategy sharp, as this game is ever-changing! Use Magic and Instant cards like Hypnotic Doom and Cave of Nightmares to take down your opponents and snatch up their squares to complete your secret pattern.
Want an even bigger challenge? Add in cards from the OG Dragons vs. Unicorns version and use the advanced grid for unexpected mashups and leveled-up fun!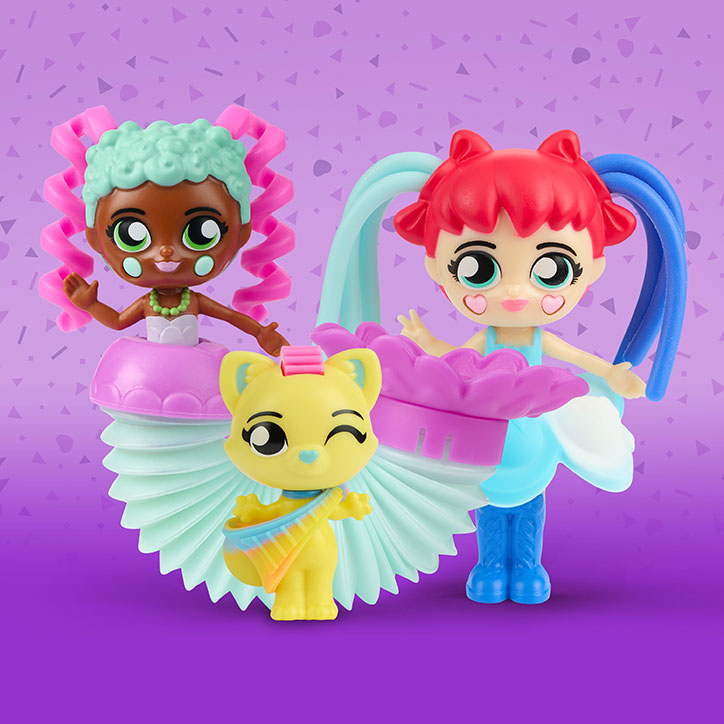 Fashion Fidgets from WowWee:
Part fidget, part fashion doll, you'll love twisting, pulling, and popping these collectible cuties!
Fashion Fidgets exploded onto the scene last year with hair you could twist and spin, clickable cheeks, and pop fidget skirts. Since they were such a sensation, WowWee introduced three new ways to collect and get your fidget on. There's Rainbow, which is Series 2 of the OG Fashion Fidgets line, and two new lines, Mermaids with pop tube tails and Pets, adorable fidget animals, are all ready to join your collection!
Want a deeper dive into these fierce fidget friends and a chance to snag some for your own collection? CLICK HERE for our Fashion Fidgets giveaway and all the deets!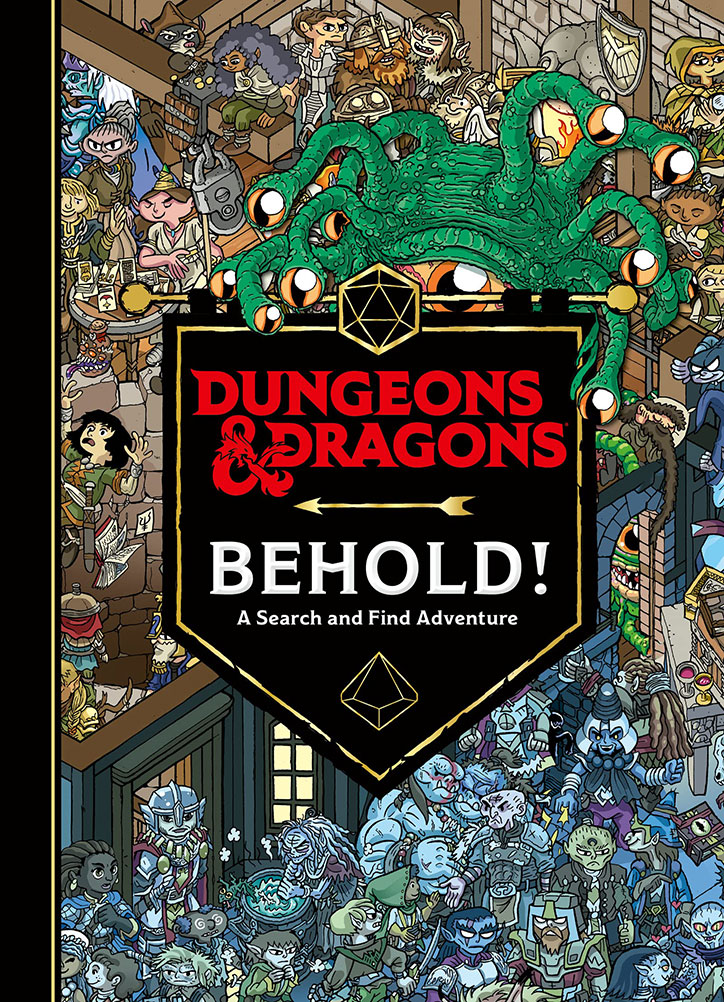 Dungeons & Dragons: Behold! A Search and Find Adventure from HarperCollins:
Explore the world of Dungeons & Dragons with this new seek-and-find adventure!
Whether you're a seasoned player or new to the world of D&D, you'll love exploring every realm and uncovering every character hidden within each scene. Every turn of the page is a new quest with new characters to find and lore to learn.
Search through iconic lands like the City of Splendors and Baldur's Gate and try to spot every single wizard, knight, and D&D easter egg on your journey to find the legendary Dungeon Master!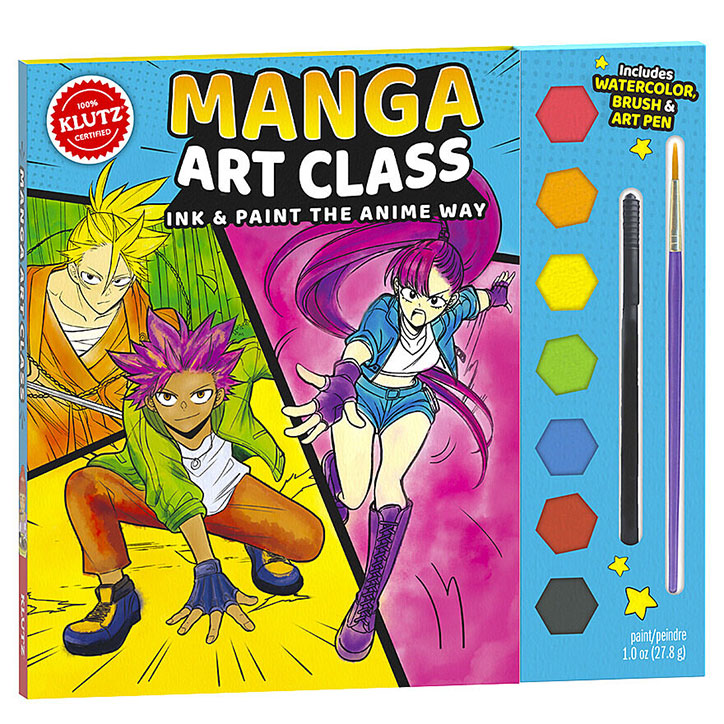 Manga Art Class from Klutz:
Unleash your inner manga artist and learn to ink and paint the anime way!
Overflowing with interactive art lessons and tricks of the trade, this all-in-one kit will have you illustrating like a pro! You'll learn about the traditional Japanese techniques that make manga characters so unique and bring your OCs to life through their expressions and movement. In addition to the guide, this kit features a black inking pen and a watercolor brush (as well as 7 watercolor paints) to help you amplify your designs and become a manga art master!
Snappix Kits from Perler:
Channel your inner crafter with these eye-popping Snappix kits!
If Perler beads and LEGO bricks combined into one seriously awesome DIY project, we think it would be something like Snappix! Featuring square beads that easily snap into place, these new Perler kits don't require an iron. Craft your vibe and create everything from stunning spacescapes to citrusy canvases to display in your room like a poster or tapestry.
There are 8 kits to choose from, all eye-catching designs that pop off the canvas, like sea turtles, ocean sunsets, and gnomes and mushrooms!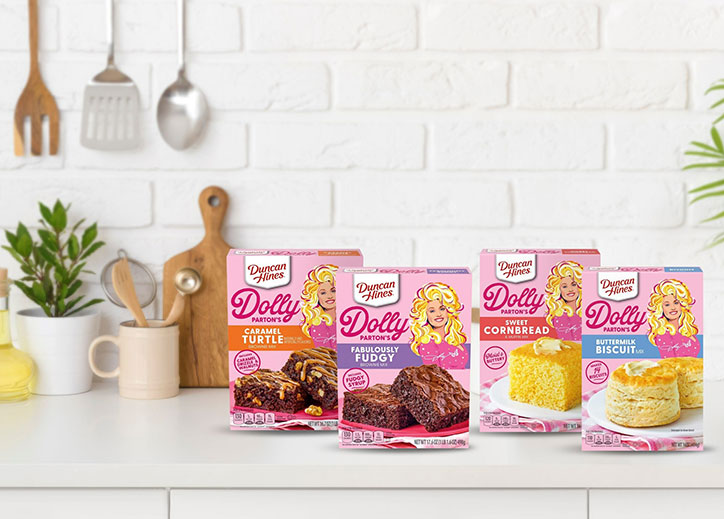 Dolly Parton Baking Mixes from Duncan Hines:
Ready to bake like an absolute legend?
Dolly Parton is a country music star, a girl power icon, and an all-around force of nature when it comes to doing good – and she's bringing all that power to the baking aisle to help at home-bakers whip up the Southern delights she loves. From Southern-style banana cake to flaky buttermilk biscuits, all of the Dolly-inspired baking mixes come in a dreamy pink box that stands out as much as she does!
Each of these Duncan Hines mixes can be whipped up as is, or you can try one of Dolly's favorite recipes featured right on the box!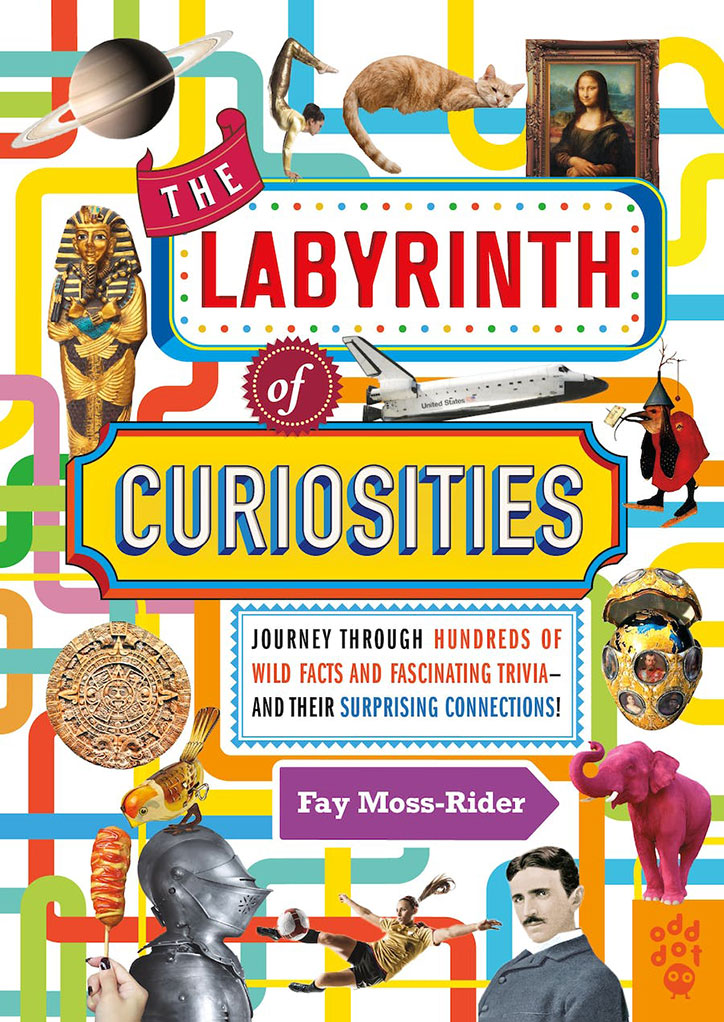 The Labyrinth of Curiosities by Fay Moss-Rider:
Quench your endless curiosity and take a journey through history, science, and pop culture in this fun new read!
The Labyrinth of Curiosities features wild facts and fascinating trivia about pretty much everything. Laid out like a maze, you'll get lost in the ever-winding twists and turns of new stuff to learn. The book doesn't just list cool fun facts – it shows the unexpected connections that tie everything together. What do ginkgo trees have to do with earthquakes and tidal waves, or how are Christmas carols connected to witchcraft?
Whether you start at the beginning or open to a random page, each fact you find will lead you to another piece of trivia you didn't know shared a super fascinating connection!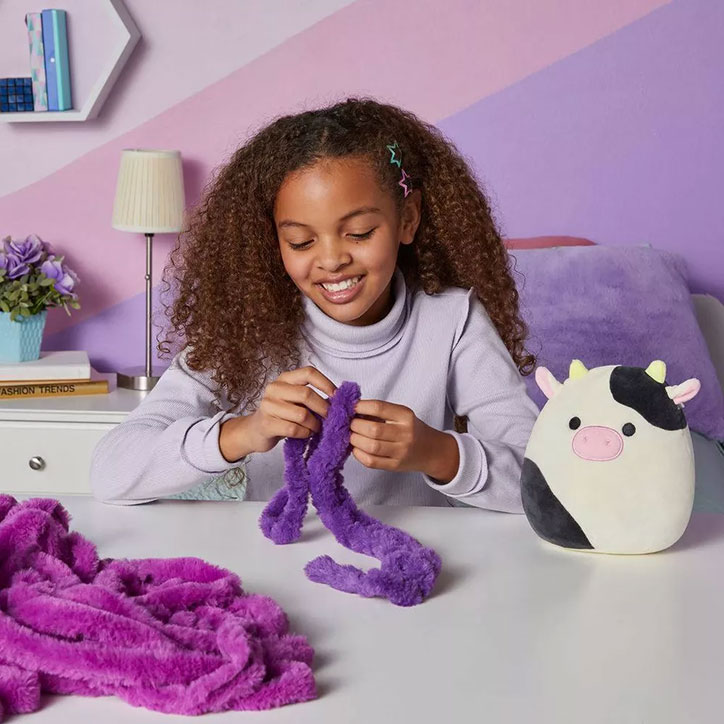 Big Fat Yarn Squishmallows Fashion Kit from Jazwares:
Have you ever wished you could dress up your never-ending collection of Squishmallows?
Big Fat Yarn hit the toy aisle last year with a collection of DIY kits that made finger knitting simple and inspired crafty kids to create everything from hair accessories to adorable animals. This year, they're helping you make eye-catching fashions for your Squishmallows using the same easy finger knitting techniques. Learn how to tie slip knots and make chains as you create headbands, hoodies, and bags for your squishable BFFs!
The best part? These accessories can be pulled apart and made again, so you master your skills and switch up your Squishmallow's style anytime!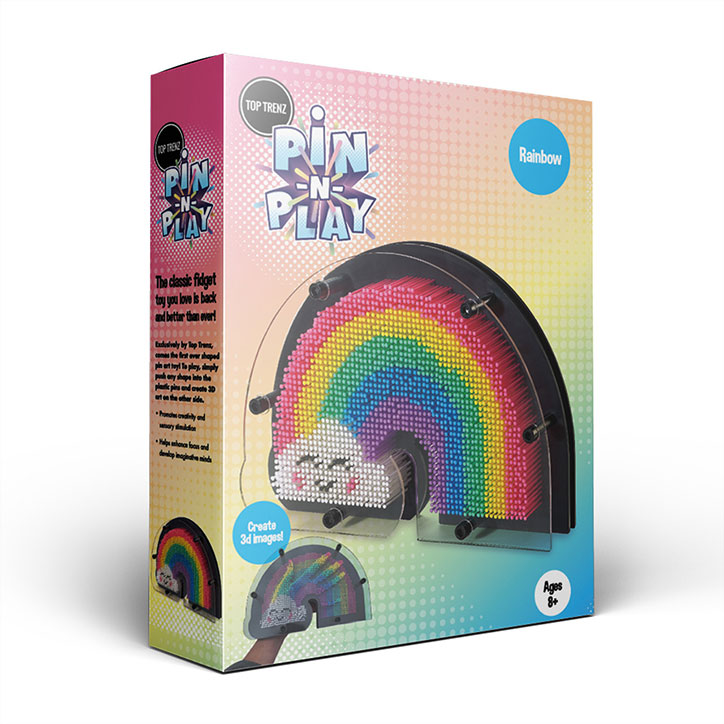 Pin-n-Play Fidget from Top Trenz:
A cute twist on the classic pin art fidget has entered the chat!
Giving total throwback vibes, these new fidgets bring back pin art in a whole new way. Back in our day, these were mainly shaped like rectangles and featured boring silver pins. They were lots of fun to press and push 3D shapes into, but their designs definitely left something to be desired.
That's what makes these Pin-n-Play fidgets shine! Not only are they super colorful, they're shaped like everything from video game controllers to ice cream cones, making them a fun fidget AND an eye-catching statement in your room.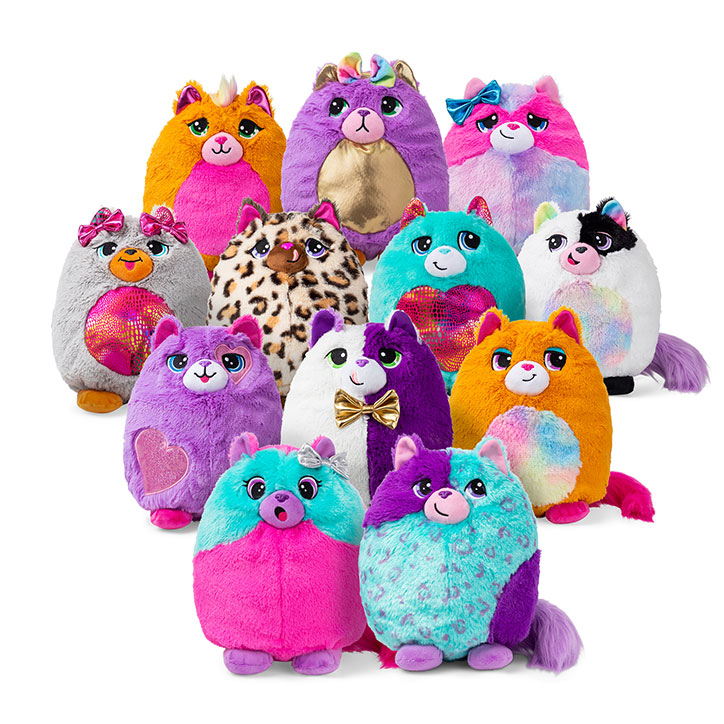 If you're the certified meme queen of the group chat, you're going to love letting your purr-sonality shine with this unique squad of Misfits!
Misfittens are the definition of "If I fits, I sits," as each colorful character comes squished inside a hilariously tiny package. There's no space too small for these comical kitties, but when you rescue your Misfit from their misfitting containers, they double in size!
Series 2 just released, and it's even better than the first! The 12 new soft, squishable kitties in this wave feature vibrant colors, bold patterns, and are all dressed up in adorable accessories like hairbows and bowties!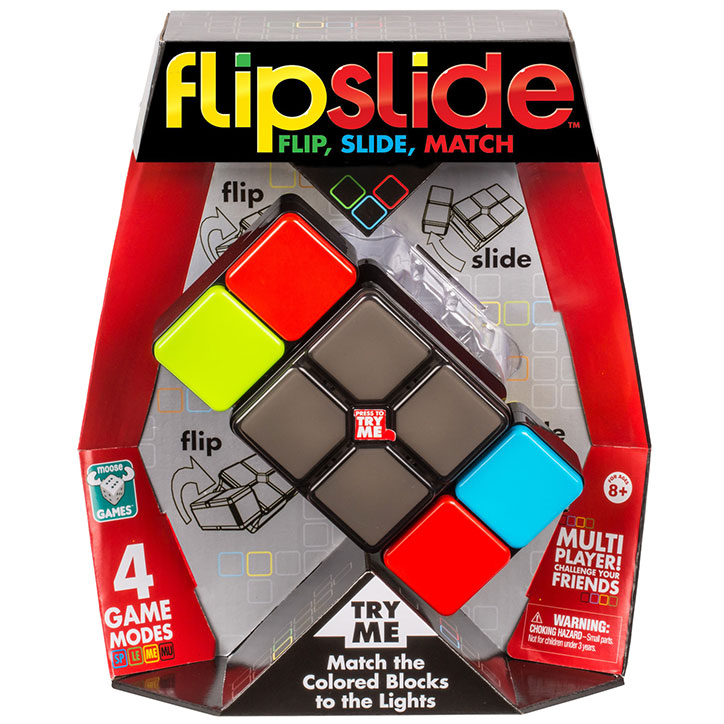 Mastered the Rubik's Cube and need a new challenge? Flipslide is the game for you!
Flipslide isn't new, but if it's new to you, let us catch you up on this fast-paced electronic puzzle experience. As the center of the game lights up, you'll have to flip and slide the colored blocks around the device to make matches and master the moves to beat the blocks.
There are four game modes, including Speed Mode, Level Mode, Memory Mode, and even a Multi-Player Mode so that you can challenge your friends to a battle. The best part? This handheld game fits perfectly in your bag so that you can take it everywhere, from family vacations to summer camp!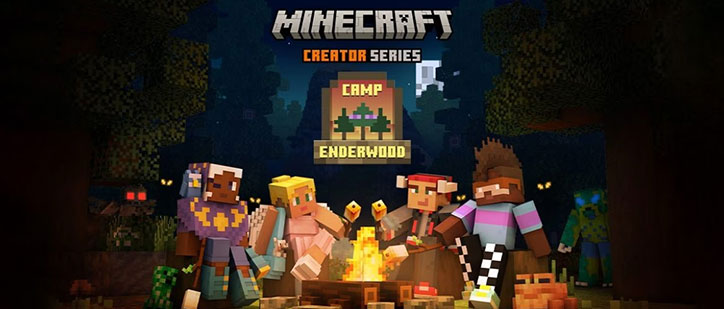 This new Minecraft DLC is giving spooky summer camp in the best way!
Ditch the winter blues and head to Camp Enderwood, a summer camp nestled deep within a blocky, woodsy Minecraft world, complete with mysterious cryptids lurking around the camp. Roast marshmallows alongside new characters, embark on a scavenger hunt, and master everything from archery to disco dancing (and, of course, arts and crafts.)
Can't get enough? There's a toy line on the way to help you take the experience off the screen with codes you can redeem for in-game stuff and another game update planned for the Fall!
Bubble Tea Mini Backpack from Claire's:
Calling all boba girlies – we've found the backpack you need to match your style to your favorite drink!
If boba is what you're reaching for when you're in a need of a treat after a major study sesh or volleyball victory, this adorable mini backpack will fill your soul with glee. Complete with a straw and a smiling face, you'll love stashing everything from your journal to your makeup bag inside this adorable bag.
?Want to stay in the know about the newest of new stuff? Keep an eye on our HEART EYES series for fresh new releases every month!