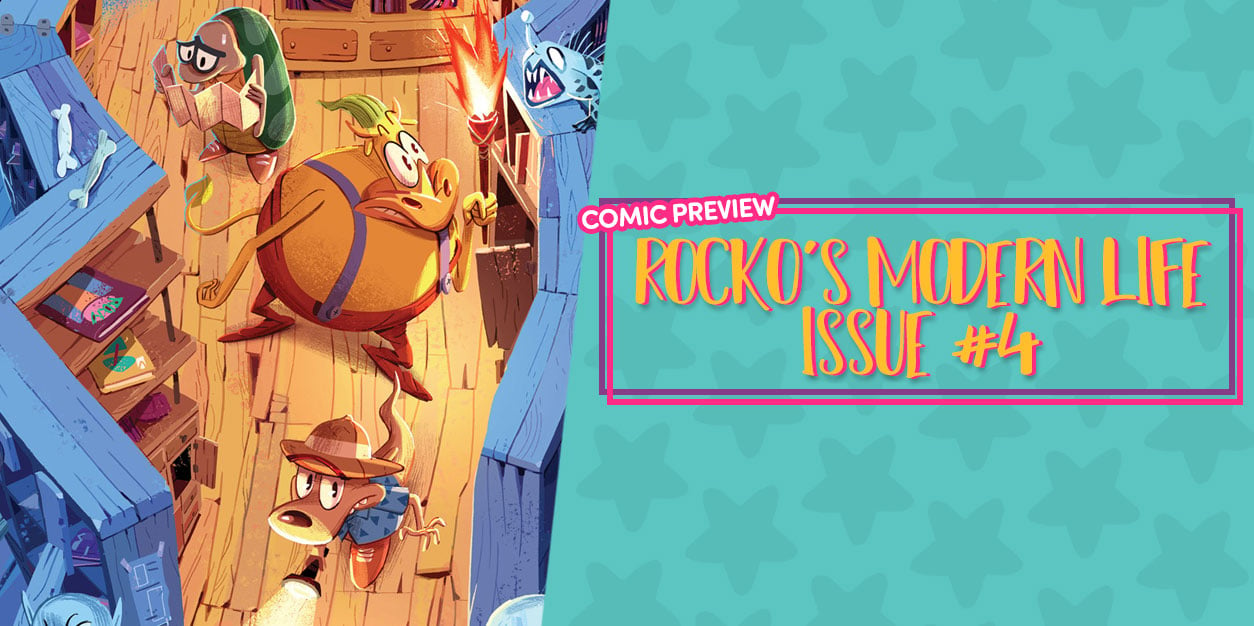 Rocko's Modern Life #4: Traffic Jams and Lady Dates
Get ready for even more outrageous Rocko hilarity! Rocko's Modern Life #4 is out today from BOOM! Studios. The latest issue picks up right where the last one left off, with a heartbroken Mr. Bighead ugly crying on Rocko's roof because Mrs. Bighead left him. Rocko, Heffer, and Filburt need to figure out how to get him off the roof, but more importantly, they need to get back to the club. Those ladies they met won't wait forever!
Will the gang be able to show Mr. Bighead that everything will be okay? Is true love in Rocko's future? Maybe, but they'll have to face a ton of traffic, a jam spill, and a club fight first! Just a typical night out in O-Town!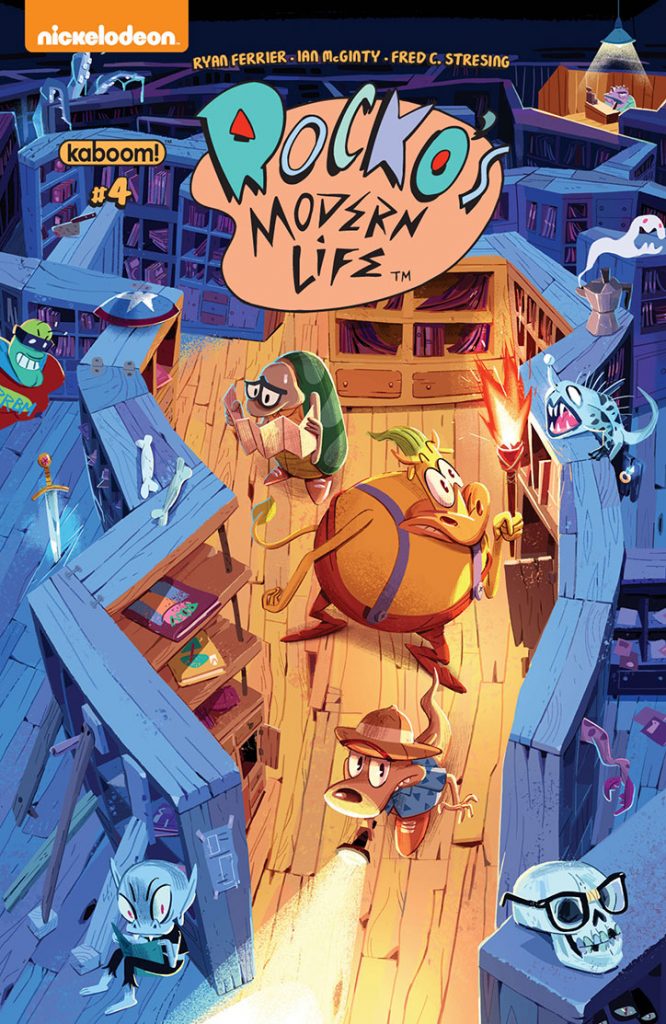 Keep on scrolling for an advanced peek at Rocko's Modern Life #4 before you pick it up:
PREVIEW: Rocko's Modern Life #4:
As always, this issue brings the hilariously weird cringe-worthy moments Rocko is known for. That poor wallaby just can't catch a break! Things might not always go his way, but as we learn by the end of this issue, he's got true friends that have his back no matter what. (Unless something better comes along to distract them!)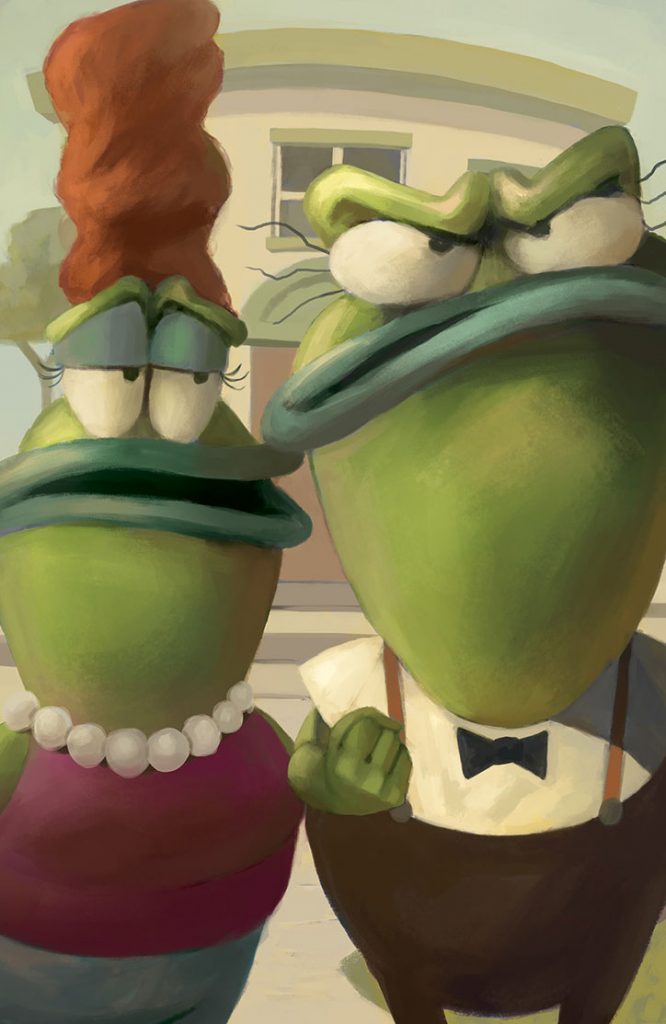 The bonus story this time around, Heffer's Sick Day by KC Green might be our favorite yet. While it doesn't bring back classic characters like Issue #3 with Bloaty and Squirmy, it's 100% classic Heffer. Heffer is excited to stay home and have a sick day. He thinks it will be all lazing around and watching cartoons, and it is – sort of. But when his mom leaves for work, his grandpa has a different idea of how to get better, and Heffer is in for a sick day he won't soon forget.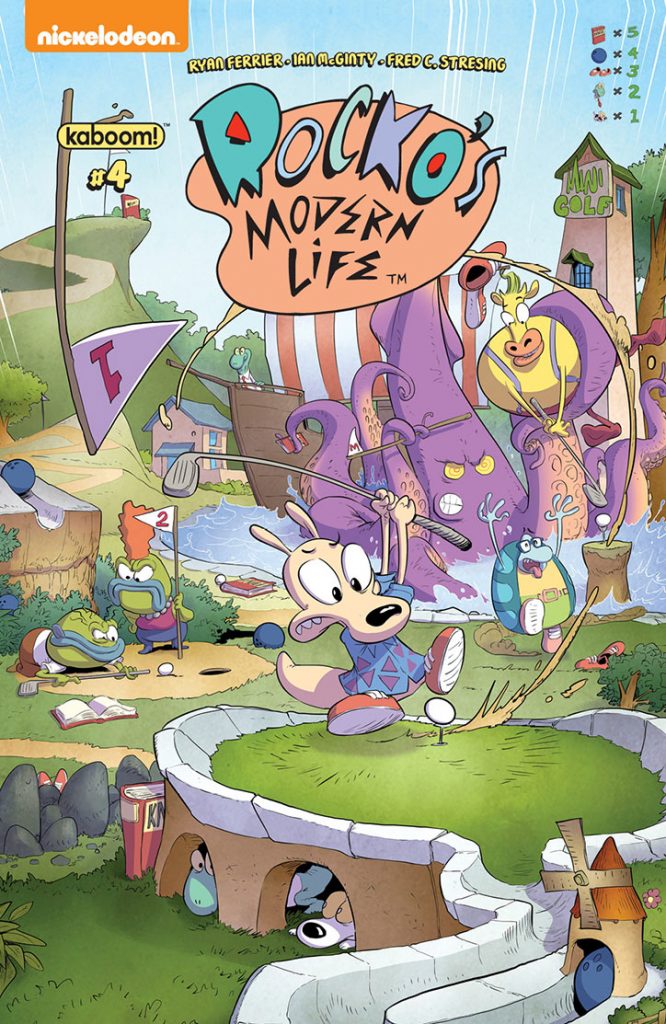 Rocko's Modern Life #4
Publisher: KaBOOM!, an imprint of BOOM! Studios
Writer: Ryan Ferrier, KC Green
Artist: Ian McGinty. KC Green
Colorist: Fred C. Stresing
Letterer: Jim Campbell
Cover Artists:
Main Cover: Jorge Monlongo
Subscription Cover: Miguel Mercado
Price: $3.99
Synopsis: When Mrs. Bighead leaves Mr. Bighead, it's up to Rocko and the gang to convince him that everything will be okay!
Can't get enough lovably weird comic heroes? Be sure to enter our giveaway for a copy of the newest Squirrel Girl novel, 2 Fuzzy, 2 Furious!