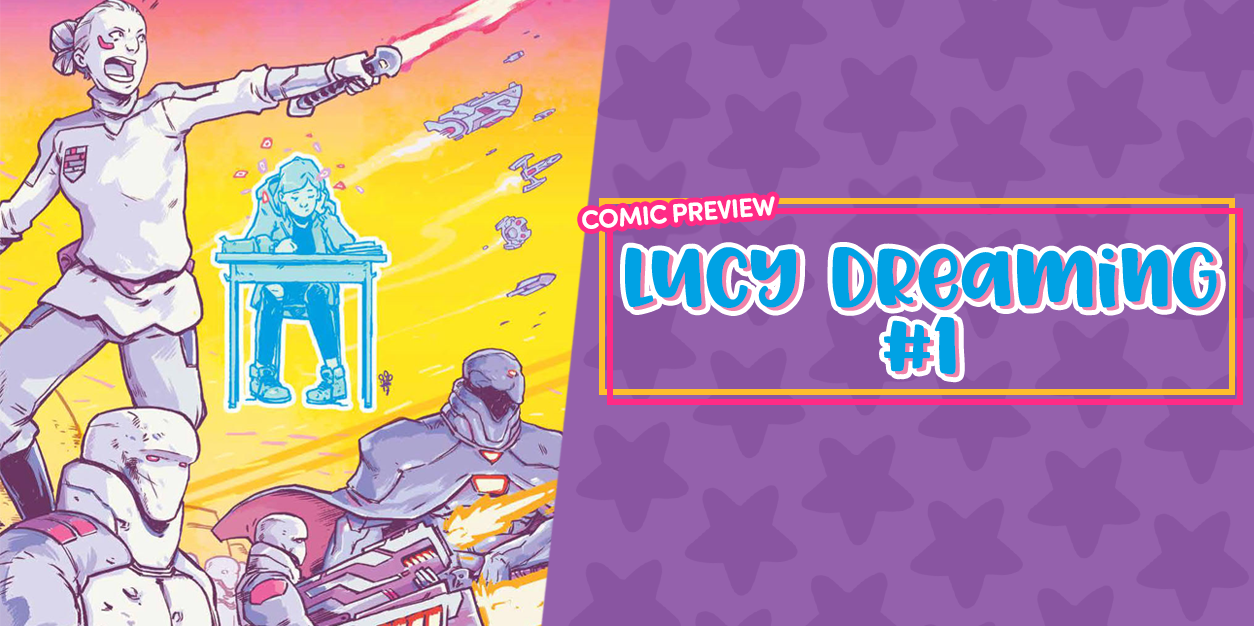 Lucy Dreaming #1 Brings Teenage Feels and Epic Dreams to Life
Lucy Dreaming is a brand new comic miniseries from BOOM! Studios that's part coming of age woes, part kick-butt sci-fi adventure. In Lucy Dreaming #1, we meet Lucy for the first time. She's a smart, snarky 13-year-old who's overwhelmed with lots of emotions and is going through your typical teenage changes and would rather be lost in a book than pretty much anywhere else.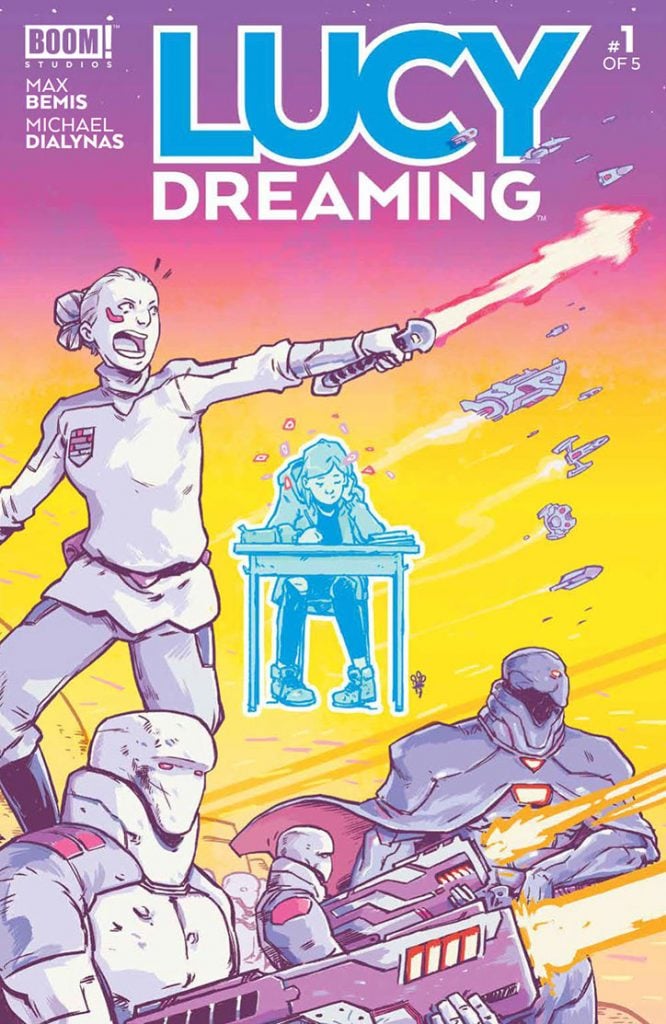 When she goes to sleep at night, she lives her dreams – literally. When Lucy dreams, it's different than a regular dream, they're a reality. She becomes the hero of her favorite stories, wielding a space weapon or donning a royal crown, but the stakes in her dreams are just as high as if it were real. She's about to learn a whole lot about herself and the world she's living in.
Why is this all happening to her? You'll have to read it to find out! Get to know a little more about Lucy and her world in the preview pages below.
Lucy Dreaming #1 – PREVIEW:
This series is written by Max Bemis, the lead-singer of Say Anything, which genuinely gives us fangirl feels. Not only does this guy genuinely understand the makings of a great coming of age adventure, but he's also written a few of our favorite songs. Most importantly though, he seems to have an excellent grasp on what it's like to be a teenage girl. Lucy's moodiness and sense of humor feel exceptionally real to the point where it reminded us of our own adolescent experience. He has kids of his own now, and he told BOOM!: "I wanted to create a comic book I could give to my daughter when she's old enough to read," said Bemis. "Plus, as a kid, I remember enjoying Star Wars, The Goonies, and Indiana Jones—things that were larger-than-life adventures. I wanted to do something like that."
Lending his artistic talents to the story is artist Michael Dialynas, who's done work on Gotham Academy, TMNT, and lots of other awesome comics. His style really suits the story and paired with the gorgeous colors, really makes Lucy's story and vivid imagination come to life. We're only one issue in so far and definitely impressed. Our only complaint? It's only a 5 issue series! We recommend this comic for any of our readers who are fantasy/sci-fi lovers like Lucy, shows like Stranger Things, or exciting 80's adventure movies.
Lucy Dreaming #1 (of 5)
Publisher: BOOM! Studios
Writer: Max Bemis
Artist: Michael Dialynas
Letterer: Colin Bell
Cover Artist: Michael Dialynas
Price: $3.99
Synopsis:
Max Bemis (Moon Knight writer and lead singer of Say Anything) and Michael Dialynas (The Woods) present a sweeping, coming-of-age fantasy about living your dreams—literally.
In her dreams, Lucy is the hero of all her favorite stories, living each night as a grand adventure. These journeys will teach her more about herself and the real world around her than she ever expected.
Lucy Dreaming #1 hits comic shops on March 21st. Looking for something else to add to your pull list? Be sure to check out the hilarious Rocko's Modern Life series!