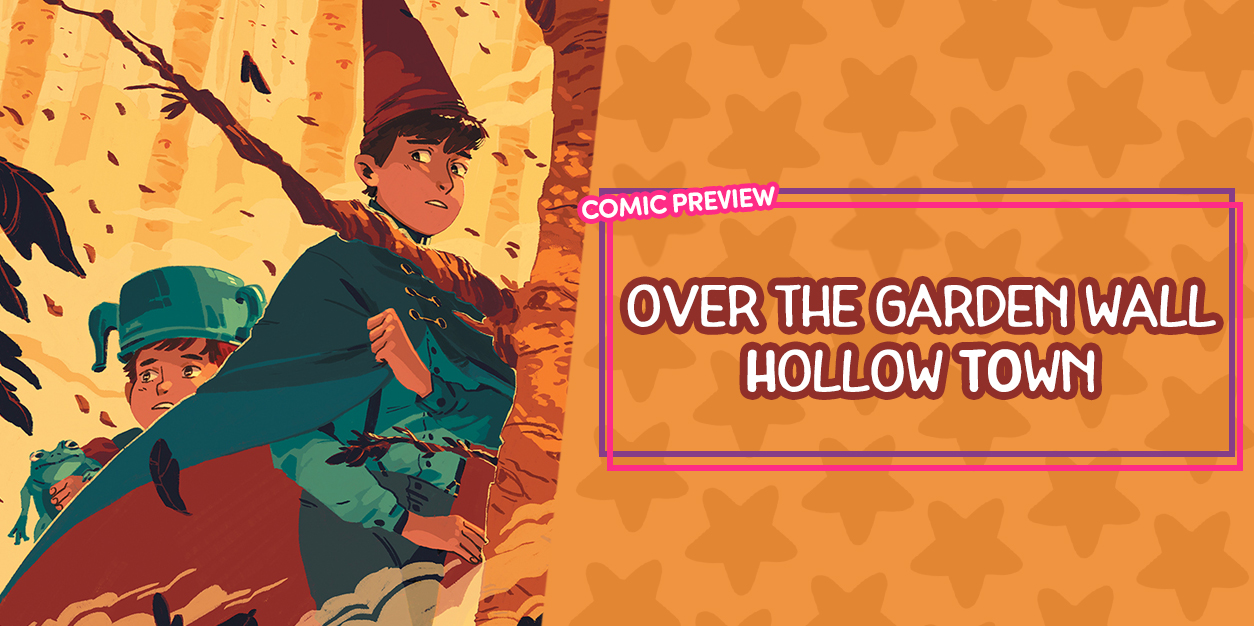 PREVIEW: Over the Garden Wall: Hollow Town
Somehow it's been four years since we first met Wirt and Greg in the utterly charming Cartoon Network miniseries, Over the Garden Wall. While we've always hoped creator Patrick McHale would bring the characters back for another animated series, their adventures have lived on both in our hearts and in the world of comics.
If you haven't been keeping up or missed the original animated series, you'll definitely want to pick up the Over the Garden Wall DVD, the collected volumes of the comic books, and the Tome of the Unknown OGN so you can get reacquainted with this spectacular series.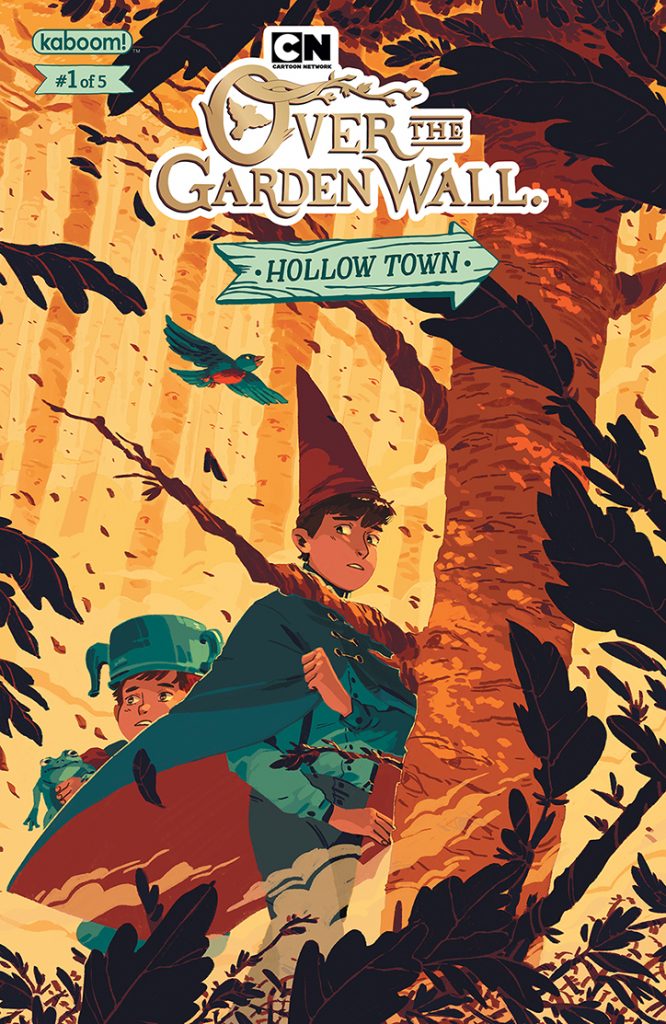 The newest 5 issue arc begins today as Wirt and Greg embark on a brand new journey through the Unknown. Writer Celia Lowenthal (The Storytellers: Fairies) and Illustrator Jorge Monlongo (Rugrats, Powerpuff Girls) are working with BOOM! Studios for Over the Garden Wall: Hollow Town. This five issue series will follow Wirt and Greg through silly antics, brotherly struggles, and a town full of eerie porcelain doll people. We've always loved the intricate balance of spooky and sweet that Over the Garden Wall does so well, and we're so excited to see how this new story unfolds.
Thanks to the awesome folks at BOOM! Studios, we're able to give you a peek into the mystery and wonder that awaits in the first issue of Over the Garden Wall: Hollow Town before it hits stores on September 19.
PREVIEW – Over the Garden Wall: Hollow Town #1:
As Wirt and Greg embark on their journey home down the river, their junky raft breaks, Greg loses a shoe, and they're forced to walk. Continuing on their way, they run into some odd folks in a carriage who are kind enough to offer them a ride. Beatrice warns them against taking rides from strangers, but their feet are tired, and they're thankful for the break. The strange doll-people begin sharing the news of an Autumn fair happening in their home of Hollow Town, where Wirt believes he will be able to buy Greg a new pair of shoes and Greg believes he'll be able to get a new fancy outfit for his frog, Sir Hopsalot. Unfortunately, Wirt is out of money, so he offers to babysit a family of doll-children to earn enough money to get Greg new shoes so they can continue on their journey home. Considering that this is a 5-issue story, we have a feeling this will be easier said than done! What happens next? You'll have to follow the story as they release each month.
If you're as excited as we are about new Over the Garden Wall adventures, you'll be delighted to know that more are coming even sooner than you think! Over the Garden Wall: Distillatoria hits shelves November 27th and is a totally new original graphic novel adventure that you'll absolutely want to get your hands on if you're a fan of the series and Greg's love of rock facts.
Over the Garden Wall: Hollow Town #1
Publisher: KaBOOM!, an imprint of BOOM! Studios
Writer: Celia Lowenthal
Artist: Jorge Monlongo
Cover Artist:
Main Cover: Celia Lowenthal
Subscription Cover: Natalie Hall
Incentive Cover: Miguel Mercado
Colorist: Kiki J. Díaz
Letterer: Mike Fiorentino
Price: $3.99

SYNOPSIS:
Join Wirt, Greg, and Beatrice on an all-new adventure in the Unknown as they stumble on a small town inhabited entirely by eerie porcelain doll-people.
After Greg loses a shoe to a pond-turtle, it's up to Wirt to earn money for a new pair, leading him to babysit some doll-children that may cause Wirt to stay in town forever…
From Celia Lowenthal (The Storyteller: Fairies) and Jorge Monlongo (Powerpuff Girls, Rugrats).
Turn your love of Over the Garden Wall into a Halloween costume by checking out our Wirt Style Guide!