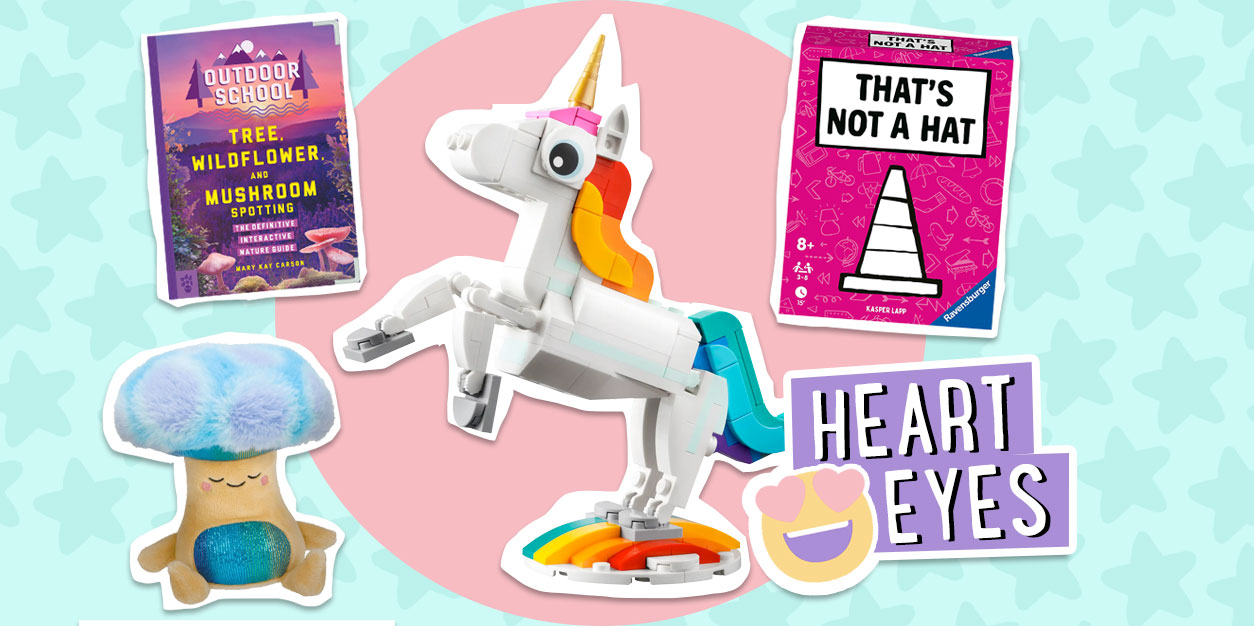 HEART EYES: Mythical Builds, Shimmery Affirmations, and Rebels Who Rock
HEART EYES is a monthly series on YAYOMG! where we keep you in the know about all the best new stuff that will have you twinning with your favorite emoji.😍
*NOTE: Our HEART EYES roundup is hand-curated by the YAYOMG! Team. Some of our picks are items we have received for free for review, some are not. Our recommendations are based on items we love and think our readers will love. We do not use affiliate links.
Our March edition of HEART EYES is here to get you excited about Spring!
If you're anything like us, you're ready to shake off the winter chill and step outside for some Spring sunshine! As birds begin to chirp and flowers start to bloom, it always feels like anything is possible. It's a great time to refresh your mindset and discover something new, and we've got plenty of picks this month that will have you ready to tackle Spring head-on! Set out on a harvest hunt for adorable new mushroom-shaped plush, Living on the Veg, strap on your skates and find rollerskating inspo while watching Saturdays, and get in touch with your inner nature lover through interactive reads and craft kits that'll have you exploring the great outdoors!
From magical board games to chocolatey treats, these are the 16 things we think will give you HEART EYES this month!
HEART EYES – March 2023: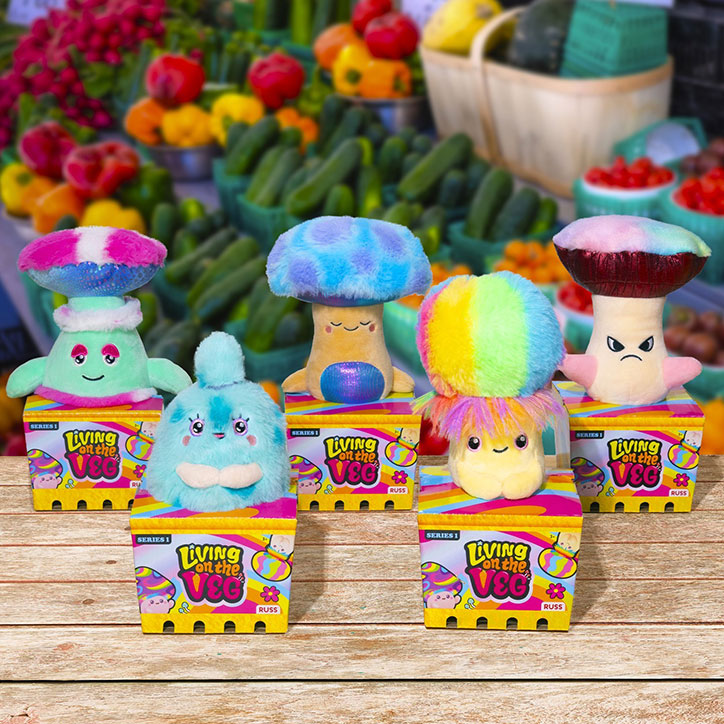 Living on the Veg by Jazwares:
Get ready to meet the #CropCrew!
From outfit aesthetics to cute collectibles, mushrooms are trending right now, and Living on the Veg is the best of the bunch. This adorable fungi-inspired plush line comes from the funkiest, freshest farm with the grooviest crops. Series 1 features 12 fun little guys like the grumpy Grimbsy, the tarot-loving Fey, and the totally zen Zeek, and we can't wait to find out which crops are in bloom in future series!
Whether you collect the whole line or just harvest your favs, we think these unique little plush make for adorable desk decor, snuggle sesh buddies, or great gifts for your grooviest friends!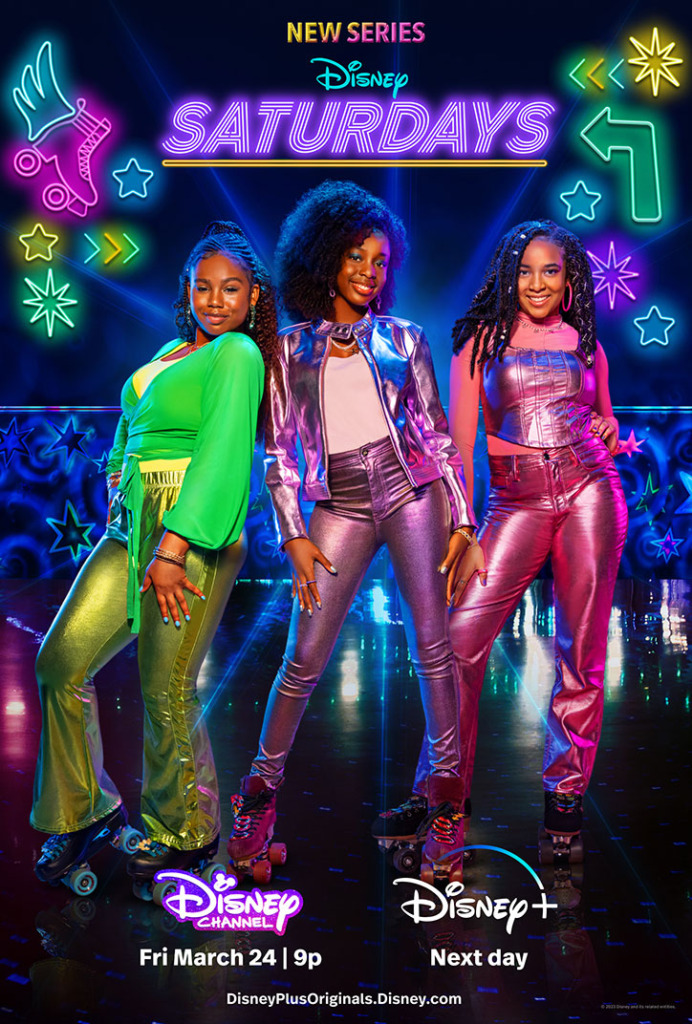 Saturdays on Disney Channel & Disney+:
Strap on your skates because the coolest skate crew in town is about to get down!
Produced by the always-amazing Marsai Martin, Saturdays is about making it to the weekend to do the thing that fills your soul with joy! For Paris Johnson, that thing is rollerskating with her besties Simone and Ari at Saturdays, a dazzling neon-lit roller rink that feels like magic when the lights go down. Together, they form We-B-Girlz, a skate crew aiming to win The Goldies by creating the hottest skate routines that Chicago has ever seen.
This comedy series is hitting Disney Channel with a double-episode premiere on March 24th and will be available on Disney+ the very next day!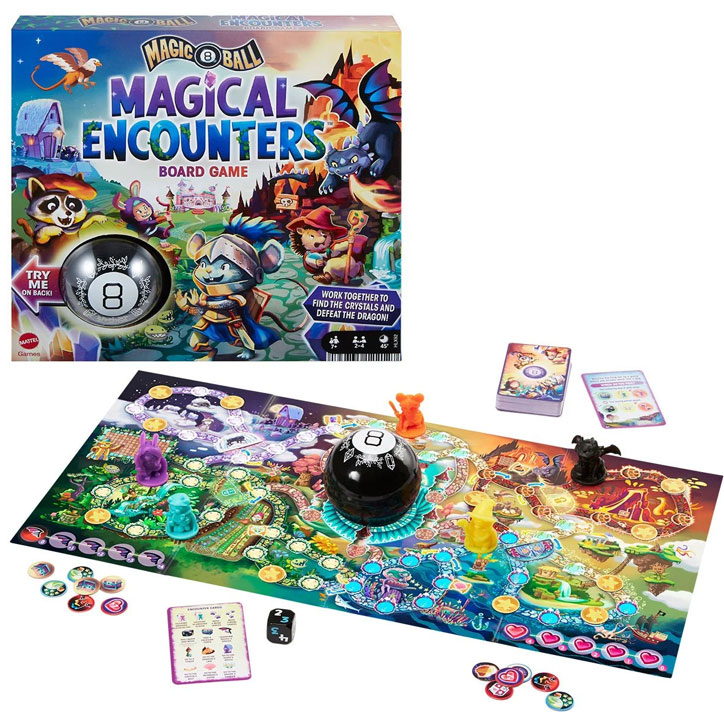 Magic 8 Ball Magical Encounters from Mattel Games:
What adventures will the Magic 8 Ball bring?
This enchanting cooperative board game transforms the iconic Magic 8 Ball from an all-knowing orb into the center of an exciting quest. In the new Magical Encounters game, you'll step into the shoes of a woodland hero and travel to a mysterious and magical kingdom in chaos. Your job? Work with the other players to find crystals, encounter whimsical creatures, and save the kingdom from a rampaging dragon!
In this story and strategy-driven quest, the Magic 8-Ball decides your fate, rewarding players with major advantages, leaving them with setbacks, and making the game totally different each time you play!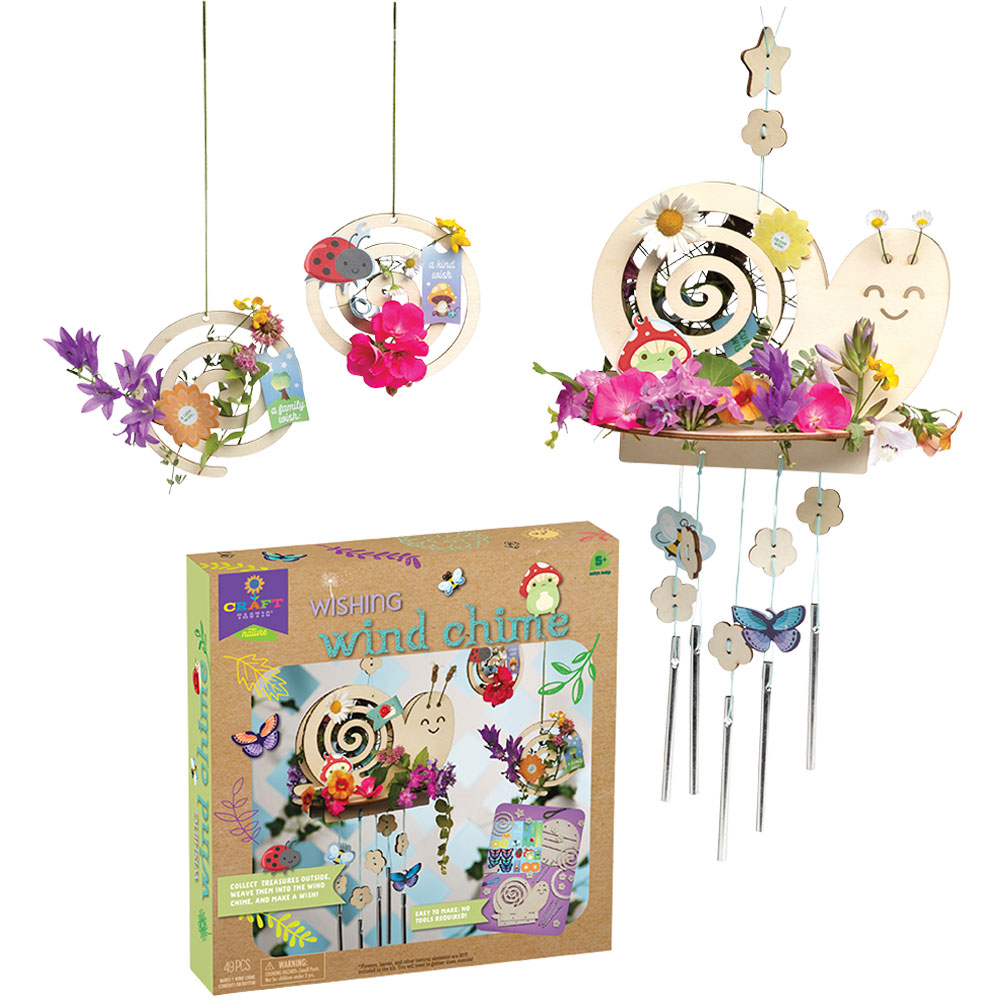 Craft-tastic Nature Wishing Wind Chime from Play Monster:
Make your Spring wishes come true with this new craft kit that combines DIY, making wishes, and the beauty of nature!
With Spring finally on the horizon, you're likely looking for more reasons to get outside to enjoy the later sunsets and warmer weather. Whether you're growing a garden or just chillin' in the backyard, this windchime is the perfect way to celebrate the sunny season and get in touch with your outdoorsy side.
The kit includes everything you need to create a smiling snail windchime and two smaller hanging decorations. Since this kit is about embracing nature, it encourages you to get outside and explore to find treasures like flowers, petals, and leaves to bring your creation to life. When you're done, add a wish. When the wish blows away with the breeze, it's more likely to come true!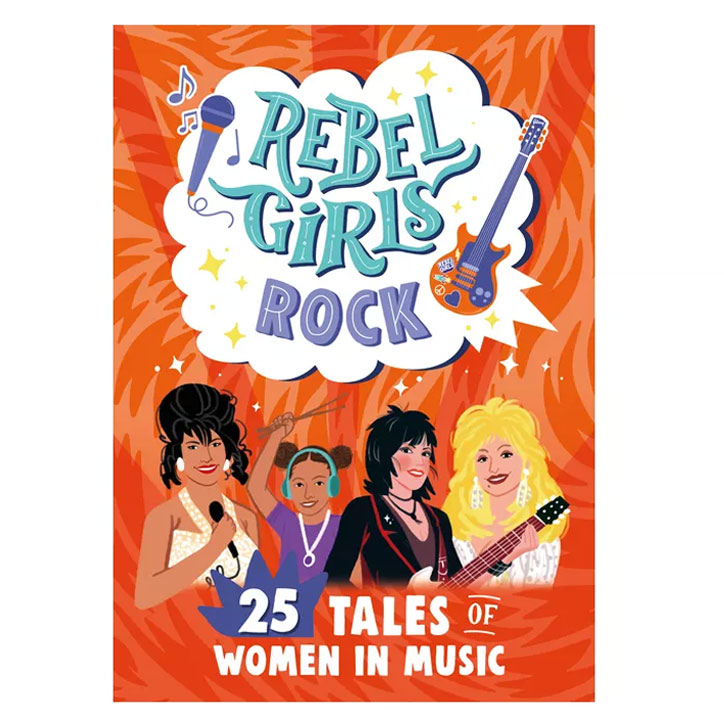 Rebel Girls Rock: 25 Tales of Women in Music from Rebel Girls:
Get ready to rock with some of the most iconic women in music history!
The newest Rebel Girls read is all about women who rock! The book features 25 stories about extraordinary women who've paved the way in the industry, inspired the world to dance and sing along with their music, and inspired future generations to express themselves through song.
From icons like Dolly Parton and Joan Jett to newcomers to the scene like Olivia Rodrigo and Blackpink, and even tween drum sensation Nandi Bushnell, this empowering read will inspire you to make your own music and rock like a true rebel!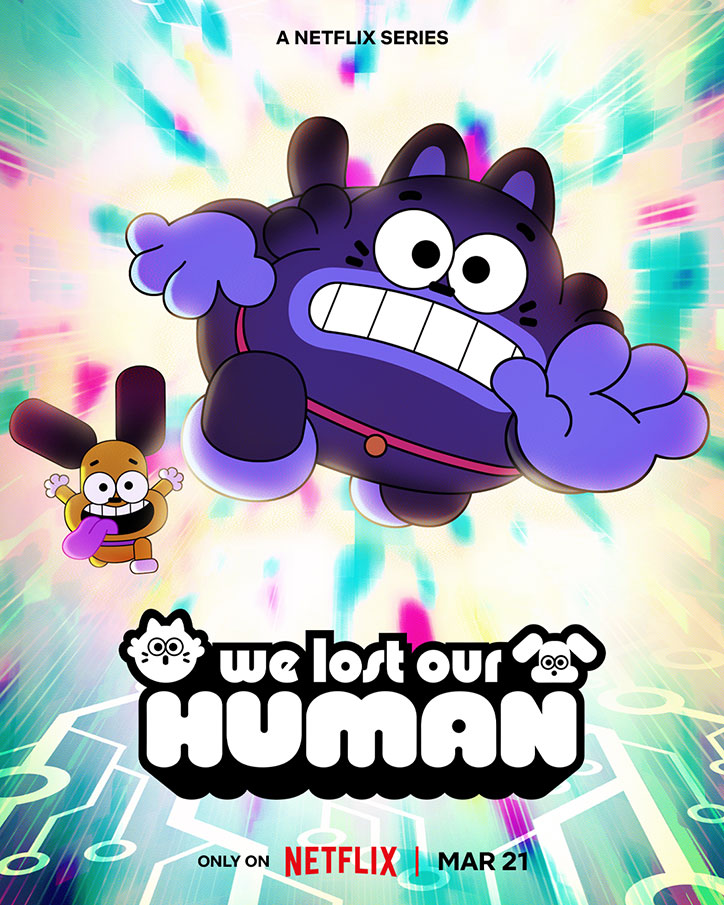 We Lost Our Human on Netflix:
Have you ever wished you could dive into the world of your favorite cartoon? This new Netflix cartoon is about to make your wish come true!
We Lost Our Human is an epic interactive comedy adventure about two pets who wake up to discover that every human on Earth has disappeared! As they venture out into the world for the first time ever on a mission to find their owner, the very grumpy Pud the Cat and super hyper Ham the dog end up on a wild adventure throughout the universe!
Every choice they make has huge consequences, but that's what makes it fun – because YOU'RE the one making all the choices! You're along for this wild journey with them, and all your choices change the story as these quirky friends explore strange new worlds, discover bizarre creatures, and search high and low for their missing human!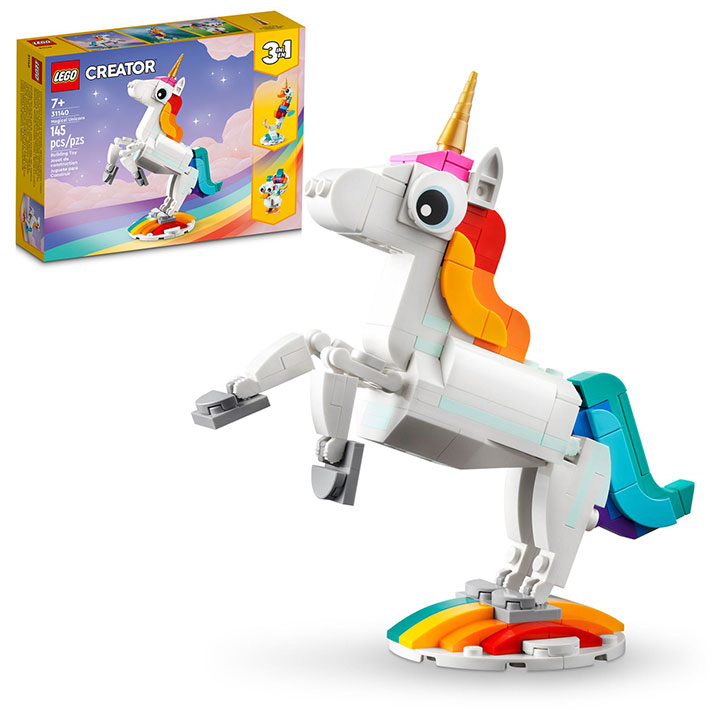 LEGO Creator Magical Unicorn from LEGO:
Travel to a faraway land with this magical LEGO Creator set!
Build a magical unicorn, complete with a rainbow mane, posable legs, and a shimmering gold horn! When you're done, you can put it on display to radiate fantastical vibes to your bedroom or study space or rebuild it into an enchanting seahorse or colorful peacock!
The kit comes with instructions for creating all three builds, or you can let your imagination run wild with even more ideas and stories for magical LEGO adventures!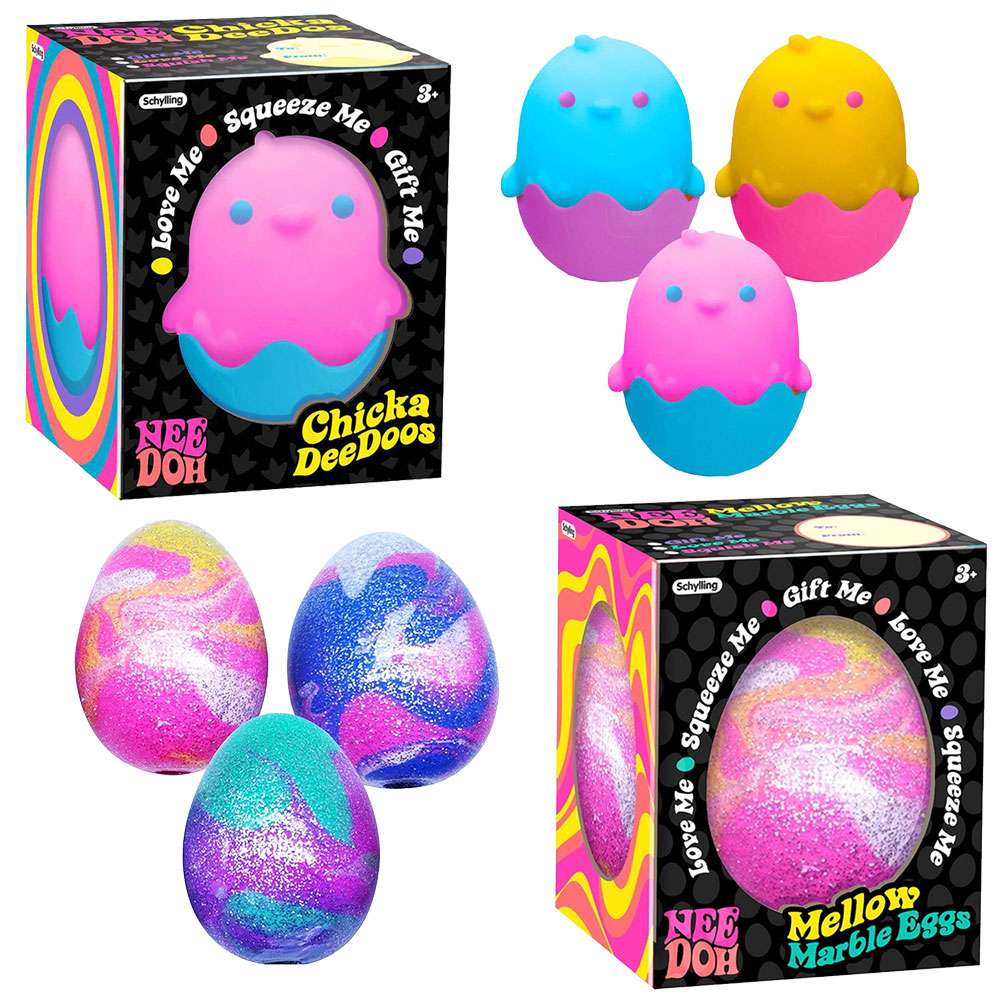 NeeDoh Chicka DeeDoos & Mellow Marble Eggs from Schylling:
Feeling squeezy? The newest releases from NeeDoh are perfect for your Easter basket!
NeeDoh makes some of our favorite sensory squishables, like Mac 'n Squeeze stress noodles and the adorable Cool Cats, and even more additions are on the way! Their Spring lineup includes Chicka DeeDoos, which are colorful baby chicks sitting in eggshells, and Mellow Marble Eggs that pair trendy marbled watercolor vibes with the fun of a stress ball.
No matter which one you add to your collection, you'll be stress-free this Spring as you kick back and soothe your soul with these soft and squishy fidgets.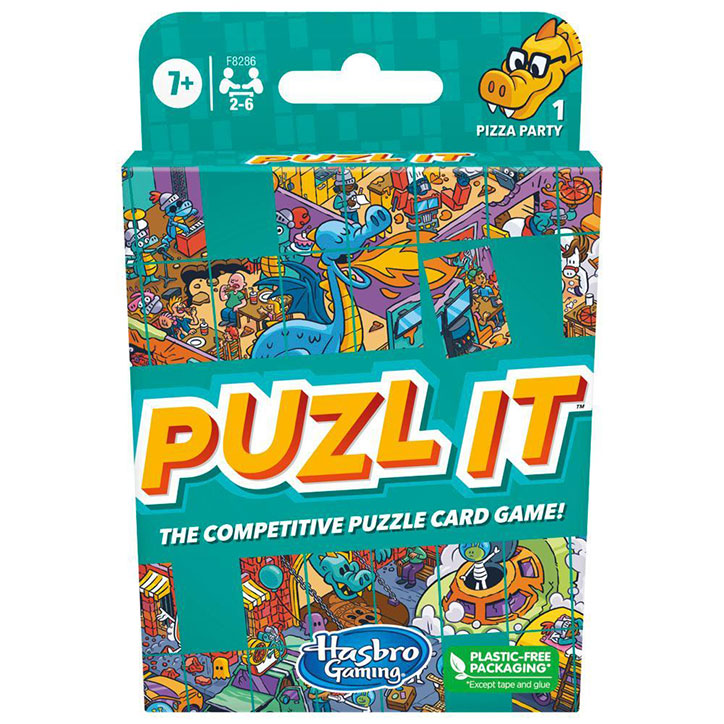 Puzl It Competitive Card Game from Hasbro Gaming:
Challenge your friends to a competitive puzzle battle with Puzl It!
Lay down cards from your hands to build a puzzle, steal cards from other players, and race to the last player standing so you can complete the eye-popping pizza party scene filled with everything from alien party crashers to sharks taking a swim and dragons ready to rock! Perfectly portable, this one is great for bringing along to summer camp or playing in the backyard with your besties!
Love this fast-paced puzzle game? An Aqua Adventure version is coming soon, with a whole new underwater world to explore!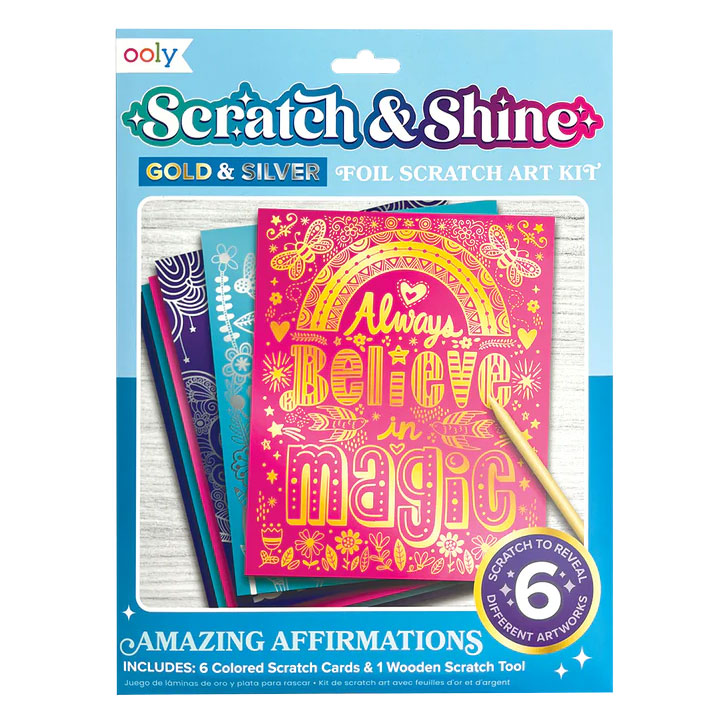 Amazing Affirmations Scratch and Shine Foil Scratch Art Kit from OOLY:
A DIY with a shimmering boost of confidence? Count us in!
These feel-good scratch art kits are a great way to unwind after a stressful week of homework and after-school activities. They're such a soothing activity, throw on your most relaxing playlist and relax as you reveal the shiny metallic foil hiding beneath the colored sheets. This kit is all about empowering affirmations like "Kind Heart, Fierce Mind, Brave Spirit," and "Create the Life of Your Dreams" to remind you that you can do anything you set your mind to.
Other kits in the Scratch and Series include Celestial Skies, with scenes featuring out-of-this-world elements and mythical creatures, and Glorious Garden, filled with nature aesthetics and floral motifs galore. Pin your creations to your corkboard, hang them in your locker, or frame them and add them to your gallery wall for a splash of sparkle!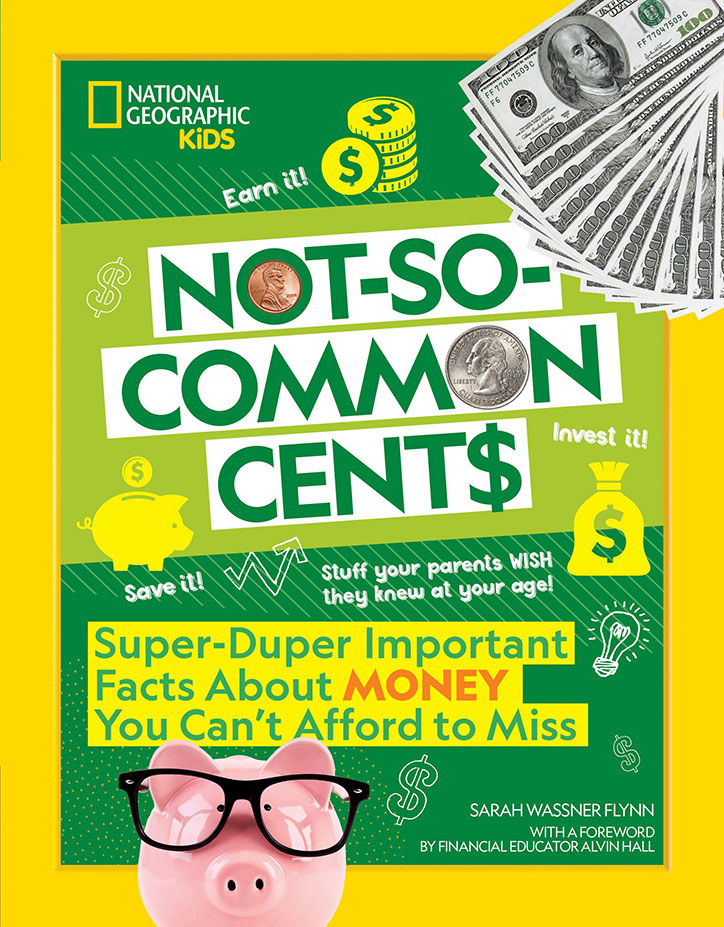 Want to know all the tricks and tips adults wish they knew about money? Let Not-So-Common Cents be your guide!
This informative read breaks down everything you need to know about money. From how to earn it, how to save it, and how to grow it, this book is filled with facts, secrets, and stats about everything from the stock market to credit cards and everything in between. Find out the history of how money came to be and some super helpful hacks to help you save and invest.
Perfect for aspiring entrepreneurs or kids who want to save a little cash, you'll find how to make smart money moves on your path to independence!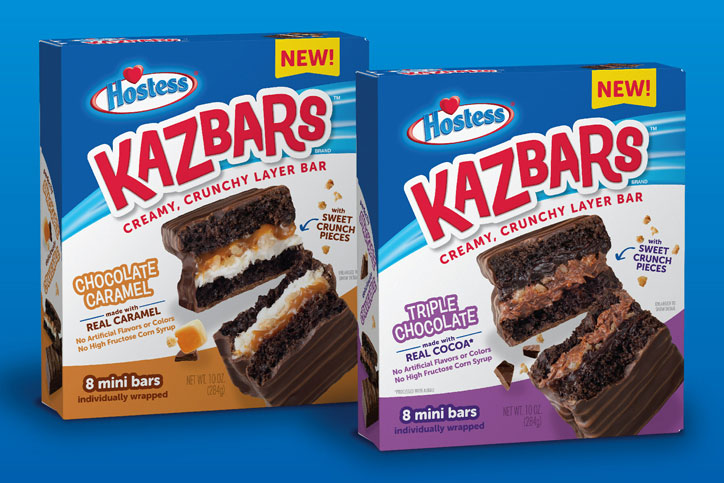 Kazbars from Hostess:
Creamy, crunchy, and small enough to fit in your bag, these tasty new snacks will sweeten up every adventure! These new bite-sized layered bars come in two irresistible flavors, Chocolate Caramel and Triple Chocolate. They're layers of cake, cream, and crunchy bits covered in chocolate, sure to make your taste buds sing!
If you're like us, you need a little treat for every major win, minor inconvenience, or, truthfully, just because you deserve it. (You do!) Whether you need a study sesh pick-me-up, a victory snack after landing the lead in the school play, or a reward for finally cleaning your room, we think Kazbars are a delicious way to treat yourself!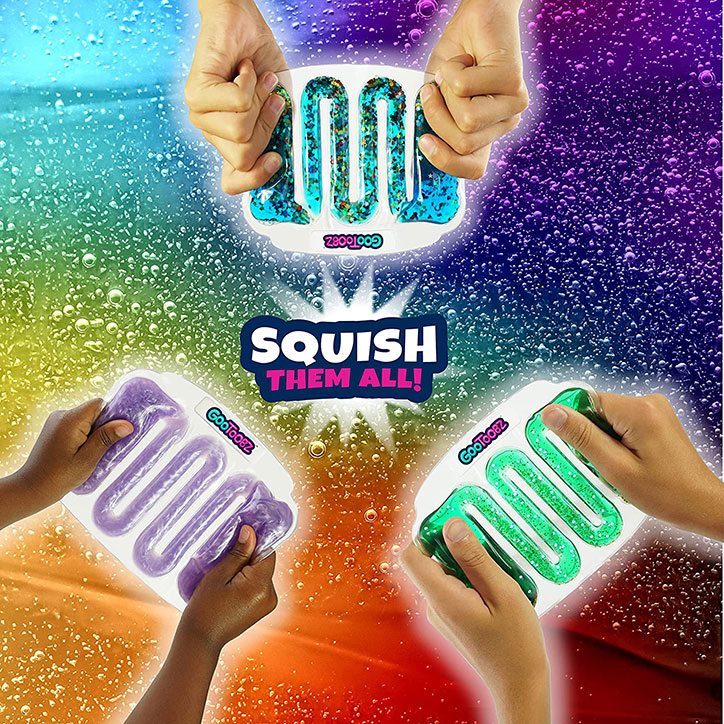 Squishy, twisty, and filled with goo, GooToobz are a sensationally satisfying sensory experience!
GooToobz come in three varieties, each with its own ASMR-focused experience and sensory ratings to help you get the most out of your fidget. Glitter Gush is all about touch! As you swish and swirl the blue goo, you'll be able to feel the glitter chunks rushing through the labyrinth and the gel pumping through your hands. Rumble Rush has bright green goo and is best for making ASMR sound magic as the beads flow in every direction. Pearl Swirl is a visual experience filled with pearlescent goo that swirls to make mesmerizing marbled effects as you fidget!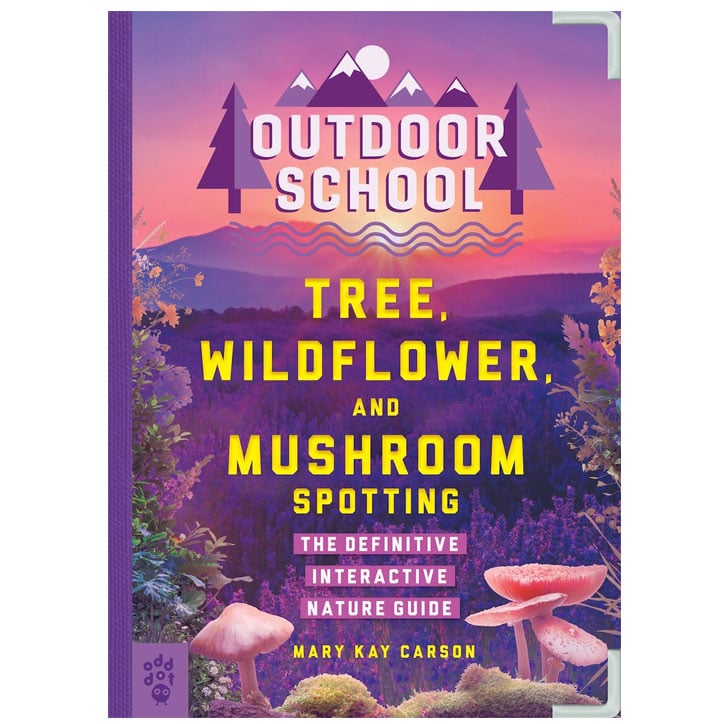 Outdoor School: Tree, Wildflower, and Mushroom Spotting from Odd Dot:
If you consider yourself an eco-activist or are just about that chill nature life, you'll love the newest release in the Outdoor School series!
This definitive interactive nature guide is about to become your new BFF! Take it along on your trail hikes, park picnics, and other outdoorsy excursions to help you get to know the world around you. This edition is all about trees, wildflowers, and mushrooms and will be the interactive nature guide you never knew you needed! This book will have you spotting and identifying all different types of bark and leaf patterns, growing mushrooms with cardboard, pressing and preserving wildflowers, and more!
If creating fern spore prints and keeping a nature journal is your idea of a perfect weekend activity, you'll love this edition and all the other Outdoor School books.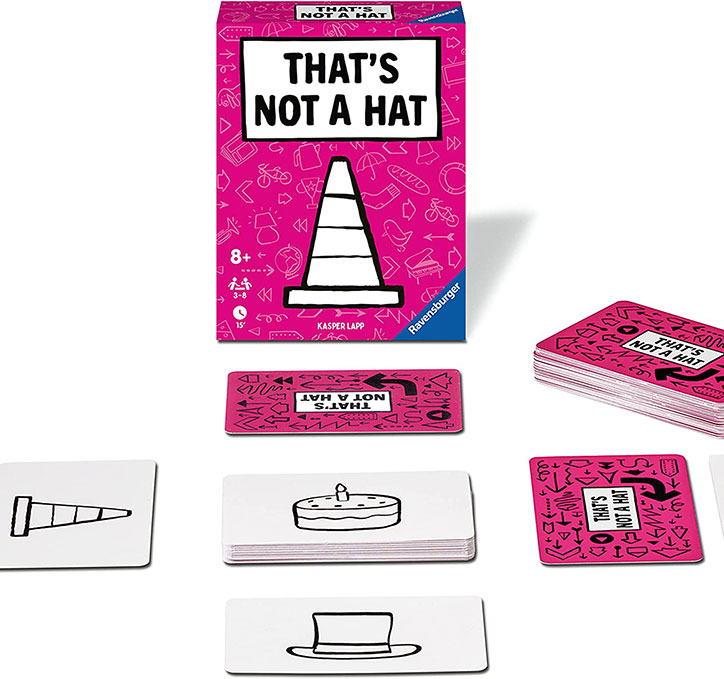 That's Not a Hat Game from Ravensburger:
It's time to get your bluff on and put your memory to the test!
Think you've got a photographic memory? This deceptively simple party game is all about wrapping and re-gifting objects and showing off your impeccable remembering skills – or at least your best bluffing abilities! As cards and gifts are flipped facedown and passed around the table, you'll have to act fast to memorize the objects, pass unwanted gifts onto others, and avoid getting caught in a bluff! Score the least points possible to win the game and claim victory!
This fast-paced game is easy to learn and a must-play on your next game night!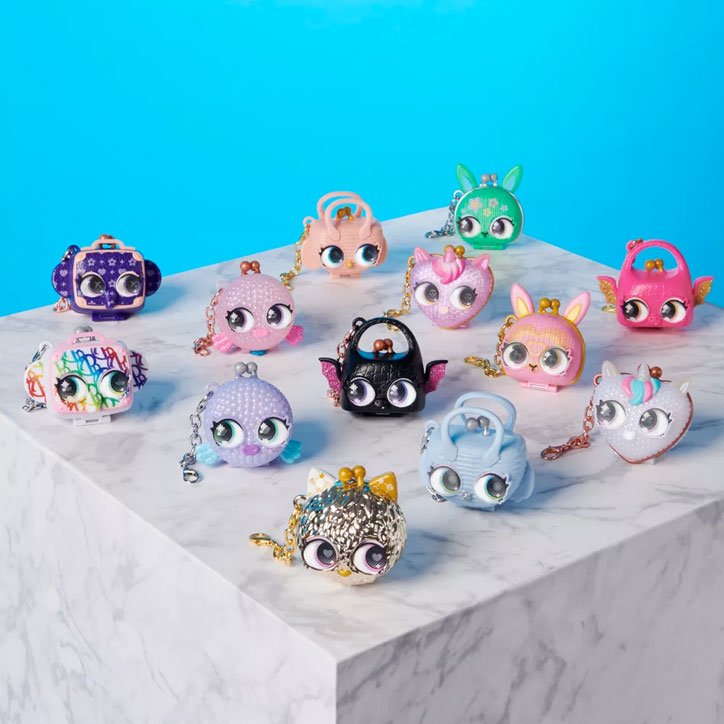 Purse Pets Luxey Charms from Spin Master:
If you love all things small, you'll love the latest addition to the Purse Pets fam!
Purse Pets are shrinking down the fun with super tiny (and ultra-cute) Luxey Charms! From unicorns and bats to super cute bunnies, there are 13 collectible charms to find, and they're shaped like coin purses with textures and details inspired by real bags! With a style to match every mood, you'll want to collect them all!
Bring them to life by tiling them to watch as their big eyes move or for an added surprise, open them up to find a compact mirror and space to store your tiniest treasures. Will you be you're lucky enough to unbox the ultra-rare metallic kitty? If so, you'll also find an exclusive charm bracelet inside!
😍Want to stay in the know about the newest of new stuff? Keep an eye on our HEART EYES series for fresh new releases every month!